As economic recovery is well underway, major tissue companies are increasing investment in digital spaces as almost half of consumers now buy by ecommerce. By Leo Chen, Euromonitor International, Shanghai.
Similarly to many other markets operating under the Covid-driven conditions, home seclusion policies in China led to the uptake in At-Home demand for consumer tissue in 2020. Paper towels in particular recorded a surge in sales at 29% in volume terms, or more than double the growth from the previous year. At the same time, sales of AfH tissue products declined following a slump in business activities, manufacturing, public activities, entertainment and travel.
In the changing consumer and business environment of the 2020, leading tissue players such as Hengan Fujian, Vinda International, and C&S Paper have been gaining share of consumer tissue sales on the strengths of brand awareness, wider channel exposure, products selection, and innovation.
The three leaders invested in e-commerce development well before the pandemic, integrating e-commerce giants into their retail strategies as well as building presence on popular social media platforms like WeChat. Euromonitor International Digital Consumer survey fielded in April of 2020 revealed that 37% of consumers in China use WeChat to engage with the company or brand about products and services, 44% turn to WeChat to look for information about company/brand or product and services, and 39% of consumers buy products and services via WeChat platform.
Broader understanding of the evolving retail landscape and investment in digital spaces positioned the key tissue companies well in the rapidly changing Covid-driven shopping landscape. Euromonitor International Digital Consumer survey indicated that while 55% of consumers in China still purchased household essentials in stores in 2020, 31% of respondents bought their products via e-commerce platforms using mobile phones, 36% used computer for online purchases, and 22% of consumers used a tablet.
In 2020, retail sales of tissue products via e-commerce accounted for 17% value share of retail tissue sales in China, representing a significant uptake from 2019. In addition to well-established e-commerce platforms like Tmall and JD and popular social media, orders on smartphones via meal delivery apps such as Meituan and Eleme and fresh food delivery apps such as Hema and Miss Fresh also witnessed robust growth, attesting to the ever-changing and evolving ways consumers in China have been shopping for their household needs.
Complementing agility in retail distribution strategies, continuous focus on innovation played a role in the strength of the key category players in the country in 2020. Example can be found in C&S and its focus on high quality premium tissue, with upgrades to lines like Clean & Soft Face Water-Tolerant series to tap into consumer pursuit of quality products to meet heightened hygiene needs.
Looking ahead, consumer tissue demand in retail will normalise somewhat in 2021. However, while developed markets are expected to return to generally sluggish growth in the post-Covid world, in China retail sales will remain positive in both volume and value terms with projected CAGR of 5% in volume terms over 2020-2025, or two million tonnes in incremental retail sales by 2025. With per capita consumption of retail consumer tissue in China still well below that of developed regions, the market continues to present significant opportunities for long term growth.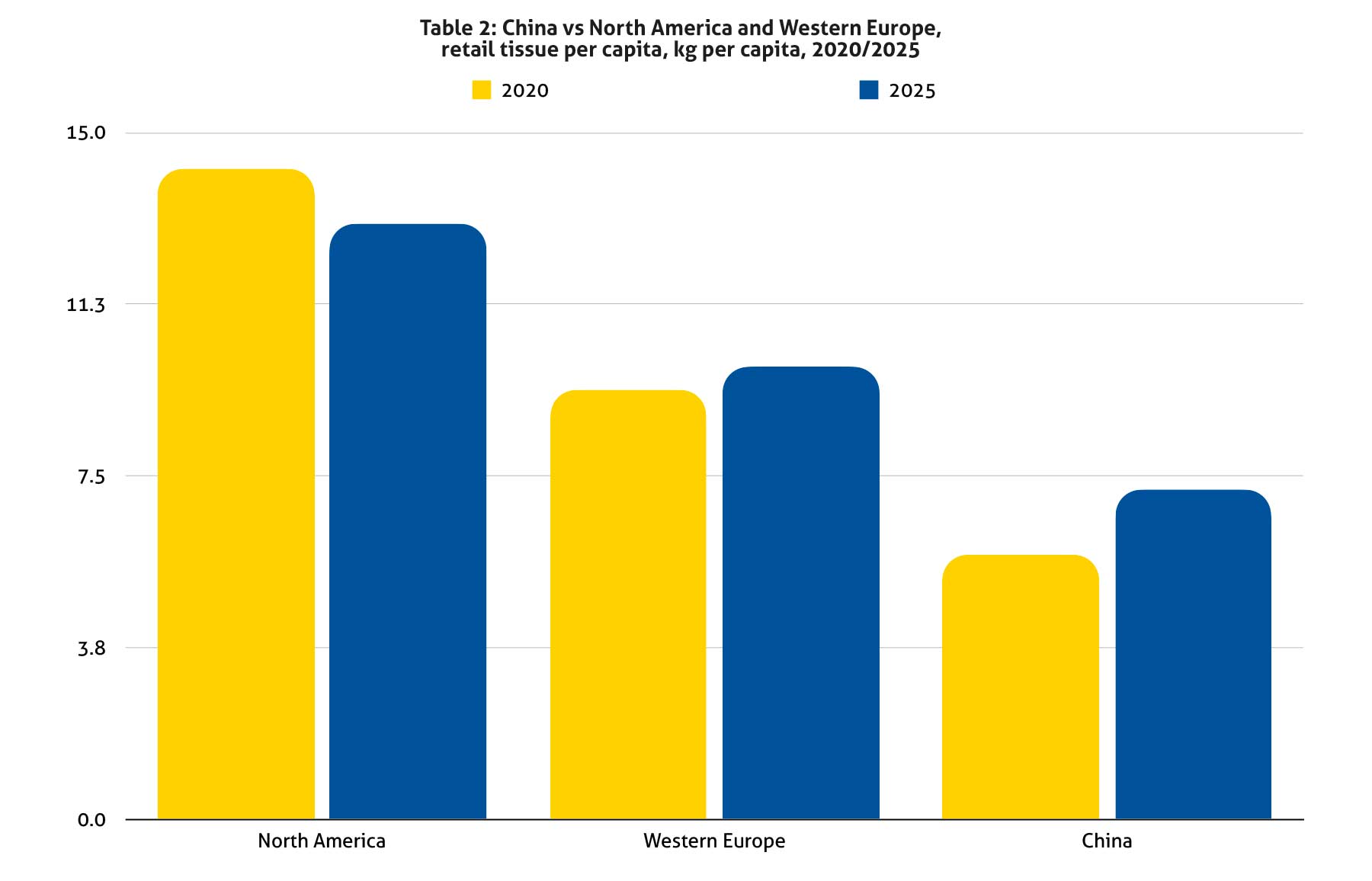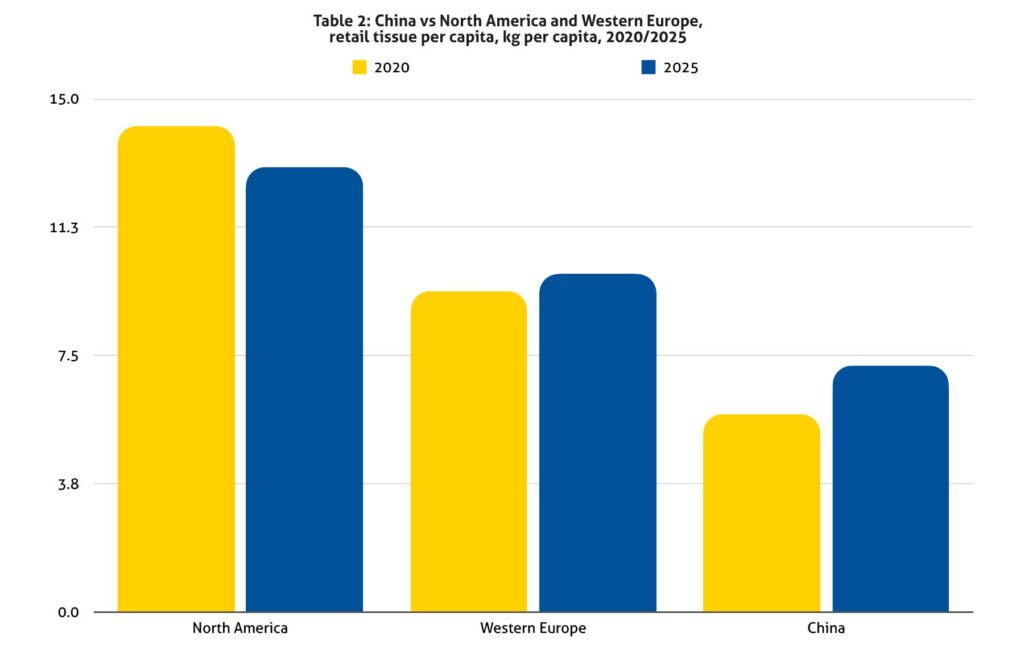 Paper towels will continue to benefit from increasing number of players expanding in the category. Sichuan Huanlong's new material is a case in point with the launch of unbleached bamboo paper towels under the brand Babo, followed by expanding distribution across key retailers in stores and online. Innovation certainly adds to the current and future category dynamic. Fuelled by Covid-19, consumer awareness of paper towels is expected to grow, with households turning to the products for a variety of household needs – from cleaning kitchen surfaces to cleaning fresh food and draining grease from fried food.
On the whole, properties related to hygiene and broader wellness, such as non-bleached, food-grade and broader sustainability like the use of fast-renewable fibre sources, as well as high quality attributes such as improved strength and water resistance will likely gain more popularity among China's households.
Retail consumer tissue aside, demand for AfH products is expected to gain further strengths as China's economy and business activities recover. In fact, China's economic activity signalled the recovery of economic activity to above pre-pandemic levels in Q2 of 2020, along with recovery of employment trends and other indicators.
These come with improved levels of consumer confidence and spending, along with re-opening of foodservice and other AfH activities. These tendencies contributed to the recovery of some demand in away-from-home segment already in 2020, far ahead of many other markets. Continuing strengths of recovery is expected to stimulate positive growth of away-from-tissue long-term.