By Ian Bell, Euromonitor International's global head of tissue and hygiene research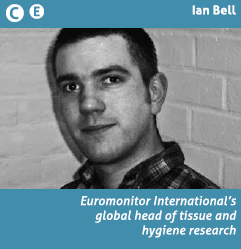 The vastness of the Chinese consumer market is sometimes difficult to appreciate but even if we take a fraction of the country's landmass – Eastern China, with a population of 300 million (roughly equivalent to the US) – its retail tissue market ranks as the world's second largest in terms of volume. In 2013, the region accounted for 1.2 million tonnes of retail tissue sales, which although lagging somewhat significantly behind the US at 4.5 million tonnes, still far surpasses that of third ranking Japan, at 0.7 million tonnes.
Such large volumes have been driven by Eastern China's position as the economic powerhouse of the country, a region which boasts some of the most prosperous consumers and also densely populated urban areas in China.
Tissue sales in first tier cities in the region such as Shanghai are – at least in volume terms – very similar to that of more mature markets, such as Japan for example. In 2013, total retail tissue per capita consumption across the East China region was 5.5kg, opposed to the 8kg average in Japan. Indeed, if the current 10% CAGR per capita volume growth is maintained, average consumption in the East will be on par with Japan's by the end of the decade, which is nothing short of stellar growth considering consumption stood at just 2kg at around the start of the millennium.
New capacity and consumption plateau
While all the signs are very positive, and in some way justify the huge investment in new capacity which has taken place over the last decade, the Chinese tissue market, with East China as the key driver, is not without its problems. With growth in consumption much slower in more outlying regions, there is pressure on the East to soak up yet more volume. Unless manufacturers are successful in their attempts to develop a much broader portfolio of tissue consumption, the already plunging utilisation could still go lower if the combination of further capacity increases marries with faltering consumption in the East.
As with other emerging markets, Chinese tissue brands have a fight on their hands to take a share of consumer expenditure, especially amongst their prime consumer group, namely the urban middle classes, for whom tissue is perhaps less alluring than other products. It's a cold harsh world of competition out there and what is commonly referred to as the 'middle class trap' is quite apparent in Eastern China and appears to be affecting Chinese tissue prospects just as much as it is in Mexico or the UAE, for example. How to convince consumers that tissue is worth the investment, and especially more premium products, when basic needs have been met?
Units prices head south
This is all the more difficult when the industry has appeared in many quarters to have done its level best to commoditise the sector in its desperation to shift volumes.
Price competition is affecting key tissue categories, consumers are savvy and quite prepared to shop around and bulk order to get the best prices and even for tissue products the search for a bargain is increasingly going online. Add to this the failure to develop kitchen towel as a mainstream product, then the Chinese market in its most developed region appears to be on the brink of going backwards in terms of unit price.
This is all the more surprising given the fact that private label is pretty much non-existent, given the lack of significant chained retailers groups.
Indeed, the fact that hypermarkets such as Walmart actively look for high income areas for store location has counted against private label having any chance of gaining a foothold, which is just as well given the rampant competition which has seen the unit price of branded product eroded quickly.
This downward pressure on pricing may have a silver lining, with margins narrowing producers appear to have put a break on new machine orders and delayed some openings and the phase when anyone and everyone (even mining companies) moving into tissue production appears to be nearing an end.
Margins narrow
Collapsing margins may also be effective in helping to speed up the pace of industry rationalisation. To date, the national government's policy of closing smaller plants has made some progress but only slowly; still, in 2013 more than 50% of national tissue production reported by the CNHPIA was classified as unscalable, and made up of a myriad of small producers.
"Price competition is affecting key categories, consumers are savvy and shop around and bulk order … and even for tissue products the search for a bargain is increasingly going online."
The prospect (at least nationally) for larger producers to move into this space is clearly of great significance but it would appear that there will be some short term pain as the market moves into a more modern phase. The interesting question remains: is there something about Chinese consumers that will support higher per capita consumption and help to soak up some of the overcapacity forecast through to the end of the decade? This may well be the case but volumes will be driven by price cuts which may be difficult to reverse, longer term.
"It seems that international brand owners, used to a premium area of the market, will have to do a great deal of work to win the hearts and purse strings of consumers."
There is a strong indication that in terms of consumer perception of pricing the genie is already out of the bottle and consumers used to moderate quality and low pricing will be very unwilling to accept anything else for what is already a commodity category.
As the adage goes 'treat it as a commodity and it will become so' and with the internet offering large volumes and low pricing it seems that international brand owners, who are used to a premium area of the market, will have to do a great deal of work to win the hearts and purse strings of consumers. The evidence from Germany, where hard discounters and private label did a similar 'axe job' on the tissue market, is that they are likely to struggle in this endeavour.
A new frontier
There are some welcome signs that a few major manufacturers are addressing commoditisation, however. For example, SCA's (Vinda) invested

in its Tempo facial tissue brand, especially in the modern grocery channel, across the region to get its soft pack and boxed tissues launched at the end of 2012, resulting in a wide retail presence. Tempo, with its three layers and heavily promoted on softness and strength, were priced at nearly twice the market average.
Kimberly-Clark has also battled to occupy more shelf space in this region, promoting itself as a cut above other products. A more premium footing has not only been the reserve of international players, with Yuen Foong Yu Paper Enterprise employing a more creative approach to advertising for May Flower-branded toilet paper, which occupied a strong position in East China. A series of watercolour pictures painted on May Flower toilet paper were exhibited in Shanghai, an 'avant-garde' approach to promoting its strength and absorbency.
There is also evidence in the East that manufacturers are looking to expand consumers' portfolio of products, with kitchen towel an important next step for the tissue industry and its pursuit of modernisation. For example, brands like Hygienix and Virjoy were launched as low-end products over the past few years in an attempt to provide an entry level platform, an attempt to move the category into the mainstream and away from the high income urban professional niche which has limited category growth to date.
While kitchen towel is the next important step for the tissue industry to take, institutional sales also show some promise. Away from Home is still fairly underdeveloped even in the East and as the arrival of SCA with its purchase of Vinda (another experienced player in the field) the AfH tissue market will likely prove a key area for development away from the overheated and overexposed retail tissue market.
"There is also evidence in the East that manufacturers are looking to expand consumers' portfolio of products, with kitchen towel an important next step."