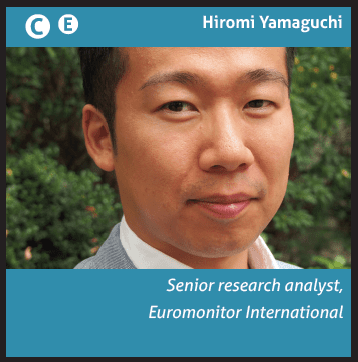 As one of the most developed economies in the world with a declining population, Japan shows limited volume growth opportunities for FMCG products in general. Tissue products are no exception. With 2016 retail tissue volume at over one million tonnes sold and estimated unmet potential of less than 400,000 tonnes, tissue manufacturers such as Nippon Paper Crecia, Oji Nepia and others have actively invested in value-added product features, especially in facial tissues and toilet paper.
At the same time, manufacturers can look for opportunities in the AfH segment for volume expansion, especially in view of the upcoming 2020 Tokyo Olympics.
Slow volume growth and limited opportunities in retail
Retail tissue market in Japan recorded a marginal volume decline in 2016, in large part due to the declining population. In a developed market like Japan, where tissue products are well-established and widely available at affordable prices, the retail volume growth largely depends on population growth.
The country's population began to fall around 2009. In 2016 it stood at 126 million. Furthermore, in 2016 the number of those over 65 years amounted to 34.6 million, or 27.4% of total population. The share will rise to 31.5% by 2030. The government forecasts that 40% of the population will be of retirement age by 2050.
The fertility rate was 1.6 births per female in 2016 and is expected to remain at that level through 2030. The steady decline and ageing of Japanese society is a significant drag on economic performance.
Taking the path of premiumisation and innovation along the lines of value-added products with improved functionality becomes an important strategy to drive the industry growth in the face of unfavourable demographic trends.
The two key product categories in Japan's retail tissue are toilet paper, accounting for 73% of the total retail tissue volume in 2016, and facial tissue, accounting for 19% of retail tissue volume sold in 2016. Both experienced sluggish volume growth over the past few years, with value seeing a somewhat better performance supported by value-added products.
In facial tissue, for instance, premium products with lotion are popular in spring due to widely spread hay fever, or allergic rhinitis. In fact, some consumer surveys indicated that over a quarter of the population in Japan is allergic to cedar pollen, which spreads widely in the spring.
Facial tissue impregnated with lotion is preferred by consumers with cedar pollen allergy to avoid skin irritation that frequent use of regular tissues can cause. On the other hand, regular facial tissues are often used in Japan for multiple purposes, including wiping tables. Kitchen cleaners such as Kabi Killer from SC Johnson & Son take full advantage of such tendencies in tissue use. The Kabi Killer's bottle closure is designed to efficiently release the contents onto tissues that are used to clean surfaces.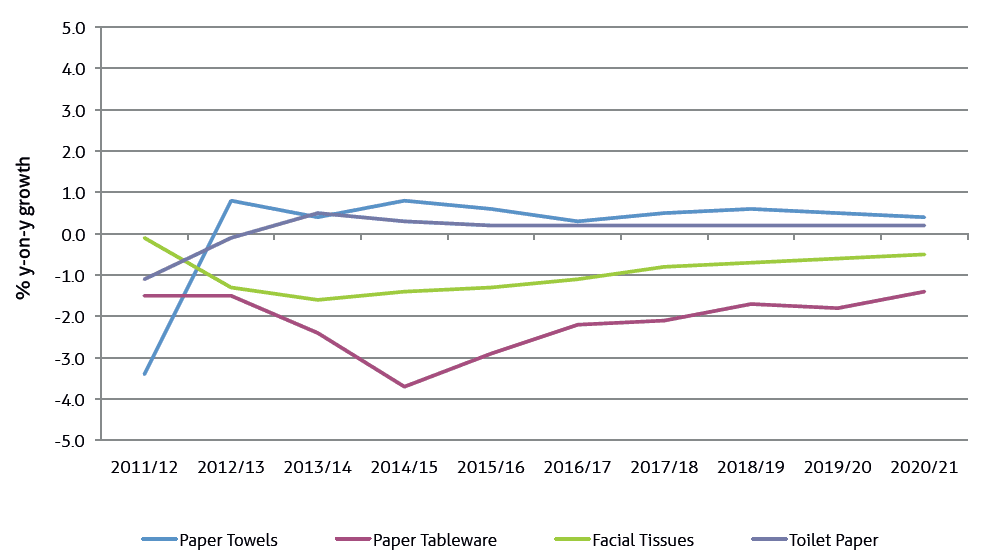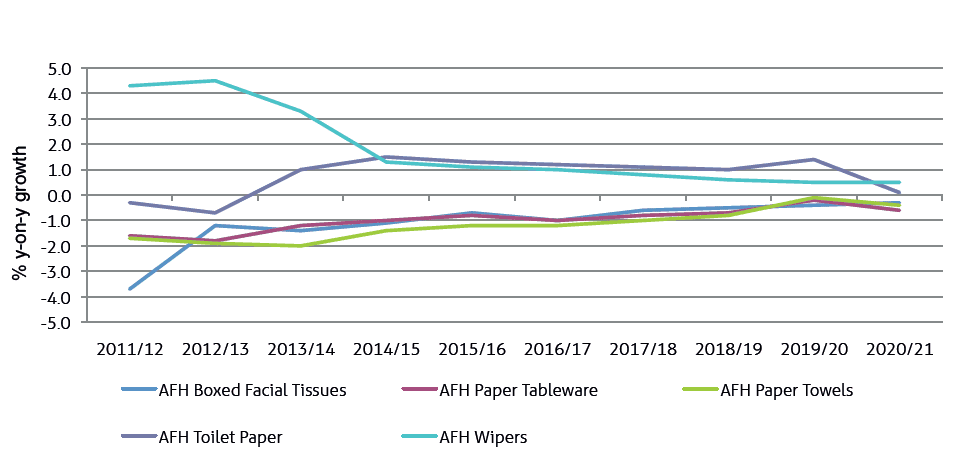 Increase in tourism vs bathroom technologies 
In contrast to the struggling retail category, tissue consumption sees some growth opportunities in the AfH segment, supported by the increase in the number of foreign travellers to Japan.
The latest data from Japan National Tourism Organization indicates that the number of inbound tourists to Japan grew from six million in 2011 to 24 million in 2016, recording a whopping 286% increase. Furthermore, the total nights spent by travellers at hotels increased from 162 million to 204 million over the same period of time, recording a 25% increase according to the Travel & Tourism data from Euromonitor International.
The rise in the number of international tourists renders some support to the demand for AfH tissue products, especially at hotels. Thus, for instance, over 2011-2016, the volume of toilet paper in the AfH space grew 1% CAGR, compared to a marginal decline for the category in retail over the same period.
However, AfH tissue products do face a number of challenges in Japan, chiefly stemming from technological advancements and the evolution of modern bathroom facilities in the country. Japanese toilet seats are quite sophisticated and come equipped with a number of functions and the latest in bottom cleansing technology.
The toilet models feature not only water cleansing but also dryers, which have an adverse effect on toilet paper usage. Additionally, in Japan, hand dryers have become a standard feature in bathrooms, making paper towels rather obsolete.
Looking towards 2020
Continuing penetration of technology into modern bathrooms in Japan is the reason why the growth in tourists does not directly translate into the same level of heightened demand for AfH tissue. Nonetheless, there are some growth opportunities in the AfH space that can help to support consumption of tissue in Japan. These include a further increase in the number of tourists as Tokyo prepares to host the Olympic Games in 2020. Japan Tourism Agency is actively involved in improving the tourism industry infrastructure, with the expectation of welcoming an estimated 40 million inbound tourists in 2020. The increasing number of international tourists can favourably affect the usage of tissue products in the AfH channels. The industry players will, however, need to come up with creative solutions to increase usage of tissue for hygiene purposes, as technologically advanced bathrooms, now also equipped with standardised symbols to ease concerns of non-Japanese visitors, will continue to challenge toilet paper – the largest product category within both retail and AfH segments in Japan. Further premiumisation of tissue to drive revenues, while exploring multiple uses and applications of tissue to drive volume, will be increasingly on the agenda.