Tissue facing a challenge and an opportunity says JP Corelex Holdings president Mr. Hiroshi Kurosaki. Production balanced against demand is the key. Report by TWM senior editor Helen Morris.
The first thing TWM notices on touchdown during summertime in Tokyo is the heat. Even at 7AM, the humidity is well on its way. Once inside the taxi to get to our hotel, one of the many helpful bits of information the taxi car provides for its passengers is a detailed weather forecast: it's an impressive 36 degrees outside, and thunderstorms and hail are on the way.
We're in Tokyo to meet the president of JP Corelex Holdings, Mr. Hiroshi Kurosaki. He collects TWM from the hotel and, in good English that he learned from a year spent in Seattle, we drive along busy, traffic-jammed roads full of commuters to Kawasaki, south of Tokyo, where the company's San-Ei tissue site is based.
It's located in an emissions-free zone and has an impressive 180-degree view across Tokyo Bay, which pans the coasts of Tokyo, the Kanagawa Prefecture and the Chiba Prefecture. Tokyo Bay is also connected to the Pacific Ocean by the Uraga Channel and, along with the magnificent city of Tokyo, it makes an ideal location for a tissue plant.
During our drive, the colour TV in Mr. Kurosaki's car is blasting out coverage of a variety of debates involving Japan's politicians. Mr. Abe Shinzō, the current prime minister of Japan and president of the Liberal Democratic Party, is being discussed. There is some eye-rolling in our car.
Our talk turns to Donald Trump, followed by a pointed question about what exactly the British were thinking when they voted for Brexit. China is next, and we discuss how the giant is slowing its place a little… and what could happen next.
Hearing Mr. Kurosaki's global and local perspective on politics and the tissue industry is fascinating. Coming from an island nation that has always punched above its weight, he discusses how tissue trends in Japan, a country where hygiene and tissue product use are so popular and wide-spread, is now seeing low volume growth and suffering from a population decrease.
The country's tissue market shares many similarities with trends in Britain and other western countries; namely steady but low growth, with limited retail growth opportunities. In many ways, Japan has set the standards for tissue globally in terms of its high-quality products, and the situation it finds itself in now serves as a warning for many markets globally.
Back in our car, just before arriving at the San-Ei mill we stop off at the site's waste paper disposal area and Mr. Kurosaki adds some waste paper from his home to be recycled: "Everything is money!" he adds.
The site produces recycled toilet paper for the domestic market and has one paper machine, and converting lines. Previously family-owned, as of April 2011 JP Corelex Holdings operated as a subsidiary of Japan Pulp & Paper Co, a Japanese-based trading company. 
Sister sites include the Hokkaido-based Corelex Doh-Ei Co tissue mill, Corelex Shin-Ei in Shizuoka, as well as a new recycled household paper mill that has started-up in Fuji in 2016.
It has adopted state-of-the-art energy efficient equipment to improve quality and increase production efficiency.
It also works in conjunction with the Corelex Group's San-Ei Regulator – Tokyo mill to achieve the maximum possible reduction in waste and create a quasi-zero emission system as part of its efforts to reduce its environmental footprint. A disaster management agreement was also signed.
Corelex also has a sister company in Vietnam, and TWM met Mr. Masahiko Nagata, the Japanese general director of the impressive Hanoi, Vietnam-based tissue producing sister company in 2016 for that issue's Country Report.
Mr. Kurosaki says demand for tissue in Japan is increasing, at around 1.5- 2% year by year: "The population is decreasing here, but we are seeing more and more visitors, especially from China. They are providing a lot of potential for our market."
But Japan's ageing and decreasing population is a big problem for the country: "Maybe five to 10 years from now, our population will decrease even further. It's a very substantial issue for us."
He adds it is an opportunity as well as a challenge for the country's tissue market: "It is an opportunity for us in many ways, but it also depends on the companies.
"If mills are increasing their production here, that may be a problem. At the moment, not many companies are increasing their production. So if it stays level like this against demand, maybe we can enjoy it. Now however, the sales price isn't increasing, so we are stuck."
The San-Ei mill uses waste paper, including what he describes as confidential papers, the kind which customers "would previously just burn up and throw away." Sourcing the material can sometimes be tough, but the company then buys it if it's not available: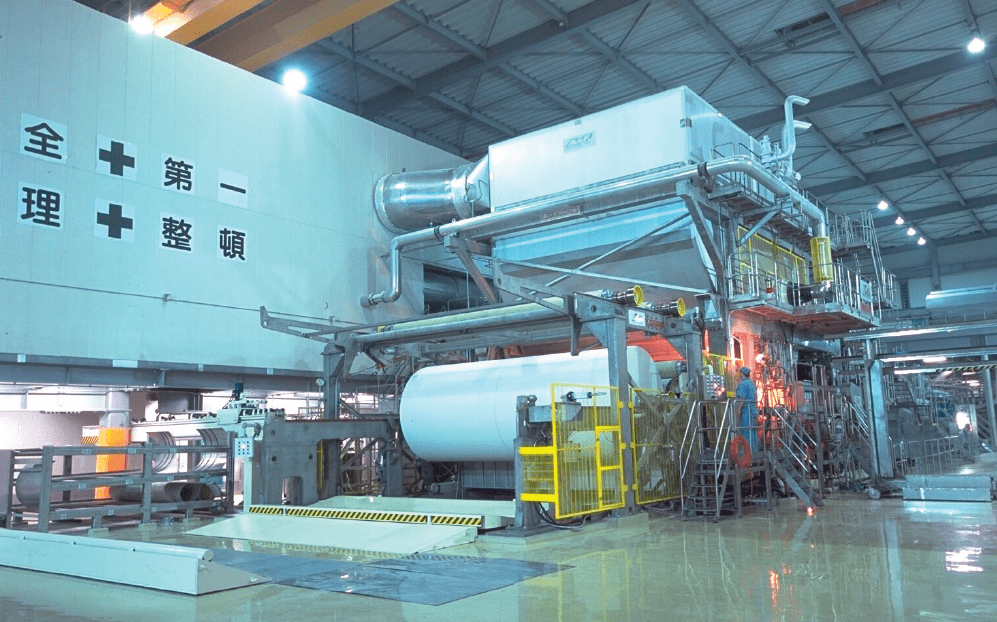 "Many say the volume of waste paper is decreasing because everyone is now using computers instead of paper," he says. "But because we have invested in our facilities, we are able to use the paper that is no longer useful, paper that is of low quality.
"Our parent company was a machinery company, so we picked up a lot of information and technology from that."
Most products are targeting the middle market as the high-quality tissue products are made with virgin pulp. A lot are for the private label market, and the company supplies Japan's largest supermarket AEON:
"Almost all of their waste paper product is supplied by us," he adds. Some 15% of products are targeting the AfH market, in particular the San-Ei mill with its proximity to Tokyo.
The mill's located in a zero emission industrial park is "very important for us.". "We're using the waste paper and it makes the whole process much more efficient. We've been zero-emission for 15 years and we aim to be selfsufficient."
Generally, he adds, there's not much demand for environmental certifications such as FSC from consumers in Japan: "We're not seeing much demand for this, but some of our mills are FSC and this mill here is preparing for it.
So far FSC is being requested from consumers, but we have experience with how it is in the US and in Europe. The Japanese consumer, it's not very popular here, they're not very interested in that here in Japan."
The site produces around 54,000tpy and is using over 6,300 tonnes per month of material to make this.
The new Fuji mill will also produce 54,000tpy; he adds the company has no need to increase its capacity further in the near future because demand isn't increasing enough to make that investment.
"Other companies are also bringing new capacity on stream next year. It is big capital and will mainly be producing virgin pulp products."
Demand generally is around 1m tonnes per year for toilet paper: "Of that, around 65% is made from waste paper," he says. "For sanitary paper, 1.7m tonnes are produced per year and 0.7m tpy for facial tissue."
Corelex's company share is around  35% of the 65% waste paper market. "When our company was established years ago, at that time there were many small toilet paper companies appearing, around 20-30 mills.
"But they have no ability to use the machine and maintenance that we do, they are using very old machines. While they're still surviving, maybe in the near future those companies won't be around."
In terms of competition from Japan's giant of a neighbour, he sees little of Chinese companies in Japan's tissue market:
"Maybe only Asia Pulp and Paper is here as Universal Paper, their mother rolls are already coming in from their sites in Indonesia and China.
"Maybe APP wants a mill in Japan. We see them trying to get the market share very quickly. And they wait for China's tissue demand, but demand there is slowing a little.
"APP already has a converting presence in America. It's substantial. According to my experience, the big players in America such as Georgia-Pacific and Kimberley-Clark, they cannot produce enough volume for the demand, so there's still actually a shortage of supply against the total demand.
"So there is some space to sell, there is room for APP to sell into each market. Like in Europe also, they can't oversupply there. But in Asia, they supply very quickly and they are preparing the capacity quickly. That's the problem."
He adds that society in Japan is "fluctuating and moving quickly". "Our economy was very pessimistic .. it's a little bit better now. But still we are facing deflation.
"Fortunately for our market, everyone uses tissue, so compared to other industries it's a good market to be in. Everyone all over the world apart from a few countries that use water use tissue, so demand is always increasing globally."
As for Japan, where tissue demand isn't increasing dramatically, he says any current increase in demand is because of tourists:
"If visitors stop coming, that increase will stop also as the Japanese population continues to decrease. We'll see an automatic decrease in demand for tissue products then."