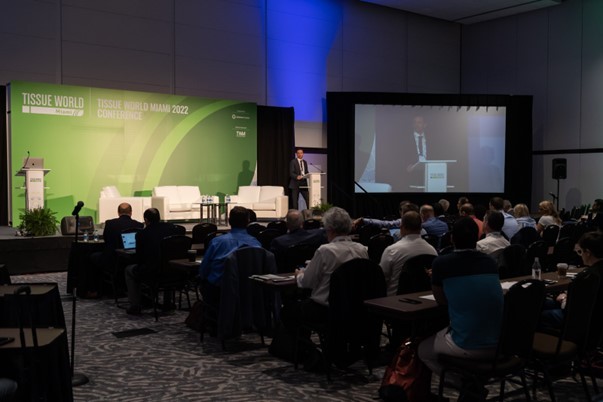 Miami, Jan 31 – Feb 2, 2024 — Tissue World, the global hub for the tissue manufacturing industry, is excited to announce Jean-David Tardif, President & COO of Cascades, as the keynote speaker for Tissue World Miami 2024 Conference.
Tardif will share his extensive industry expertise and valuable perspectives on navigating challenges, embracing innovation, and driving sustainable growth in today's dynamic business landscape.
Agnes Gehot, Conference Producer, expressed her enthusiasm, stating, "We are honored to have Jean-David Tardif join us. His strategic vision will inspire our attendees, ensuring they stay ahead in the ever-evolving tissue industry."
With plenty more still to be announced, speakers and panelists confirmed so far represent ABB, A.Celli Paper, Andritz, Andritz, AFRY Management Consulting, Cascades, Clearwater, Cognitive Investments & Perch Perspectives, EcoSynthetix, Euromonitor International, Fastmarkets RISI, FPInnovations, Futura, HeyBamboo, Kadant Black Clawson, Kemira, Körber, Kruger, NCSU, Pulsar America, Resourcewise, SSH, Secure Value, Supply Chain Insights, Solenis, Suzano, Toscotec, and Valmet.
Conference Highlights of Tissue World Miami 2024:
Senior Management Symposium Sessions:
On January 31 and February 1, attendees will delve into different sessions themes: winning strategies in a fast-changing world, managing supply-side volatility, Initiatives for long-term business sustainability and meeting customer expectations.
These sessions will feature key industry experts including Soile Kilpi (AFRY Management Consulting), Susan Irving (Kruger), Bruce Janda (ResourceWise), Liying Qian (Euromonitor International), Joslyn Faust (HeyBamboo), Lora Cecere (Supply Chain Insights), and Jacob L. Shapiro (Cognitive Investments & Perch Perspectives), among others.
Technical Sessions:
Scheduled in the afternoons of January 31 and February 1, the technical sessions will give insight in a range of topics such as energy efficiency, automation, sustainable technology, and optimised and innovative technical solution.
Experts like Stéphan Larivière (FPInnovations), Paul Richards (Andritz), Gabriele Romanini (Toscotec), and Sergio Tonarelli (Futura) will share their insights and experiences.
NEW: Tissue Workshop (February 2):
Tissue World Miami 2024 introduces a new feature – the Tissue Workshop, taking place in the morning of February 2.
Engaging presentations from Valmet and NCSU will be followed by collaborative sessions where participants will design a sustainable and innovative blueprint for the future of the tissue industry.
Experts will guide these workshops, ensuring a valuable and informative experience. The workshops will conclude with a roundtable discussion, synthesizing insights and outcomes for the future of tissue.
About Tissue World Miami 2024
Tissue World Miami 2024 will bring together industry leaders, manufacturers, distributors, and buyers from across the globe to explore the latest technological advancements, discuss innovative strategies, and foster valuable business connections.
With over 1500 visitors, 100+ exhibitors, 50+ speakers, and 45+ sessions, the conference and exhibition promise to be a must-attend event for tissue industry professionals.
Attend Tissue World Miami 2024
Early Bird Offer until Dec 1! Save $400 on the Full Access Pass. Register now to save.
Secure your spot, gain exclusive insights, and network with industry pioneers. For more information, visit the website.