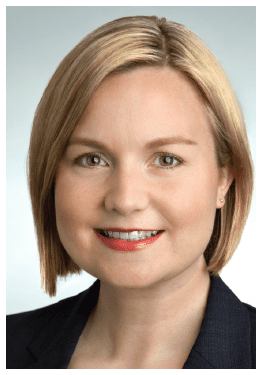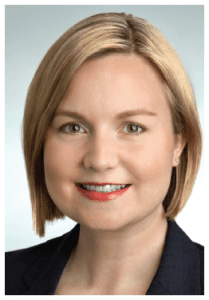 By Pöyry principal Sanna Kallioranta (pictured) and director Soile Kilpi
The year 2017 adds another year on to a string of years reflecting stable tissue demand and capacity growth with multiple new tissue machines announced in North America. However, the year also highlights some changing dynamics in the tissue industry and gives us guidance on what to expect in 2018 and onwards. One central theme and a key driver in investment decisions was the North American consumers' appreciation of high quality tissue products. In North America, quality is king. And in 2017, many aimed to grow their share of the high-quality tissue market.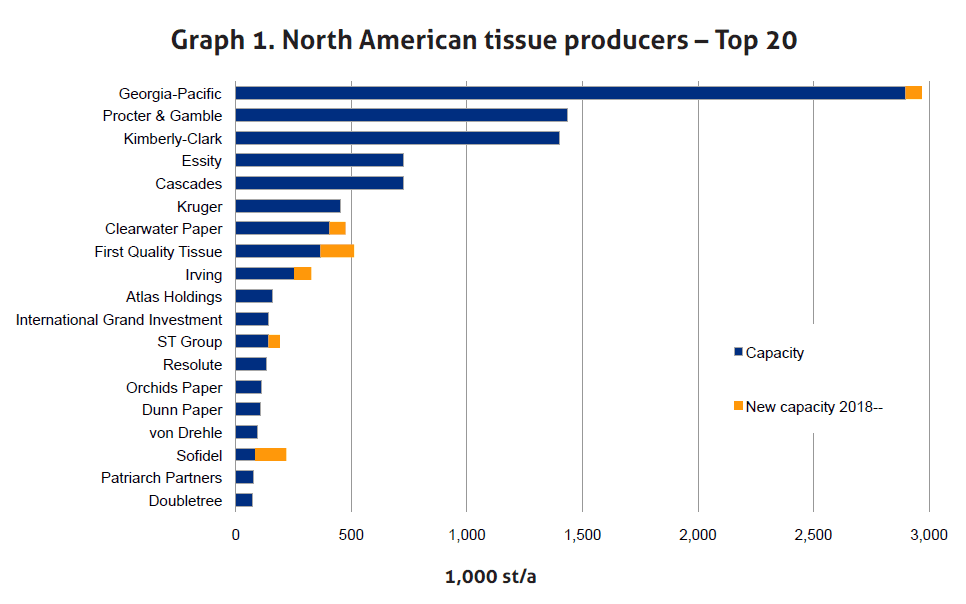 The year of big tissue investment projects
Both new greenfield manufacturing site investments (e.g. JD Irving, Sofidel) and expansions of existing manufacturing sites (e.g. Georgia-Pacific (GP), First Quality Tissue, ST Paper) are underway in North America's tissue manufacturing sector.
GP continues to be the largest tissue manufacturer in North America, with capacity as large as the number two, P&G, and number three, Kimberly- Clark, combined (graph 1) In 2017, GP had a big year with tissue investments totalling $570m.
The company also announced a $400m investment at its Palatka, FL, site to build a Through-Air-Dried (TAD) machine and converting operations to expand its premium private label towel and Brawny towel capacity. The expanded site is slated to be operational by 2019. GP's Palatka project will put the industry leaders back on the list of companies adding capacity in the North American tissue market, together with the medium to small size players e.g. First Quality, Sofidel, Orchids, Kruger.
In addition, the company announced a $50m investment in converting assets at Green Bay, WI, to support its Compact professional toilet paper business, as well as a $120m converting technology investment at its integrated Naheola, AL, site.
Similarly, JD Irving went big with a $400m greenfield investment announcement in Macon, GA. The company's new state-of -the-art tissue plant will manufacture 75,000st/a of TAD tissue and convert it into 15 million cases of high quality, soft bath tissue and paper towels.
The plant is expected to come online in 2019. Before the investment decision in Georgia, JD Irving's footprint and operations were firmly rooted in the Northeast and in the New Brunswick's forest resources.
But, the U.S. South business environment and consumer demographics have been the draw for many companies, including tissue manufacturers. The region has also been a draw for the largest Italian tissue maker, Sofidel, which first entered the U.S. market by acquiring Florida-based Cellynne Paper in 2012.
Over the course of 2018, Sofidel is aiming to bring online two new tissue machines in Circleville, OH. Ramping up two new machines in one year is certainly not an easy task to accomplish operationally or commercially. The new tissue machines are a part of Sofidel's $300m U.S. investment plan, which has a keen focus on serving the growing private label market based on their experience gained from the European markets where private label penetration is considerably high.
Other private label focused tissue makers also continue to bring new capacity into the market.
Clearwater is spending $330m to expand its Shelby, NC, site with an adjacent facility housing a second tissue machine and converting lines for producing premium and ultra-premium grades of private label tissue products. According to Linda Massman, president and CEO of Clearwater: "Clearwater Paper's customers are requiring more premium and ultra-premium products, which we are addressing with the new capacity.
"These high growth segments have increased 3.5 times faster than the overall tissue market, and we are committed to growing with our strategic customers and positioning ourselves to add new customers." The Shelby project is expected to be operational in 2020.
Before Clearwater's Shelby, NC, ramp up, First Quality Tissue is set to bring two assets online in 2018 and 2019, in Anderson, SC, and Lock Haven, PA, respectively. Both machines are true to First Quality's focus on high quality, TAD, private label tissue products.
Tissue manufacturing site scale is increasing as new tissue machines are added and many of the new machines in the works for 2018 and onwards are notably  larger sized tissue assets, +60,000t/a – good news for market pulp suppliers.
Investments in new capacity over M&A 
A notable characteristic of the North American tissue industry is that although there are many small and medium size producers behind the big three producers (graph 1), there has been little M&A activity.
Essity's acquisition of Wausau Paper in 2015 is the only major consolidation move since Clearwater acquired Cellu Tissue in 2010. Although, in general, it is very typical for industry consolidation to take place in markets with industry structure similar to the North American tissue sector, especially when market demand growth is only moderate – which, with the demand growth rate at half a percentage point above the population growth, the tissue market certainly is.
Typically, in industries with similar demand and supply side fundamentals, the industry leaders grow their market share via acquisitions, or the medium scale players aim to become one of the industry leaders via M&A among the other medium size players. But, this has not been the trend in the North American tissue sector.
P&G and K-C are consumer product companies with very well defined product market positions and brand strategies. Their focus and DNA is on brand management, as shown by recent news about portfolio expansions, certifications and increased energy efficiency.
In North America, there are not many tissue brands to buy, as the top three companies already dominate 2/3 of the retail tissue market. Nor are there many manufacturing assets that would complement the market leaders' product portfolios, especially on the retail tissue side. There are potentially more M&A options on the AfH tissue sector, as evidenced by Essity's (SCA's) acquisition of Wausau Paper.
Could the next few years bring a change and increase the tissue market M&A activity, at least among the small to medium tier players? Or, will the investment focus remain on capacity and asset investments?
One reason for the North American tissue industry favouring new build capacity investments over M&A is that the technology and quality of the available assets might not match the desired product market positions in terms of quality.
In addition to targeting American consumers' obsession with softness, the recent rollercoaster ride in recovered fibre prices and expected future challenges in recovered fibre availability, amid declining consumption of communication papers, bode well for the virgin fibre focused TAD technology investment announcements made in 2017.
Furthermore, the highly automated new converting lines accompany the latest tissue manufacturing technologies.
Changes in fibre mix and continued volatility
In 2017, recovered fibre reminded all paper mills of its volatile nature. Over the past years we have seen tissue companies adjusting their fibre furnish slowly away from recovered fibre. Based on Pöyry's estimates, in mature markets, recovered fibre has lost 5% share of tissue furnish over the past decade.
In North America, the only publicly announced tissue asset closures in 2016 and 2017 were recovered fibre focused Essity operations at Flagstaff, AZ, and two Clearwater machines in Neenah, WI.
Another looming challenge for tissue mills utilizing recovered fibre are the future capex needs of their aging Deinked Pulp lines. Based on Pöyry tissue industry databases, ¾ of the Deinked Pulp Lines at tissue mills are over 30 years old and many are in need of significant future capex.
Further closures of uncompetitive assets are likely needed. Considering the expected future challenges with recovered fibre, those assets might very well be recovered fibre based tissue manufacturing lines.
Market pulp prices have been increasing. The over $300/tonne, or close to 40%, price jump in hardwood pulp will be a strain on tissue companies' bottom line over the next quarters.
So far, the biggest buyers of market pulp, K-C and P&G, have been able to manage through input cost inflation and post healthy tissue business EBITDA results, even while dealing with competitive pressures from private labels. Moreover, given the upcoming market pulp capacity additions, we can anticipate the pricing cycle to turn in 2018.
Market pulp accounts for over 80% of North American virgin fibre based tissue production. Most new tissue machine announcements will be based on bleached eucalyptus/hardwood and softwood. However, one of the most talked about developments in tissue manufacturing in 2016 was backward integration to pulp.
We saw two new projects with integration to pulp; St Croix Tissue, Baileyville, ME and Resolute, Calhoun, TN. Georgia-Pacific's new TAD machine will be in the Palatka, FL mill which has bleached pulp lines.
The Amazon effect 
2017 was the year when on-line shopping started to move the needle for American retailers and consumer products companies. Online shopping – or Ecommerce – is expected to reach the 10% threshold of Total Retail Spending in the U.S. by the time the holiday shopping season is over.
According to A.T. Kearney's food and  beverage practice estimates, groceries ordered online and delivered to consumers constitute just about 3% of the U.S. market. Online tissue sales are likely to be in a similar range.
The Food Marketing Institute estimates that online sales could comprise 20% of total grocery sales by 2025 – a trend that the tissue sector leaders have certainly taken note of and are adjusting their channel strategies for.

Future directions

Tissue market demand and capacity will continue to grow. Much of the new supply likely targets to serve the growing private label market, with high quality virgin fibre products, made with structured tissue manufacturing technologies.
The healthy and large scale U.S. AfH market is also likely to attract further investments. For AfH markets, perhaps the manufacturing concept calls for more flexibility in terms of fibre choice.
Although much of the new tissue manufacturing capacity will likely continue to be non-integrated to pulp, the U.S. South's business environment and demographics will continue to attract tissue investment. The U.S. West Coast is another region to watch out for.
The medium to small size tissue manufacturers will continue to add the bulk of the new capacity, and focus on private label markets or even parent rolls. For the largest tissue market players, the branded product players, Ecommerce will be another battle field.
FREE COPY FOR TISSUE WORLD MIAMI PARTICIPANTS
The above is a sneak preview of the 'TW Focus Report: USA'.
To receive the complete report for free, register for your Tissue World Miami 2018 visitor or conference delegate pass by February 15, 2018. z
The report will be available for collection during Tissue World Miami, taking place at the Miami Beach Convention Center from March 21 – 23, 2018.