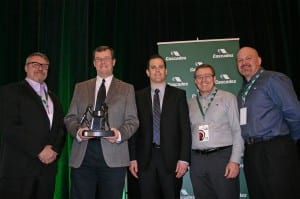 Enzymatic Deinking Technologies (EDT) is showcasing its latest Enzymatic Fibre Modification developments.
The modification "ultimately leads to a reduction in the tissue industry's carbon footprint," according to the company.
It said: "We are now looking for ways to educate the downstream users (Costco, Ikea, etc) of the world on these benefits. The sooner the industry adopts this technology the better."
EDT also announced at Tissue World Americas that it has been chosen as the recipient of the fifth edition of Cascades' Sustainable Supplier Award for its commitment to sustainable development.
This award is given each year by Cascades to publicly acknowledge the efforts of suppliers that have a positive impact on its products, processes and manufacturing methods.
Projects undertaken are also assessed on their environmental, social and overall economic impact to the customer's business.
EDT specialises in enzymes and how they can benefit the paper industry.