Top companies highlight their ongoing advances in technology. A TWM report.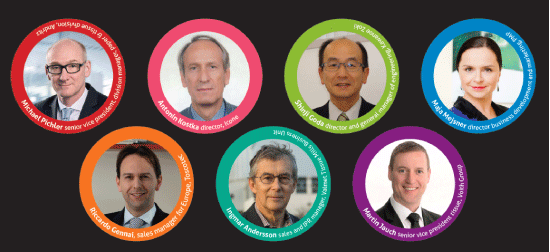 TWM/1: What have been the most important technical developments made at your company during 2018 and what can we expect in 2019?

Michael Pichler, senior vice president, division manager, paper & tissue division, Andritz: "There are several areas we are concentrating on when it comes to paper machines. Starting in the forming section, there is a strong focus on our new, horizontal Shoe Blade Gap Former.

"This innovative concept allow graphic paper machines to be rebuilt efficiently for packaging grades in a very short time and at minimum investment costs. In addition, the design extends the possible basis weight range to well above 200 gsm, which is impossible on a conventional Roll Gap Former.

"Another important product is our new hybrid centrewind reel, which allows a conventional reel to be upgraded with a centrewind feature requiring only one centre drive that is attached to it. This is also very economical and the perfect solution for a rebuild or upgrade.

"Last, but not least, we are doing a lot of work on developing the autonomous paper machine concept. We have not reached the autonomous stage yet, but we are making good progress in collecting masses of empirical data ever second, analysing it automatically to find dependencies and correlations by means of advanced mathematical models and, most importantly, making suggestions to the operator on how to improve performance. This initiative is combined under our Andritz "IoT" platform METRIS."

Antonin Kostka, director, Icone: "We have mainly been focusing on enhanced headbox design for tissue grades with the target to increase the solids content and at the same time to improve the paper homogeneity and formation quality. This solution has resulted in lower pumping energy."

Shinji Goda, director and general manager of engineering, Kawanoe Zoki: "In the Japanese market, we are seeing low basis weight products such as facial tissue with below 11g/ m2 and toilet rolls more than 100 metres as well as high basis weight products such as towels and kitchen papers can be generally seen in the stores.

"Kawanoe BF tissue machine equipped with new HeadBox – developed as a special tissue machine for dry crepe and wet crepe as well as a machine which can produce towel products with superior formation either at higher or lower basis weight – will start up in 2019.


Maja Mejsner, vice president business development and marketing, PMP Group: "2018 has been a record year for PMP. As we are becoming stronger, our brand is more respected, and we dare to think about a more dynamic and conscious development of solutions we provide for our customers.

"When our Chinese customer, who is one of market leaders in China, appreciated the start-ups of several Intelli-Tissue EcoEc 1600 lines, we felt very proud. Encouraged by this achievement and following our Everest Development Strategy for years 2017-2020, we decided to re-enter a segment of double width tissue machines.

"Understanding that tissue machine technology has been optimised and that most solutions available on the market are very similar, we decided to brainstorm and create a refreshed vision generated by a special working group of specialists. I am honoured to lead this team.

"It is a great opportunity to ask users what they like, what is smart and what their daily challenges are. In Autumn 2018, we launched the WIDE (Wise Solutions, Innovative Durable, Energy Efficient) project and our driver is to create a 5.6m reel tissue line of the best consumption in the world (Crescent Former).

"In addition, it will ensure a quality advantage in a final product for customer and will be characterised by high runnability and comfortable working conditions, with an attractive conversion rate of operating costs per tonne of tissue. Wise solutions meaning all ideas that help to improve tissue quality such as double layer headbox, massive SPR or shoe press and others.

"Innovative, user-friendly, solutions that correspond with robust solutions and users preferences as well as PMP smart concepts, with industry 4.0 flavours. Durable – of high quality (without pauperisation), a compact – modular construction, trouble-free operation (TM efficiency as high as 95%, that offers a comfortable performance. Energy Efficient TM – of lowest possible media consumption (steam consumption as low as 1.68 t/t of paper).

"TM line has been named Intelli-Tissue Ultra and will be introduced in Asia during CIDPEX and in Europe during Tissue World Milan next year."

Riccardo Gennai, sales manager for Europe, Toscotec: "This has been a very productive year for Toscotec. Eight of our top of the line AHEAD-2.0L PRODERGY tissue machines came online at APP Indonesia in just eight and a half months. Thanks to our TT DOES solution (Drying Optimisation for Energy Saving), they can run at 2,000m/min, using steam in the hoods instead of natural gas.

"On the basis of our latest developments in the winding process, the new generation of Pope Reels is running efficiently on all the lines, ensuring a more uniform paper roll winding and higher bulk on the jumbo roll.

"Overall, in 2018 Toscotec installed over 700,000tpy of tissue capacity worldwide with 15 start-ups across four continents.

"Our expanded R&D team has been continuously focusing on the redesign of Toscotec's TAD machine, the new TADVISION, and attained outstanding results in energy consumption and paper quality. Our new S-Crescent technology, designed for an increased dewatering in the forming area, is under installation in China and in Italy, and we expect to have three references in operations by mid-2019.

"For next year, we are working on a study on the use of secondary fibres in stock preparation, which represent an attractive alternative for paper mills, especially considering the cellulose price rise."

Ingmar Andersson, sales manager, Valmet Tissue Mills business unit: "Most importantly, we have seen the improvement of tissue product quality at the same time as energy and water consumption being optimised.

"Focused R&D efforts have been made for textured and structured products. Valmet has launched two new flexible hybrid concepts for structured tissue: Advantage QRT and Advantage eTAD in addition to the well-established Advantage NTT technology for textured tissue.

"Both QRT and eTAD are intended for the production of Premium and Ultra-Premium tissue and towel products at very low energy consumption levels. QRT has been developed at Valmet´s Technology centre and is now also operating in commercial installations. The eTAD technology has been licensed from Georgia-Pacific Company. Valmet has supplied several of these machines to GP and now this concept can be offered from Valmet outside of North America.

"This wide choice of technologies with built-in flexibility makes it possible to introduce new and improved plain, textured and structured tissue products to the market.

"Besides these three hybrid technologies, Valmet has also continuously developed TAD and DCT technologies to improve energy efficiency and performance.

"Valmet F(O)CUS Tissue rewinder technology has been refined
both for classic hydraulic systems as well as modern electro
mechanic systems."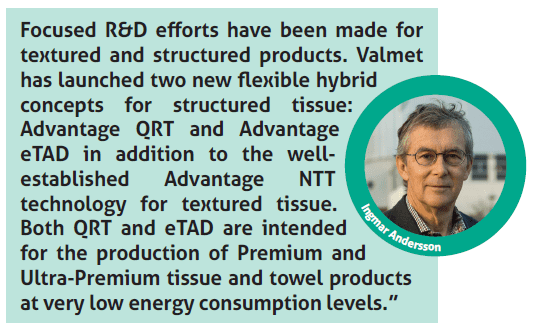 Martin Jauch, senior vice president tissue, Voith Group:
"Energy consumption continues to be of high importance. Furthermore, with the increase of fibre prices last year, savings in fibre are essential. Voith, with its proven solutions in the area of stock preparation, adds value to the whole paper manufacturing process by reducing energy consumption and optimising efficiency in tissue production lines."
TWM/2: What developments have you made in terms of energy?

Pichler: "Energy-saving can be viewed from different perspectives. Each process improvement that leads to higher overall efficiency is at the same time reducing energy consumption per ton of paper produced. The main tool we are using to move in this direction is – as described before – our METRIS tool.

"When it comes to the equipment itself, we have made further developments on our Steel Dryer, which is now able to operate with approximately 6% more efficiency than a conventional cast iron dryer. In combination with this, we have been working intensively on a new generation of sheet stabilising elements that are able to operate with 1/3 less under pressure than others available on the market and still achieve the same sheet stabilising performance."

Kostka: "Beyond the previously mentioned solution, the company has two patented solutions for the application of extended nip in the tissue machine."

Goda: "Energy reduction for machine operation depends heavily on large equipment such as the Steel Yankee Dryer. We focus on this field and continuously develop and manufacture the best equipment.

In order to derive the maximum function of energy reduction, several heat recovery systems and its combination as well as the fine tuning of the drainage system which fits the machine are essential. Furthermore, Kawanoe Zoki challenges itself to develop coating control technology and operation monitoring system in order to improve machine operational efficiency."

Mejsner: "I heard recently that papermaker's biggest challenge is energy policy trilemma: security, affordability and sustainability. We – as a machinery company – need to constantly think how to make tissue makers life a bit easier.

"An obvious driver is to provide solutions of the best media consumption (to decrease amount of energy needed) applying smart technologies like the already known Steel YDs, Intelli-Cap, massive dia SPR (over 1,400mm) or shoe press and so on. Our focus now is to take a magnifying glass and to look for even smaller savings.

"As a part of previously mentioned WIDE project, we have already created a concept of a full energy recovery system in the area of TM dry end helping to decrease steam usage by approximately 5% and at the same time to increase TM efficiency by further 4-5%. That is the way to utilise knowledge coming from observation of running references in a conscious way.

"We are also convinced that we cannot stop in looking for further improvements of existing solutions. That is why we look for improvements of design of our Steel YDs to maximise energy efficiency effect. We even see further opportunities of the entire process evolution by applying an alternative configuration of a shoe press.

"This way a wall thickness of the YD can become thinner which results in decreasing investment costs and increase of process effectiveness. It is very important to join forces with agile tissue makers who are ready to share a risk of trials to become leaders of those who dare to be first.

"It is worth mentioning that as PMP we have a dedicated division: PMPower, located in Italy, that is actively working on new solutions in the area of energy. Their rich experience an knowledge has already helped many tissue makers to improve energy consumption results."

Gennai: "All of Toscotec's projects aim to cut down on energy consumption. On TADVISION we made great progress, by reducing consumption to 4.5-5.5 MWh/tonne, which, compared to the consumption of present TAD machines
represents a reduction of up to 2 MWh/tonne.

"However, we did not stop there! We are working to reduce the overall TAD machine's consumption to less than 4.5 MWh/ tonne for a plant of the same production capacity.

"The very idea of the S-Crescent technology is based on the need to increase dryness before the press and therefore lighten the workload of the drying section, which is the energy-intensive area of a paper machine.

"Toscotec's pressing technology has been performing very well. Feedback from the field at both Wepa Lille and WEPA Giershagen mills is that our machines achieved very high dryness rates after the press and therefore have a comfortable margin of dryness capacity for future speed-ups.

"Toscotec's TT NextPress has also been praised by the Twinsaver Group for its very uniform moisture profile, which resulted in a significant increase in converting efficiency."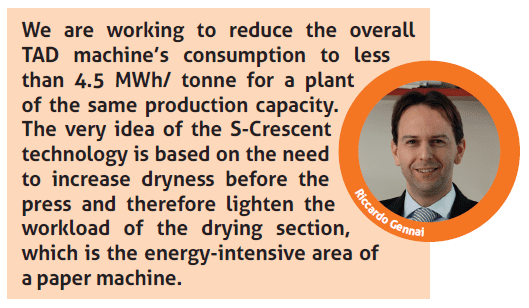 Mejsner: "I heard recently that papermaker's biggest challenge is energy policy trilemma: security, affordability and sustainability. We – as a machinery company – need to constantly think how to make tissue makers life a bit easier.

"An obvious driver is to provide solutions of the best media consumption (to decrease amount of energy needed) applying smart technologies like the already known Steel YDs, Intelli-Cap, massive dia SPR (over 1,400mm) or shoe press and so on. Our focus now is to take a magnifying glass and to look for even smaller savings.

"As a part of previously mentioned WIDE project, we have already created a concept of a full energy recovery system in the area of TM dry end helping to decrease steam usage by approximately 5% and at the same time to increase TM efficiency by further 4-5%. That is the way to utilise knowledge coming from observation of running references in a conscious way.

"We are also convinced that we cannot stop in looking for further improvements of existing solutions. That is why we look for improvements of design of our Steel YDs to maximise energy efficiency effect. We even see further opportunities of the entire process evolution by applying an alternative configuration of a shoe press.

"This way a wall thickness of the YD can become thinner which results in decreasing investment costs and increase of process effectiveness. It is very important to join forces with agile tissue makers who are ready to share a risk of trials to become leaders of those who dare to be first.

"It is worth mentioning that as PMP we have a dedicated division: PMPower, located in Italy, that is actively working on new solutions in the area of energy. Their rich experience an knowledge has already helped many tissue makers to improve energy consumption results."

Gennai: "All of Toscotec's projects aim to cut down on energy consumption. On TADVISION we made great progress, by reducing consumption to 4.5-5.5 MWh/tonne, which, compared to the consumption of present TAD machines
represents a reduction of up to 2 MWh/tonne.

"However, we did not stop there! We are working to reduce the overall TAD machine's consumption to less than 4.5 MWh/ tonne for a plant of the same production capacity.

"The very idea of the S-Crescent technology is based on the need to increase dryness before the press and therefore lighten the workload of the drying section, which is the energy-intensive area of a paper machine.

"Toscotec's pressing technology has been performing very well. Feedback from the field at both Wepa Lille and WEPA Giershagen mills is that our machines achieved very high dryness rates after the press and therefore have a comfortable margin of dryness capacity for future speed-ups.

"Toscotec's TT NextPress has also been praised by the Twinsaver Group for its very uniform moisture profile, which resulted in a significant increase in converting efficiency."

Andersson: "Energy efficient solutions are today part of any request for new capacity from all markets globally.

"Over the past years Valmet has developed a series of new Advantage energy saving solutions offered to the market such as the flexible ViscoNip Press, ReDry which use Yankee hood exhaust air to heat the web, ReTurne that recovers headbox energy and returns it back to the process as electrical power, ReGen Co-generation of electricity, hot air and steam, Yankee Dryer designs, heat recovery in Yankee hood systems, etc. If all such energy saving solutions would be implemented, we could offer a line with an energy consumption of about 1,600kWh/tonne for the whole line, which in practice would be about 50% of the consumption for standard tissue machine 20 years ago."

Jauch: "We have several new developments in the market that increase a producer's efficiency without raising the total cost of ownership. For example, the simple concept of TissueLev combines the benefits of energy savings with efforts to limit fibre consumption.

"TissueLev optimises drying efficiency while reducing up to two gsm without changing the characteristics of the final product. That allows up to 10% in savings of operational costs."
Andersson: "Energy efficient solutions are today part of any request for new capacity from all markets globally.

"Over the past years Valmet has developed a series of new Advantage energy saving solutions offered to the market such as the flexible ViscoNip Press, ReDry which use Yankee hood exhaust air to heat the web, ReTurne that recovers headbox energy and returns it back to the process as electrical power, ReGen Co-generation of electricity, hot air and steam, Yankee Dryer designs, heat recovery in Yankee hood systems, etc. If all such energy saving solutions would be implemented, we could offer a line with an energy consumption of about 1,600kWh/tonne for the whole line, which in practice would be about 50% of the consumption for standard tissue machine 20 years ago."

Jauch: "We have several new developments in the market that increase a producer's efficiency without raising the total cost of ownership. For example, the simple concept of TissueLev combines the benefits of energy savings with efforts to limit fibre consumption.

"TissueLev optimises drying efficiency while reducing up to two gsm without changing the characteristics of the final product. That allows up to 10% in savings of operational costs."
TWM/3: What changes have you seen in the global tissue market in terms of changes in demand, and what new challenges and opportunities has that presented for paper machine suppliers?

Pichler: "There is still an ongoing trend of converting former graphic paper machines into packaging grades in Europe and partly in the US.

"As quite a lot of machines have been converted already, we see our customers carrying out very detailed studies on operating costs after the rebuild.

"Even knowing that the packaging grades market will continue to grow, our customers expect tougher competition because the installed new or converted capacity is significant and this will result in reduced margins at the end of the day.

"So projects are only realised if a concept can be found with moderate investment costs and competitive operating costs – this means that decision-making does take longer today than it did one or two years ago.

"As we also know, the European authorities are moving ahead with banning plastics for certain applications. It will be very interesting to see which of those products can be replaced successfully by paper products.

"As we believe there could be quite a number of them, this will certainly drive the demand for so-called special paper machines in Europe over the next few years.

"In China, we see a sharp decline in the number of projects for new paper machines because of the boom in the past two years plus the ban on importing waste paper. We clearly see the trend of Chinese paper producers investing in Vietnam, Malaysia, Laos and other Asian countries – a trend we expect will continue in the next few years as well."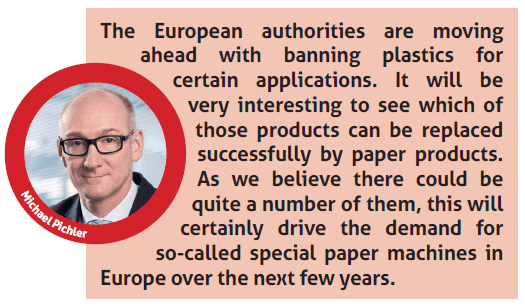 Kostka: "The tissue market is asking for production cost reduction which mainly means energy cost reduction. The machine suppliers must follow this demand and act consequently."

Goda: "Product differentiation is more likely to take place. Market response is getting quicker and it reflects the impact on our converting machine. Even with high-quality products if the price is not within the expectation it will lose the market share.

"Machine suppliers like us are required to have technological competence that both tissue machines and converting machines that can obtain the maximum efficiency achieving the superior products at lower cost.

"Kawanoe Zoki aims to be a machine manufacturer capable of adapting to various needs of household tissue products with our unique technology by solving the issues of both machines accurately."

Mejsner: "It is important to look from a different angle. What we take a consumer point of view, it will be affected by where the person lives, what preferences he/she has, how much money he/she can spend on tissue products. More mature market require more innovative products – softer, smarter and more flexible.

"If a market is more mature, then a tissue line needs to be more flexible (wider product range), offer extra tissue features (extra bulk, extra softness) – simply those TMs should be more advanced so an investment cost is typically higher.

"In case of emerging markets, consumers expect less – so TMs can be simplified and cheaper.

"A couple of years ago PMP implemented Optimum Cost Solution strategy and opened an entity in China: PMP IB to provide a high-quality product, combining European expertise with a wide span of Asian market potential. Today PMP IB is a fully operational Centre of Excellence with a capacity of up to eight TM lines per year.

"When we take tissue producers angle into account, they want to make sure per tonne of tissue production is optimised. When they own one machine a challenge is smaller.

"However, if a tissue producer runs for instance 50 machines in several locations, in different countries their biggest challenge is how to standardise the process to have the business under control."

Gennai: "We have seen different trends in different areas of the world. In Europe, some producers are considering the usage of secondary fibres, instead of cellulose. Toscotec is working out various technical solutions for the entire process, in order to make it a viable alternative.

"In Asia, I am thinking of South Korea and Japan in particular, there are new rebuild opportunities opening up. Toscotec supplies highly customised upgrades and optimisation solutions that allow paper mills to reduce their consumption costs and get the superior paper quality they need to stand out on the marketplace.

"Customisation is always a challenge for a paper machine supplier, because you need to go the extra mile and understand their actual working conditions, analyse their data and work out the very best upgrading solution integrated with the existing equipment.

"This entails tailor-made engineering and the highest flexibility and efficiency during the entire manufacturing process.

"Then, South-East Asian countries and India are installing new lines for the export market. Toscotec is there to provide highly efficient solutions for new tissue lines, with the lowest possible running cost, so as to support the mill's export strategy.

"One trend in customer demand has not changed, i.e. the need to be listened to very carefully. Paper mills ask for attention and devotion on the supplier's part.

"Toscotec's response has been that of close attention to their needs, and that is why we are the paper machine supplier with the highest number of projects delivered each year worldwide, for the seventh consecutive year."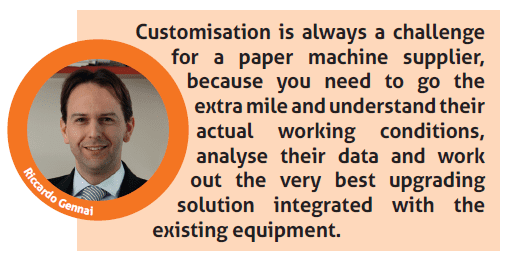 Andersson: "The making and supply of tissue products has become more of a global business. The old saying "tissue does not travel well" seems to have less meaning as local factors as cost of fibre, water, energy and people are getting ever more important.

"Therefore, major new capacity added in, for example, China and Indonesia, will impact several other markets as tissue products and jumbo rolls are exported to many local markets.

"The level of the final product quality is increasing on virtually every market. World class technology is requested in every market, there is no market machinery is only making very basic quality.

"The demand for conventional technologies like Advantage DCT technologies remains in all markets but we see an increasing demand also for higher grade machines like TAD and hybrid technologies globally.

"Digitalisation and industrial use of the internet is high on the agenda for most suppliers and tissue makers and will hav an ever-increasing impact on future production optimisation."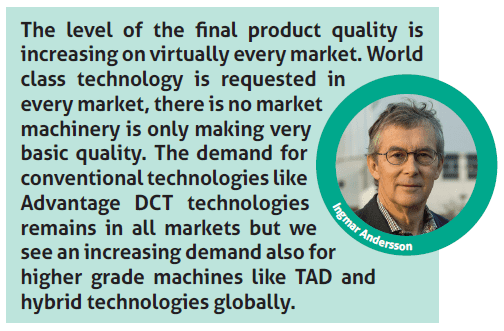 Jauch: "Markets are currently driven by differentiation in order to add value for customers. Meanwhile, complexity, higher investments and operating costs are considered potential drawbacks. Efficiency in the dry crepe process and opportunities to implement modules to improve quality, reduce energy consumption and the usage of fibre are key objectives for Voith in order to offer benefits to the producers.

"These are all in combination with digital applications."
TWM/4: What geographical areas are you looking to next year and why? What technical PM trends and challenges are you seeing in these regions?

Pichler: "We at Andritz focus on all European countries, including the Eastern European countries. The European market will be still dominated by rebuilds and upgrades, with only a few new machines being supplied in the next three years.

"We also do not envisage there being more machines wider than 10 metres in the near future."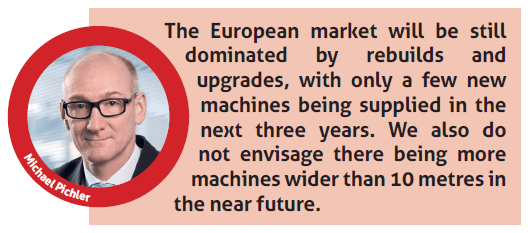 Kostka: "North and South America because the demand for high quality grades is high; this means new machine concepts for the production of high bulk tissue at low specific energy cost."

Goda: "Southeast Asia and India are the areas we can expect further growth. There are demands for small to medium sized machines. When it comes to selecting the machine suppliers, they tend to prioritise the proven technology.

"From the initial detailed planning, smooth start up to supportive after service, we believe that the strength of Kawanoe Zoki will be accepted in this market."


Mejsner: "Even the tissue sector has slowed down a bit recently, although it is still healthy. The tissue market is pretty dynamic. Recently there were two interesting trends that will change the shape of our industry: politics
and consolidations.

"China has recently been scientifically affected by its government policy. Some mills have been closed already as their technology was obsolete.

"Some other will be closed due to expiration the business licence and energy limitations. It means some producers will be forced to go somewhere else. It is interesting to see big players like APP deciding to enter the US and Australian markets by taking over existing mills. It is a sign of the times.

"Taking current trends into account, I would still keep China in mind (even with their temporary troubles they will stay the world's leading tissue producer), however, I would also increase attention towards Latin America and Eastern Europe – areas ready to grow. The technology choice will be driven by local consumers' needs.

"Emerging markets will probably become more agile to install faster TMs than before (to increase annual production potential). Mature markets will
bend themselves towards double width TMs rather than single one.

"I would also expect more interest in the area of alternative fibres understanding that recently fibre costs are in a permanent increase."

Gennai: "We are looking to North America because with our experience and expertise we definitely have the right credentials to expand our share in such a technically demanding market. The main issues in North America are prime quality and structured tissue.

"Toscotec is very well positioned for both with its cutting-edge TAD technology. Besides, we are the right partner for tailor-made upgrades and rebuilding of existing equipment.

"Secondly, South America is certainly a high potential market. Brazil, in particular, will represent a great opportunity in the next few years. Thanks to its advanced technology and vast experience, Toscotec will be a key partner for those paper mills who look for an alternative to local manufacturers

"I am thinking of producers who want to distinguish themselves for tissue quality and need high efficiency rates and reduced running costs.

"In order to be able to cater for the South American market, Toscotec is establishing a local business unit in Brazil, which will be the focal point of our operations in Latin America in the near future.

"Obviously, we will not forget Europe, which is the market where our headquarters are based."

Andersson: "The biggest areas of growth will be China which is the home base of some of the most ambitious investors in this industry, and which are still fighting for market position

"The urbanisation and increase of tissue consumption will cover for some of this expansion but it seems it will result in an overcapacity putting pressure on the current smaller producers.

"The investment pace in China might be slowing down in practice as it seems stricter environmental regulations are being implemented and it takes more time to receive all necessary permits.

"North America, South America and Europe markets are more predictable and will grow more in balance, consumption and capacity.

"Ultra-Premium quality is still in highest demand in North America but also other markets are looking for better quality in order to support growth."

Jauch: "We expect the biggest growth in China with a focus on dry crepe tissue. Voith is prepared to serve this market with proper technical solutions and skilled personnel that allow significant efficiency gains as well as the reduction of energy consumption.

"We consider the following key factors as mostly relevant for all regions: flexibility to produce different high-quality tissue grades, efficiency, energy consumption, environmental friendly operations and production costs."
TWM/5: What overall trends in tissue machine manufacture will have the greates impact on the production process in the next five years?

Pichler: "We believe that the trend towards highly standardised machine sections and entire machines will continue.

"This is because highly standardised sections ensure trouble-free manufacturing, installation, start-up, and performance of the plant, which results in a secured ROI and reduces delivery time.

"This trend is also supported by the fact that many paper producers do not always need to have a big technical and technological team and rely more and more on paper machine manufacturers' competence.

"Regarding the impact on the production process, I believe that the "autonomous" trend will go from strength-to-strength, as mentioned above. Data analytics and predicting the result of each change in operational parameters will start to play a major role in supporting the operators directly at the paper machine."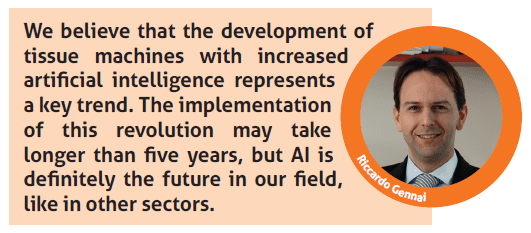 Kostka: "Extended nip application and TAD."

Goda: "We assume that the mill environment of tissue makers will have a significant change. A safe and clean environment is the essential factor for better production efficiency. Automation of equipment, dust collector and cleaning system will develop further. Equipment diagnosis and maintenance will be designed into the package.

"Now, our mission as a tissue machine supplier is to offer the machine which enables tissue makers energy saving with less operators that eventually transforming working practices."

Mejsner: "There are three main drivers that fuel a technological growth in tissue machinery: an energy saving need, a tissue quality improvement and an increase of safety.

"In addition, there is a need of higher system automation according to a philosophy of Industry 4.0. Let's understand operators and make their life easier.

"Energy saving solutions are directly connected with robust solutions like large dia Steel YDs, suction press rolls or shoe presses, air caps, highly efficient auxiliary systems, etc. I would also mention our recent ideas like full energy recovery system.

"The next level is to improve those technologies for instance to apply alternative configuration of shoe press to optimise YD configuration. Time will tell.

"The shaping of tissue quality might be achieved by applying technology on the machine (layer type headbox, shoe press, etc) as well as to work with alternative fibres.

"Papermakers are getting more open to test alternative fibres like coca, coffee, hazelnuts as well as nanofibers). We should move ourselves in the field of innovation more than before.

"Safety is also a priority worldwide. I believe it is a right time to join forces at an industry level to define safety standards for the entire industry. We should take this subject and discuss during industry events to learn from one another and make our industry a better place.

"How to make operators' life easier? The only way is to visit installations and ask what they like and what is a daily challenge. It is crucial to maintain a connection link between design engineers with users. Brainstorming about it? Why not!"

Gennai: "We believe that the development of tissue machines with increased artificial intelligence represents a key trend. The implementation of this revolution may take longer than five years, but AI is definitely the future in our field, like in other sectors.

"Besides, the industry has shown an overall growing trend of supply of turnkey projects, which has been consistent over the past two decades and growing in the past three to four years.

"Paper mills prefer to entrust a complete plant to one single supplier for a number of reasons, including the fact that by making the supplier fully accountable of the entire process, they will get the best product quality in the end.

"Turnkey projects are the opportunity to optimize the process head-to-toe, because you have full control. Toscotec has done almost 40 turnkey projects so far. The last one, a major plant for Sofidel Group in Oklahoma, will be delivered in 2019."

Andersson: "Increased tissue quality demand, increase in AfH and towel consumption, cost of fibre and energy, limited fresh water supply, digitalisation of production and processes."

Jauch: "We see high pulp prices as a challenge for the industry since there is no indication that they will drop in the short term.

"Therefore, we expect other adaptions within the markets in order to increase profitability, such as integrated mills, more efficient fibre usage, optimised energy sourcing, supplier responsibility for whole installations, industry 4.0 solutions, as well as various business models like the growth of tissue e-commerce."
TWM/6: How are new paper machine technologies changing the marketplace for the paper machinery manufacturers?

Pichler: "As we know, the paper industry is quite conservative simply due to the fact that it is very capital-intensive. Neither a paper producer nor a machine builder can take the risk easily of implementing a new technology that has not yet been proven.

"That is why we believe that innovation will definitely continue as it has in the past – step by step for equipment, processes, and technology.

"Such topics as nano-cellulose or micro-cellulose will continue to be of interest and an area of investigation, as in the past, but it will still be a few more years before a process is developed that can have a real impact on paper production processes."

Kostka: "The paper machine manufacturers must invest in innovation, this is the discriminant for a long term industrial strategy."

Goda: "Our assumption is that the technological innovation for wet and semi-wet crepe is going to progress. In addition to upward trend of towel and kitchen papers, its application is expanded to household use and AfH. Tissue making technology to produce durable products with high absorbency and the machine development with lower energy cost as dry
crepe can create an attractive market

"The tissue machines with the capability of the combination of conventional proven technology and innovative technology will open up new markets."

Mejsner: "The tissue business is a growing place, however its priority is to be stable and keep production costs under control to make business profitable. There is a small area of taking risk and to run trials. Finding a sweet spot is not easy.

"I rather see PMP and our competitors as machinery builders pushing tissue producers to move forward and apply novelties. I strongly believe in a long-term partnership. Then both parties know each other and can create something spectacular.

"We are lucky to have such partners. It is a privilege to be involved in development projects that might become a breakthrough for the industry. Time will tell!"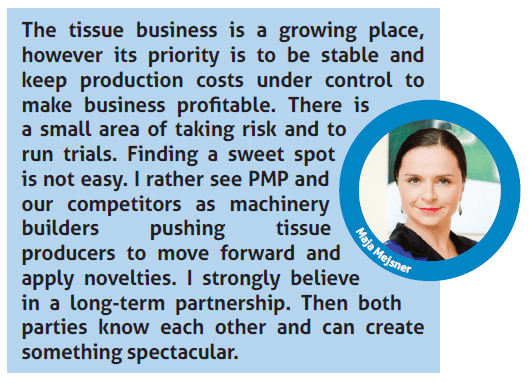 Gennai: "Toscotec is developing eco-friendly tissue machines, with low energy consumption and the highest possible production efficiency. As manufacturers, we have a commitment to paper mills and down the line to paper converters, and ultimately to consumers, to improve the environmental performance of our manufacturing process.

"And secondly – and this is even more important in the long run for the environment at a global level – we have a commitment to deliver advanced design and technology, which will improve the paper mill's green performance, reduce their usage of fresh water, electricity and thermal energy, and minimise their atmospheric emissions.

"With this in mind, we are focusing on higher efficiency, i.e. machines that will exceed the operating speed of 2,000m/min."

Andersson: "Some suppliers will invest in the development of new and alternate technologies to meet the challenges and others will concentrate its efforts for lower cost standard machines.

"The digitalisation and Internet of Things will be a challenge but also providing an opportunity for suppliers as well as tissue makers."

Jauch: "Integration is key. Voith is fully committed to reducing customer pain points and offering required differentiation in technology development. We offer solutions for stock preparation, tissue machines and clothing that are all integrated with Voith's papermaking 4.0. Papermaking 4.0 brings the papermaking process to the next level.

"That, among others, includes activities such as higher efficiency, operator trainings in virtual environments and the integration with different systems and suppliers."