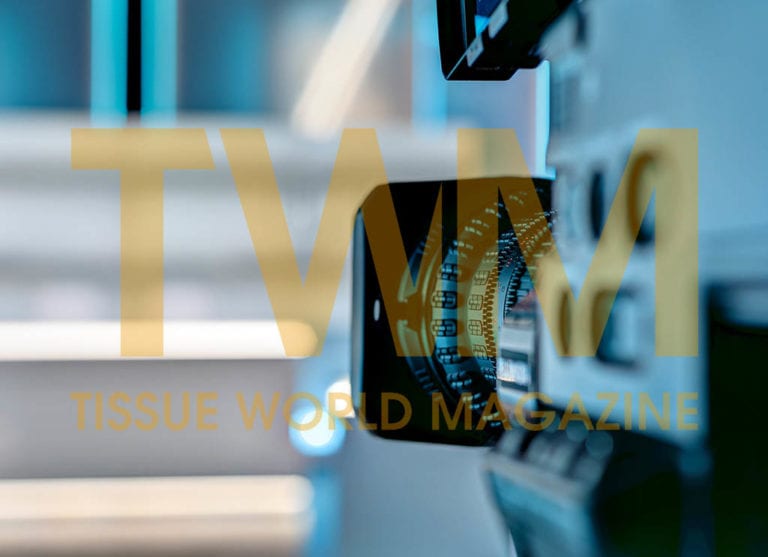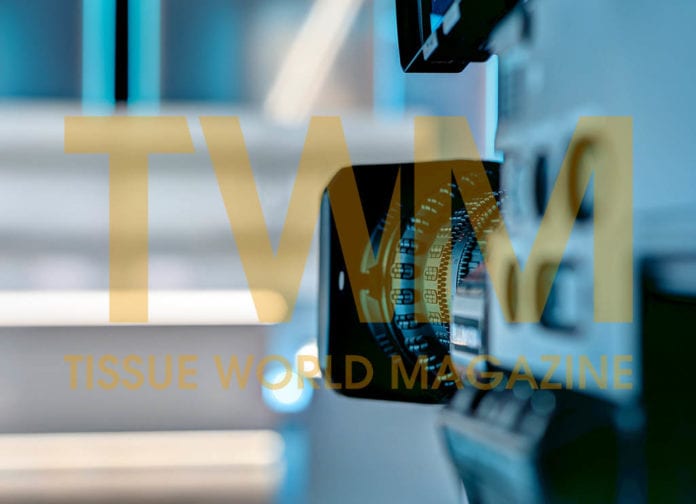 TWM asks leading figures across tissue's global supply chain for their retrospectives on 2018 and prospectives for 2019. Here they analyse key issues … raw material costs, integration, overcapacity, automation, E-commerce, sustainability, regional political and military conflicts, technology, restructuring by the big groups, eucalyptus, protectionism, China, and 'Made in the USA.'
---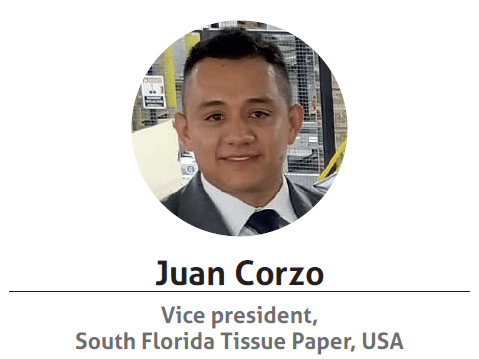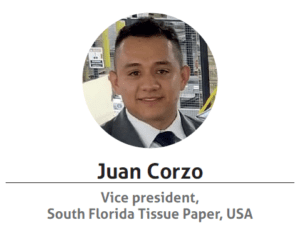 Juan Corzo, Vice president, South Florida Tissue Paper, USA
TWM/1: How have the events in the tissue industry in the last year impacted your business and the global tissue industry?
"The biggest impact in the tissue Industry this year has been the rising costs in all raw materials. Besides rising prices in pulp, we have seen an increase in cardboard, plastic, and freight. This has paid a major impact in our business and our customers nationwide. What it cost us to make a product in 2017 has significantly changed in 2018."
TWM/2: What main tissue trends are you expecting to see in 2018/2019?
"The main tissue trends we're seeing are for products made in the USA. We see the market giving more value to the "Made in USA" symbol printed on our products. Having our products made in the USA from the core, from the corrugation to the finished roll, has more value than products made overseas."
TWM/3: How are the shifting economic conditions around the world impacting your business and the tissue industry at large?
"We see the economic conditions around the world impacting the rising cost in pulp."
TWM/4: Are you seeing demand for tissue products in new geographical areas, and if so, where and why?
"We see a higher demand for tissue products in Latin America because of our quality. We are able to provide a superior quality that countries in Central and South America are demanding."
TWM/5: What are the main challenges and opportunities facing the tissue market in the immediate future and how are you tackling them?
"An immediate challenge we see in the tissue market is the opening of new mills across the United States. We are seeing new technology in tissue mills able to produce premium paper at a more economical cost. Paper like NTT, for example, has introduced us to newer technologies that allow mills to produce premium quality at a more competitive cost."
TWM/6: What do you make of the Trump/China trade wars?
"We have seen less competition coming from China because of this. China has always been a competitor when it comes to economical tissue products in markets where price is the main factor. In 2018, we have been able to compete more aggressively against customers that have China as their main source. We are starting to see more advantages in our prices when competing with a Chinese manufacturer."
---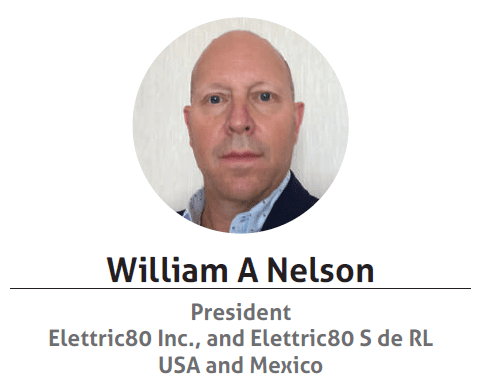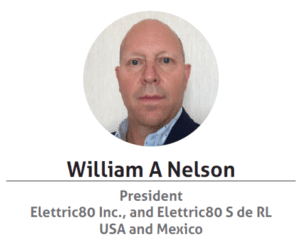 William A Nelson, President, Elettric80 Inc., and Elettric80 S de RLUSA and Mexico
TWM/1 "This is a very dynamic moment in the industry. We are seeing major paradigm shifts in supply chain strategies with the continued growth of E-commerce marketplace. As a result, tissue makers are thinking very strategically about efficiencies gained through improved material management and flows from inbound receipt of raw materials to delivery of a custom-made package of finished product at the consumer's doorstep. Likewise, flexible systems are replacing older assets. The emphasis has moved from the model of "buy best assets – run fast – manage outcomes" to taking an integrated approach where all activities are orchestrated real-time and software is making decisions based on feedback received from the equipment that are integrated parts of the system solution. All aspects of an existing or new facility can be emulated thereby providing a very accurate estimate of outcomes that are less susceptible to declining results over time. At E80, we are working on major initiatives related to intelligent decision making through big data and IoT that are providing very exciting results in the areas of productivity improvements, predictability of maintenance and adjustment of priorities based on best available resources. Our focus is on the end-user how do we delivery exactly what is needed most directly at the lowest possible cost."
TWM/2 "E80 sees the market from the prism adding-value through the creation of an integrated supply chain from pulp process to delivery of finished goods at home. Yes, private label is growing in different markets just the same as customers are demanding better performing products. Branded manufacturers are fighting very hard to stem private label growth through product innovation and streamlining production systems at legacy sites. In our estimation, however, whether branded or not, the winners will be those companies that figure out how to make their products most accessible in the configuration that their customers desire and this can be a very fluid request. For this reason, all investments must be able to adapt quickly to changes."
TWM/3 "Automation is taking hold in low labour cost markets where business tends to be more entrepreneurially driven. One of the most modern tissue facilities in the world is located in South America, for example. There are many more examples in other lower labour cost markets. Entrepreneurs realise that the ROI bet is much more successful when played with integrated systems that provide predictable results day-after-day and that are flexible enough to provide benefits such as better customer service to end user, higher quality and lower cost per unit produced. In more mature markets the same dynamics are driving automation decisions, but even greater opportunities exist due to decreasing availability of labour, increased transport costs and changing buying habits."
TWM/4 "Yes, of course we are seeing a broadening of the world market in developing markets as disposable income grows. Right now, I think every market is a new market given the shift in supply chain pportunities."
TWM/5 "The winners will be those who figure out how to make their products the easiest/fastest to access with the given of competitive price and quality. Reducing how many times a product is handled prior to arriving at the final customer's doorstep is critical. Safety, the environment and conservation of all resources will win the day. We will have moved beyond the "run fast and wait" model in the near future."
TWM/6 "If I could predict the impact of a trade war, I would be a billionaire today – and I am sure a few will profit from this while most will be stuck with the bill. However, as a mere mortal I think limiting competition slows down innovation. E80 is a company comprised of many people who have immigrated to a place where they can best utilise their unique skills to provide value to the final consumer at the lowest possible cost and the highest possible quality. We are a multi-cultural, multi-racial, multi-theist, multi-national company whose employees share in the same joys of living in an open society where goods flow freely and people are able to pursue their dreams without unjust im
---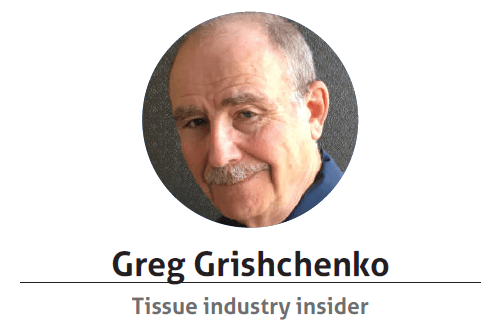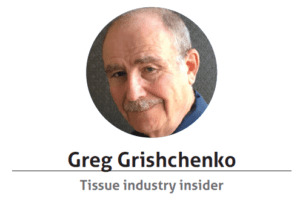 Greg Grishchenko, Tissue industry insider
TWM/1 "Being a constantly growing part of the paper industry hurt by digital media development, the tissue sector in comparison looks quite immune to almost any event that might affect its state. Recent mergers, acquisitions and mill consolidation can be explained as a normal free market activity with the goal of maximising profits. The other economic factors such as rising cost of raw materials, overcapacity and local import/export activities will not change the direction of the tissue market growth vector, but only add some fluctuation in it within low single digit percentage."
TWM/2 "In 2018/2019, the main tissue trends will remain attached to regional political and economic development. Indeed, we should expect flat sales growth in the private labels, consumer tissue and AfH in Western Europe, the US and Japan. Eastern Europe (including Russia), Latin America and Asia (except India) tissue markets will show mild growth due to population gain and low consumption initial benchmark. Ending of military conflicts across the world might bring higher tissue consumption (with positive expectation in the Middle East/ MENA region). Recent economic development in the African continent might bring positive surprises in view of consumer and AfH tissue growth (see #4 below)."
TWM/3 "Changing economic conditions affected by trade disputes and new tariffs might slow down the growth of tissue markets in some areas. The main causes of possible price hikes for pulp and tissue are China's attempts to secure its sources of recycled pulp affected by their government strategies and the US-Canada tariff scuffle on tissue products. New tariffs introduced by President Trump's US administration might affect US-based multinationals importing pulp from Asia, but price hikes in the USA might be unlikely due to competition with local suppliers. The price increase for the US tissue product imports to Canada might be questionable due to the fact that some North America-headquartered tissue makers have mills in both US and Canada.
"Tissue forming and converting equipment manufacturers in Germany, Finland, Austria, Italy and Brazil are principal suppliers for the global market. The share of such imports to the US is not that critical to change the very strong economic position of such companies. Chinese tissue makers might impose reciprocal tariffs on US sourced pulp but the resulting effect on finished product prices remains to be seen."
TWM/4 "The African continent is a potential source of growing demand for tissue products. The driving force for this development, however, is quite peculiar. In recent years China actively promotes its "Belt and Road Initiative" across the globe including Africa. The recently run FOCAC (Forum on China-Africa Cooperation) summit in Beijing was attended by an overwhelming majority (over 50) of Africa's countries. Over a period of the last 10 years, China has invested nearly $100bn in various government, industrial, infrastructural and mining projects in Africa. "Additionally, over $70bn were distributed there as financial assistance. Obviously, a significant part of commercial product inflow to Africa is consumer and AfH tissue products. Indeed, this trade benefits both sides – creating a significant channel for an overheating Chinese tissue industry from one side and a developing consumer tissue market on the other."
TWM/5 "Among the main challenges the global tissue market might face in the near future are overcapacity and impact on environment. While the first one can be managed by economical means, the second is connected with certain trends in sourcing of recycled fibre and growing demand for white virgin fibre. The increasing share of fast growing eucalyptus tree plantations is slowly changing balance of a tree stock in nature across the world. Environmental issues rising from this expansion are subject of controversy and must be addressed for the future."
TWM/6 "See answer to three."
---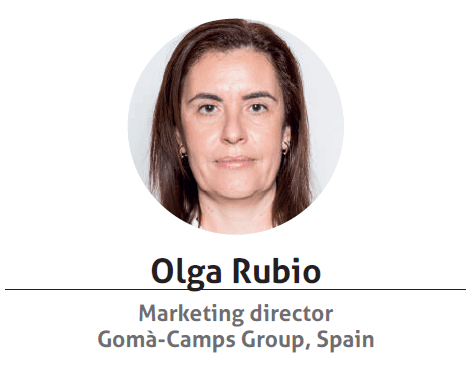 Olga Rubio, Marketing director, Gomà-Camps Group, Spain
TWM/1 "Competition, market and consumption influence our tissue business. All of our efforts are focussed on the direction to fulfil the customer and consumer needs in our markets and for this reason we have introduce new products, new customers and implement internal projects based on continuous improvement."
TWM/2 "Sustainability, E-commerce, added-value products (innovations)."
TWM/3 "The tissue industry in general is not exempt from the impacts and changes in economic conditions. Gomà-Camps and the tissue industry must be able to adapt to the new market and society changes. In our case, we take these new challenges as one of the right ways to improve as a company, in our processes and organisation."
TWM/4 "The tissue is a commodity product a nd in the emerging markets will keep on growing. Our internationalisation strategy is based on reaching these opportunities from the local market. For example, in Morocco, where our local company develops our position in that market."
TWM/5 "The main challenge for Gomà-Camps is to always keep in mind the environmental impact that we as an organisation have. Our daily efforts to improve this aspect highlight our recycled paper and our commitment to this type of products, increasingly demanded by consumers."
TWM/6 "We act in a global world and global competition improve the competitiveness of companies. The possibility of reaching a group of larger consumers suggests that it is difficult to understand that protectionist measures are adopted in some countries."
---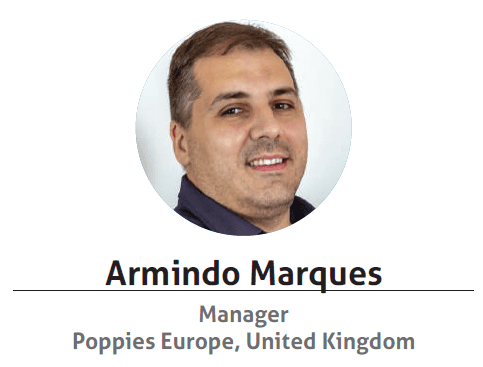 Armindo Marques, Manager, Poppies Europe, United Kingdom
TWM/1 "The rising pulp costs have been the main factor that has impacted our business in the last 12 months. This has put significant pressure on profit margins as it drives up our raw material costs. Raw material costs have been on an upward trend for such a long period that by the time we pass an element of this on to our customers the cost has moved up again making it impossible to reconstruct the profit margin. This also makes quoting for new business difficult as a sales price quoted one month is not always viable in the following one."
TWM/2 "As the price of raw material remains very high there will be an increase in demand for substitute products at a lower cost base. Poppies intends to be the front runner by launching its new alternative napkin product range (recycled and part recycled grades).
"The demand in the AfH market for environmentally friendly products has continued to grow, however the emphasis is no longer just on the core product itself but on every aspect of the product from the carbon footprint of the supply chain to the manufacturing process and the packaging as we enter the cradle-to-cradle era."
TWM/3 "The political decisions made around the world directly affect the tissue industry. China's policy on recycled fibre imports has fuelled the increasing price of pulp over the last 12 months, whilst the turmoil in Turkey has led to extra capacity of tissue being available on the export market. The currency is hugely affected by political decisions (i.e. Brexit, uncertainty, potential tariffs), which has become more unpredictable in recent years. This has a direct impact on our business as the UK market relies heavily on imported raw material."
TWM/4 "Since the Brexit vote and the weakening of the British Sterling Pound, we can see that the euro zone has become very interested in UK manufacturers. England has become very attractive especially for the neighbouring countries where the cost of transport is still moderate."
TWM/5 "There is a clear movement in the way the big groups are restructuring their operations (Essity and Kimberly-Clark), which includes divesting some areas leading to openings for smaller operators. We are preparing ourselves to take on the challenge if the right opportunity arises."
---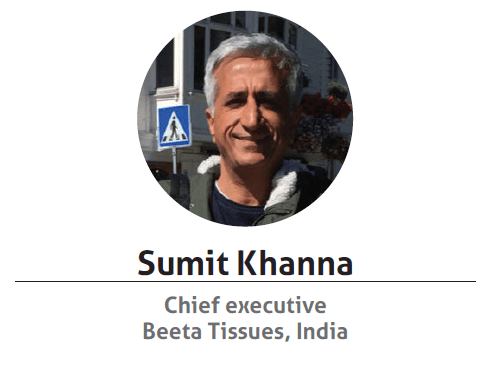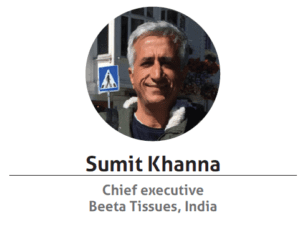 Sumit Khanna, Chief executive, Beeta Tissues, India
TWM/1 "The tissue industry in India has not seen any mergers or acquisitions in the past year."
TWM/2 "Rising paper cost and increase in tissue exports has been the primary trend here, resulting in higher capacities. There has been increasing demand for private label products, which is trending among online and offline retail stores due to acquisitions by Amazon and Walmart."
TWM/3 "The Indian tissue paper business has been on the rise in jumbo reels and finished goods in the past one year as the Indian rupee has depreciated by about 7%!"
TWM/4 "Major demand has been from the Middle East countries and USA as India is preferred compared to China due to high import duties on Chinese products. Due to the large size and population of India the tissue paper industry is consistently growing leading to increase in paper mills and converters."
TWM/5 "The major challenges in India are the lack of world class converting and packaging machines. Primarily, the Indian-made machines are used by the converters. I feel now there shall be a huge demand for European and Chinese machines for this sector.
TWM/6 "With the Trump/China trade war, Indian tissue paper is in great demand with increase in exports to USA. Personally, I think Indian tissue convertors are now ready to install high capacity machines in converting and packaging to produce a world class product and export."
---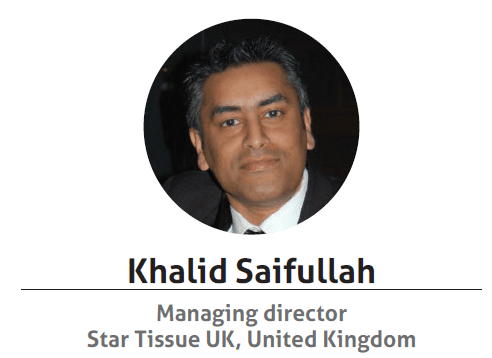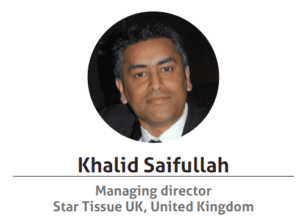 Khalid Saifullah, Managing director, Star Tissue UK, United Kingdom
"Rising pulp prices compounded with negative volatility in the currency markets has had a major impact on our business over the past year. As manufacturers, we have to now keep one eye on the exchange rate and one eye on productivity to ensure we sustain any profit margin in the business. Whilst demand for tissue products is increasing the number of converters in the market is reducing. This year we have seen a surge in new paper mills across the world but consolidation and tightening in the pulp market.
"We envisage the pulp paper increases will be a lot slower in 2018, but we see increased global instability with the rise of protectionist and populist governments which means we have entered a new world order, and one that is incredibly unpredictable. This will continue to cause volatility in the currency markets, and we'll see rises in costs due to trade tariffs, sanctions and demand, all making it difficult to plan investments for the longer term. This has made it very challenging for UK paper converters as these rising costs and a lag of price recovery has made it difficult to sustain profitability and could lead to more casualties in 2019.
"Star Tissue has overcome these challenges by passing on price increases and continuous investment in improving productivity has helped it remain competitive and profitable. This year Star, has invested over €1.5m upgrading its production lines to ensure it can continue to offer superior products in the hygiene paper industry and increasing its converting capacity to 2000 tonnes per month. Our strategy of investing in people, productivity and processes has propelled us to becoming one of the leading suppliers of AfH products in Europe. This year, we have also invested in a new management information system moving to SAP which has helped us to integrate all our processes giving us real time information on our stocks, productivity and sales. We are seeing a huge shift away from tissue products made from pure pulp to recycled tissue products. Our Ecoroll range has seen an increase in demand by over 40% this year and this has been mainly due to rapid increases in pure paper prices but also customers are preferring a more environmentally-friendly product.
"The other key trend we have seen this year is customers wanting less packaging and concentrated products, for example, instead of the loosely wound 10m kitchen towel they prefer tightly wound 40m kitchen towel and this significantly reduces the carbon footprint by limiting transport, increasing payloads, and reducing plastic packaging. As for Brexit, two years on and we are still no clearer as to what this will look like and how we can benefit from the potential opportunities or how we should prepare for the threats it may pose. I can say we have held back on some of our investments this year until we are clearer as to what trading relationship we will have with Europe and the rest of the world post Brexit."