In a market full of the largest global tissue players, SCA is keeping competitive by targeting growth, innovation and branded products. TW visits its Sahagún plant near Mexico City to get the latest.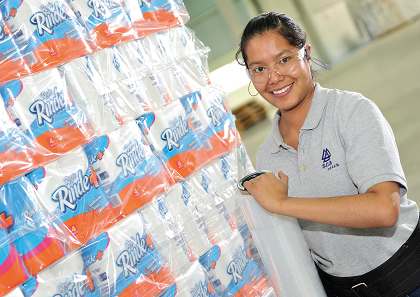 The approach to SCA's Sahagún plant is pretty magnificent. It's as if TW is in a Mexican outback movie: mile after mile of ginormous cactus line the gravely roadway and behind that stretches a seemingly endless view of trees, sandy plains and mountains. Just before we arrive at the site, the driver indicates in Spanish and dramatic hand gestures towards a track that leads to the fabulous Teotihuacan pyramids. Located in theBasin of Mexico some 30 miles northeast of Mexico City, they were built around 300BC as the centerpiece of an enormous city that is still steeped in mystery as to why it was built and what it was built for.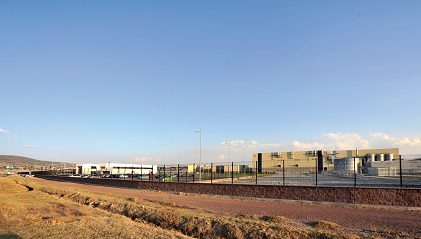 This mystery doesn't apply to SCA's site, its purpose very much evident in a tissue market that increasingly punches above its weight on a global scale. The plant is impressive, sitting stretched over 1,003,000 m2 of land and comparable in size and structure to the modern facility of SCA Valls' site in Spain. Although located in a purposefully built industrial area, Sahagún is not surrounded by any neighbours and has "plenty of room to expand out further", as plant director Roberto Deleón says during our interview and tour of the facility. He greats TW with a friendly smile and laughs readily throughout the meeting. The site is very new having started production three years ago as part of a 210m USD investment. More recently, 10m USD has been invested to create a new distribution centre that Deleón says enablesit to be "more efficient in cost and prepare for market needs". It will have the capacity to deliver more than 1,500 shipments every month across Mexico and Latin America. Walking around the site, TW mentions that there is also plenty of room for a new tissue machine as well as the new distribution centre, and he grins back. For the time being, his lips are sealed.
'As a site and a company, we are quite pioneering.'
The plant produces 100% recycled toilet tissue and household towels products, and most raw materials are sourced from the local area. It follows much of SCA's global sustainability initiatives and as such is 100% free of landfill products; sludge deposits go to the cement industry where it is used for energy and raw material. It also recovers water from rainwater. The mill is located next to Mexico City's metropolitan area where water is scarce and expensive and so it has its own water treatment plant that uses a biological system to reduce the organic content in the effluent water and as such, by the end of 2012 it had reduced its water consumption by 15%.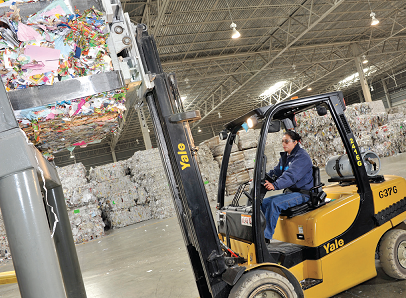 "As a site and a company, we are quite pioneering," Deleón says. The 360-staffed mill was initially a greenfield site and there was nothing there. "We helped bring employmentto the area and trained local people. We'll bring in an additional 50 people once the new distribution centre is up and running. With our efforts here, we are working to become a global benchmark in terms of efficiency with our paper machine and converting facilities," he says.
SCA started business in Mexico 35 years ago and now has five plants in the country, three tissue mills and two hygiene mills that employ 2,600 people. The business claims the number two consumer tissue spot in the Mexican market, which has almost all of the key players in competition; SCA and Kimberly-Clark claiming the first and second spot, Kruger is absent, Georgia-Pacific has a presence as does CMPC and a couple of feisty independents including Papel San Francisco (the other operation report article in this issue of Tissue World magazine).
"Competition here is tough," Deleón says. "And a lot of new capacity is being introduced. So we're building brands and innovating."
'Mexico's middle classes have a lot more money now and our products are becoming a habit.'
The Sahagún site has one PM, a Metso-supplied machine that produces 60,000tpy. There are four converting lines from Perini and KPL at the site. Some 85% is used in the domestic market while 15% is sent to Central America, all of which is finished product.
Mexico is seeing big growth in terms of tissue use: "It's growing faster than developed countries and it's very much keeping pace with the growing Mexican population, which is increasing 1.2% year on year" Deleón says. TheMexican tissue market is growing at 4% year on year and is very much correlated to how the country's economy is developing. "It's a very attractive market and the middle class is continuing to grow," he says. "It has a lot of potential.
AfH, for example, is one of the most important sectors; we're seeing a big increase in tourism and more and more cinemas and development which is all boosting demand for tissue products."
The Sahagún site just makes 2ply products while the other two tissue mills produce AfH products and napkin. He adds the plant will be the point in Mexico where SCA looks to grow. "We have enough space here and we'll use it well."
Before visiting the site, TW met with SCA's Victor Hernández, who works for the company's Latin American supply chaindivision at its Mexico City headquarters. He says the local market doesn't have the same issue with private label as the market in Europe does. "Private label is no more than 6% of the market here in Mexico. It's more appealing for brands here and our main strategy is brands as well as innovation and consumer insight."
With the growth in Mexico's population, he adds that there is plenty of potential for the tissue market to grow and develop further. "When you look at per capital consumption in the US
it's 25kgm and it's four times less here. So the opportunity for the tissue market to grow here in Mexico is huge." What trends are they seeing in the American market now occurring in the Mexican market? He says there is an ever-increasing focus on emerging markets. "The class C and D, Mexico's middle classes, are having more and more disposable income. They have a lot more money now and our products are becoming a habit," he says. "Income per capita is higher here than in other Latin American countries and this makes consumption here higher."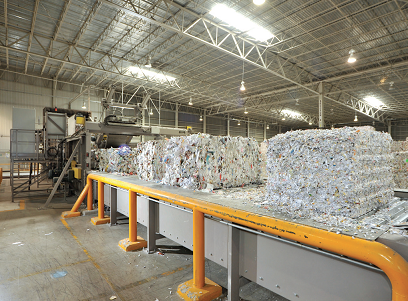 There is also more demand for environmental products, albeit slower than seen in America, and SCA now has a sustainable product line in Mexico. "People here are becoming more aware and this will continue to increase." He says environmental products in Mexico are a niche at the moment, but will become more relevant as the country continues to develop.
'The way we go to market is definitely unique: products are sold on small stalls.'
One interesting point that does separate the Mexican market from the American is their route to market. "Our reach is nationwide, but demand for tissue products is primarily focused on the centre of Mexico," says Hernández. "But our way to market is an unusual one; one way is through small, local stores such as Mom and Pop shops and others include cash and carry and convenience stores which have developed a lot. So the way we are reaching consumers is changing also."
Back at the site Deleón agrees saying the Mexican market is fairly similar to Argentinian's and the rest of Latin America."We don't see many similarities with the American market. The way we go to market is definitely unique: products are sold from small stalls and so the route to market is not at all like that in the US and that considerably changes our strategy."
"Mexico is a very particular market because we have all of the big players here," Deleón says. "We are targeting growth and innovation and mainly branded products. It's a very interesting time to be here."
[box type="info"] FACTFILE
Location – Sahagun City, Hidalgo, Mexico
Staff – 360
Plant director – Roberto Deleón
Capacity – 60,000tpy
Products – 100% recycled toilet tissue and household towels products[/box]