By Jabel Parayil, Analyst – tissue & hygiene, Euromonitor International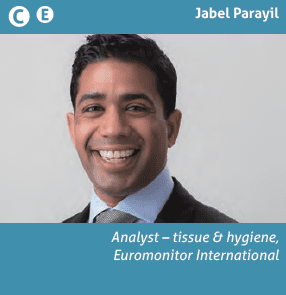 With per capita volume consumption of retail tissue standing at 14kg, the US has the highest usage rate of retail tissue in the world. While this should not come as too much of a surprise, there must by some level of healthy cynicism that occurs when one talks about growth in a mature retail tissue market such as the US. Tissue is a low-margin product that does not receive a lot of attention from the public and there are many ongoing challenges facing the industry in terms of market saturation, increasing competition from private label products, discounting and promotions. That being said, there also continues to be opportunities in this space, as a better understanding of population trends in the US, coupled with innovative marketing, social media and consumer insights, can provide a pathway to cementing better consumer relationships.
US retail tissue sales reached US$18 billion in 2015, an increase of 1% on 2014. The US is a mature market for many consumer packaged goods – and retail tissue does not stray from this diagnosis. Due to high penetration rates for tissue products among the population, it does seem that growth is simply tied to population growth for the foreseeable future. Population growth in the US is mainly coming from a steady birth rate and immigration. In 2015, there were 12.4 births per 1,000 people in the US, and, over time, this will continue to decrease as people wait longer to have children, not to mention the continuous rise in the cost of raising a child in the US. The total population in the US grew by 1% in 2015, which is consistent with the 1% volume and value growth seen within retail tissue in the US in the same year.
Retail toilet paper saw continued growth in 2015 with volume and value sales increases of 2% (US$, 2015 fixed exchange rate). Such growth is consistent with overall population growth and continued premiumisation in this space. Increasingly aware of consumers' recognition of "small comforts", both large brand owners and private label manufacturers have continued to advertise the benefits of multi-ply and now even scented toilet paper. Kitchen towels also saw slight growth in 2015 in both volume and value terms. Kitchen towel volume, measured in tonnes, grew by 1%, while value increased by 2% (US$ 2015, fixed exchange rate).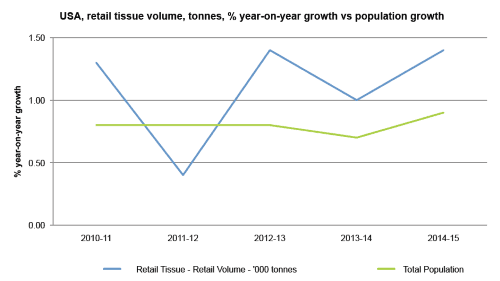 Private label applies pressure
US consumers continue to be reluctant to pay premium prices for tissue products that they feel are of a lesser quality. With the rush of private label products into the tissue space over the past few years, consumers now have even more choices when it comes to their tissue needs. This has also led to market saturation in the retail tissue space as the large brands find themselves with more competition. The strength and brand recognition of large retailers has given them the incentive to create their own brands to compete with large national brands for shelf space and consumer dollars.
While private label has been a part of the retailing landscape for many decades, the traditional idea of private label products being sub-par has gone out the window. Premiumisation is at the core of current private label trends in the tissue category.
In order to ensure competitiveness with the leading branded products, private label brands are utilising new technology to stay ahead of the game, rather than merely following in the brands' footsteps. Additionally, products with environmentally-friendly claims as well as more traditional strategies, such as rebranding and improved visual appeal, are starting to make their way on to store shelves.
Private label brands have also engaged in multi-tiered pricing schemes in order to accommodate both the value and premium ends of the product spectrum within the same category. This mirrors the actions of the large brands and has resulted in even more competitive pressure in the tissue category.
For example, Wal-Mart's Great Value toilet paper brand has options for an economy, ultra-strong and ultra-soft type of toilet paper, all of which are at differing sheets per roll price points. The share of private label sales in retail tissue in the US increased by an 18% CAGR over the 2010-2015 period.
Such growth shows that American consumers are both price and quality conscious when it comes to retail tissue products and are more than willing to spurn large brands in order to gain what they believe to be better deals in the private label realm.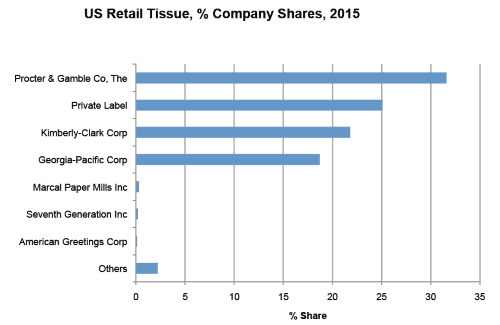 Procter & Gamble is still top dog
Retail tissue in the US maintains a strict hierarchy that has been in place for quite some time. Procter & Gamble, Kimberly-Clark and Georgia-Pacific have been the top players in this space and make up the majority of branded sales. Procter & Gamble is the king of tissue in the US with a 32% sales share. With iconic brands such as Charmin and Bounty, Procter & Gamble products are well known by the American consumer.
However, they declined by 2% in 2015 in volume sales of retail tissue. Procter & Gamble reported difficulties in driving sales and value due to competitive pressures and price promotions. Market saturation and price promotions have soured the outlook for large brands.
Tissue manufacturers in the US should be worried about malaise and being behind the understanding of what the consumer wants. Tissue products are a staple in the majority of US homes, with high penetration rates regardless of socioeconomic background, but decisions on purchasing are often due to price point or promotions run by retailers. American consumers may have the money to spend, but they want to feel that they are receiving a quality product for the price that they are paying.
After all, they are more than happy to utilise multiple tissue products in order to replace the segmented categories that manufacturers have created to drive revenue. We have seen this in the past, when napkins and toilet paper have often been used in place of facial tissue.
Working for opportunities
While the competitive environment of retail tissue has become saturated and larger brands are having a harder time driving sales, there are still opportunities that exist for manufacturers in the US tissue market.
Social media and company reviews are becoming increasingly important for companies that seek to understand real world customer satisfaction with their products. These tools provide opportunities for manufacturers of tissue products to engage with their consumers and, additionally, the high penetration rates of smartphones throughout the US gives manufacturers of tissue products a digital avenue where they can display their brands.
With practically everyone having internet access at their fingertips in the US, there is ample opportunity for marketers to drive their agendas to the consumer. Special discounts, interesting marketing techniques via commercials or sporting events, or even the occasional shout-out from a celebrity can allow brand owners to get their message across to millions of consumers via Twitter, Facebook or Instagram.
This type of messaging allows for consumers of tissue products to better understand the brands and really identify with them in order to drive both value and volume sales.
The growing influence of the millennial consumer has also provided manufacturers with opportunities to rethink how they market their tissue products. Brand loyalty is not top of the list for millennial consumers, and other important aspects such as eco-friendliness and price point can all play a part in better understanding where there are specific opportunities to market to this increasingly important demographic.
Indeed, it is often very hard to see where the next "true" innovative product may come from in the tissue category. That being said, companies such as Procter & Gamble and Kimberly-Clark are engaging the consumer in unique ways.
With over 69,000 followers on Twitter, Procter & Gamble's Charmin brand of toilet paper is cultivating a relationship with its fans. Daily interaction includes various surveys and its #TweetFromTheSeat campaign has garnered additional media attention as it seeks to bring humour to the nature of toilet paper.
While such advertising does not immediately equal value sales, it does build upon the idea of engaging the consumer in a way that makes the consumer feel attached to a particular brand and helps build brand equity in the eyes of the public.
While millennials may not feel particularly loyal to a specific brand, they do like the idea of interaction with a brand and this, coupled with quality and price point, can allow larger brands to gain additional traction in a highly competitive environment.
Understanding the population
The tissue industry must also understand how the population is changing throughout the US and where opportunities may lie by understanding these changes. While the population is forecast to increase at a CAGR of just 1% over the 2015-2020 period, there are other factors that should be taken into account when looking at population.
Population distribution within the US is largely concentrated in the Northeastern part of the country. This being the case, it is therefore understandable that, traditionally, due to higher capacities of consumption, it is beneficial for some manufacturers to remain close to areas of high consumption in order to reduce distribution costs. For example, St Croix Tissue, a Chinese-owned company making tissue paper in the US, recently bought the Woodland Pulp mill in Baileyville, Maine, and will be updating the mill with new manufacturing technology in order to increase capacity and efficiency.
Gaining traction in the Northeastern corridor allows for easy access to transportation to large metropolises for tissue products. This example also highlights the fact that there is active foreign investment in the US for tissue. This may have to do with efforts to spread risk in a highly volatile global economy and gaining access to a market that has low but constant growth.
While the Northeastern part of the US may contain the largest concentration of the population, the strongest population growth is seen in the Southern states. This can be attributed to increased job opportunities, a lower cost of living and Hispanic immigration.
In the US Census Migration Flows Between Regions, by Income in 2014, Labor Force Status, Major Occupation Group, and Major Industry Group: 2014 to 2015 report, more than 800,000 people over the age of 16 moved from the Northeast, Midwest and the Western parts of the US to live in the South.
That being said, manufacturers must be aware that the concentration of wealth in the Southern part of the US is much less compared to the other parts of the country, with US Census data from 2014 showing the median household income reaching only US$49,655, compared to regions such as the Northeast or West, where median household incomes are US$59,210 and US$57,688, respectively.
Knowledge of population migration and median household income by region opens up opportunities in terms of understanding where consumers will be residing, what specific retailers they will shop at in order to buy tissue products, and can help in minimising supply chain costs for manufacturers. Manufacturers must overlay this understanding of population movement with recognition of how Hispanic immigration is also changing the face of the population in the US.
Hispanics now make up close to 17% of the US population, or approximately 55 million people. The tissue industry has taken notice of this demographic to some degree over the past few years, with companies such as Procter & Gamble and Georgia-Pacific rolling out specific scented tissue products in order to cater to the tastes of the Hispanic consumer.
However, Hispanic consumers represent a diverse and vastly misunderstood consumer segment in the US and manufacturers must be vigilant in tracking the changing habits of this consumer base. That being said, the addition of scented tissue products to large tissue brands' portfolios does showcase a move in the right direction in order to bring added value to the category and increase revenues.
Manufacturers can utilise the understanding of population movements within the US and the changing demographics of the country to create a better supply chain to keep costs down, and to create products that specifically appeal to consumer groups based on background.
Euromonitor International forecasts that the retail tissue category in the US will grow at 1% CAGR over the 2015-2020 period. Due to the US being a mature market, increased marketing and advertising tied in with innovation and a better understanding of population movement and growth are areas where there needs to be more investment from the industry in order to reignite growth. All of this, however, must be done with the recognition that the US consumer demands quality products at a reasonable price.