Market saturation is a common factor in retail tissue markets in Scandinavia. Looking at volume per capita in retail tissue over the past five years across the region, demand and consumption have not fluctuated to any significant degree, and no substantial growth is expected in the coming five years, through 2023. As mature markets with high levels of per capita consumption, Scandinavian markets will be mainly driven by fundamentals like GDP and population. Sweden's population is expected to grow the most until 2023, with a growth around 1% per year. Norway's growth is slightly lower at around 0.7% per year, and then Denmark and Finland are expected to grow the least, with around 0.4% and 0.2% per year respectively.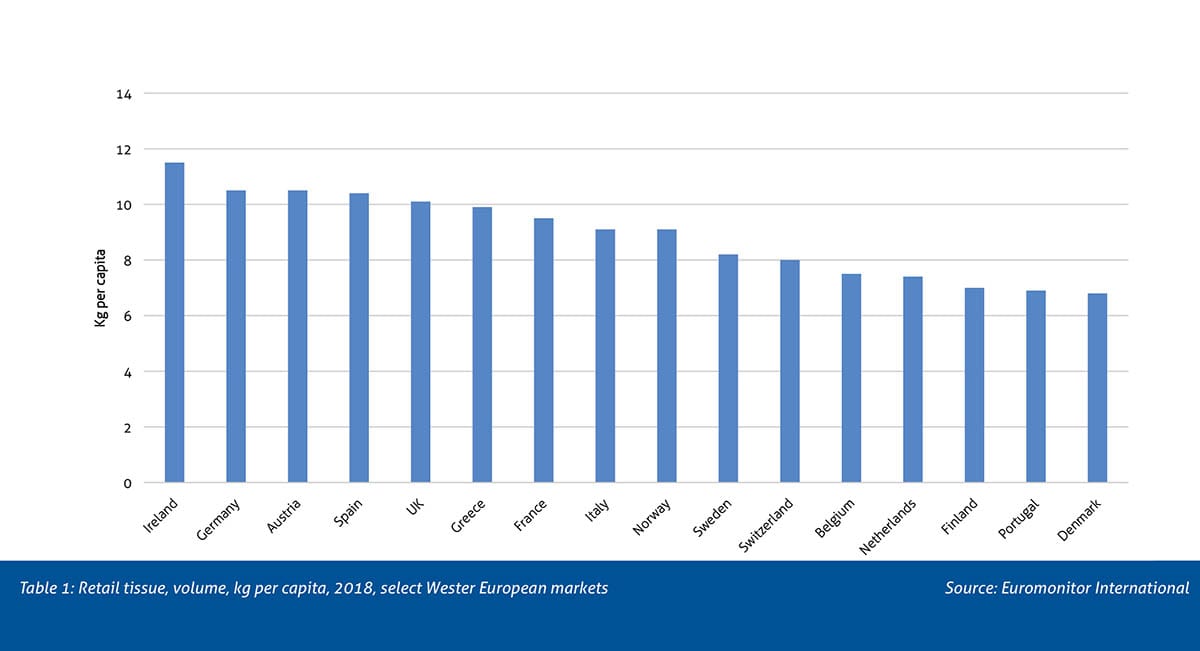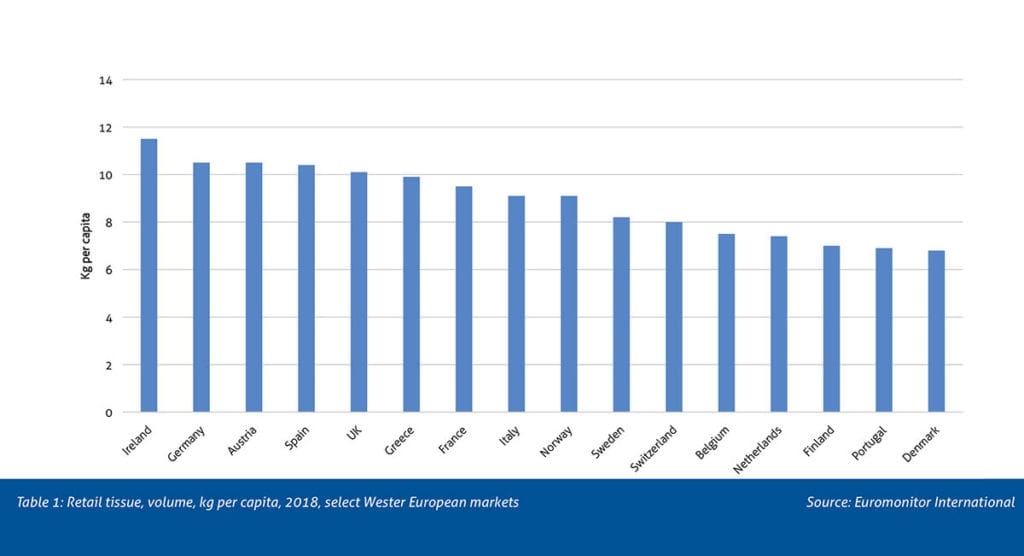 As mature markets, Scandinavian countries show limited unmet potential in consumer tissue. Denmark and Sweden are the two markets with the most unmet potential in the region, estimated at 13,400 tonnes and 11,600 tonnes, respectively. The challenge for market players is to find solutions to capture this potential and encourage more purchases. However, in addition to consumers already fairly set in their consumption patterns, there are a number of disruptors that can cause further problems for the tissue industry in the long term. For example, bidets are becoming more popular in countries like Denmark, which can become a challenge when it comes to driving toilet paper demand. Bidets are promoted as being more hygienic and do not require toilet paper. Additionally, while still small in per capita terms, moist toilet wipes have gained traction in both Denmark and Finland. While these wipes are usually used as complementary to dry toilet paper, some consumers turn to them as a full substitute to dry paper for convenience and as a cleansing option when access to water and indoor facilities is limited, thereby potentially undermining the demand for toilet paper in the long term. While flushable wipes have been facing criticism over their environmental impact, industry research and innovation into materials used to produce flushable wipes is resulting in the development of wipes that can meet tightening regulations and meet sustainability agenda.
Sustainability has been playing a part in consumer purchasing decisions. Euromonitor International lifestyle surveys on "green" attitudes released in 2019 indicate that over 50% of the respondents in Sweden and Denmark are worried about climate change and try to have a positive impact on the environment through everyday actions. The manufacturers respond to sustainability through the use of recyclable materials in tissue and packaging, further supporting and reinforcing sustainability agenda through eco-labels. Most of the products on the markets in Scandinavia are labelled with Svanen (Swan, official eco label of the Nordics) and other certification labels, which also makes it hard for brands to use sustainability messaging as a unique selling point.
Subsequently, consumer tissue brands continue to encourage value-added features, such as convenience and aesthetics, to influence the demand. Disposable paper products remain a convenient option for consumers and can apply to a variety of tasks. To reconcile
the desire for both sustainability and convenience, many consumers across Scandinavian countries turn to tissue products made from recycled materials. However, not all consumers gravitate towards recycled tissue, due to generally lower quality. Many consumers are still drawn towards white, aesthetically pleasing paper products, which is reflected well in the toilet paper market where the volume sales of non-recycled toilet paper stand for between 47% (Norway) and 26% (Finland) of the market.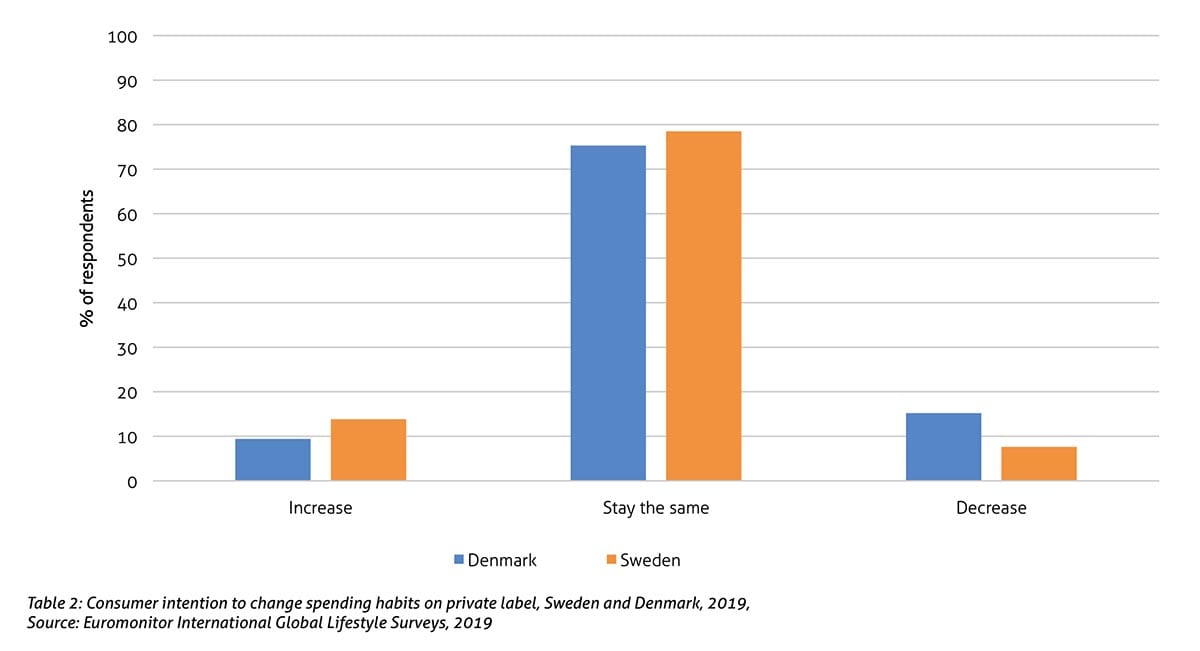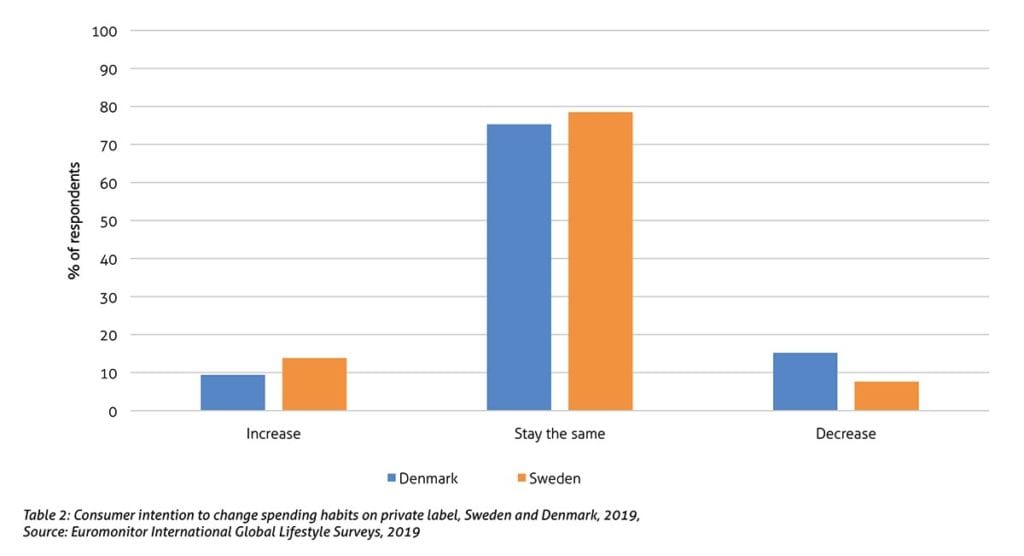 Additionally, many brands turn towards other solutions to add value to their products. For instance, Duni AB – one of the key players in paper napkins – continues to focus on designs and quality. In 2017 the company collaborated with the design duo Bernadotte & Kylberg to create the Amazonica collection, which consists of an assortment of tableware products including premium napkins. This in itself might not be enough to catch consumers attention, but the fact that 'Bernadotte' in Bernadotte & Kylberg is the royal Swedish prince Carl Philip is definitely something that makes Duni differentiate itself from the competition.
Unique designs are popular as a method to attract consumers across Scandinavia, and some branded product manufacturers take it a step further by involving consumers in design development. In Finland for example, one of the leading brands – Serla – has been teaming up with Aalto university since 2015 to create designer paper towels. The students come up with five options to consider, and Finnish consumers get to pick a winner. Additionally, every spring and summer Lambi brand introduces limited edition toilet paper and kitchen towels featuring love stories printed on them under Lambi Rakkaustarina, or Lambi love story. Lambi has been printing its love stories editions since 2013, which became very popular among consumers. Moreover, consumers get to submit their own love stories and then vote for their favourites among the thousands of options. Direct consumer engagement helps to create more affinity with the brands and designs featured on them, adding not only value but also emotional connection to the brands.
While quality value-added products in consumer tissue, including limited editions and unique designs, help support brand value, sales growth remains under pressure from private label. Private label tissue is very popular across Scandinavia, accounting for 60% share of consumer tissue value sales in Denmark, 47% in Sweden, 32% in Norway, and 24% in Finland in 2018. Furthermore, Euromonitor International lifestyle surveys released in 2019 revealed that the vast majority of consumers in Sweden and Denmark are not planning on changing their private label purchases. Additionally, a significant portion of consumers (9% of respondents in Denmark and 14% in Sweden) are planning on increasing their spending on private label. Consumers simply do not experience a great enough difference in quality between private label tissue products and brand name tissue products to choose the latter more frequently, especially considering a great deal of investment that has been going into private label product innovation. Private label products are also carried by discounters who offer tissue products at low cost and in bulk, which makes it even more attractive for consumers.
Thus, the Scandinavian retail tissue markets are quite mature and offer limited unmet potential for organic growth. Additionally, significant presence of private label is putting pressure on branded products, especially in view of the industry efforts to raise retail prices to compensate for high material costs. In a difficult operating environment, manufacturers of consumer tissue will continue to seek unique venues to offer product quality and brand differentiation, such as a variety of formats and unique designs as well as direct consumer engagement to build brand affinity. Sustainability will remain in focus as well, from both a manufacturing costs perspective and legislative pressures as well as consumer efforts to improve their footprint on the environment. However, in view of industry engagement across the board in sustainability efforts, long-term brand differentiation alongside the sustainability efforts alone will be problematic, requiring a more innovative approach.