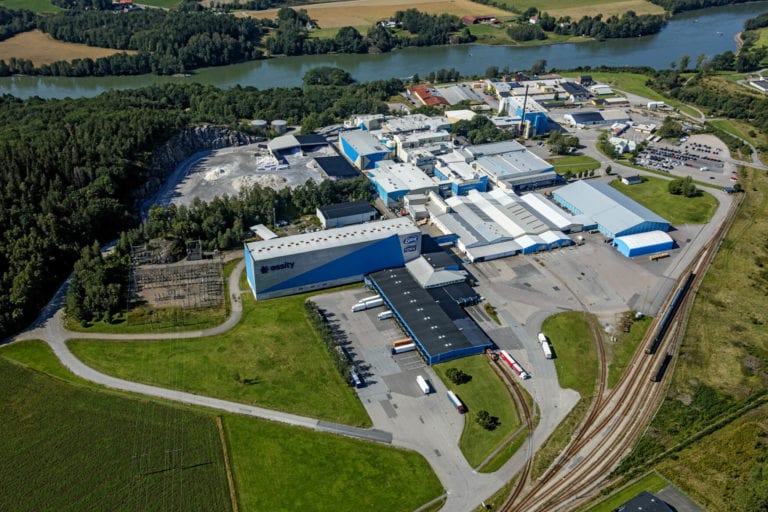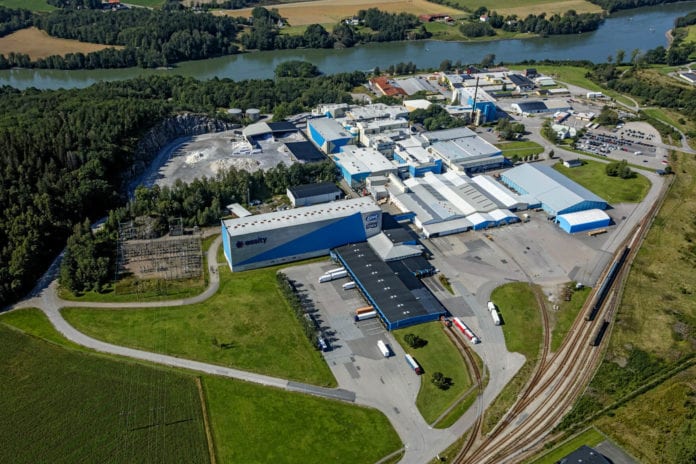 Even within green leader Essity, the Lilla Edet mill north of Gothenburg is a pioneer in driving growth while still prioritising sustainability … through waste usage, low cost steam, biofuel electricity, 86% recycled fibre, and post-consumer recycled plastic. Report by Senior Editor Helen Morris
WITHIN SCANDINAVIA, ESSITY OPERATESTWOOFTHESEVENTISSUE MILLS IN SWEDEN (NEIGHBOURING DENMARK HAS NO TISSUE MILLS AND NORWAY JUST THE ONE). GLOBALLY, THE COMPANY CONTINUES TO BE A LEADER, IN THE EUROPEAN TISSUE AND HYGIENE PRODUCTION MARKETS IN PARTICULAR.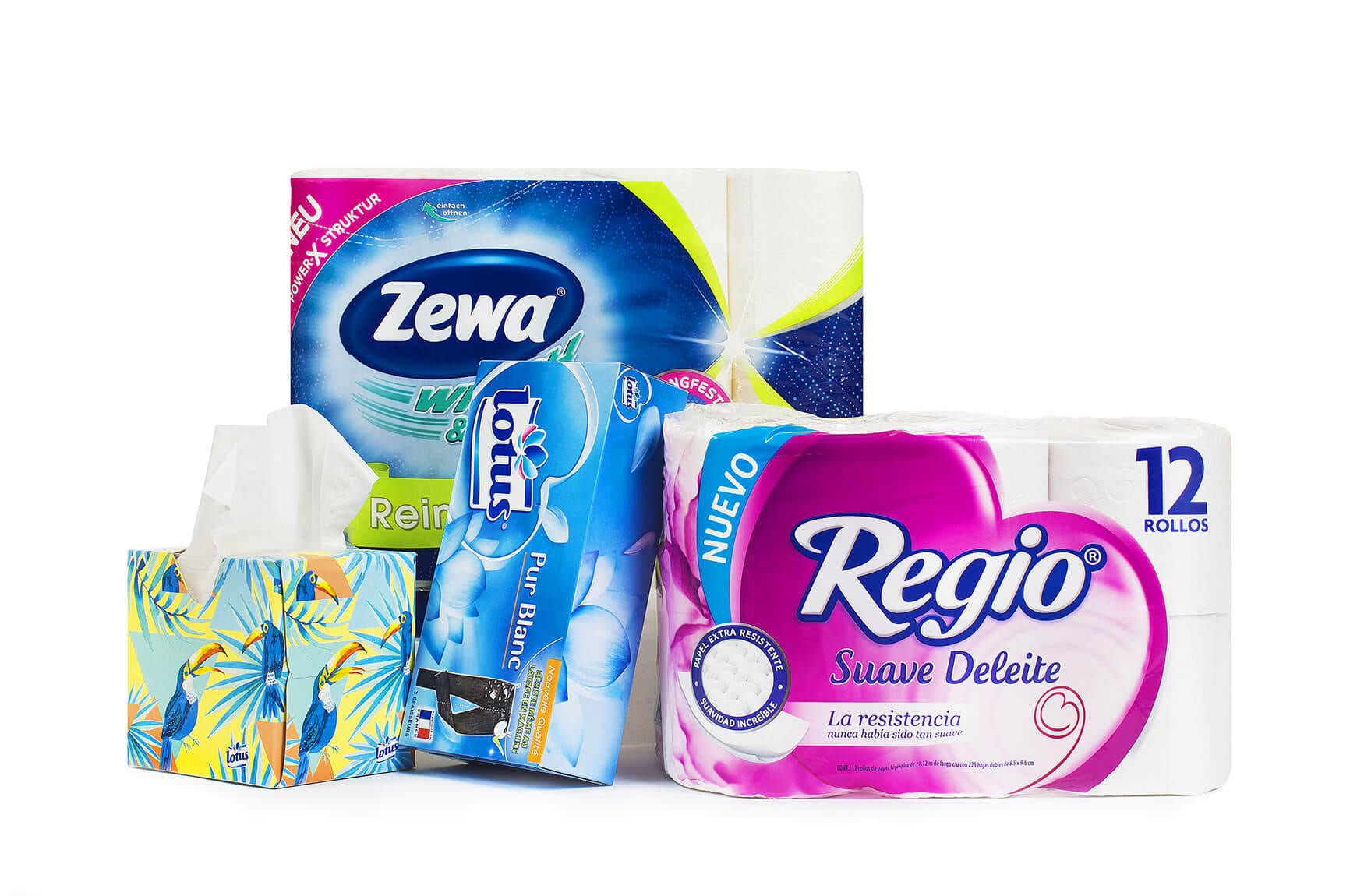 As Essity's six colleagues take TWM on a thorough tour around their impressive historic tissue mill, there is talk of circular economy, carbon neutrality, benchmarking, driving fossil-free packaging growth … impressively modern topics set to the backdrop of a plant that dates back to 1881.
Located an hour north of Gothenburg, Sweden, a city that is undergoing an extensive re-construction of its roads, buildings and bridges, TWM first visited the Lilla Edet mill in 2011. Even then, it was a blueprint for the tissue giant's global tissue production (currently 56 tissue sites) and famed for its environmental efforts.
Essity – formerly SCA – has owned Lilla Edet since 1986 and production has remained
at 94,000tpy; 60,000 for the Professional Hygiene market and 40,000 tonnes for the consumer market. The plant has continued to modernise by investing in de-inking technology and stringent environmental standards.
Within Scandinavia, Essity has two tissue mills, one in Sweden and one in Nokia, Finland (neighbouring Denmark has no tissue mills and Norway just the one). Globally, the company continues to be a leader, in the European tissue and hygiene production markets in particular. The 'Swedish influence' on the world market continues to grow year-on-year.
In 2011, what was perhaps the most striking was how a mill – in a region of
the world that has taken the green lead in terms of tissue and in its society generally – had maintained growth in what is a very developed and mature 'old market'. As we meet again towards the start of 2020, can the site continue to reflect the future for Essity's global fleet of 56 tissue plants, and the future for tissue?
TWM is warmly greeted by operations manager Martin Drobena, operations manager Jonas Pihlström, plant initiative manager Christian Carlsson, safety manager Joakim Molin, quality and environment manager Gunnar Johansson and media relations manager Karl Stoltz. Drobena is acting mill manager as the site is in the process of recruiting, and explains that while it's "a little bit untraditional to have so many people here… everyone here is an expert in their sector. So you have here the full circular economy!"
The site is one of three mills in Sweden that has a very long history, and has "been here since the beginning," Drobena adds. "When Mölnlycke bought this mill we just had five mills globally. Mölnlycke became a part of SCA in 1986, that has recently become Essity for the health and hygiene part of the business."
It was first established as a sawmill in 1881 and then in the 1950's the first tissue machine was installed. In the past two decades, every angle of the mill has been looked at by Essity to see how it can improve on its strategy and focus to that of a circular economy. Pihlström says: "One of the key developments was the power plant, which was installed 17 years ago to deal more efficiently with reject and sludge. It has been a great advantage to us. Even within Essity, it has meant that we are up there in terms of low level of costs and steam because of the biogenic energy. It means we don't have to ship around for biomass and electricity and we have a very low cost of steam production as well as being environmentally-friendly. All companies need to do this."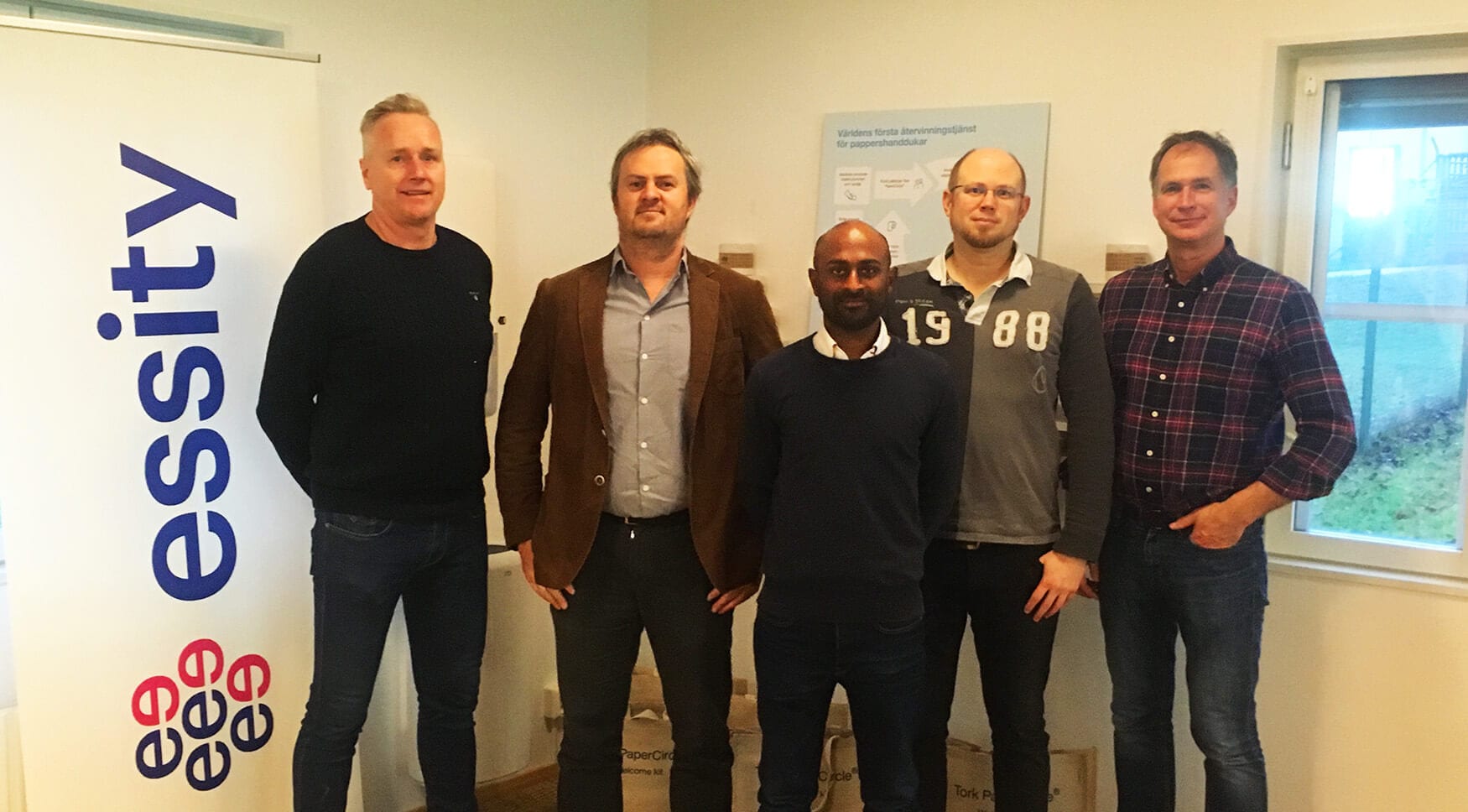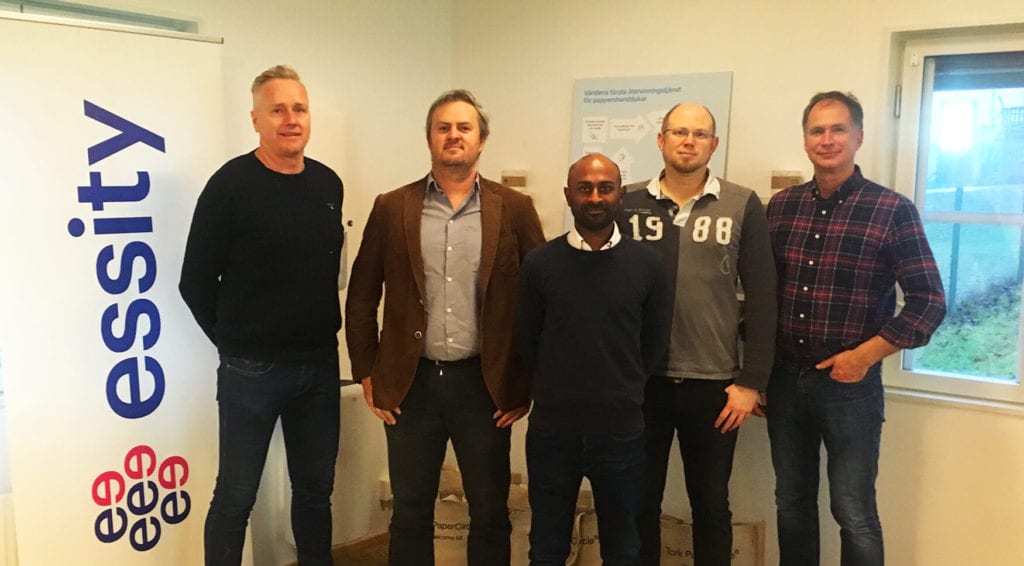 During our tour of the 400-staffed site, he explains further that the power plant, with the turbine and 33 megawatt boiler, is vital: "We don't have any rejects that we are dealing with as waste. We try and consume everything that we are producing here so that it is beneficial for us environmentally and for energy. We are able to burn our own waste from the process to reuse it again as steam or electricity. It is low cost steam production, biofuel and green electricity.
I'm very pleased and proud of this. It really is giving us a lot of benefits."
Those benefits are also wider-ranging: "It's a lot of good things. So instead of sending the sludge away at big cost, we use it as energy to produce our own steam at a very low cost. We also supply the district's heating and we are using the energy for that also."
On a global level, Essity has a strong energy savings programme: "For us we were already on a very good level," Drobena says. "Sustainability has been very important and received high levels of attention for many years here in Sweden. Even within the company we are now well known for our energy awareness. We became circular before everyone else thought to do so."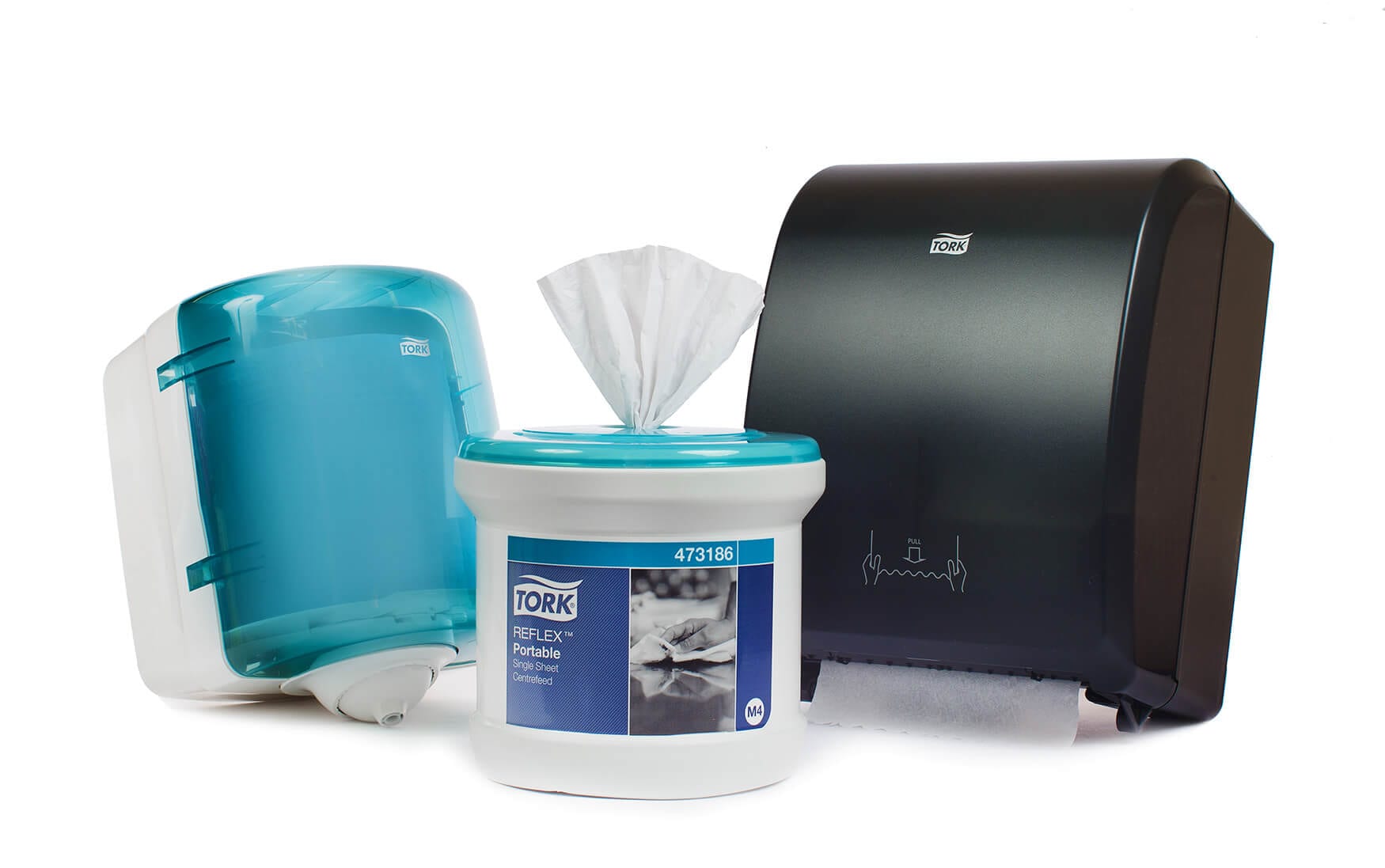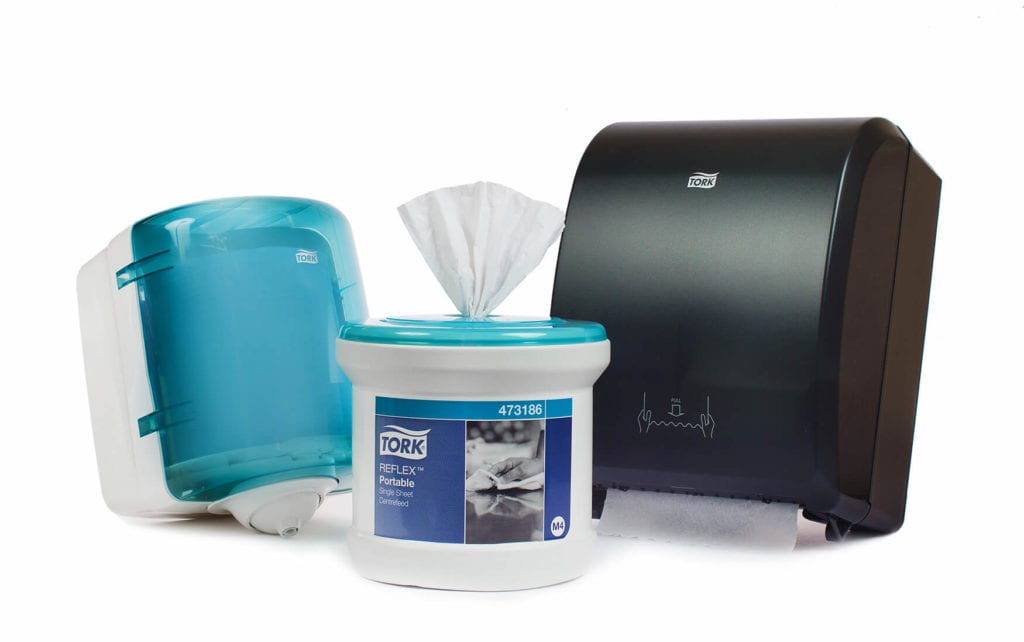 The company is also part of the United Nations' Paris Agreement and he says
it has a "tough goal" to achieve within the company for its electricity and fossil fuel use. "We want to be fossil-fuel free company by 2030," Drobena adds. "We want to be even more at the fore of Essity, and we already have a very good starting point. We are looking outside of the box and how we can achieve this ambition." PM5 is one of the company's oldest machines having been installed in 1959. "It is now 100% fossil-free," Carlsson adds. "It is one of the oldest machines we have. We can claim it is 100% fossil-free production as it has something very unique, an electrical fire hood. It is one of the most energy-efficient machines in Essity. So even though it is not the most modern technology it is very well optimised and very efficient."
"WE ARE LOOKING AT ALTERNATIVE RECYCLED FIBRES AND WE HAVE VERY INTERESTING PROJECTS RUNNING. WE HAVE A LOT OF ACCESS TO R&D HERE AND WE WANT TO KEEP THE CONNECTION SO WE CAN CONTINUE TO BRING INNOVATIONS AND USE OUR UNIQUE POSITION AND HISTORY."
PM7 produces high-quality paper and was rebuilt in 2007, and the dry-end is now Valmet. It produces 33,000tpy of high- quality premium products on 100% virgin fibre, but most importantly from recycled paper in the same quality as virgin. In total, 86% of the plant's production is recycled and 14% virgin fibre products.
"We are pushing to use recycled as much as possible, but a lot of customers are requesting virgin fibre," Carlsson adds. "We prefer just to use recycled and with the quality of the de-inking pulp, it's on the same level of brightness as the virgin fibre. All the Professional Hygiene products here are coming from recycled fibres.
We produce a lot of retail brands on the consumer side, but on the Professional Hygiene side which is business-to-business, we have our brand Tork."
He adds that availability of recycled paper is "definitely going down" and the site has had to import from outside of Sweden, mostly in the Nordic countries(Denmark, Finland, Iceland, Norway, Sweden) but also sometimes from Poland and the UK. "We are looking at alternative recycled fibres and we have a very interesting project that we will have news of in the next few months. It will be the next step into the recycled future. We have a lot of access to R&D here and we want to keep the connection so we can continue to bring innovations and use our unique position and history."
Essity is increasing capacity in Lilla Edet with handwiping, which Johansson says is very positive for the mill, but adds that "it also decreases the environmental footprint with products being produced closer to the markets where it is sold and used. A new folding line for hand towels will be installed in 2020. He added: "The folding hand towel market has always been here and it is actually the biggest market for these types of products, but we're seeing it coming back to Sweden more and more. There is more demand for it and so we want to start more production. There's not many companies in Scandinavia that do these types of product and so for us, we consider it a new area for our mill."
He adds that the project "fits the footprint for sustainability, as transportation is getting an issue in Europe. By investing in this new line we are decreasing the use of transportation. He says the site was one of the first to produce hand towels, but it was in Germany as there wasn't much demand for it in the Nordics.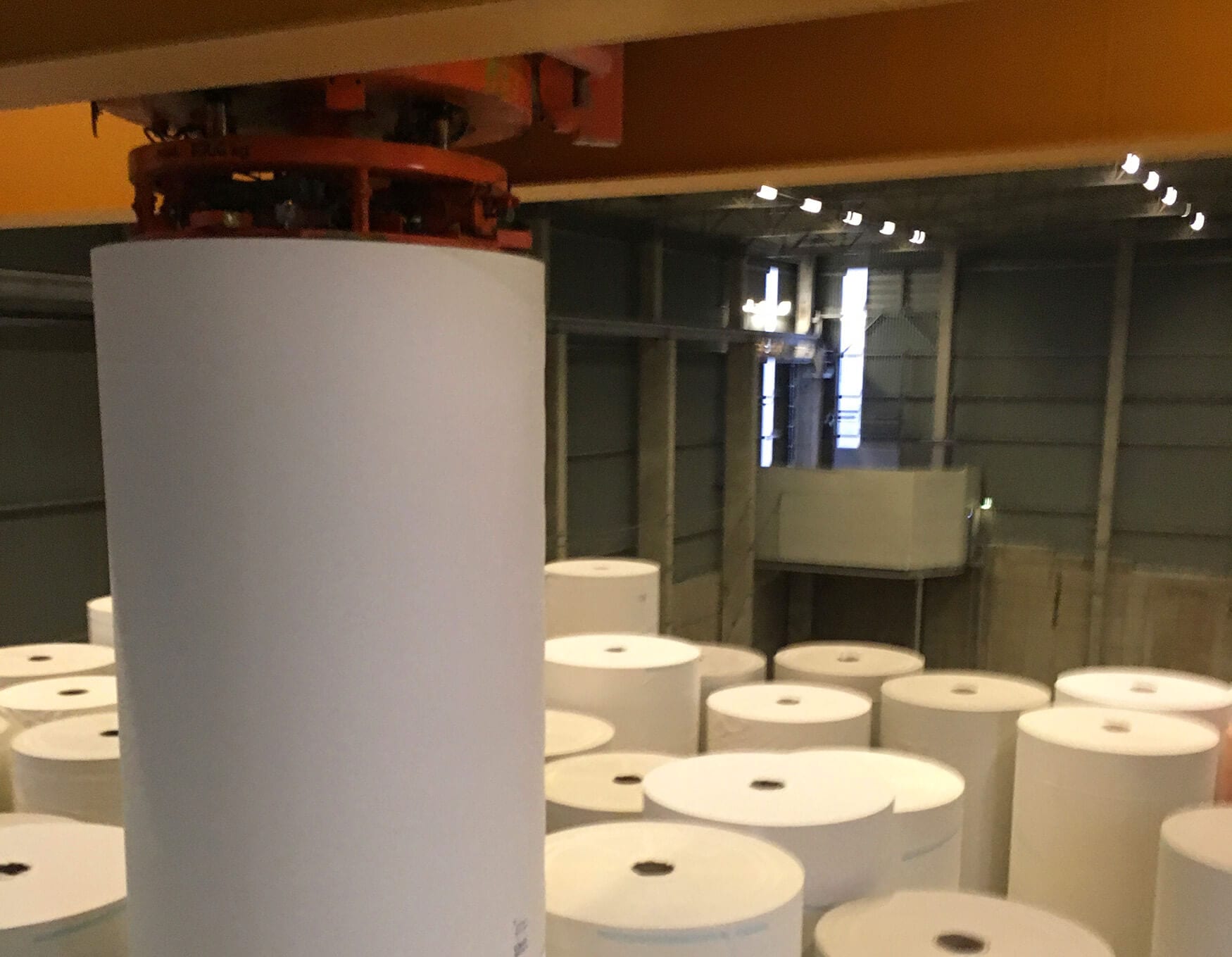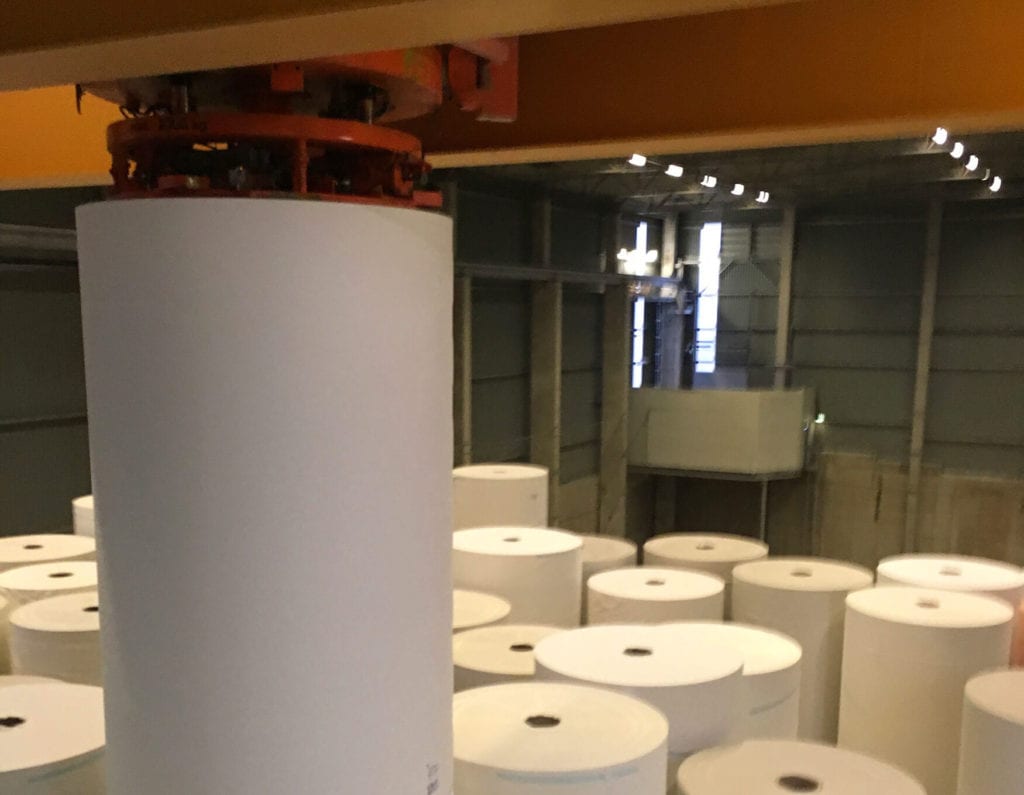 This is now changing and the Nordics are seeing more demand for this sector: "We look at it from a long-term perspective on how we can adjust our own footprint and do more local production. The market is also getting this type of question: where are the products produced? Consumers want to buy locally-made products, it's important for them, especially with food and tissue. They don't want paper shipped all over the world."
The plant has also been working on recycled plastics for more than two years and over the past year has launched these products into the market. "We are advanced in this," Carlsson says. "We have a global project focussing on this by Essity, but no other site has this high content of post- consumer recycled (PCR) plastic. We have plastics in our packaging that contain 60% of PCR, 20% of green plastics from sugar cane. So we are really ahead of the rest of the market with this and our plan is to grow this further. We are using plastic that you heat up and shrink, so it's very smooth. That will make up 67% of our packaging. And once we do this, we can say we are carbon neutral."
The site was the first Essity mill with this high content of PCR: "No other mill has 60%, but then we have been working on it for a very long time. Our colleague Gert- Inge Norrström has to take the credit for this, he has been the driver of it."
Carlsson adds the plan is to make this a habit in the market: "The suppliers, they're not really ready yet but they're getting there. We are talking about the availability of the PCR products. The key is having a supplier that also has all the correct certificates. It's very strict. There are a lot of demands, it needs to be food-contact proof, etc. From a process capability, we need a supplier who has the ability to produce it for the same function and same appearance, for the customers and also for the process. That is something we as a company are doing to work with the suppliers. More and more customers are getting there so we are ready. We want to drive it."
"When it comes to packaging, we want two things in place; to reduce the material consumption of what you have, so the thickness and the material of the plastics," Carlsson says. "We are also benchmarking in the company with these types of initiatives. We are trying to do the best out of what we have, because once you do that, then you can talk about investments. Even with our wrapping machines for the jumbo rolls, we are stretching the wrap around as much as possible so that we lower consumption." He says the plant wants "certain levels of excellence", and then it will increase those levels even further: "The next step must be investment. We are getting there, next year we will invest in new wrappers that will improve the operation even further. It's all about innovations; like what we're doing on the paper machines and the PCR in particular. Once you have the know-how and the capability, then you have something new. You can be confident that you'll succeed."
THE PLANT HAS ALSO BEEN WORKING ON RECYCLED PLASTICS FOR
MORE THAN TWO YEARS AND OVER THE PAST YEAR HAS LAUNCHED THESE PRODUCTS INTO THE MARKET. "WE ARE ADVANCED IN THIS," CARLSSON SAYS. "WE HAVE A GLOBAL PROJECT FOCUSSING ON THIS BY ESSITY, BUT NO OTHER SITE HAS THIS HIGH CONTENT OF POST-CONSUMER RECYCLED (PCR) PLASTIC. "
From the site's warehouse, it sells around one million tonnes per day of goods to 25 different markets. There is also a completely new automation system. Drobena says: "We started to implement Industry 4.0 in 1993, so we have always been ahead of the game with this. The company has always invested heavily in automation in form of automatic AGVs and automated solutions for storing semi-finished and finished goods. The only manual part of Professional Hygiene production now is involved in the lifting of the mother reels onto the unwind stands of our converting machines. Everything else is touchless."
As for the region's tissue market, Scandinavians on the whole look for quality when it comes to tissue purchases, and this has underpinned the strength of the Tork brand in the region. Whilst private label has risen to take high percentages in other European countries, in Sweden in 2011 it was under 30%, and in 2019 it is 25%. The branded products strike a chord with Scandinavian consumers and design and the environment continue to play an important role.
For Lilla Edet, the brands/private label split in Scandinavia is variable: "We're definitely not seeing more private label in Professional Hygiene" Drobena says. "In consumer, yes private label is growing here, particularly in Sweden. But within the Nordics, the private label business in Denmark and Finland is really low."
He adds that for the plant, there is no especial move towards the private label market: "The latest investment for hand towel line is for Professional Hygiene. Tork is also an exceptionally strong brand. We have steady growth in volume year over year, which is a good sign the market is healthy."
He says the swings and shift in volume for Consumer Goods are "more significant" when it comes to private label and branded products. "The trend here in Sweden is definitely in favour of private label. We can see the opposite in Denmark."
THE SITE ALSO EXPORTS ITS PROFESSIONAL HYGIENE PRODUCTS OUT OF THE REGION. "FOR JUMBO REELS, 50% IS FOR EXPORT ALL OVER THE WORLD," DROBENA SAYS. "40% OF EXPORTS ARE CORELESS. WE HAVE A VERY BIG VOLUME GOING OUT TO THE REST OF EUROPE, AND WE ALSO HAVE A BIG VOLUME GOING TO THE REST OF THE WORLD, EVERYWHERE ACCEPT FROM THE AMERICAS."
The site also exports its Professional Hygiene products out of the region. "45% of Jumbo toilet paper and 30% of coreless products is for export all over the world," Drobena says. "We have a very significant volume going out to the rest of Europe, and we also have volumes undertaking the trip to the rest of the world, everywhere accept from the North America. We started to export goods into Brazil last year … so we sell all over the world from Lilla Edet." The site has also set up the unique circular service called Tork PaperCircle,
which is the world's first paper towel recycling service. It is a service for customers, where the company offers a collection service for used hand towel waste from toilets back to the mill. "This is something we are rolling out in Sweden right now," Carlsson adds. "One big problem for companies is the used hand towel waste from toilets. We are now offering them this collection service. It has already started in the Netherlands, Germany and is in rollout in the UK also. Together with a facility company we build up a system to facilitate this. We use the tissue from the waste paper bins, we pick it up and bring it to the site and recycle it again. So, we are closing the loop."
He adds that even with the site's export potential, working on local initiatives like this is also something that Essity is looking to do more and more: "We are continually looking at how to optimise and produce closer to the market. The question is that the technology you need for some of the products isn't there yet, so the question is whether you invest, how do you do it? Step by step we are trying to move production even closer to the market."