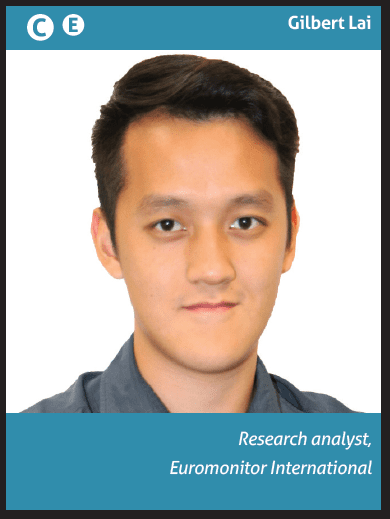 The UAE's economic performance is expected to improve in 2018 but remain below trend for the next several years. Real GDP is expected to grow by 3.4% in 2018, following a 1.3% increase in 2017. A large increase in fiscal spending, led by Dubai's preparations for the 2020 World Expo, will be the major driver of the economy. A rise in oil prices also provides support, although it is partially offset by OPEC-mandated oil production cuts.
In 2017, prices in the UAE rose by 2%, and inflation is expected to be 3% in 2018. The recent introduction of VAT pushes up prices. Private final consumption (in real terms) rose by 4.3% in 2017, and an increase of 3.3% is expected in 2018. Unofficially, double-digit unemployment is thought to exist among nationals and represents a drag on consumer spending.
Disposable income per capita amounted to AED104,290 (USD28,397) in 2017, and it is expected to rise by 1.9% (in real terms) in 2018. During the period 2018-2030, total disposable income in the UAE is projected to increase by a cumulative value of 47.8% in real terms – growing at an average annual rate of 3.3%. With the economy in the UAE
facing challenges, consumer spending on retail tissue weakened in 2017, with brands and retailers heavily dependent on promotions to maintain demand. Consumers based purchase decisions on products' basic functions and price.
With per capita consumption of retail tissue at 5.9 kg – well below average retail per capita in North America and Western Europe – the UAE continues to offer potential for growth. The country's estimated unmet potential stands at about 53,000 tonnes, with the majority of the potential coming from toilet paper and paper towels. However, economic uncertainty and a heavy focus on promotional activity create challenges for branded consumer tissue products trying to drive sales.

Challenging times in 2017 
Retail tissue sales in the UAE declined in value terms (US, fixed 2017 exchange rate, real value) in 2017, while demand in volume terms also showed signs of slowing down across most categories and declined in facial tissue. Due to manufacturers' extensive promotional offers, value sales declined much stronger than volume, as unit prices registered a significant drop across major retail outlets.
The decline in value was led mainly by facial tissue – the largest tissue category in retail in the country. In value terms, retail sales of facial tissue in 2017 dropped by 6%, while retail volume decreased by 1%.
However, against the backdrop of the overall weak tissue demand, paper towels demonstrated a better performance in 2017, although still below growth levels experienced in previous years. Consumers in the UAE became more aware of the different uses of each type of product and continued to switch to paper towels in kitchens, instead of using facial tissues. The functionality of the product contributed to its growing popularity. In addition to being used for kitchen cleaning, many consumers started to use the product for other cleaning purposes around the house.
Following weakened consumer purchasing power, many have been looking for bargains in retail and have been turning to private label in search of quality products at a lower price. This tendency resulted in share growth of private label within UAE retail tissue in 2017. Thus, for instance, the Carrefour No 1 private label from MAF Hypermarkets was among the top paper towels brands in the UAE, increasing its share further in 2017.
All in all, changes within the competitive environment for retail tissue in the UAE in 2017 were driven mainly by promotions. Consumers were more influenced by price shifts within brands than by brand equity and loyalty. How long the products would last was one of the key factors behind purchasing decisions. As such, products like Fine toilet paper (500m jumbo rolls) were among the bestselling toilet paper brands. Some brands witnessed stable growth due to their balanced strategy with a focus on both promotions and innovation, such as Selpak.

Improved performance ahead but pricing pressures remain
With improved GDP performance – one of the key drivers behind retail tissue sales in the UAE – the sales across tissue categories are expected to improve between 2018 and 2022, with better growth expected in both value and volume terms. Paper towels is expected to be the fastest growing category. The UAE already has a high per capita consumption of facial tissue in retail, far ahead of that of developed markets. On the other hand, toilet paper and paper towels fall significantly behind, thereby opening opportunities for future household penetration and organic growth.
However, leaving the promotional race in retail will be a challenge for manufacturers and retailers. With consumers getting used to lower unit prices through ongoing promotions and bundles, brand equity is being compromised. Expansion of private label will also continue to put pressure on brands. Strategies that involve a combination of innovation, targeted marketing, and quality reassurance might help to draw consumer attention and focus on "value-for-money" rather than price alone.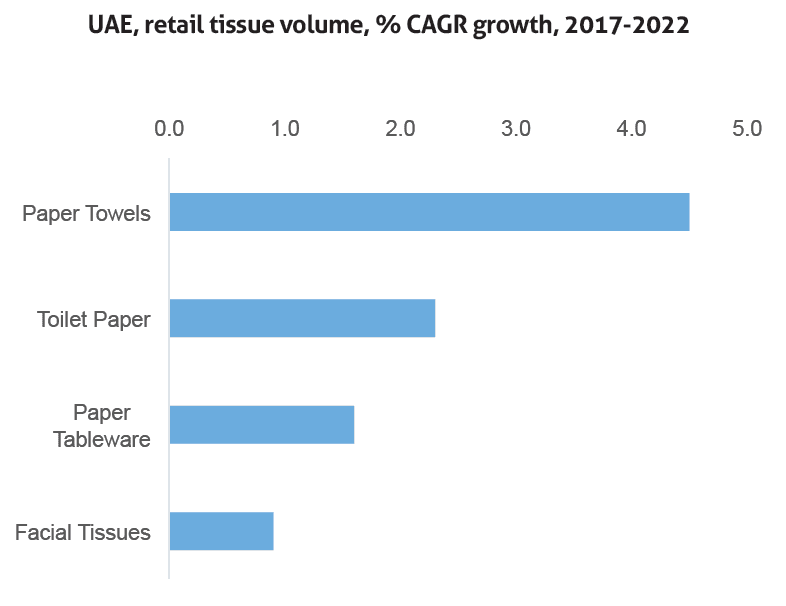 ---
Join the only dedicated tissue industry event that connects the East and the West!
With its strategic location, Tissue World Istanbul provides a dedicated one-stop platform for the industry from Eastern Europe, Russia, the CIS, the Middle East, Central Asia and North Africa, to meet, network and understand the intricacies involved in conducting business in such a diverse and vibrant territory.
Online Visitor and Conference Registration is now open at : https://www.tissueworld.com/istanbul/en-us/register
View the Conference Theme here
View the Conference Agenda here
View the list of speakers  here