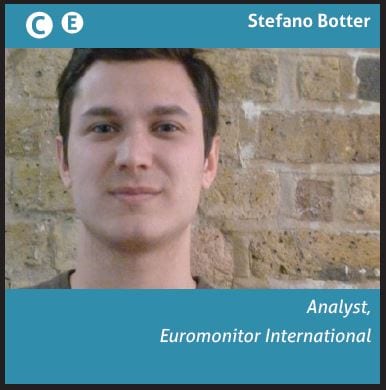 One of the largest economies in Europe and in the world, Italy has gone through a period of significant economic and financial downturn. The country's economy contracted for three years since 2011, while real disposable income of households declined dramatically. In 2015, real GDP rose by only 0.8% and demonstrated a similar trend in 2016. The level of unemployment stood at 11.9% in 2015, with a further marginal drop in 2016. Unemployment levels among the youth are even higher, and female employment rate – at 46.8% in 2015 – remains among the lowest in developed countries. Moreover, Italy  will continue to experience difficulties, with projected slow GDP growth and a sluggish rate of increase for disposable incomes in the next five years.
Coupled with a fairly high per capita consumption of consumer tissue in Italy, economic headwinds impact consumer demand and result in sluggish retail sales growth. At the same time, consumer price sensitivity creates a good platform for growth of private label, which continued to see increases in volume in 2015 and 2016. Price has become of paramount importance for many Italian families on tight budgets, although higher quality value-added features continue to meet the needs of consumers on higher incomes and less affected by the financial hardships.
Slow growth amidst limited unmet potential and economic worries 
At nearly 9kg in retail per capita – a Western European average – Italy is a fairly mature retail tissue market. Although the country's estimated unmet potential for retail tissue does leave some room for future volume growth, slow population increases due to declining birth rates and persistent economic worries pose challenges for industry expansion. In 2015 consumer tissue volumes grew by less than 1% in 2015, with only a marginal improvement observed in 2016. Furthermore, growth in value terms had fallen behind volume, reflecting a downward pressure on prices stemming from price promotions, the continuing push from private label, and expansion of retailer formats like discounters that offer lower prices on a regular basis.
Toilet paper remains the largest product category within consumer tissue in Italy, accounting for almost half of all retail consumer tissue volume in 2016. The category saw a decline in prices, as private label and economy brands were favoured by many consumers. Furthermore, many Italians opted to buy in bulk and moved to larger rolls to save. Despite the challenging times, however, value-added products remained on the agenda, such as Scottex Karité by Kimberly-Clark featuring Karité butter and Tenderly Triple Soft toilet paper by Lucart Group.
Paper towels experienced similar headwinds, with volumes seeing a marginally better performance than retail value. All in all, in 2015 and 2016 paper towels saw less than 1% growth in retail volume sales. Maxi-rolls became more popular with Italians, due to their comparatively low price. Furthermore, brands and private label have been focusing on durable products that promise to last longer, thereby providing a combination of quality, convenience and savings.
Competing with the paper-based towels, however, are products made from nonwoven materials, such as Scottex Duramax and Tutto Pannocarta. An additional value that consumers look for in paper towels is the possibility to use them for surface cleaning, including windows. Improved performance is therefore increasingly sought after, and brands have been introducing and positioning products accordingly to meet this goal.
Facial tissue continued to evolve around design and aesthetics in boxed products and value-added functions in portable pocket handkerchiefs, such as Tenderly Dermo Tre Plus Pure Soft (by Lucart) which contains cotton fibres and honey essence to reduce skin irritation, as well as Tempo Complete Care, Tempo Aromathera and Tempo Cotton Touch by SCA. While value-added features helped to support higher price points, volume sales were sluggish in 2015 and continued to fare poorly in 2016.
Struggling to regain ground is also paper tableware, declining in both volume and value in 2015 and again in 2016, as Italians cut budgets and used substitutes, such as paper towels, to replace napkins for daily use.
Economic downturn and bargain shopping a win for private label
Economic slump and investments in product development have helped private label to win over more Italians. In 2016, volume share of retail consumer tissue sales stood at 40%, and sales volumes continued to see a positive trajectory. Some of the major retailers, and by extension the key players in private label tissue, include Esselunga, Carrefour, Conad, and Coop.
Share of private label in Italy still falls behind a number of other Western European markets, such as Germany, Spain, France and some others. This leaves room for further potential household penetration of private label in Italy,supported by continuing investments from leading private label manufacturers like Sofidel, in production and innovation as well as by further expansion of grocery discounters, supermarkets and hypermarkets in the coming years – all typically featuring strong private label programmes.
Modest growth ahead amidst price pressures and product polarisation
With GDP playing a role in supporting the demand for consumer tissue, slow pace of economic recovery will continue to impact retail sales unfavourably and industry growth in the short to midterm. All in all, over 2016-2021 retail sales of consumer tissue in Italy are projected to see a 1% CAGR in volume. With polarisation of consumer demand along income lines, retail tissue in Italy will continue to see further evolution of private label on the one hand and investment into premium branded products on the other. At the same time, the increased assortment of private label products will also temper potential price increases by brand manufacturers, as will the bulk packaging and multipacks that Italian consumers have grown increasingly accustomed to.
With continuing pressure on prices, amidst potential increases in production costs, maintaining profit margins will remain challenging. These tendencies will continue to highlight the need for cost optimisation and cost savings along the supply chain. Additionally, sustainability in manufacturing practices can be used as a feature to differentiate premium-positioned products from economy brands and private label, thereby helping to drive price points to counteract strong promotional pressures.