More than 100 exhibiting companies from 18 countries at Asian Paper / Tissue World Bangkok 2018 showcase technologies and solutions in pulp, paper, tissue, packaging and related sectors

The launch of Asian Paper / Tissue World Bangkok 2018 has successfully showcased the latest technologies and innovations from over 100 exhibiting companies.
Held between 6-8 June at BITEC, Bangkok, the trade show was attended by visitors and delegates from an impressive 92 countries, with visitors from Thailand, Malaysia, Indonesia, India, Vietnam and China.
Exhibitor profiles of industry suppliers ranged from paper converting machineries, tissue packaging machineries, stock preparation, bleaching chemical solutions to sanitary
product OEM (original equipment manufacturer) manufacturing and many more.
The event signalled the first joined forces of two long-standing brands, each bringing with them over 20 years of success history and a diverse and robust pool of exhibitors and visitors.
It offered exclusive and invaluable business opportunities to all regional and international industry players operating in the sector of the pulp, paper, tissue, packaging and related industries.
A three-day conference took place concurrently and featured 23 presentations under the theme of "Shaping Success: Strategies for Sustainable Growth in Paper, Packaging
and Tissue".
Wichan Jitpukdee, president of The Thai Pulp & Paper Industries Association (TPPIA), delivered the opening address.
His presentation entitled "Growth and Innovation: The Pattern for Thailand's Future" highlighted the growth and the future of the Thailand's paper industry.
Attended by over 90 attendees, the conference took place on the show floor, with the first day dedicated to the Senior Management Symposium and the two subsequent days to the New Applied Technology Sessions.
Among the attendees were SCG Packaging, Siam Kraft Industry, Thai Paper Company, Metso, Double A, Voith, RiverPRO Pulp & Paper and many more.
The event was supported by the following industry associations:
• The Thai Pulp and Paper Industries Association (TPPIA)
• Australian and New Zealand Pulp and Paper Industry Technical Association (APPITA)
• The Association of Indonesia Pulp and Paper Industries (APKI)
• Chinese Taipei Paper Industry Association (CTPIA)
• Indian Agro & Recycled Paper Mills Association (IARPMA)
• Japan Technical Association of the Pulp and Paper Industry (JTAPPI)
• Myanmar Pulp and Paper Industry Association (MPPIA)
• Malaysia Pulp and Paper Manufacturers Association (MPPMA)
• Technical Association of the Pulp  and Paper Industry of Southern Africa (TAPPSA)
• Vietnam Pulp and Paper Association (VPPA)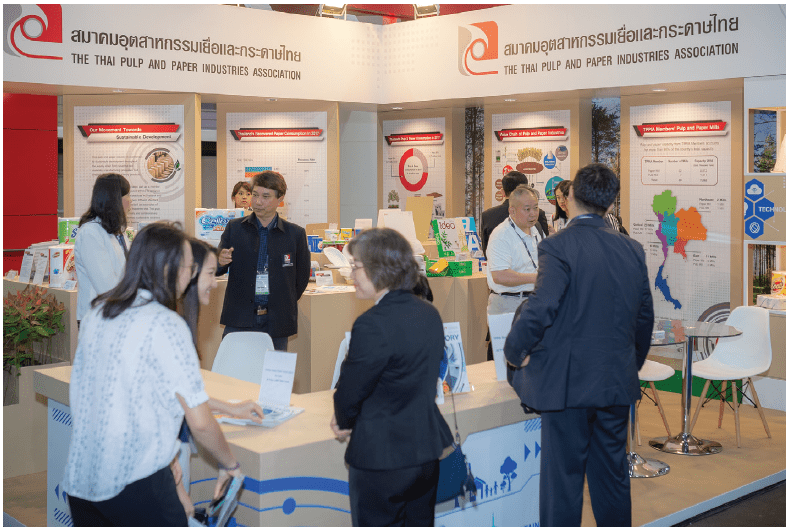 BREAKING DOWN THE GROWTH DECOMPOSITION OF TISSUE IN ASIA
Gilbert Lai, research analyst, Euromonitor
RETAIL TISSUE IN ASIA: GLOBAL VOLUME SALES OF RETAIL TISSUE
Asia Pacific is currently the world's largest and fastest growing region for retail tissue, accounting for close to 40% of global sales in 2017.
>5% CAGR volume growth (2017-2022): China, India, Indonesia, Thailand, Vietnam
<5% CAGR volume growth (2017-2022): Hong Kong, Japan, Malaysia, Philippines, Singapore, South Korea.
Ample room for growth in Asia Pacific: population: 4.1bn, consumption: 2kg per capita, forecast growth: 5% volume CAGR (2017-2022).
DISPOSABLE INCOME VS RETAIL TISSUE CONSUMPTION
RETAIL TISSUE STATISTICS IN ASIA: given the level of disposable income, most Asian countries are consuming less than their potential (bottom of the line).
CONSUMER MEGATRENDS
PREMIUMISATION: Asia Pacific is the largest and fastest growing region in terms of value sales of tissue
Manufacturers offer more value such as higher quality and comfort at higher prices;
Consumers value convenience and multifunctional products. Features that Asian consumers look out for when buying household essentials: value for money, high-quality, low price, multifunctional, able to buy in bulk. High quality and multi-functional tissue.
HEALTHY LIVING: Shifting beyond just physical health to represent more holistic view; mental wellbeing and lifestyles. What does being 'green' entail? Natural and organic, recallable packaging, safe for usage, sustainable sourcing.
RISING IMPORTANCE OF EMERGING MARKETS: ASIA PACIFIC
• 42% of World GDP in 2017, expected to be more than 50% in 2030
• 7% CAGR until 2030.
Millennials not to be neglected. Features that Asian consumers look out for when buying household essentials: 100% organic, hypoallergenic, ingredient formulation, all natural. Third-party safety certifications are key.
ETHICAL LIVING: 63% of consumers believe their choices or actions make a difference.
Asian consumers' green attitudes: 60% agree or strongly agree: worried about climate change; 63% agree or strongly agree: they try to have a positive impact on the environment through everyday actions; 24%: are  willing to pay more for environmentally  conscious household products; 11% are willing to pay more for recyclable
packaging.
FEARS OVER SAFETY AND QUALITY HINDER SALES OF RECYCLED PULP: ASIA PACIFIC
• Marked preference for virgin pulp over recycled pulp;
• Safety: Chemical used in treatment process;
• Quality: Insufficient quality control and inferior texture.
SUSTAINABILITY UNDER THE SPOTLIGHT
Rise of alternative pulp sources and packaging: Bamboo pulp, 'Waste' material, Biodegradable packaging.  Forecast volume sales of retail tissue: South Korea leads, followed by Vietnam, Thailand, India, Malaysia, Hong  Kong, Philippines, Indonesia, Singapore.
Conclusion: region has the most growth  potential, more value at higher price, prioritise health and safety, alternative pulp and packaging.
COMPETITION FOR FIBRE RESOURCES: GLOBAL SUPPLY CHAINS UNDER SUSTAINED PRESSURE
Tim Woods, managing director, IndustryEdge
• Fibre demand growth is across sectors;
• Drivers for demand are fundamentals;
• Role of secondary (recovered) fibre has peaked;
• Rising prices for pulp, and most wood and fibre products are here to stay;
• Fibre competition outlook is intense.
Asian paper and board consumption growing 3.1% pa.~ Almost four times faster than global average growth for the decade.
Global pulp production has been stable.
~ Recovered paper has filled the gap.
Global pulp production totalled 181.0Mt in 2016. Lower than a decade  earlier. Recovered paper has filled someof the fibre supply gap.
GLOBAL MARKET PULP PROPORTION IS GROWING
Market pulp supplies growing around 2.5%pa.
More pulp is being traded, but it is not additional pulp.
Pulp production in Asia is flat~ Market pulp share is low.
Production is stable over the decade.
Estimated 40.5Mt in 2017. Market pulp just 16%.
Global non-pulp fibre demand is growing – Not just solid wood products, dissolving pulp, pellets, organic chemicals…
Asian non-pulp fibre demand is growing rapidly – more than doubled over a decade.
'Peak recovery' adds more pressure on pulp supplies~ Growth in recovered paper availability has stalled.
Global consumption –228.4Mt in 2016. Growth of 2.0% pa. Added significantly to fibre supplies over last decade. But growth began to stall in 2014.
ASIAN RECOVERY MAY ALSO HAVE PLATEAUED
Formal consumption = 149Mt in 2016.
Consumption rose 4.0% pa since 2006.
Production or local collections up 4.4% pa. Imports up 3.5% pa.
In mature markets – recovery may have peaked~ Theoretical maximum recovery of 75% has been achieved in many cases.
Evidence of peak recovery in some mature markets. Commenced around 2013. 75% is theoretical maximum – a little higher for packaging.
MEGATRENDS ARE DRIVING CONSUMPTION GROWTH:
Global population continues to grow, middle-classes (the 'Consumption Class') is growing rapidly, on average, living standards are rising, 90% of growth to 2022 is in Asia. This is the greatest resources soak in history.
Fibre's sustainability is also a consumption driver.
Circular economy approach to packaging: container deposit schemes for packaging paper and board? Small-scale collections in regional areas; target specific grades; link to 'local' mills.
Pulp prices have risen and are holding. ~ Has a new bench been set?
Main chemical pulps experienced a large and sharp price lift over the last six months. Importantly, prices remained high. Given demand and supply, prices are back on trend and the differential between NBSK and BEK seems reasonably stable.
Log and woodchip prices are also rising ~ As shipments grow, vessels are getting larger.
Softwood log export prices up 32% last 2 years ~ solid wood competing with pulp.
Hardwood chip export prices up 9% last 2 years.
To maximise efficiencies, woodchip vessels becoming larger.
SUPPLY CHAIN IS GETTING TIGHTER!
Outlook is for increasingly intense demand.
---
NEW GLOBAL PAPER & BOARD MULTI-CLIENT STUDY
Trang Ly, senior consultant, Pöyry Management Consulting
KEY REGIONAL MARKET TRENDS AND DRIVERS IN ASIA
Changing consumer habits like convenience and on-the-go eating, as well as rapidly rising disposable income and evolving food retail environment belong to the key consumer market trends driving the Asian markets.
Demographics: Polarisation of consumers; ageing population vs. millennials, reduced home cooking and differentiating tastes of consumers, especially among the younger; "on-the-go" eating, convenience, aspiration of Western lifestyle, fit-for-purpose sizes and formats; multipacks, smaller packages.
Changes in economics: strong economic development, high population, low per capita consumption, rapid expansion of middle class, rising disposable income, rising labour costs; shift of manufacturing and consumption from China to other new economic centres, e.g. Vietnam, Thailand, Indonesia, increasing manufacturing of export products and local packaging.
Changes in market dynamics: packed fresh food sector is growing; now only ~10-20 % of food is packed, higher quality packaging is growing in food; increasing health-consciousness, luxury segment is growing, localbrands' strong presence in the low-income segment, very price-conscious market; "good enough" quality is favoured, retail
supply chain & business environment unorganised in some countries, strong growth of international fast food chains & expansion of modern shopping centres, changing retail environment; supermarkets, convenience stores, e-commerce, gradual shift from plastics to paper.
WORLD POPULATION TO REACH 8.5 BILLION BY 2030
Global population is expected to grow by 1.0 %/a through 2030; Asia and Africa experiencing the fastest growth.
ESTIMATED LONG-TERM GDP GROWTH BY REGION UP TO 2030
Global economy is projected to grow by 2.9 %/a through 2030; the growth will be the fastest in India and China.
GLOBAL MIDDLE CLASS SPENDING CONTINUES TO GROW
As the share of middle class is growing,  also the purchasing power of the middle class is growing rapidly, especially in Asia-Pacific (~7.5 %/a between 2015-2030).
TISSUE PAPER PRODUCTION PROSPECTS THROUGH 2030
Tissue paper production is expected to grow by 17 million tonnes through 2030 – the growth will be strongest in China, other Asia countries and Europe.
MANY SIGNS POINT TO A SLOWDOWN IN CHINA'S ECONOMY
China's economic growth is slowing; GDP growth is projected to decline from the current 6 %/a to circa 5.2 %/a by 2030.
Real GDP growth development by 2030.
Main drivers: stagnation of global trade and weakening demand for Chinese made products;
Factor productivity growth is declining;
Shift from agriculture to industry has already taken place in China;
Softness of the domestic real estate market with strong impacts up-and downstream; Accumulation of capital contributes less to growth as capital/ labour ratio rises;
Labour force started to shrink in 2014/15;
Old age dependency ratio will double by 2030.
CONSEQUENCES: INDUSTRIAL OVERCAPACITY;
Restructuring; firm closures, wave of bad loans;
Transformation of the Chinese economic model: From manufacturing to services, from investment to consumption.
E-COMMERCE IS CHANGING THE BUSINESS DYNAMICS IN RETAIL
Largest e-commerce countries are China and USA, accounting for some 60% of the market. Asia is the largest retail e-commerce market, where growth is
the fastest.
Global trends driving the e-commerce growth; number of e-shoppers is growing, mobile e-commerce is becoming more popular, safer payment methods increase online and mobile sales, online and offline commerce will merge, growing competition between e-commerce players.