By Kemira Chemicals Germany's Vladimir Grigoriev, senior manager, applications and marketing, Pulp&Paper EMEA, and Tea Hannuksela, group leader
Abstract
Wet-strengthened paper grades often require a use of oxidative repulping aids. Traditional hypochlorite is undesirable due to its hazardous nature and a contribution to AOX. New stricter regulations, especially in Europe, will restrict its use even further. Alternative persulfate powders are more ecofriendly, but often limited in their effectiveness and have some drawbacks, e.g., alkaline yellowing of pulp.
A new eco-friendly repulping aid, FennoSpec 9368, was developed by Kemira.
This product is based on sodium percarbonate chemistry and provides an economic alternative without significant drawbacks. The benefits, advantages and industrial experiences with FennoSpec 9368 are reviewed in this paper.
Risks and limitations of conventional repulping aids
Handling wet-strength broke or recycled fibres with high wet-strength can be a challenging task.
Conventional tools such as high mechanical shear, high temperature and caustic soda are not always sufficient to provide uniform fibre stock within a reasonable pulping time, especially for aged converting broke.
For difficult wet-strength papers, additional oxidative chemicals are required that can break down strong covalent bonds of a wet-strength resin [Ref 1].
Sodium hypochlorite has historically been used to aid in repulping of wet-strength papers although its use is currently less desirable.
Hypochlorite is a hazardous chemical that requires special handling. It is also a source of free chlorine, which can cause metal corrosion as well as contribute to AOX in paper and effluent.
If the residual levels after repulping are not carefully controlled, the Cl carryover to the wet end can destroy some of the wet-strength resin and reduce its efficiency. High level of free Cl can also negatively impact Yankee coating and machine runnability.
Due to its poor environmental and safety profile, the use of hypochlorite for repulping has been trending down, but surprisingly there are still many tissue manufacturers that use it.
The upcoming changes in the AOX regulations will force tissue makers to look for alternatives, at least in Europe. The EU Directive 2010/75/EU, coming into effect in September 2018, will reduce the AOX limit in effluent in the wet-strength paper production from 150 to 50 g/t of paper produced [Ref 2].
Until recently, persulfate has been the only alternative chemistry. Various persulfate salts are available in the powder form. Their eco-profile is more favourable compared to hypochlorite (no Cl), yet with several drawbacks.
The powder does not dissolve fast and the oxidation potential is lower compared to hypochlorite; therefore, it requires longer pulping times and higher temperatures.
Caustic soda must be added to achieve the desired effect from persulfate, which causes alkaline yellowing of fibres.
There have also been reports of a negative impact on Yankee coating performance.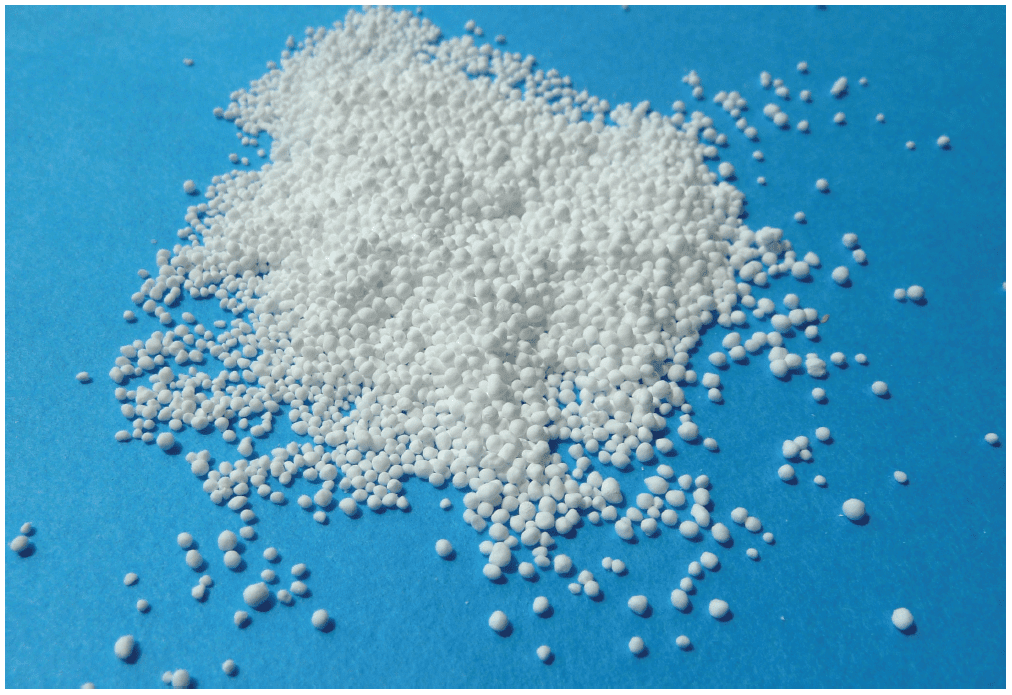 FennoSpec 9368 – a new ecofriendly repulping aid
Kemira has developed FennoSpec 9368 as an eco-friendly alternative to hypochlorite. This product is based on the sodium percarbonate chemistry and is supplied as a granulate, shown in Figure 1.
The uniqueness of this chemistry comes from a combination of both alkaline and oxidative components in one product.
The fast dissolving FetnnoSpec 9368 releases sodium carbonate and hydrogen peroxide into a solution.
This brings both alkalinity (pH 9-10) and oxidative power to the system, creating favourable conditions for effective breakdown of the wet-strength resin in paper.
FennoSpec 9368 is conveniently packed in 10 kg white repulpable paper bags, which can be fed directly to a pulper without opening.
The key advantage of this chemistry is its superior eco-profile as it does not form any harmful residuals.
Only water and sodium carbonate remain after repulping. Therefore, this product has no contribution to AOX and has every major eco- and regulatory approval.
Other advantages of FennoSpec 9368 over persulfate include a faster dissolution, which helps reduce repulping time. Figure 2 demonstrates an increased repulping rate when the persulfate powder was replaced with FennoSpec 9368.

The uniformity of fibre distribution clearly demonstrates a more advanced dispersion of fibres after repulping with FennoSpec 9368 compared to no chemicals or persulfate.
FennoSpec 9368 does not require additional caustic soda as it alone can bring pH to 9-10. When working with difficult fibres, e.g., aged converting broke or tetra pack recycled fibres, additional caustic soda could further boost the effect of FennoSpec 9368.
This is demonstrated in Figure 3 showing the results from an industrial trial of FennoSpec 9368 against the reference persulfate chemistry.
A high temperature in the repulping stage is beneficial. The product will dissolve faster, and the peroxide will be more reactive. In general, a sufficient effect can be seen from FennoSpec 9368 above 35°C and pH 9,5 or higher.
In general, the higher the temperature, the faster the reaction will be. The temperature requirements for FennoSpec 9368 are still lower than for persulfate powders, which require hot alkaline conditions, 70oC or above and pH 10 or higher [Ref. 1].
Industrial experiences with FennoSpec 9368
FennoSpec 9368 has proven successful in repulping of not only tissue and towel grades, but also tetra pack, decorative papers or even labels. It naturally works well for repulping of converting broke.
Under proper repulping conditions, FennoSpec 9368 reacts fast and can either shorten the repulping time or allow more difficult wet-strengthened recycled raw materials in the pulper.
FennoSpec 9368 may not bleach the pulp like hypochlorite but, thanks to the in-situ release of hydrogen peroxide, it will prevent alkaline yellowing of the pulp, unlike persulfate and other alkaline powdered products.
A case study demonstrating the use of FennoSpec 9368 for wet-strength broke is shown in Figure 4.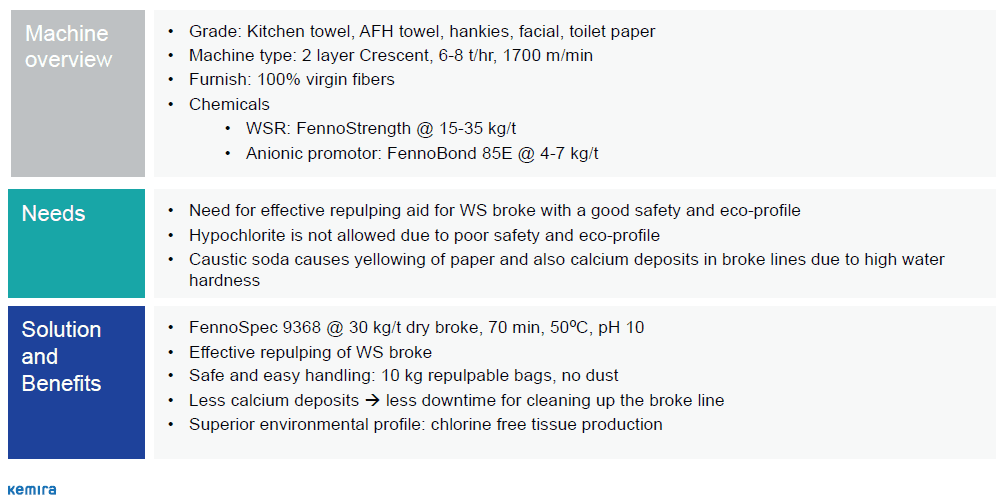 Summary
FennoSpec 9368 is the new eco-friendly wet-strength repulping aid that can provide economic benefits to tissue makers.
It should be strongly considered as an alternative to hazardous and challenging hypochlorite, especially in Europe in view of stricter AOX regulations.
FennoSpec 9368 has also advantages over other powder alternatives, such as persulfates. Below is the summary of benefits and advantages of FennoSpec 9368.
• Superior eco-profile, safe and easy handling
o No chlorine, no AOX, no corrosion
o 10 kg repulpable bags.
• More efficient repulping compared to other oxidizing powders
o Faster dissolution and shorter repulping time, energy savings
o Possibility to use more difficult wet strengthened-fibres
o Less fibre losses from reject screening
• Improved sheet quality
o More uniform repulping, improved sheet formation, higher dry tensile
o Higher brightness, no alkaline yellowing unlike with persulfate or caustic soda alone.
References
1. Wet Strength Resins and Their Application, L.L. Chan, Ed.; TAPPI Press, Atlanta 1994, pp. 31-33.
2. Directive 2010/75/EU of the European Parliament and of the Council of 24 November 2010 on industrial emissions, published in Official Journal of the European Union, 30.9.2014, L284/116.
FennoSpec, FennoStrength and FennoBond are registered trademarks of Kemira Oyj or its subsidiaries. This article was written for Tissue World magazine by Kemira's Chemicals Germany's Vladimir Grigoriev, senior manager, applications laboratory, Pulp & Paper, EMEA, and Tea Hannuksela, manager, applications laboratory, Pulp & Paper, EMEA.