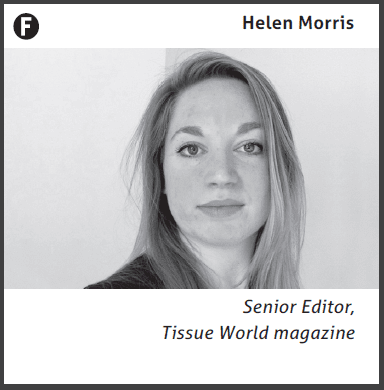 The Arab world's first universal museum – Louvre Abu Dhabi – has opened in the United Arab Emirates.
Emmanuel Macron, president of France, described the stunning symbol of a wider cultural perspective as "a bridge between civilisations." Sheikh Mohammed bin Rashid, vice president and ruler of Dubai, the emirate along the coast, said: "We don't just aim for a dialogue between civilisations, rather an alliance between civilisations".
The museum is described as another significant sign of a wider cultural outlook in the Gulf region.
The UAE itself, has much to offer tourists and international business people. Abu Dhabi, the capital, has a while enjoyed an emerging cultural quarter.
All encouraging news. In this edition we explore if, how, and when this will affect the UAE's business climate, and especially its tissue prospects?
With unmet potential of 53,000 tonnes, seen predominantly in toilet paper and paper towels, is the UAE a growth market for tissue?
Adel Al Far, director of UAE operations at Fine Hygienic Holding is convinced it is. He plans to double capacity at the Al Nakheel site next year and predicts a conservative estimate of 5% annual tissue growth.
Crown Paper Mill managing director Abdullah Al Khateeb aims to be the largest tissue manufacturer in the Cooperation Council for the Arab States of the Gulf by 2020.
As an example of his determination and ambition, he says: "The discussion was what size of tissue machine … so we went for the latest and fastest. We wanted everything, the most modern, the most energy efficient, in order to produce the best quality of tissue with better energy costs and to reduce our carbon footprint."
In many ways the UAE is a unique market: it's a largely worker immigrant nation of 10m people, only about one million of whom are citizens, giving a whole new meaning to the AfH category.
Most analysts ascribe this ambitious and at times controversial new UAE to Abu Dhabi's 56-year-old crown prince, deputy commander of the UAE's armed forces, younger brother of the emir of Abu Dhabi … Muhammad bin Zayed.
A robust military foreign policy is one of those controversies in an already conflict region. Inside, tissue professional tell us how they see the future.
Asian Paper / Tissue World Bangkok 2018 launches to acclaim
Miami, Milan, São Paulo, Istanbul… and now Bangkok.
Tissue World has strengthened its global reach with the successful launch of our latest tradeshow … Asian Paper / Tissue World Bangkok at BITEC, Bangkok, in June.
An impressive 3,163 industry professionals attended from 92 countries to do business in sectors including pulp, paper, tissue, packaging and related industry supplies.
The event signals the joined forces of two long-standing brands drawing on over 20 years of success in staging diverse and robust exhibitions oiling the wheels of trade.
This market is huge. Asia Pacific is currently the world's largest and fastest growing region for retail tissue, last year accounting for close to 40% of global sales.
You will find a full report inside.
---
Join the only dedicated tissue industry event that connects the East and the West!
With its strategic location, Tissue World Istanbul provides a dedicated one-stop platform for the industry from Eastern Europe, Russia, the CIS, the Middle East, Central Asia and North Africa, to meet, network and understand the intricacies involved in conducting business in such a diverse and vibrant territory.
Online Visitor and Conference Registration is now open at : https://www.tissueworld.com/istanbul/en-us/register
View the Conference Theme here
View the Conference Agenda here
View the list of speakers here