As SOP and easy-access OCC supply declines, Bill Moore, president of Moore & Associates, assesses region specific trends in emerging kraft pulps in the Global Recovered Paper (RCP) market.
Key trends: Global Recovered Paper (RCP) market 
Producing paper & board using recycled fibres 
• For the last several decades, recycled fibre has had a distinct cost advantage over virgin fibres for the production of newsprint, AfH tissue products, containerboard, and recycle
paperboard. But in most markets, this isn't the case for printing/writing grades (India is an exception) and high-end packaging.
• Increasing recovered paper costs over the next ten years may change the cost advantage dynamic:
• The global market will see higher commodity cycle costs;
• As well as lower quality recovered paper, shorter fibres and non-fibre contaminants – lower yields, higher processing costs;
• Moderate cost of virgin pulps, especially short fibre bleached hardwood – primarily effects tissue and printing/writing papers.

Old corrugated containers (OCC) supply
• OCC recovery in the developed regions of the world is very high, almost at the maximum level in many parts of Europe and headed that way in the US, but box supply growth continues;
• China and India (as well as the rest of the developing regions of the world) will continue to increase their domestic OCC recovery;
• All of the "easy to get" OCC is already  recovered – grocery store and large generators;
• But we are not 'running out' of OCC that can be recovered. In the US, almost 21 million tonnes per year of paper is still disposed and OCC is a part of it.
OCC future demand trends 
• China's huge appetite for OCC drives the world – although China's latest restriction on RCP imports has disrupted the global marketplace for the time being;
• Over the next five plus years, we may see unbleached kraft pulp be competitive with OCC, especially at the top of the pricing cycles in China. But supply of the grade is limited and expensive;
• An even more likely scenario is the use of additional virgin kraft pulp in place of some OCC in the US Southeast (expect kraft pulping/recovery system de-bottlenecking projects);
• New OCC based containerboard mill projects in Asia (including China), Europe, Middle East and North America – the demand it is creating will keep the market strong.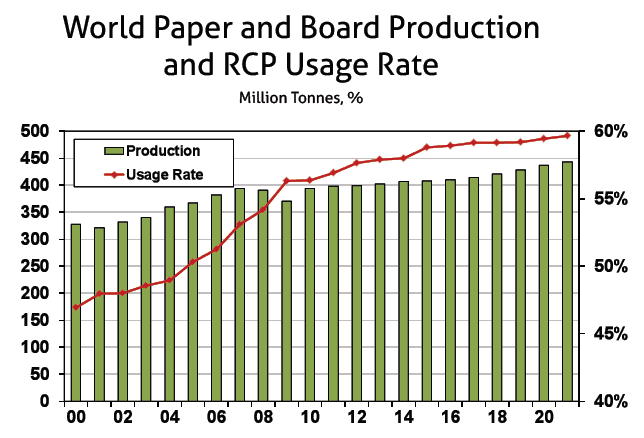 Region specific trends in the use of recycled fibre in tissue production
• Recycled fibre-based tissue is more prevalent in certain markets – North America (US, Canada, & Mexico), Europe, Middle East, and developed Asian countries (Japan, Korea, etc.)
• Recycled fibre use regional trends: – North America – stable, Europe – small decline, Middle East – declining, developed Asia – stable;
• China's tissue business is largely growing with virgin fibre (as compared to their newsprint and paperboard sector, which rely heavily on recycled fibres). This is also the case in much of other developing and emerging Asian countries.
Trends in use of recovered paper in the tissue sector
The trends in all regions of the world are similar:
• Sorted Office Paper (SOP) supply is declining – less printed documents;
• Less use of Coated Book Stock – more coated material in SOP – process changes to reduce the need for this low yield grade?
• Sorted White Ledger (SWL) and Manifold White Ledger (MWL) markets have merged. All Solid Bleached Sulphate (SBS) scrap recovered, slow growth;
• Some increase in the mechanical fibre grades – Old Magazines (OMG) and Coated Groundwood Sections (CGS);
• Searching for alternative grades.
Global trends in printing/writing paper production
• Total world production – in 2016: about 104m tonnes, down 4% from 2012;
• Europe – 27.5m tonnes in 2016, down 11% from 2012;
• North American production – 17.5m tonnes in 2016, down 13% from 2012;
• China – 26.2 million tonnes in 2016, up only 2% from 2012;
• 2017 saw declines in printing & writing papers use in almost all markets.
China – one cannot discuss recovered paper markets without covering this important country and its impact on the world
2018 New China RCP Import Policy Effective 1 March 2018 (material arrival in China)
• Weight of recovered paper (RCP) prohibitives (non-paper contaminants) must be < 0.5% – all grades;
• No unsorted RCP;
• China import permits regulated and issued quarterly;
• Mills with <50,000 MT/year production prohibited from importing RCP directly;
• China buyers must be associated with a mill group.
Quality impacts on export to China
The impact of 0.5% Prohibitive has created increased demand for the cleaner, higher end grades: – OCC grades that are cleaner than standard #11: double sorted, grocery/big box and Double Lined Kraft (DLK) – Clean Mixed Paper substitutes – books, low end SOP, etc. These grades will see a wider price gap to #11 OCC and #54 Mixed Paper than we have experienced in the past.
Southeast Asia and other Asian markets
India
• Economic growth rate is strong, but from a low base;
• Percentage growth rate increase in recovered paper use quite high, but from a very low base;
• Small inefficient mills – the success of western companies that have come into India is a question;
• No China by a long shot;
• Wide range of key grades;
• Need high quality OCC – double sort;
• Have been taking a lot of RCP that used to go to China.
RCP quality and E-commerce 
Recovered paper quality and its impact on pricing
• Material Recovered Facilities (MRFs)/ processors/collection operators are having to add cost to make higher quality products from lower quality input streams. Margins in these  businesses are slim, but some of the extra costs will be borne by this sector;
• The mill industry will wind up picking up part of the cost, but not a lot as the global paper industry finances are not real healthy in some grades (tissue and packaging grades are better);
• Pushing more costs back to the generators is what is happening. Generators (both residential and commercial/industrial) will be incentivized to supply higher quality input materials or pay higher prices for processing.
Mill RCP quality measurement
• Europe: – 25 + mills now have automated quality measurement systems – Based on NIR (measures moisture, plastics, ash, etc.) bale drilling or microwave (moisture only) technologies – will probably be 40+ such systems by the end of 2018 – Pushed by CEPI, the paper industry trade association;
• China – some movement in the same direction as Europe: – Maybe a dozen automated systems, mostly microwave – Aimed at domestic supply – open sided trucks only. Can't  do export containers (yet);
• In the US nothing significantly new in quite some time, but the merQbiz (an online RCP transaction platform) approach to better quality measurement is gaining traction.
Rising E-commerce and its effect on recycling and the OCC market
• Direct to home box shipments increasing dramatically;
• Less OCC at distribution centres/ retail physical store locations – very high recovery;
• Shifting OCC to the residential recyclables stream;
• More OCC coming into residential MRFs – sortation issues?
• Lower recovery from residences;
• OCC in residential stream going into mixed paper.
E-Commerce directional view retail distribution centre volume
•Clean segregated OCC;
•OCC from single stream MRFs – quality;
•Lower recovery rates:  Massive expected E-commerce growth, packaging solutions will continue to evolve, sustainable image vital to customer's business. Today's view will be outdated rapidly.
North American & Europe RCP market
US paper and board production 
• From its peak in 1999 of 95m tonnes, the US paper industry produced only 70m tonnes of paper and board in 2016 – a decrease of over 27%!
• A major part of the decrease is in newsprint and printing/writing papers;
• But the corrugated box business is growing after 20 years of limited growth – E-commerce.
US recovered paper exports by country: 2016
China – 66%, Mexico – 8%, India – 8%, Korea – 5%, Canada – 3%, all others – 10%. This changed dramatically in 2017, with China's shares moving downwards and will change even more in that direction.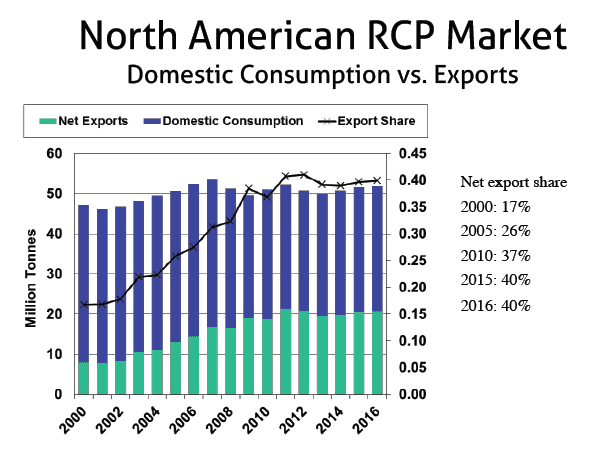 RECOVERED PAPER SUPPLY FOR TISSUE MANUFACTURING
Generation trends of SOP
• From 1998 through 2005, the growth in supply in the US from shredded office papers kept market pricing down;
• Moore & Associates estimates that shredded material now is about 85+% of the US SOP market, much less so in Latin America;
• The US Post Office delivered 103.7bn pieces at its peak in 2001. 2016 – 61.2bn pieces;
• Growth in supply of SOP from document destruction in the US is slowing after ten years of rapid increase. Confidential document destruction will grow in Latin America.
Composition of Deinking High Grades (DHG)
American Forest & Paper Association definition gives this approximate composition for this 'statistical' grade:
– 55% SOP
– 20% Coated Book Stock/Printers Mix (book and printing scrap)
– 15% Sorted and Manifold (preconsumer from printers) Ledgers
– 10% Other Bleached Chemical Grades
– mostly SBS scrap (white/bleached box scrap).
Demand for US DHG by Region: 
North central – 33%, South Atlantic – 18%, East south central – 20%, West south central – 10%, Pacific northwest – 4%, Mountain & California – 3%, New England – 4%, Mid-Atlantic – 8%.
Export destinations for US DHG
Mexico – 36%, Canada – 21%, India 20%, China – 5%, Colombia – 4%, Netherlands – 2%, all others – 12%.
Other factors related to the supply of deinking papers
• The generation of printer recovered paper grades (many of which are in tissue production) is declining due to overall downturn in printing;
• World printing industry is declining;
• The world recession of 2008/2009 certainly had an impact on the printing business, but it is suffering from the structural trend of printing less hard copy documents;
• Single stream office recycling collection is the growth area for collection of the "last" of office papers in the US: but frequently cannot be separated into SOP, will go into Mixed Papers, a much lower value grade.
New supplies of recovered paper for the tissue industry
• With the declining use of printing/ writing papers in the office workplace and printers, new sources must be found – but where?
• Where does the amount of freesheet papers in the household go from here? Static to declining?
• The emergence of the collection of poly-coated and uncoated bleached paperboard packaging from residences – will add some small part of the DHG supply and good for tissue making;
• Specialty grades: hogged books and UV coated materials;
• Mechanical fibre grades are not the answer – only limited use possible and declining volumes available;
• Wood pulp – Bleached Eucalyptus Kraft (BEK), Bleached Hardwood Kraft Pulps (BHK) – most likely scenario;
• Alternatives – bamboo, wheat straw? Long shots, at best.
Current pricing
• High Grade pricing moving up as bulk grades decline;
• SOP – 1 Q 2018 – US average – $159/tonne;
• CBS – 1 Q 2018 – US average – $159/tonne.
• Prices have been rising in the second quarter. SOP price premium paid over published prices
• Average premium of FOB actual average mill price paid over RISI's Pulp & Paper Week SOP high side index price;
• 2017 – $11.94 – Moderate market – SOP – $163;
• 2014 – $6.43 – Weak market – SOP – $148;
• 2011 – $20.50 – Strong market – SOP – $225;
• 2007 – $18.50 – Moderate market – SOP – $188.
SOP freight cost
• Average freight cost for all North American mill – ($/tonne) – 2nd H 2017 – $30.35 – 1st H 2017 – $28.30 – 2014 – $31.70 – 2011 – $29.50 – 2007 – $27.50.
Conclusions
• High grade supply will remain tight on decreasing use of printing & writing papers;
• But demand for DHG will be modest as the industry shifts more to virgin fibre over the long term;
• Higher bottom cycle prices for DHG;
• Limits on top cycle prices due to virgin pulp substitution.
The above is a summary of Bill Moore's conference talks given at Tissue World Miami in March 2018 and Tissue World Bangkok in June 2018.