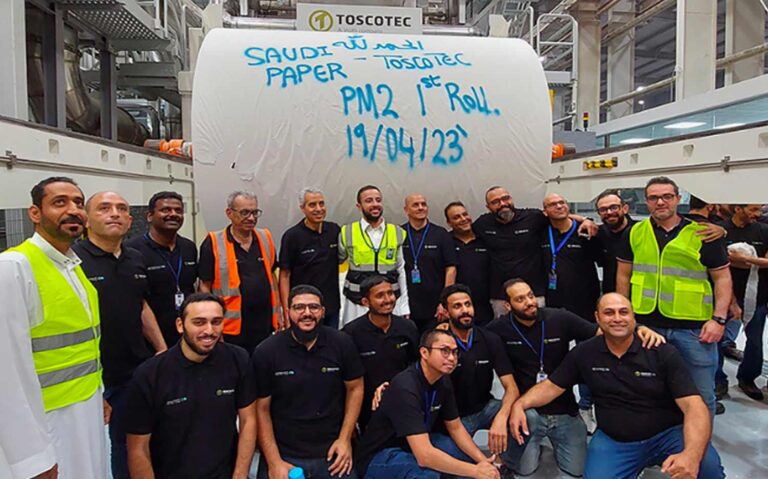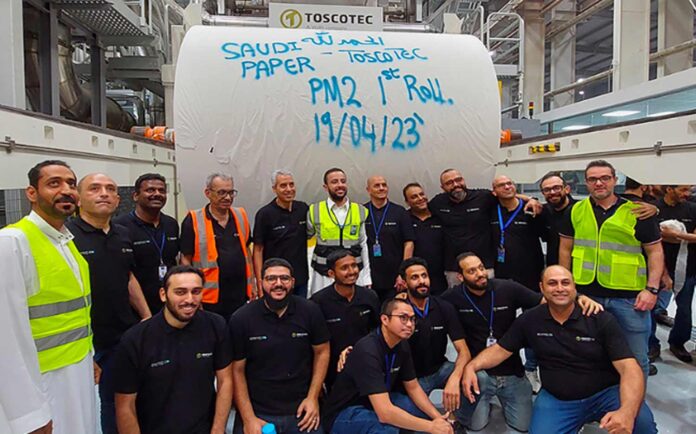 Saudi Paper Group (SPG) has started up a Toscotec-supplied AHEAD 2.2 tissue machine and OPTIMA slitter rewinder at its Dammam mill in Saudi Arabia.
PM2 is producing high quality tissue and the line has a sheet trim width of 2.8m, a maximum operating speed of 2,100m/min, and an annual production capacity of over 30,000 tons.
It is equipped with Toscotec's upgraded shoe press design TT NextPress, a third-generation TT SYD Steel Yankee Dryer with patented deckle head insulation and TT Hood.
SPG placed the order for the full-on turnkey supply of a new tissue line including an AHEAD 2.2L machine (PM5) and two OPTIMA 2600L slitter rewinders.
The project is slated to add 65,000 tons to the group's annual capacity in 2024.
Mohamed Abdelghaffar, SPG Group Operations Director, said: "We expect to quickly achieve excellent performances on PM2 both for tissue quality and production efficiency.
"SPG's project team is already working with Toscotec on the engineering phase of PM5, our new, double-width AHEAD tissue line."
Headquartered in Dammam, SPG was established in 1989 and integrates three lines of business: Paper Recycling (SRC), Tissue Jumbo Rolls manufacturing (SPM) and Tissue Converting (SPC) businesses.