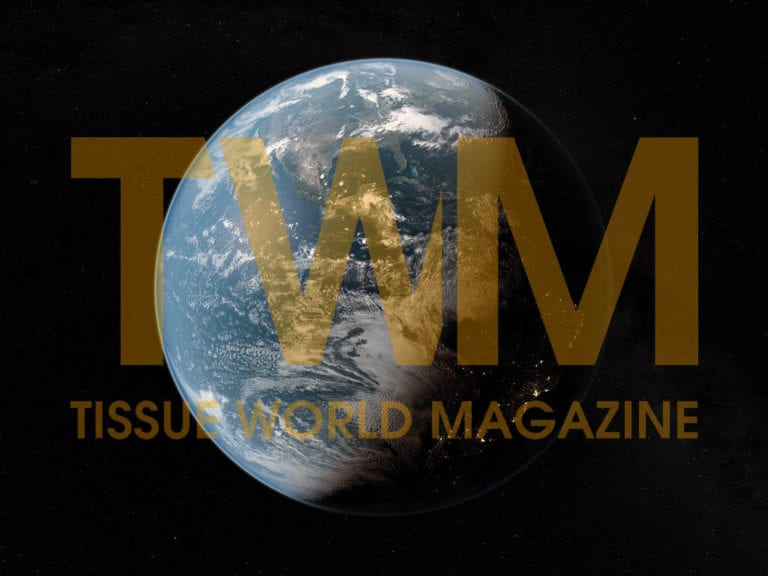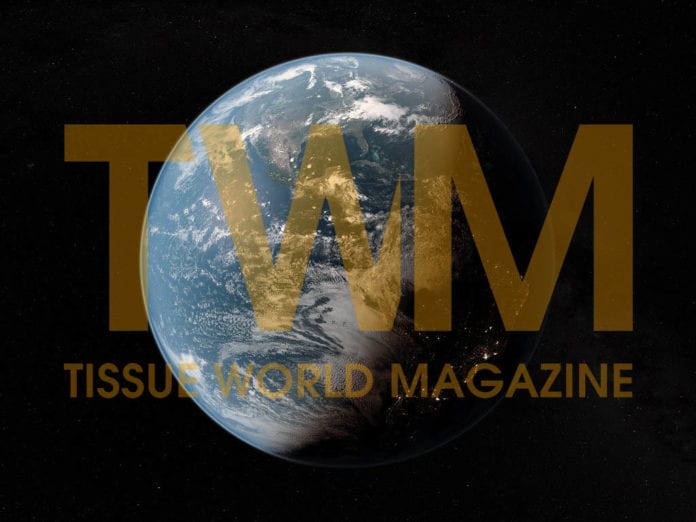 Ukraine
PJSC "VGP" STARTS UP GAMBINI LINE
Ukrainian tissue converter PJSC "VGP" has boosted its product offering after it successfully started up a Gambini supplied production line.
The Right 550 line is capable of producing premium class products, 3-ply toilet paper and kitchen towels, medium and economy class products, 2-ply toilet paper, 2-ply point-to-point kitchen towels and 2-ply kitchen towels.
PJSC "VGP" said the choice of equipment was defined by pricequality ratio and line flexibility for quick product format change.
It said: "The product diversity, high speed and quick format change will let the company satisfy customer's demand at a favourable price in all the market shares at home and abroad maintaining high quality standards."
The Gambini line is distinguished by its component parts, including the embossing unit TOUCHMAX 40.80 and the point-to-point unit.
It also integrates equipment from other companies, i.e. Pulsar diverter REDS 4/8 TEV STEP5, TMC packing machines ZERO and QUATTRO, TRASCAR palletizer.
Gambini said: "TOUCHMAX is now the embosser which makes a real difference in the production process allowing a three minutes product changeover guaranteeing high level safety for the operators and high quality of the tissue roll products.
"TouchMax, with 5 steel embossing rolls always on board, is capable to produce up to six different products by only entering the embossing roll configuration via HMI panel without replacing any steel embossing rolls, therefore allowing a real-time production scheduling."
PJSC "VGP" is one of Ukraine's leading converters and has been in operation since 1998.
Its brand portfolio includes toilet paper, facial tissue, kitchen towels and hankies under trademarks Ruta, Ruta Selecta, 100% paper, Servetta and Polotenechko.
The company also produces private label products for large retail chains.
---
Sweden
DUNI POSTPONES CLOSURE OF ONE OF ITS REXCELL PRODUCTION UNITS
Duni's Rexcell subsidiary has extended production of input materials for the hygiene products industry for another year.
The company said the move will "permit profitable operations until the production unit is closed".
Duni announced in February 2013 that it planned to close one of the three production units of its Rexcell Tissue and Airlaid subsidiary in Skåpafors, Sweden.
The unit manufactures and sells input materials for the hygiene products industry.
Rexcell expected operations to be fully phased out by the first quarter of 2014.
In collaboration with the trade unions, Rexcell has now decided to extend the operations for another year.
One of the Rexcell production units is now expected to be fully phased out by March 2015.
The subsidiary will still cut back on its production volumes and has issued notices of termination for 23 employees.
Thomas Gustafsson, president and chief executive of Duni AB, said: "We will continue to manufacture input materials for hygiene products, while maintaining satisfactory profitability at the unit.
"The primary impact of the extension is that employees who are unaffected in the short run will have more time to retrain or find new jobs.
"Our decision to phase out production of input materials for the hygiene sector stands. Duni's strategy of focusing on our core business remains in place. Our future growth will stem from products that enhance the atmosphere around the set table.
"That is the focus that will yield the highest return for our shareholders going forward."
---
Sweden
METSÄ TISSUE BOOSTS CAPACITY AT MARIESTAD MILL
Metsä Tissue will invest €10m in a new converting line at its Mariestad mill in Sweden.
The investment will increase the company's consumer tissue products capacity and strengthen its position in the European tissue market.
It will increase the Mariestad mill's converting capacity by up to 80,000tpy.
Mark Watkins, senior vice president, tissue, Scandinavia, said: "Consumers' expectations on product quality are increasing all the time.
"The new converting line represents state-of-the-art tissue converting technology, which means we can produce the softest tissue qualities on the market.
The new line, supplied by Futura, will start production in autumn 2014.
The investment also includes the extension of the warehouse facilities at Mariestad.
---
Spain
DOMTAR TO ACQUIRE INDAS
Domtar is to expand its personal care business in Europe with the acquisition of Spanish branded adult incontinence products Laboratorios Indas (Indas).
Domtar said the move is "a critical step" to building a pan-European business.
Domtar will acquire all the outstanding capital stock for €285m and the business is expected to have approximately €140m of debt, net of cash, at closing.
The net debt is expected to be reduced by the collection of approximately €25m of past due accounts receivable before year end or early 2014, resulting in an enterprise value of €400m.
The majority of the debt will be repaid by Domtar in connection with the closing of the transaction.
John Williams, president and chief executive of Domtar, said: "The acquisition of Indas advances our transformation into a leader in personal care, an attractive market segment that is an important growth engine for Domtar.
"With the addition of the new business, Domtar will become one of the leading adult incontinence products manufacturers in Europe, providing the critical mass upon which to build a pan-European business.
"As a result of this transaction, we are substantially closer to achieving our previously stated goal of generating at least $300 million of EBITDA from fibre based consumer products by 2017."
Michael Fagan, senior vicepresident, personal care, added: "Indas is a leading marketer of adult incontinence care products in Spain with its IncoPack and Indasec® line of products, and we are pleased to be adding these prominent brands to our portfolio."
With a primarily branded product offering, Indas has a leading market position across a number of adult incontinence segments in Spain including heavy incontinence and underpads as well as branded light incontinence.
Indas distributes its products in three main channels: pharmacies, hospitals and retail.
It operates a manufacturing facility in Toledo, Spain.
Javier Martin, chief executive of Laboratorios Indas, said: "The acquisition by Domtar is a great outcome for our customers and our employees.
"Domtar is a strategic long-term owner who is committed to growth in personal care and they will give us access to the resources and the technology to accelerate our growth plans and be successful."
The closing of the transaction is expected by year-end 2013, subject to customary closing conditions.
---
Spain
SCA TO FOCUS PRODUCTION IN SPAIN ON ALLO AND VALLS TISSUE MILLS, CARMONA CONVERTING FACILITY SLATED FOR CLOSURE
SCA has announced its intention to focus its production in Spain on its plants in Valls, Tarragona and Allo, Navarre.
As a result, the firm intends to close its Carmona facility near Seville and to transfer the site's converting activities to Allo.
Moreover, the converting activities of SCA's Mediona mill near Bar celona will also be moved to Allo, while tissue production there will continue.
According to SCA, the planned measures aim to secure its shortand long-term competitiveness in Spain and to set the stage for future growth. "(The Allo and Valls facilities) are the best suited mills due to their technical standards, they have the best geographical locations and [give] SCA the possibility to grow the plants in the future," SCA said in a statement.
SCA's Allo mill has a production capacity of 160,000tpy of tissue on three machines, while the Valls site can manufacture some 120,000 tonnes/yr on two PMs. The firm's La Riba facility in Tarragona, which is part of the Valls mill and churns out around 45,000tpy on two machines, is not affected by the planned measures.
Regarding the planned stop of converting activities at Mediona and the closure of the Carmona plant, SCAsaid that the converting operations at Mediona are not economically viable due to high costs and the facility's inability to expand.
"Carmona is not efficient since Allo's converting capacity is significantly underused," the firm said.
SCA added that the planned closure of the Carmona plant will affect 24 employees.
The company has entered into negotiations with worker representatives in order to minimise the impact on the employees. SCA expects the consultation period to last up to 50 days.
"We are looking into possibilities to accommodate relocation of some of the affected employees to other mills in Spain.
"Our intention is to finalise the negotiation process by the end of the year and continue to implement the changes during 2014," a spokesperson told PPI Europe.
José Ramón Iracheta, SCA country manager Spain, said: "We are fully aware of the impact that this decision will have on our employees at Mediona and Carmona.
"This is not a measure we have undertaken lightly; on the contrary, it follows a thorough analysis and consideration of the best possible way to secure our business continuity and future in Spain.
"We are confident that this process will allow us to strengthen our business here in Spain."
News from RISI
---
Romania
METALICPLAS BOOSTS CAPACITY
Romania's Metalicplas has started-up a turn-key project tissue line at its Dej mill.
The new PM1 tissue machine has an operating speed of 1,600m/min, with 2,850mm trim width at reel and production capacity of 82tpd.
The scope of supply includes a single-layer headbox and single suction press configuration, 3.6m diameter cast iron Yankee Dryer and an M.D.S. last generation energy saving gas heated hood.
Stock preparation, approach flow system, winder, machine auxiliaries, water treatment, electrification and control system complete the scope of supply.
With erection and installation works accomplished in a record time of three months from the laying of soleplates, trials and start-up activities went smoothly and the machine was already producing good quality tissue paper reaching 90% of the tissue line capacity in under two weeks.
Full capacity was achieved at the end of September.
The company already operates a 2.5m trim, 20,000tpy Over Meccanica tissue machine at its Pehart Tec facility in Petresti.
Metalicplas is part of Romanian industrial group MG Tec Group.
---
Italy
EUROVAST BOOSTS PRODUCTION CAPACITY
Italian company Eurovast has boosted its production capacity by 30,000tpy after it invested in a tissue machine for its Cartiera della Basilica Lugliano-Bagni di Lucca plant.
Toscotec will supply the MODULOPLUS crescent former which has a double press configuration and Steel Yankee dryer TT SYD-3200MM.
It has a maximum speed of 1500m/min and will start production in the first quarter of 2014.
Eurovast is a limited liability company managed by the Romano family and headed up by entrepreneur Vincenzo Romano.
It has been working in the tissue market since the beginning of the 1990s. The company currently has a production capacity of 70,000tpy with a total plant surface area of 36,000m2.
---
Russia
ARKHANGELSK TO BUILD A 100,000TPY TISSUE MILL NEAR MOSCOW
Russia's Arkhangelsk pulp and paper mill (APPM) is set to build a new tissue mill in Vorsino, in the Kaluga region, some 90 km southwest of Moscow.
The total cost of the project is around Rouble 5bn, according to the Russian news agency Itar-Tass.
The new plant will be managed by APPM's subsidiary Arkhbum Tissue Group.
In October last year, the company had planned to sign a contract with an unnamed supplier for the delivery of a 2.8m wide tissue machine.
The unit's planned capacity would be 100tpd. The investment is scheduled for completion in 2015.
Over 2016-2017, APPM plans to install a second tissue machine in Vorsino. The 2.8m wide PM would produce some 200tpd, raising the plant's total capacity to some 100,000tpy.
The two PMs will use Arkhangelsk's virgin pulp as raw material.
Apart from two tissue machines, the Vorsino plant will also feature converting lines.
This will be APPM's first full-cycle tissue production facility. The firm currently operates tissue converting lines for toilet paper production under the MyLova and Soffione brands at its newly-built Istra corrugated plant in the Moscow region.
APPM is part of Austria's Pulp Mill Holding (PMH). PMH also operates the Kiev paper and cardboard mill in Ukraine, which produces tissue, cartonboard and containerboard. News from RISI (www.risiinfo.com)
---
Poland
METSÄ GROUP COMPLETES €55M POLISH INVESTMENT
Metsä Tissue has completed a €55m investment at its Krapkowic paper mill. The investment includes two new, state-of-the-art tissue paper machines, a new AfH product converting line as well as extending its converting and warehousing to new facilities.
The investment increases the mill's tissue production capacity up to 85,000tpy and converting capacity up to 50,00tpy.
Kari Jordan, president and chief executive, Metsä Group, said: "The renewed Krapkowice mill is the most modern tissue facility in Europe. "This investment is strategically important to Metsä Group as it strengthens our market position and competitiveness in the Polish tissue market. "Today's consumers want sustainably manufactured, high-quality hygiene products. Our Polish mill meets these expectations extremely well."
The company is "seeking strong growth" in Poland and nearby markets where "the demand for new tissue products is increasing significantly". It has reduced the mill's CO2 emissions by 60%, reduced its NOx emissions by over 50% and "has virtually eliminated" SOx emissions. Due to major improvements in water usage and treatment, the amount of wastewater has also been reduced by 42%.
The Krapkowice mill produces Metsä Tissue's top brands Lambi, Mola and Katrin for consumer and AfH markets. The mill uses both virgin and recycled fibre.