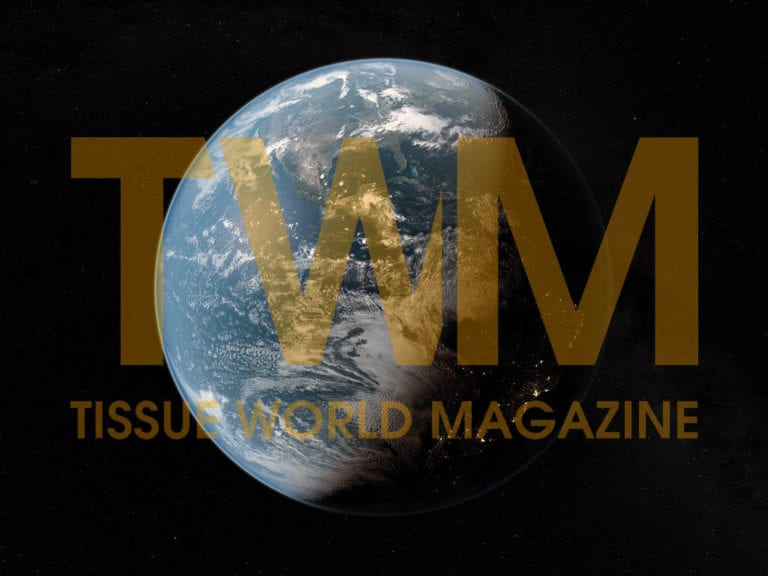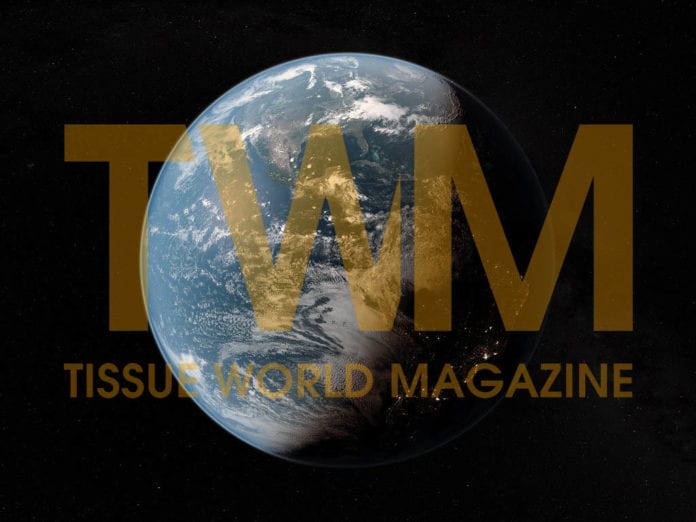 CHINA
APP China brings six tissue machines on stream, building another unit at new Chinese mill; new capacity totalling 354,000tpy
Out of the one million tonnes/yr of new tissue paper capacity coming online in China this year, APP China probably accounts for around 30%.
Since late last year, the company has commissioned four large tissue machines (two each at its Suzhou plant in Jiangsu province and the
Xiaogan mill in Hubei province) and two medium-sized PMs at the Yangpu complex in Hainan province.
Each of the four larger PMs has a width of 5.6m and an operating speed of around 2,000m/min, with a capacity of 60,000tpy.
All four machines were provided by A Celli, with Steel Yankees manufactured by other European suppliers such as Andritz.
The two smaller 2.8m-wide PMs were assembled by APP China's subsidiary, Jinshun Machinery. Each has a capacity of 27,000tpy.
The startup of the six machines, which have a combined capacity of 294,000tpy has taken APP China's total tissue capacity to 1.4 million tonnes/yr, the largest in the country.
The one million tonne/yr of new Chinese capacity figure is from the latest statistics compiled by the China National Household Paper Industry Association (CNHPIA).
The association estimated that the country's tissue capacity may rise to 10.44 million tonnes/yr by the end of this year, up by 10.6% from 9.44 million tonnes/yr in 2014.
But the Chinese market can only handle some half a million tonnes/yr of net new capacity annually, according to the CNHPIA.
And the country has already been overburdened with a surplus following rapid tissue expansion in the past several years, which has led to stagnant pricing and dwindling profitability.
An APP China senior executive said: "We are aware that the domestic market is saturated and is unable to absorb any new capacity. However, we still have to finish those projects that have been developed and are under construction."
A few years ago, when the Chinese tissue industry was the last sector where the profit margins were particularly attractive, a number of firms entered the sector. Many of them had no background in the industry.
Such bandwagon-jumping has resulted in an explosion of new capacity.
APP China played a leading role in the phenomenon.
But the swamped market has been forcing the company to radically slow down its aggressive expansion plans since early last year.
The APP contact said: "I believe there are hidden agendas in the investments. Many firms aimed to obtain land use rights and low-interest bank loans, which can be secured when an expansion plan is approved by the government.
"I believe a big fraction of such projects in the pipeline will not get started in the end."
At APP China's Suzhou mill, two 60,000tpy tissue machines have been delivered to the site by Valmet.
With no clear view of when the overcapacity issue will be resolved, the firm is not sure when the two units will be erected.
New tissue mill in Sichuan: In China's south western province of Sichuan, APP China is building a greenfield tissue facility at Suining city.
The company has kicked off installation work for a 60,000tpy A Celli PM at the plant, with startup expected by the end of this year.
The new Suining mill, along with the Xiaogang facility in central China, are part of APP China's plan to tap into the country's inland market.
Investments there are also aimed at spreading out the company's production bases nationwide.
Its oldest plant is located on China's southeast coast in Suzhou, while in Hainan, the country's southernmost island, it operates the massive integrated Yangpu complex.
The Yangpu mill runs a 1.8m tpy bleached hardwood kraft pulp line, a 1.6m tpy coated fine paper machine, and 26 tissue machines that have a combined capacity of almost 800,000tpy.
While there is no room for new machines at the Yangpu facility, APP China has planned for further expansions at its Suining, Xiaogan and Suzhou sites.
The company reckons that ongoing rapid urbanisation will continue to boost demand for tissue products, such as toilet paper, as people move into apartments with flush toilets.
It also believes that as many current investment projects will end up being shelved due to the harsh market situation, when the country's economy sees improvement, it will be well positioned to meet the next wave of demand growth.
News from RISI (www.risiinfo.com)
Zhejiang Jingxing Paper starts up second TM with Steel Yankee
China's Zhejiang Jingxing Paper has started up a second TM with Steel Yankee.
Supplied by Andritz, it follows the start-up of TM1 in January.
The PrimeLineST C8 machine has a design speed of 1,900m/min at a width of 2.85m.
The Yankee has a diameter of 18 feet. In combination with its head insulation and the steam-heated hood, it enables a high drying capacity at reduced energy costs.
Zhejiang Jingxing Paper produces high-quality facial wipes and toilet paper grades at its tissue mill in Pinghu City, Zhejiang Province.
Lee & Man starts up new 60,000tpy tissue PM in Chongqing, China
Lee & Man Paper Manufacturing has commissioned a new 60,000tpy tissue PM at its mill in Chongqing municipality, China.
The Voith unit has raised the firm's tissue capacity to 90,000tpy.
The board giant expanded into the tissue segment last year by acquiring a firm called Guang Kai.
In November 2014, its wholly-owned subsidiary Able Advance International got a 100% share of Guang Kai, which had been owned by spouses Patrick Lee and Lee Wong Wai Kuen.
Patrick Lee is also Lee & Man's controlling shareholder.
Guang Kai runs two tissue PMs with a combined capacity of around 30,000 tonnes/yr at Lee & Man's mill in Chongqing.
Another 60,000 tonne/yr tissue PM is under construction at the same mill.
The Valmet unit will have a design speed of 2,000 m/min and a width of 5.6 m.
Startup is scheduled for later this year.
In the meantime, Lee & Man is planning to launch its own branded tissue products on the Chinese market this year.
Besides its tissue units, the Chongqing mill also houses several recycled containerboard PMs with a combined capacity of around 1.1 million tonnes/yr and a 165,000 tonne/yr bamboo pulp line.
News from RISI (www.risiinfo.com)
A.Celli Paper supplies five tissue rewinders to APP China
A.Celli Paper has said it will supply five tissue rewinders to two of APP's facilities in China.
The rewinders model AC 882 are characterised by a paper format of 5,630 millimetres and attain working speeds of up to 1,400m/min with paper that goes from 12.5 to 45g/m2.
With a parent reel diameter of 3,100 millimetres, the customer obtains a finished roll having a max diameter of 2,250 millimetres.
---
INDONESIA
APP and APRIL become PEFC-certified in Indonesia
Indonesia's top two pulp and paper producers Asia Pulp & Paper (APP) and Asia Pacific Resources International (APRIL) have become certified to PEFC and its local partner, the Indonesian Forestry Certification Cooperation (IFCC).
Over the past few years, the two paper giants have received heavy criticism from environmental groups for allegedly harvesting the country's natural forests to manufacture products.
Ben Gunneberg, chief executive of PEFC International, said: "The certification affords APP and APRIL's products access to the PEFC label, providing a clear message to consumers worldwide that their products come from verified sustainable sources.
"This achievement highlights the progress that local stakeholders have made in advancing sustainable forest management in the country."
Certification was awarded to more than 600,000 hectares of forests following third-party audits to ensure their management practices are in line with the PEFC-endorsed IFCC standard requirements. The certificates are now valid for three years.
APP and APRIL have previously been PEFC-certified, however, certification was so far limited to Chain of Custody certification, meaning they imported PEFC-certified material from abroad to produce PEFC-certified products.
Following the endorsement of IFCC, both APP and APRIL are now able to certify their forest management practices and demonstrate that they are sustainable."
---
SOUTH EAST ASIA
Tissue World Jakarta update: conference merged with Tissue World Shanghai.
Tissue World's planned focus on Jakarta and the great potential which exists in the region of Southeast Asia is to be combined in a dedicated session with Tissue World Shanghai 2016.
That way the varied cultures and markets of a too long overlooked region will get the coverage it deserves, but has been lacking to date.
TW has decided reluctantly to postpone the Jakarta conference due to the insufficient number of innovative, relevant and unique papers from the
ASEAN region submitted. The response would not have reached the high standards to which TW always aspires to make our platforms a compelling meeting for the industry to attend.
The material received did not add substantial new information to the discourse, and we do not intend to fill the gap by resorting to past presentations we have already hosted in other conferences.
TW is convinced, however, that Southeast Asia is of major importance and will therefore be given special focus and attention next year during
Tissue World Shanghai in a dedicated conference session. Tissue World Shanghai 2016 will be held from December 7-9 at SNIEC.