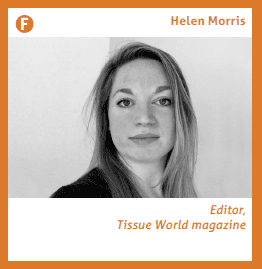 It is the least wanted of distinctions, but Greece's woes do give the industry the chance to study how tissue is able to perform in a country enduring economic collapse. The answer, set against a shrinking industry base, is it is performing surprisingly well.
2014, well into the protracted austerity and before the most recent bail-outs, saw a positive sales trajectory in retail consumer tissue, slowed a little from the previous year but still expected to be positive until 2019.
The Greek market share in Western Europe's T&T market is tiny, at 2% roughly equivalent to countries of comparable populations such as Belgium or Portugal, but it's clear to see an underlying strength of the product. Greece boasts one of the highest per capita consumption rates in western Europe. Bathroom tissue is almost 100%. Greeks see many products as essentials. Tissue has status.
Promotion and discounting have featured significantly, so there is always the looming problem of maintaining that status and revenue should discounting become too entrenched.
Market adaptability
Consumers and entrepreneurs have adapted: shoppers buy bulk and multi-functional on price and convenience, or more often for immediate-need; and HORECA operators opt for rapid turnover from retail rather than stock-piling from wholesale channels. Across the board the private label v brands battle is intense. Well pitched diverse packaging options, designed to secure long-term brand loyalty, have been successful.
Mills have seen contraction, and determined survival. Bankruptcies and closures saw an end to production at five paper machines in recent years. Capacity and production are low. The average speed of Greek machines is on the low end, and it is among the highest cost countries even before facing up to much needed environmental restructuring.
In just one mill has there been a new installation… at Maxi Paper in Katerini, northern Greece. Our Operations Report gives us the inside story of survival.
Asia Pulp and Paper: expansion in an oversupplied market
APP's Hoany Muljadi says: "We believe overcapacity in China is a short term phenomena. Over the next decade even more capacity will
be required. We see ourselves as long term players and short term challenges do not distract us from our path."
This issue's MarketIssues sees Muljadi and Aida Greenbury talk about the company's recent further expansion in the Chinese tissue market, despite the substantial oversupply. While China's tissue consumption growth is slowing down, more projects and players are targeting the country and region at large. Many more have been forced to put projects on hold: APP is no exception. The region's global significance is emphasised further by European tissue giant SCA's strategically important move into the market through the purchase of China's third largest tissue company Vinda.
With no clear view of when the overcapacity situation will be resolved, understanding the strategy of the country's key tissue players is more vital than ever.
Tissue World Jakarta update: conference merged with Tissue World Shanghai
TW's planned focus on Jakarta and the great potential which exists in the region of South East Asia is to be combined in a dedicated session with Tissue World Shanghai 2016. That way the varied cultures and markets of a too long overlooked region will get the coverage it deserves, but has been lacking to date. For more information, see our news story on page 10 of World News.