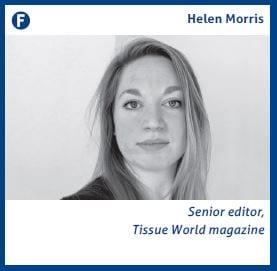 It's pressure which produces diamonds, and the fiercely competitive nature of the Italian market is producing some sparkling results. They have been called "smart factories," but tissue factories have always been smart … these are smarter still.
Industry 4.0 is where tissue technology is advancing: automation collecting data from the entire production line and remotely altering parameters to improve product quality, efficiency, energy consumption … while the machine doesn't skip a beat, thereby eliminating downtime.
Full integration is the target. Data gathered to create a self-adjusting line. Many finetuned small changes to build a better whole.
And the innovation doesn't end there.  TWM's Country Report delivers extensive coverage of the sophistication of process and product being employed to fight and win the price war raging across tissue's pioneering homeland.
Italy has long been tissue capacity leader in Europe. By the end of last year there were 204 machines making 6.7+ million metric tonnes of T&T annually in western Europe. That is one-third of the machines and about 30% of
the region's tonnes. The share has varied only between 27% and 30%.
While the market is tough anywhere, it's tougher still at the top. A price war is never sound long-term strategy. Customers get to like paying less.
Talking first-hand with leading players the same assessments crop up. Investments and acquisitions for Lucart Group's Francesco Pasquini need to be organic and targeted "because the competition is so crazy here. Growth is important, but it needs to happen so that each company finds their right position. We focus on leveraging on the point of difference with the product.
"That's the main opportunity and challenge for us amongst the price war we're seeing."
For Bruno Del Ministro, founder of Centralcarta, "the market is at war … it's all about price in Italy."
Sofidel's CEO Luigi Lazzareschi points to slow economic recovery, lack of consumer confidence, political uncertainty, and strengthening private-label products building positions as premium brands. Italy remains a steady growth market, but it's much tougher to save margins. How is that being done? All our Country Report leaders detail their answers inside. It's a fascinating combination of strategies: fearless innovation; immediate and flexible response to increasingly sophisticated consumer demands which are changing with amazing speed; advancing technologies like Industry 4.0; e-commerce; subscription supply; home deliveries; enhancing value creation across the entire route to market; aiming, in Luigi Lazzareschi's intriguing phrase – to decommoditise tissue paper products.
Speaking of innovation. During our visit, TWM was introduced to a tissue product called Carezza di Latte – which translates as "milk caress", a premium-priced product made from milk. Sitting in a coffee shop in Lucca I almost ordered one by mistake.
Tissue World Milan 2017 
World tissue's biggest attraction is all set for take-off. This is Tissue World's 'Big One,' and kicks off from 10-12 April 2017.
We are expecting to break a few records along the way. An impressive number of world leading companies will be on the show floor. An equally impressive number of leading figures in the industry are set to discuss and share insider information across our conference sessions.
The sampling of all that the best of the Milanese social scene has to offer will be unconfined.
All of us at Tissue World would like to  extend the warmest of welcomes. Let's do the business. See you there. Buona fiera.