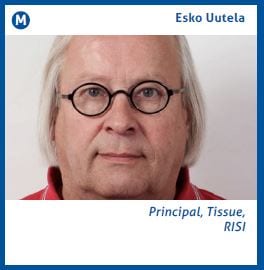 For several decades, North America and Europe shared some of the same tissue suppliers. However, during the last decade a lot has changed. Previously, North American companies were expanding into Europe, and now exactly the opposite is taking place. European tissue companies have shown increasing interest in participating in the North American tissue business, while in recent years every North American supplier, with the exception of Kimberly-Clark, has withdrawn from their former European operations.
This is an interesting issue, and in the following some developments and reasons why this is happening will be discussed.
We believe it was in the 1950s when the first North American tissue company, Kimberly-Clark Corporation (K-C), became active in Western Europe, namely in West Germany and the UK. Scott Paper followed a couple of decades later, as well as Kruger with its acquisition of a tiny mill (Velcarta) in Italy; Kruger later entered the UK market.
James River expanded into consumer papers in the 1980s and a couple of acquisitions that included tissue capacity in France and Spain were part of its European shopping tour. Procter & Gamble (P&G) was the last main player who came to Europe through the acquisition of the VP Schickedanz tissue assets in 1994, expanding further thereafter.
In 1995, Scott Paper merged with K-C and in 1997 James River purchased Fort Howard to form Fort James.
In 2000, Georgia-Pacific (GP) acquired Fort James and in 2005, Koch Industries acquired GP. However, today, the first entrant, K-C, is the only remaining North America-headquartered tissue supplier still active in Europe, although it recently rationalised its supply scope by closing or selling a number of its mills.
Until the late 1980s, North American suppliers were able to use their wellknown brands and strong marketing support to establish a healthy position in the European markets. However, in the 1990s this started to change very rapidly, mainly for two reasons: private or retailer labels started a very fast initial growth phase and competition became extremely fierce because of sub-regional overcapacity after too many investments, in France and Spain in particular, and the aggressive expansion of Italian suppliers in the export markets, which was tightly linked with the private label growth.
This competitive situation resulted in shrinking profitability and retailers saw a chance to achieve better margins through selling private labels than participating in brand promotions together with the brand owners. The same strategies used in the US market did not work in Europe, and this was very difficult to understand by the managements of the leading marketing oriented consumer goods companies, such as P&G and K-C.
Kruger was the first to withdraw from Europe. First, the company lost the Italian mill in a serious fire only a few years after the acquisition, and decided not to continue that operation as heavy investments would have been needed. In the UK, it also closed some capacity in the early years of the last decade, but its final retirement from the UK (and European) business did not take place until late 2009.
However, the first major hammer hit was made by P&G when the company decided to withdraw from the European tissue business after heavy and costly promotional efforts did not bring the targeted market shares for its brands in Europe, and the company sold its assets to SCA.
After its acquisition of G-P, Koch Industries was very suspicious about the European business, with which the owners did not have much experience, and the rumours of the company's departure were flying even before SCA acquired the European tissue assets of G-P in 2012. K-C might have also been interested withdrawing from the European tissue business, but the deal between SCA and G-P removed the only reasonable purchasing candidate for all the assets, and the company's only alternative was to sell some of its noncore assets to improve profitability.
Meanwhile, on the other side of the equation, European tissue companies seem to have become very interested in North America. SCA was the first with its purchase of Wisconsin Tissue as a consequence of the G-P/James River deal. The company then decided to expand through both building a new mill and some smaller acquisitions, but only in the AfH business.
SCA is still not involved the North  American consumer tissue business, but if it does jump in, it will most likely be through a major acquisition. Sofidel surprised almost everyone with its acquisition of Cellynne Corporation in 2012 and has continued its expansion through both converting acquisitions and new investments. The company's first new mill, in Circleville, Ohio, with two large PMs and converting, will likely be only the beginning of Sofidel's path to an important position in the North American tissue market. Further growth will certainly follow.
Will any other European tissue companies follow in the tracks of these two main European players? The next largest European tissue companies are WEPA of Germany, Metsä Tissue of Finland and ICT (Tronchetti) of Italy, in this order. Of these, it would be hard to believe that the Finnish Metsä Tissue with its strict focus on its Nordic and Central and Central-Eastern European operations would seriously think about expansion into North America, particularly considering the ownership of the company.
ICT is a cautious and deliberate company, with a good sense for how to succeed; we feel a North American entry would be risky, but not impossible. However, acquisitions have never been a key target in ICT's strategy.
But what about the third-largest European-based player, WEPA? The company's management is known to be interested in growth, and as a practically totally private label-oriented company, its North American expansion potential is certainly interesting. The company is not very strong financially, although this has been improving recently; WEPA currently relies heavily on high-yield bonds, which might also be available for further expansion.
The latest information we have is that the company is actively searching for a chief executive for North America, so something seems to be going on. However, we do not know any further details of this plan, such as if the company would like to have somebody for a potential acquisition or for establishing converting and/or tissue mill building activities. We have heard this from several sources, in North American and elsewhere, so this seems to be more than just rumour, but we cannot 100% confirm what is going on.
But the question remains: why is the industry developing in a completely different direction from before? The answer is actually very simple.
Companies are well aware of where you can make money more easily or have higher margins, and for the past 10-15 years, or probably even longer than I can remember, this has been in North America rather than Europe.
Furthermore, the European market is rather mature as population growth is minimal and product penetration levels rather high, and it may never reach the average US level of consumption because of different cultural habits.
However, North America is now getting very crowded with new projects, and it is unclear how all the new competition and supply will affect the average price level and margins. For any further new movements, we do not see the North American market offering any handsome opportunities for new companies, as this year and next will see tighter competition in spite of the likely more-than-expected demand growth seen in 2016.