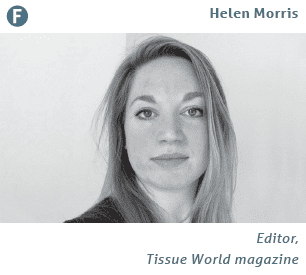 Iran's tissue professionals are ready for business more than ever. That's the overwhelming impression I came away with having spent time in and around Tehran for our Country Report.
The talk is of creating markets, getting in there first, top technology, improving quality, increasing capacity, transport 'talking loudest,' the export imperative, historic Silk Road trading traditions, market shrewdness. It's all onwards and upwards.
After Turkey the country is a tissue leader in the Middle East, an initially surprising prominence given recent circumstances but perhaps less so given the deeper-rooted changes powering Iranian society.
It is just the last three years which have seen growth outstrip rivals, and this comes despite US, EU and UN trade sanctions being imposed at various points during the last ten years, and with relaxation of certain sanctions taking place only as recently as January 2016 following the implementation of the Joint Comprehensive Plan of Action.
Real GDP is expected to grow by 4% this year, oil production has been boosted, a moderate population boom is underway, and that population is relatively young with an average age of 29.6 years in 2015. Like the young the world over they are seen to be more progressive and willing to try new things, one of which is choosing to live in cities and embracing modern retailing techniques.
Retail tissue is expected to benefit as brands proliferate and as consumer awareness of tissue and hygiene products grows due to increasing hygiene standards and consumer perception, and as middle-class consumers spend more and make tissue products an essential part of the daily shopping cart.
The market registered 5% growth in volume terms (tonnes) in 2015 over the previous year, and is expected to remain healthy over the coming five years, with a volume CAGR of 6% through 2020.
Several new tissue paper mills have recently come or are expected to come on stream in the next year or two.
Cultural imperatives require targeted growth. As a top producer put it: "For Muslim countries, it's natural for us to have low tissue consumption, so we are finding other ways to boost capacity. There's a lot of focus on facial tissue and towels. We need to go to the consumer, not wait for them to come to us."
Tissue is expected to continue to grow strongly in the next ten years. The average growth rate in home consumption is expected to be around 10% per year until 2023, export markets equally healthy.
Iran is a relative newcomer to tissue: the first recorded product was in 1980. It looks set to make rapid strides.
TW Istanbul set for impressive full trade show launch
The most recent addition to the global Tissue World portfolio is set to break records at the now fully fledged trade show Tissue World Istanbul, Turkey, 27-29 September.
A wide range of companies will be joined by a high number of tissue manufacturers and converters on the show floor, held this year for the first time at the Istanbul Congress Centre (ICC).
Like the fascinating city of Istanbul itself, the trade show and conference will be the gateway to the ever-growing tissue industry in Eastern Europe, Russia, CIS, the Middle East, Central Asia and Africa.