By industry analyst Greg Grishchenko
When Greg Grishchenko first reported on the Ukrainian tissue market the country was full of hope for prosperity after the 2004 Orange Revolution. Here, he reports again on a tumultuous 12 years.
The Orange Revolution was ushered in on promises of economic growth, a fight against corruption, a turning away from Russia, and increasing cooperation with the European Union.
The following decade culminated in the 2014 popular uprising to remove a corrupt political system from power, the Russian annexation of the Crimea Peninsula, and the brutal civil conflict in the eastern part of the country. My recent visit was marred with fading expectations for better economic prospects that might arise out of association with the European Union, but there are signs of hope.
For five years prior to 2014, the tissue market had shown decent average growth at nearly 3% through growing personal income and paper consumption. Tissue performance figures have suffered dramatically since.
Some 86% of the country's current $125 million tissue market is for toilet paper consumption, with the other tissue products like paper towels and napkins at 7% each. One of the most critical consumer society indicators – tissue expenditure – started to react almost immediately.
As an outcome of reduced consumption and territory loss (Crimea and part of Donbass), in 2015 the entire volume of the bathroom tissue segment fell 21.3% when compared with 2014 (79,700 tonnes vs 101,300 tonnes). Similarly the napkin segment volume fell 20% when the population affected by worsening economic conditions cut spending on "non-essential" items. Paper towels were a growing category before crisis and fell only 8% (9,600 tonnes in 2015 vs 10,300 tonnes in 2014).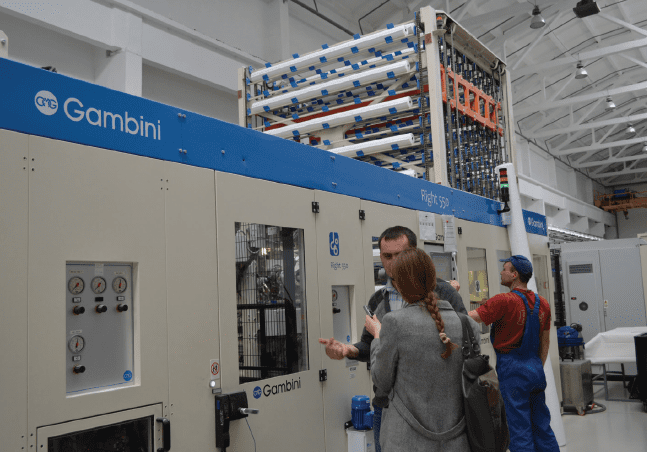 This year has seen signs that the decline is levelling out. According to trade association UkrPapir, in the first quarter of 2016 entire tissue production fell only 0.3% (from 42,285 tonnes to 42,155 tonnes). Jumbo roll production in Ukraine fell 1.3% and the highest volume share product, toilet rolls, fell 6.9%. Despite the great efforts of the industry businesses to sustain effective operation, it is quite hard to forecast the 2016 annual outcome due to the crisis in eastern Ukraine. While the majority of suppliers continue to operate routinely, some companies – due to economic hardship or simply being in the middle of a war zone – closed their doors.
A decade ago the supply of consumer tissue products in Ukraine, especially toilet paper, constantly surpassed demand. At that time the volume of toilet paper produced in Ukraine exceeded demand for about 25%. The market picture was blurred by the fact that the volume of exported toilet paper (mostly to Russia) was twice the difference between production and demand. This oddity was explained by poor government statistics and "grey" market effect.
Nowadays, statistics and data bookkeeping has improved. This article used information provided by reputable sources such as UkrPapir, Pro-Consulting and market research departments from the country's major paper mills. The current Ukrainian bathroom tissue market is self-sufficient in which around 94% of its volume is being produced in the country and only 5-6% is being imported.
Export-import
In financial terms, the current volume of imported tissue goods shows gradual growth. However, this is misleading due to the devaluation of the Ukrainian currency, hryvnia, which lost over 70% of its value since the central bank let it fluctuate in February 2015. Indeed, the volume dynamics of tissue imports to the Ukraine reflect similarly to the entire market trend – decline. Imports of bath tissue in 2015 fell 53% from the previous year while in 2014 they grew 25.3% from 2013. Such unpredictable changes show the impact of a military conflict on basic consumer need. The imported paper towel category represents the least used tissue household item in the Ukraine and it kept falling two years in a row (50% in 2014 and 36.7% in 2015). The import volume of paper napkins is insignificant (581 tonnes in 2014) and declined nearly 40% in 2015. Regardless of the market decline, the key importer SCA Hygiene Ukraine (through the brands Zewa and Tork) keeps its presence in the country, increasing its share in bath tissue imports from 28% in 2014 to almost 60% in 2015. According to Kiev-based market analysis think tank Pro-Consulting, export volumes from the Ukraine in 2014 reached nearly 33,000 tonnes, mostly from recycled stock (only about 3,800 tonnes from virgin tissue) with the largest share of bath tissue (79%) followed by paper towels (17%) and napkins (4%).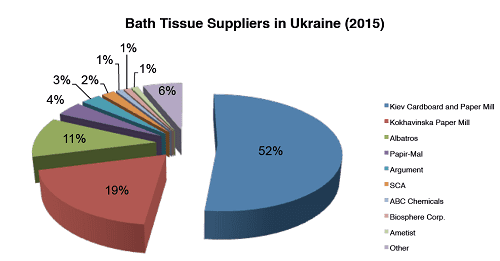 The entire Ukrainian export market is currently carried out by mostly three principal manufacturers: Kiev Cardboard and Paper Mill (KCPM) – 87% of bath tissue, Kokhavinska Paper Mill – 49% of paper towels and VGP – 74% of napkins. In 2015, KCPM and VGP lost 5% and 7% from their shares respectively, while Kokhavinska PM increased its share to 59%. The entire export volume slightly grew in 2015 due to the growing participation of small lower cost producers providing increased amount of goods at lower price.
Production
The uncontested leader in Ukraine's tissue making is Kiev Cardboard and Paper Mill (KCPM) based in Obukhiv, Kiev, produced over 71,100 tonnes of tissue products in 2015 – a loss of 11.7% from 2014. KCPM is one the largest tissue and paperboard manufacturers in Europe with ISO 9001 14001 certification and own brands of tissue products. In addition to popular brands (recycled stock –made Obukhiv65 and white virgin Divo, the mill recently developed new virgin bath tissue trademark Soffione for the premium segment. KCPM employs 2,200 staff and is a part of the Pulp Mill Holding from Austria. It runs two Voith paper machines and in March 2016 signed an agreement with French company ABK Group to upgrade press section on PM2. The mill invested over $70 million in the cogeneration plant three years ago and with the coming upgrade it will further save energy on paper making. On the converting side a slitter/rewinder by A.Celli and a number of modern lines by Omet, Gambini and Futura that were purchased a few years ago, helped the KCPM mill recover from the volume losses.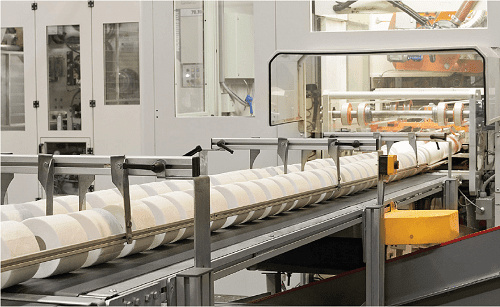 Of the estimated two dozen tissue goods producers in Ukraine, the strongest companies are integrated mills making their own tissue stock in parent rolls: Kokhavinska Paper mill (Lviv region), Papir-Mal (Zhytomyr region), Lviv Paper and Board Company (Lviv) and Dnipro Paper mill (Dnipro). However, all integrated mills still operate timeworn paper machines that despite modernisation are behind the latest state-of-the-art crescent tissue formers that were being purchased by its neighbour for the last fifteen years. A much better picture takes place in tissue converting and packaging where industry leaders like KCPM and VGP run world-class equipment from Italian suppliers.
There is still a considerable group of small fabricators of grey recycled bathroom rolls and household tissue. Locally they are named "motalshchiki" (winders), with simple off-brand equipment taking the lowest price niche.