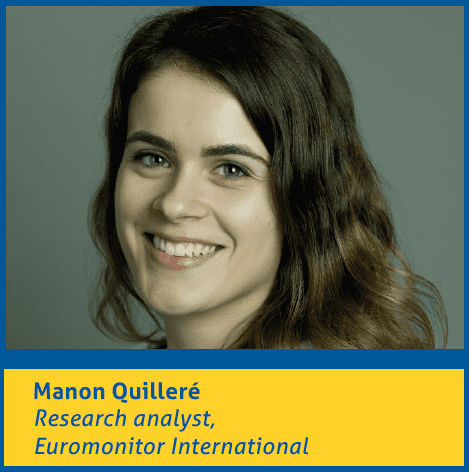 With a high level of market penetration a challenge for organic growth, the industry looks for new revenue streams to reach unmet potential at 93,000 tonnes – US$500m of sales.
Demand for consumer tissue in the UK is largely shaped by core fundamental factors, such as market saturation, general commodity status of the products, population trends, the macroeconomic situation and political headwinds. In 2018, retail sales of tissue products in the country saw a drop in volume terms of nearly 1% and are projected to remain mainly flat overall through 2023.

Risks and challenges
Retail consumer tissue in the UK already has high levels of per capita consumption and is generally seen by many consumers as a commodity product. In 2018, per capita consumption of retail tissue in the country stood at 10kg, on total volume of consumer tissue sold to consumers at 672,000 tonnes, or USD2.5bn. Euromonitor International's forecast model estimates that the country's unmet potential stands at about 93,000 tonnes, or about USD500m in incremental sales.

The high level of market penetration in the UK is a challenge to driving organic volume growth, unless the country sees significant population growth going forward. This, however, is not the case, In fact, population growth in the UK is expected to slow down further to about 0.6%-0.5% annually through 2023, while birth rates are projected to decline every
year going forward by nearly 1%.

In addition to challenges to organic volume growth, there are also challenges to revenues. While price increases are being discussed and negotiated by a number of tissue suppliers to the market to offset high input costs, pricing pressures on final retail price remain strong, stemming also from competition and pressure from private label. In 2018, private label accounted for 43% of retail tissue sales in the UK.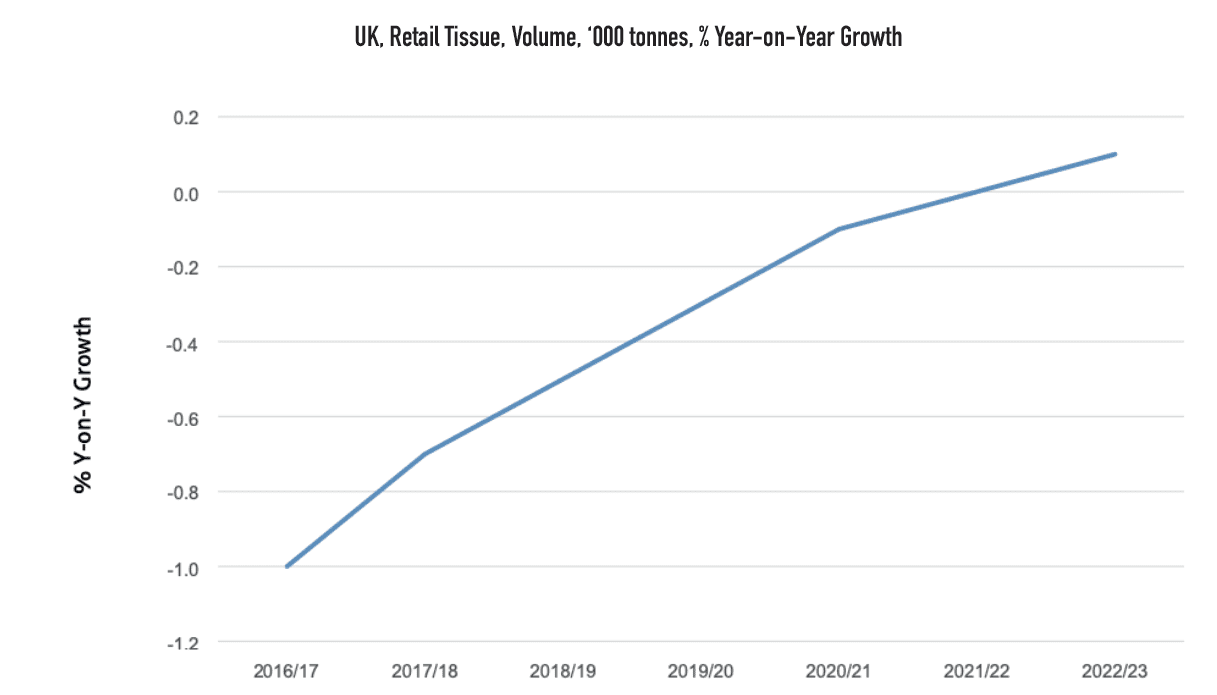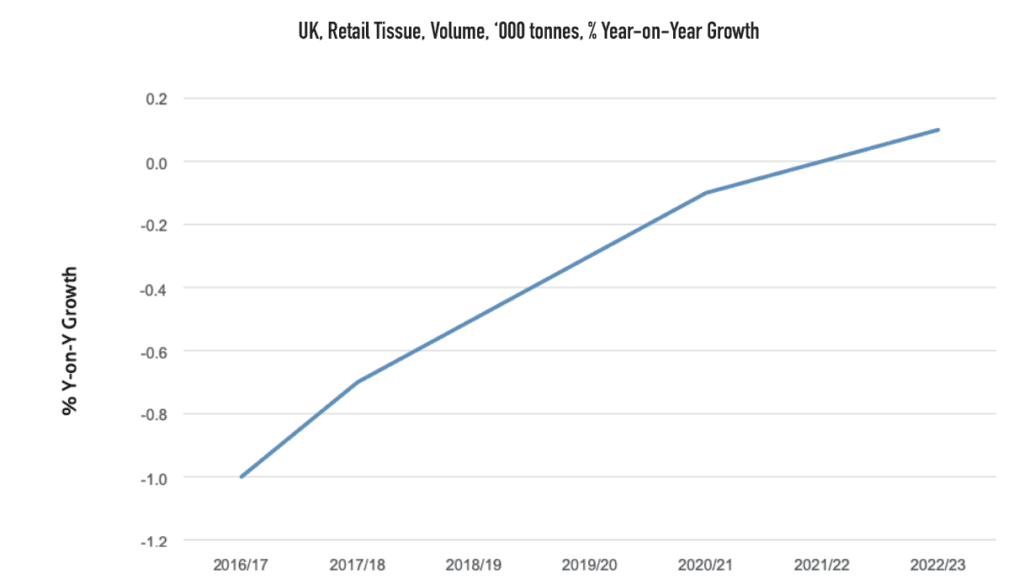 Adding to pressure is the expansion of key e-tailers like Amazon in private label. In 2017, Amazon launched its own label line of tissue products called Presto. It is likely that as voice control devices such as Amazon Echo gain further traction in the market and consumer adoption widens, they will likely directly suggest Presto products when consumers order tissue. Between 2016 and 2018, retail sales of Amazon Echo skyrocketed in the UK, attesting to rapid adoption by consumer and the use of the technology.

The continuing economic uncertainty is an important factor supporting demand for competitively priced products, as many consumers, especially in lower income segments of the population, are less inclined to splash out and look for cost efficiencies to offset potential financial setbacks and/or respond to price increases due to supply chain challenges. The latter are also a concern in view of the ongoing threat of a no-deal Brexit, especially since tissue industry sales in the UK rely heavily on imports. Euromonitor's industry forecast model and no-deal Brexit scenario are expected to have a marginal negative impact on retail sales, with estimated reduction in expected sales by about 6,000 tonnes, or USD33 million. However, in the conditions of already sluggish sales, every additional loss would not be welcome news.

Pockets of growth and opportunities
Despite multiple challenges, there are some growth opportunities for companies with innovative strategies, being categories, product development, alternative fibres, and/or brand communication.

Sustainability is likely to become a major focus for both consumers and manufacturers during the forecast period. On the one hand, modern day consumers are becoming more considered in their product choices and increasingly interested in buying ethical goods if they are priced within an affordable range. They are also increasingly looking at traceability of products and raw materials and wish to avoid product waste. On the other hand, companies often turn to sustainability also as a cost-efficient manufacturing practice, with reduction in input costs.

Some initiatives related to sustainability and ethical living have already been evolving in Western Europe. In the UK, a number of consumer tissue products with sustainability and ethical living messaging have been growing successfully. For instance, Cheeky Panda – a manufacturer of bamboo-based tissue products started off with a small base and limited retail distribution, principally online and in specialist retailers like Whole Foods. The company, however, has seen good growth and expanded its distribution to mainstream retailers like Booths and Morrisons, to name a few, as well as expanded beyond the borders of the UK.

Last but not least, e-commerce continues to gain traction in the country. Besides competitive prices, consumers are increasingly looking for convenience and practicality when buying tissue products on the internet. This is particularly true for urban consumers living fast-paced lifestyles and looking for time-saving solutions. Within e-commerce, subscription services have also been gaining traction on the market. Furthermore, subscription boxes offering sustainable products and strong ethical messaging have seen growth. One example includes subscription box Who Gives a Crap. Originated in Australia, this company has grown its presence beyond Australia, including the UK. It offers a line of premium positioned products made with 100% bamboo fibres as well as recycled tissue products. The company also has strong ethical messaging besides saving trees and donates half of its profits to help build toilets in developing markets. The importance of sanitation, such as clean toilets, cannot be overstated in combatting health and poverty issues in developing countries.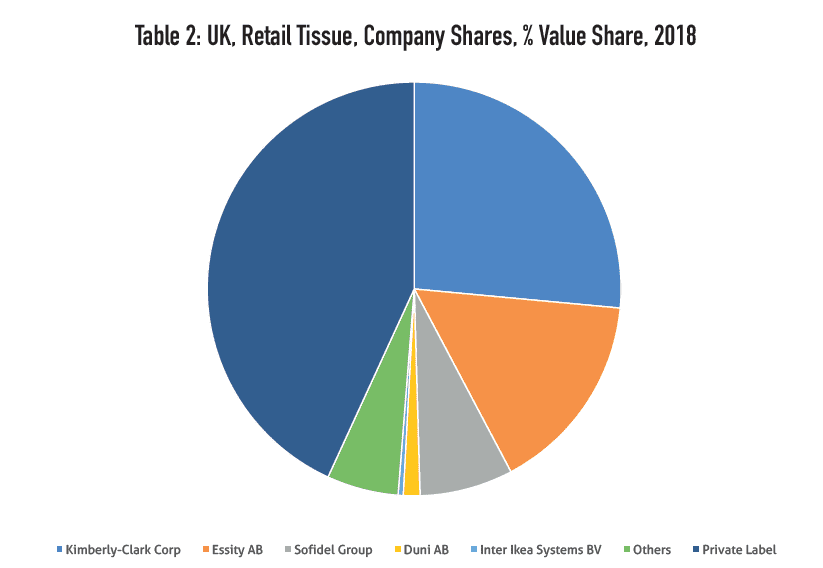 To conclude, volume growth in the UK will remain largely dependent on population and socioeconomic factors such as GDP. As those two factors will remain on the agenda in the coming years, and as private label continues to put pressure on prices, volume and value growth of consumer tissue are set to struggle overall in the next five years in the country. These tendencies, however, put even more spotlight on innovation in terms of products with tangible benefits, packaging, and distribution strategies. These include e-commerce and omnichannel strategies, as well as more focus on environmentally friendly products with strong ethical positioning.