Now ahead of Germany in private label presence in Western Europe, key issues will be weighing quality and value, performance advancing innovation, and sustainability driving a key competitive edge.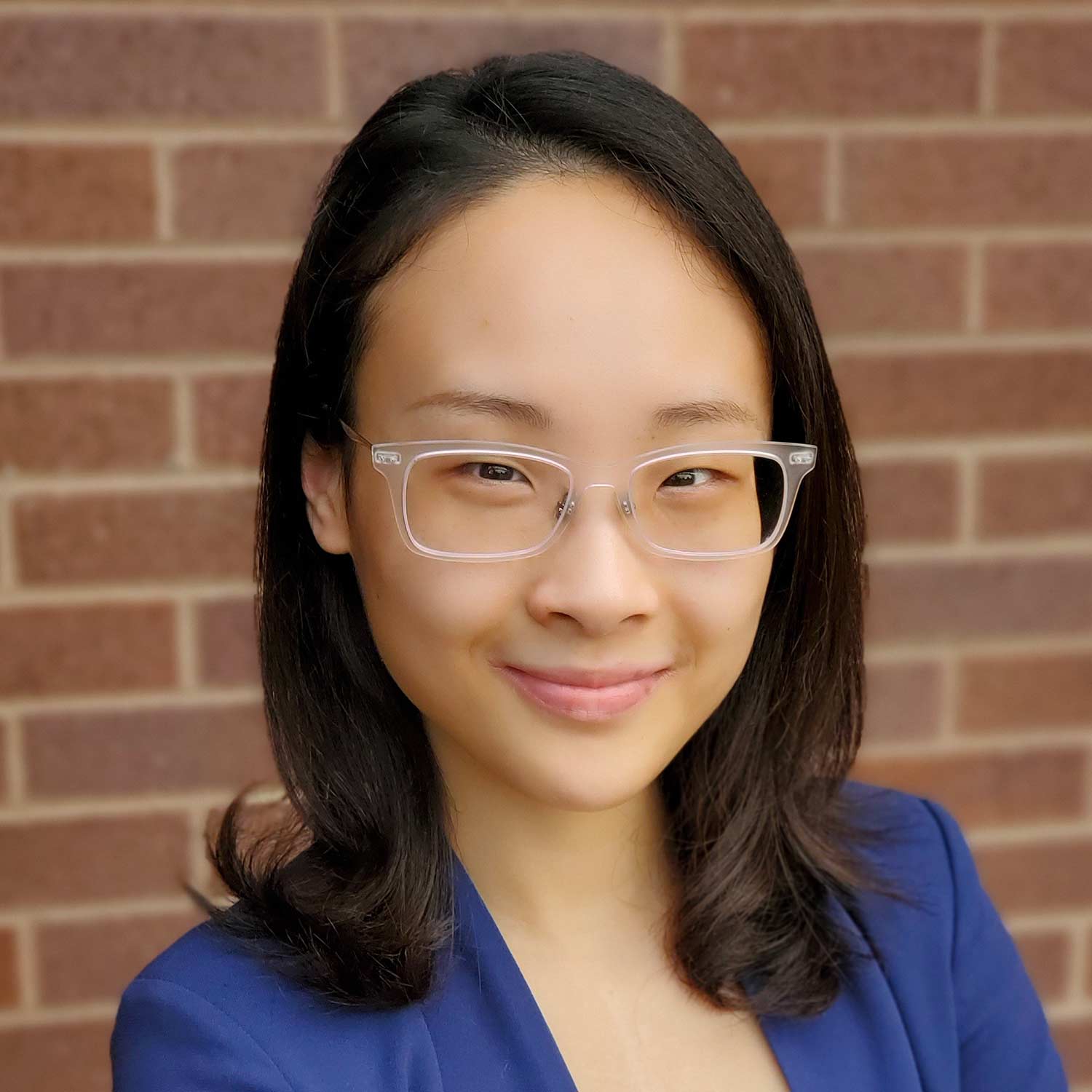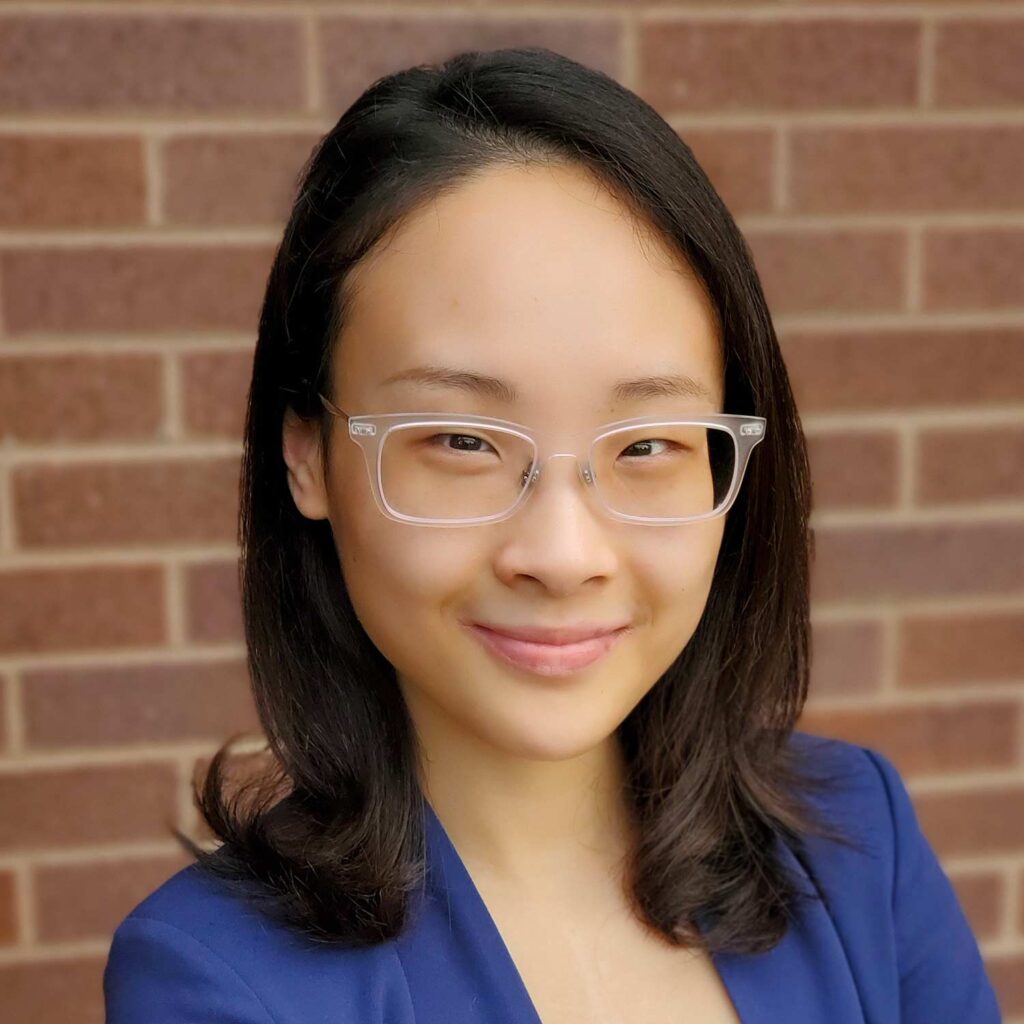 Elevated inflation has put Spain's tissue industry to test in 2022 in a somewhat Dickensian fashion, looking to be a tale of two cities, with value sales receiving a boost shot in arm while volume under pressure. However, despite pricing pressure, products delivering a stronger cost-benefit proposition through value-added innovations will likely stand a better chance of differentiating and demonstrating resilience in Spain, where already high per capita consumption provides limited room for organic growth.
In retail tissue, a slew of supply chain crises from surging energy and commodity costs to fibre scarcity have forced players to ramp up prices, leading to a 11% growth spike in value sales 2022, according to Euromonitor International's new preliminary data (to be released in February 2023). However, outsized pricing pressure has weighed on consumers' ability to consume even common necessities such as tissue products. In 2022, retail tissue volume consumption slid by 0.9%.
The volume drop can largely be attributed to losses in toilet paper and paper tableware, which posted the largest volume decline in both absolute and percentage terms in 2022. Toilet paper, the largest tissue product accounting for nearly half of category total, saw volume contract by -1.2%. Meanwhile, paper tableware, already contracting pre-pandemic due to shrinking consumer demand out of sustainability concerns and key suppliers' SKU withdrawal, suffered further volume loss in 2022 at -2.8%.
Such inflation-driven value-volume dynamic was also present, though to a lesser degree, in the AfH tissue sector in 2022. Similar to retail tissue, AfH tissue's value sales reached a record-high growth rate of 16%. Though volume sales tracked an upward trajectory, the pace of growth slowed slightly compared to 2021. That decelerated volume growth was due in part to many businesses' margin-defending shift to lower-quality, thinner products such as single-layer tissue.
Nonetheless, AfH tissue had a more positive run in 2022 supported by relaxed restrictions and improved economic activities such as tourism and consumer foodservice. For example, Spain's number of inbound trips, particularly leisure trips, in 2022 was expected to increase by nearly 70%, according to Euromonitor's Travel research data published in August 2022, while consumer foodservice sector was estimated to expand by 15% by count of transactions in 2022, according to Euromonitor's new preliminary Consumer Foodservice research data (to be released in February 2023).
Of all AfH tissues, napkins experienced the strongest growth in both value and volume, benefiting largely from the gaining strength of the hospitality industry. Despite price increases, premium offerings that emulate cloth napkins and provide enhanced comfort have gained attraction.
---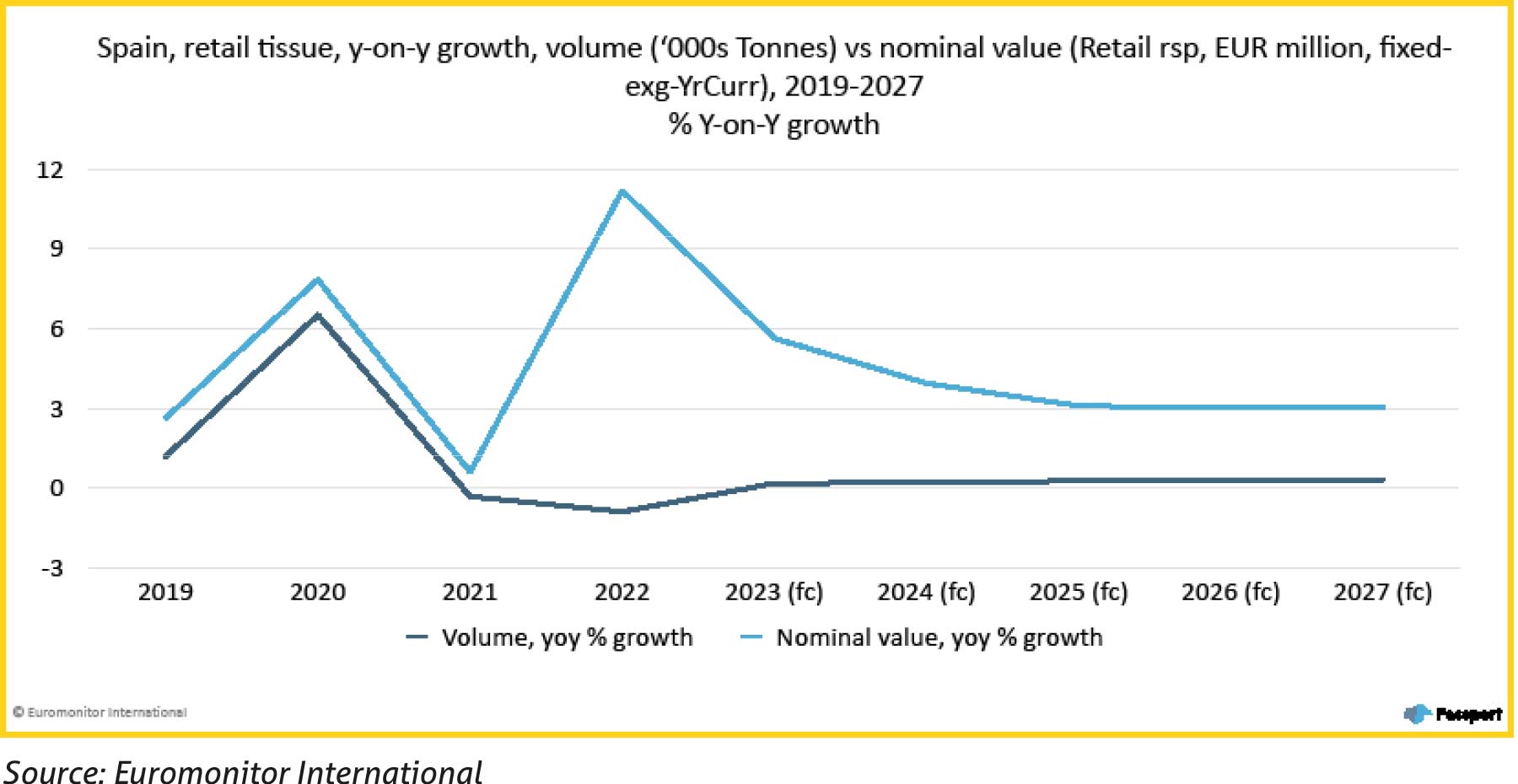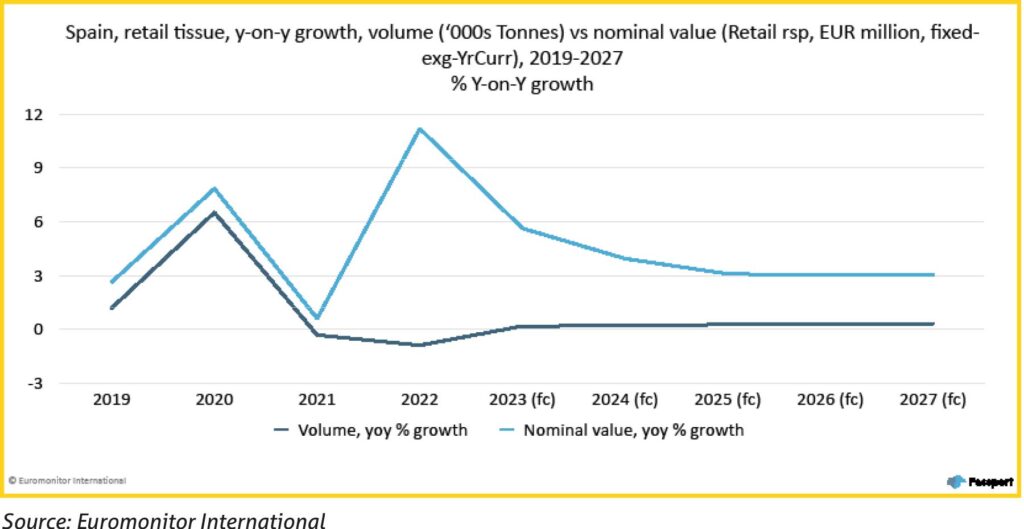 ---
Private label further solidifies lion's share of retail tissue market
While inflation has posted considerable challenges for all businesses, it has created opportunities for some, particularly the private labels, as consumers sought cheaper yet reasonably quality products.
Indeed, consumers belt tightening has led to increased willingness to further commit to private labels that present quality of products competitive to name brands' and gain further retail exposure through expanded physical retail channels such as discounters and supermarkets, which made up 21% and 38% of total retail tissues sales in 2022, respectively. Most notably, supermarket chain Mercadona, the largest private label tissue supplier in Spain with 28% of market share, continued to outperform competitors with the strongest share and percent-point sales increase in 2022.
Overall, in retail tissue, private labels grew 13% in value sales in 2022 to reach nearly 78% in market share, up from 76% in 2021. Given such momentum, Spain has surpassed Germany in 2022 to have the strongest private label presence in retail tissue in Western Europe. However, it raises the questions of if private label's market penetration is peaking and how much further it can go by pulling common levers such as pricing after this crisis.
---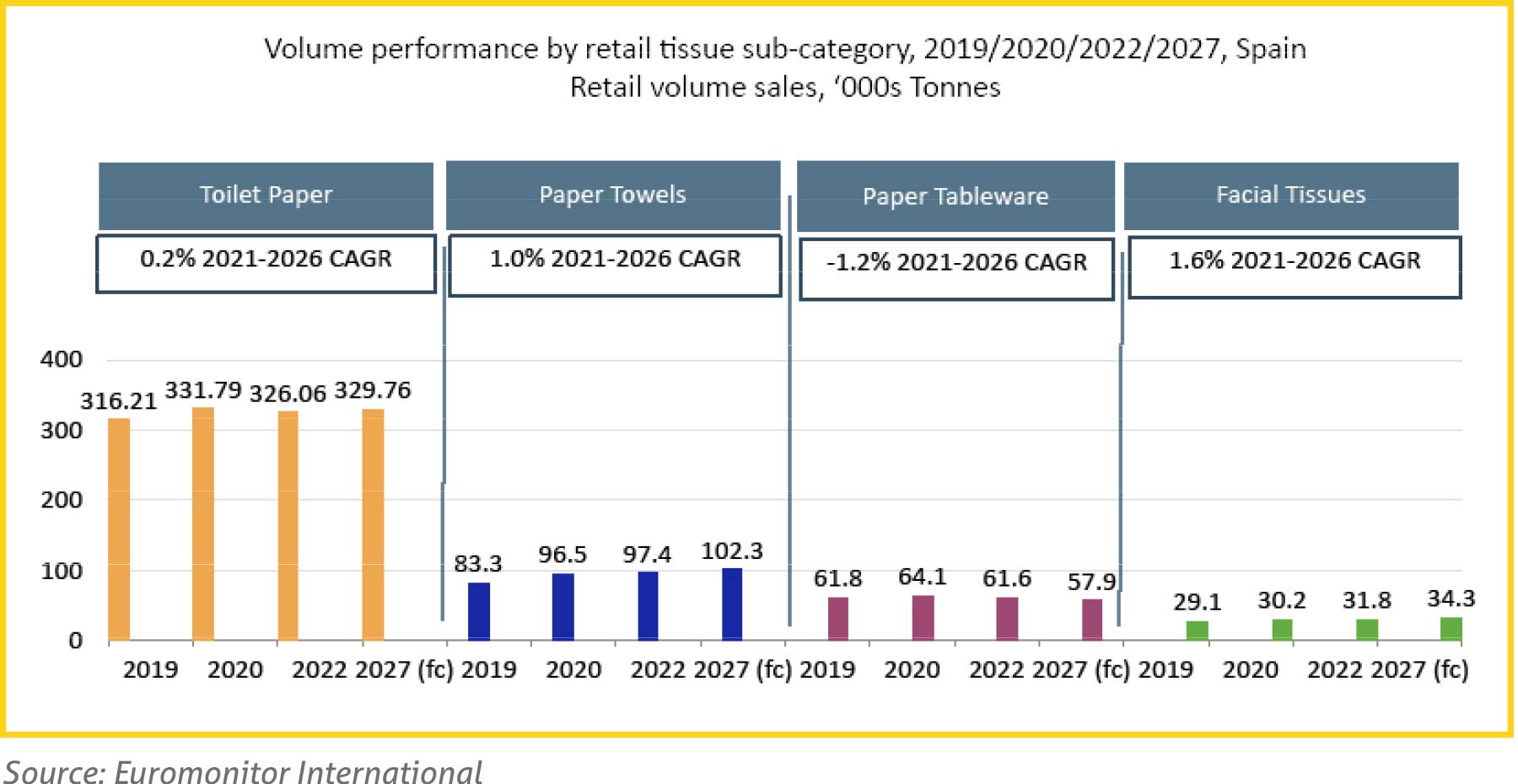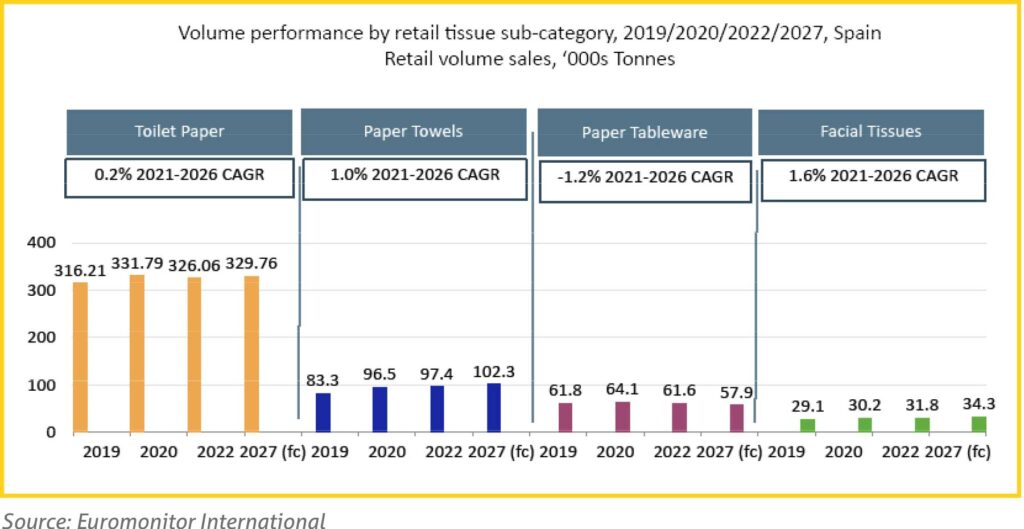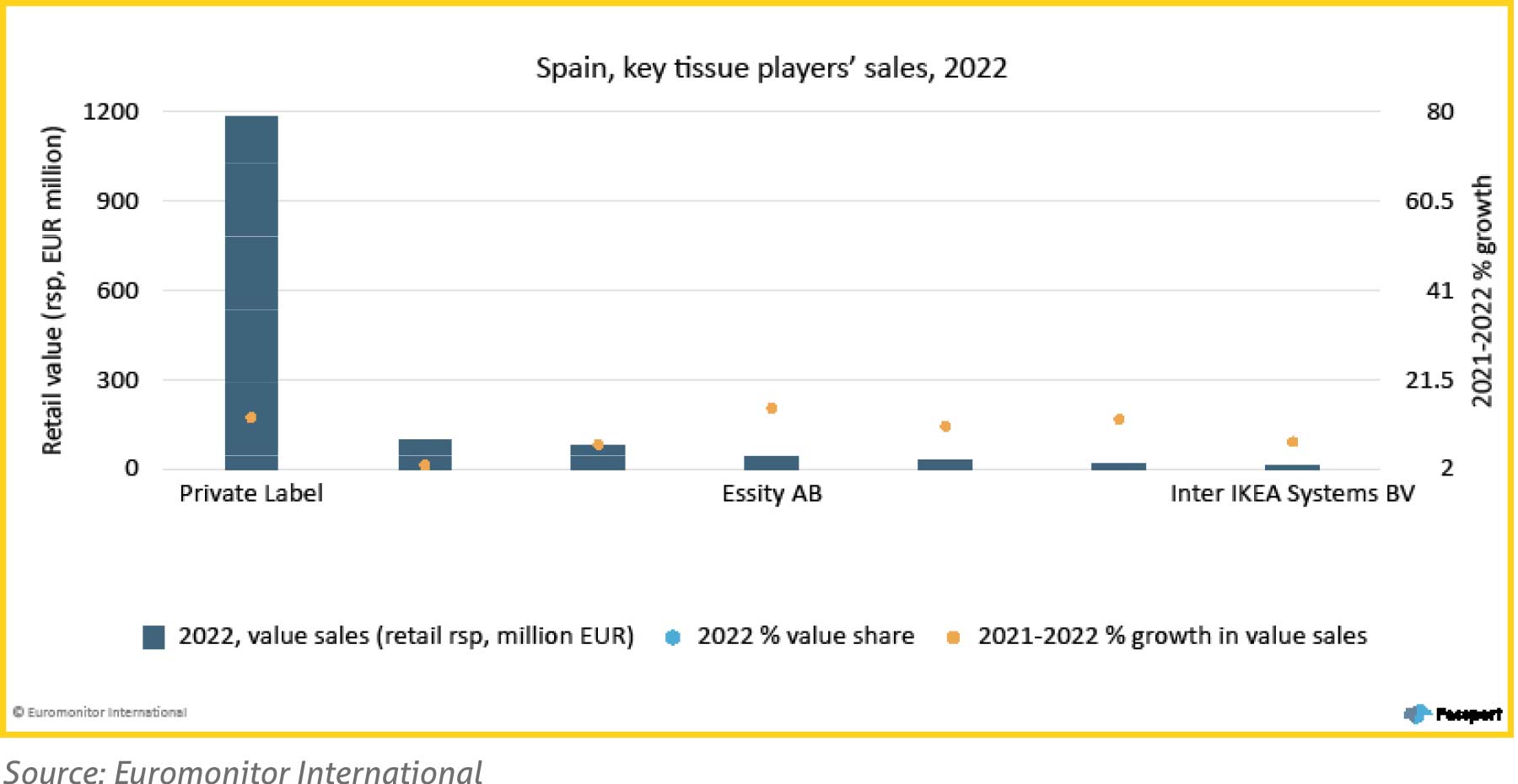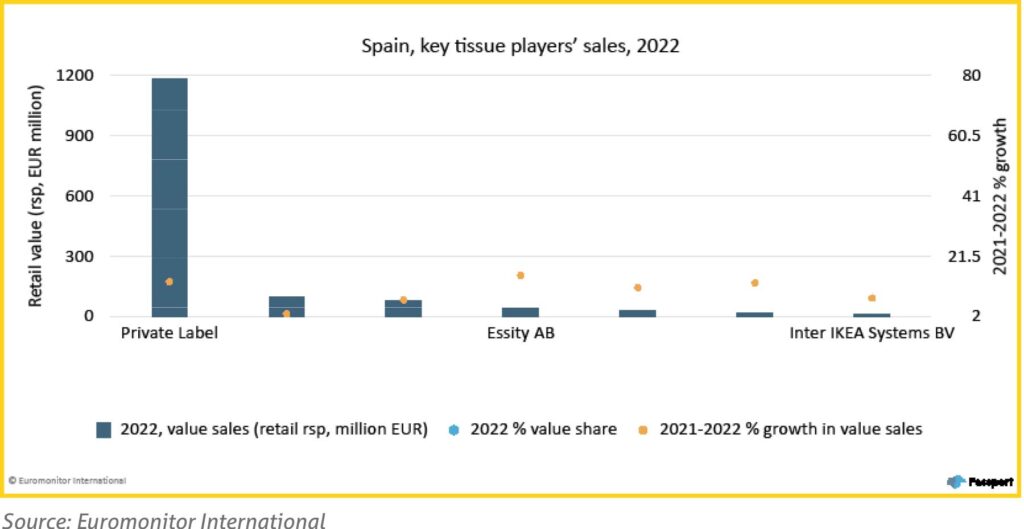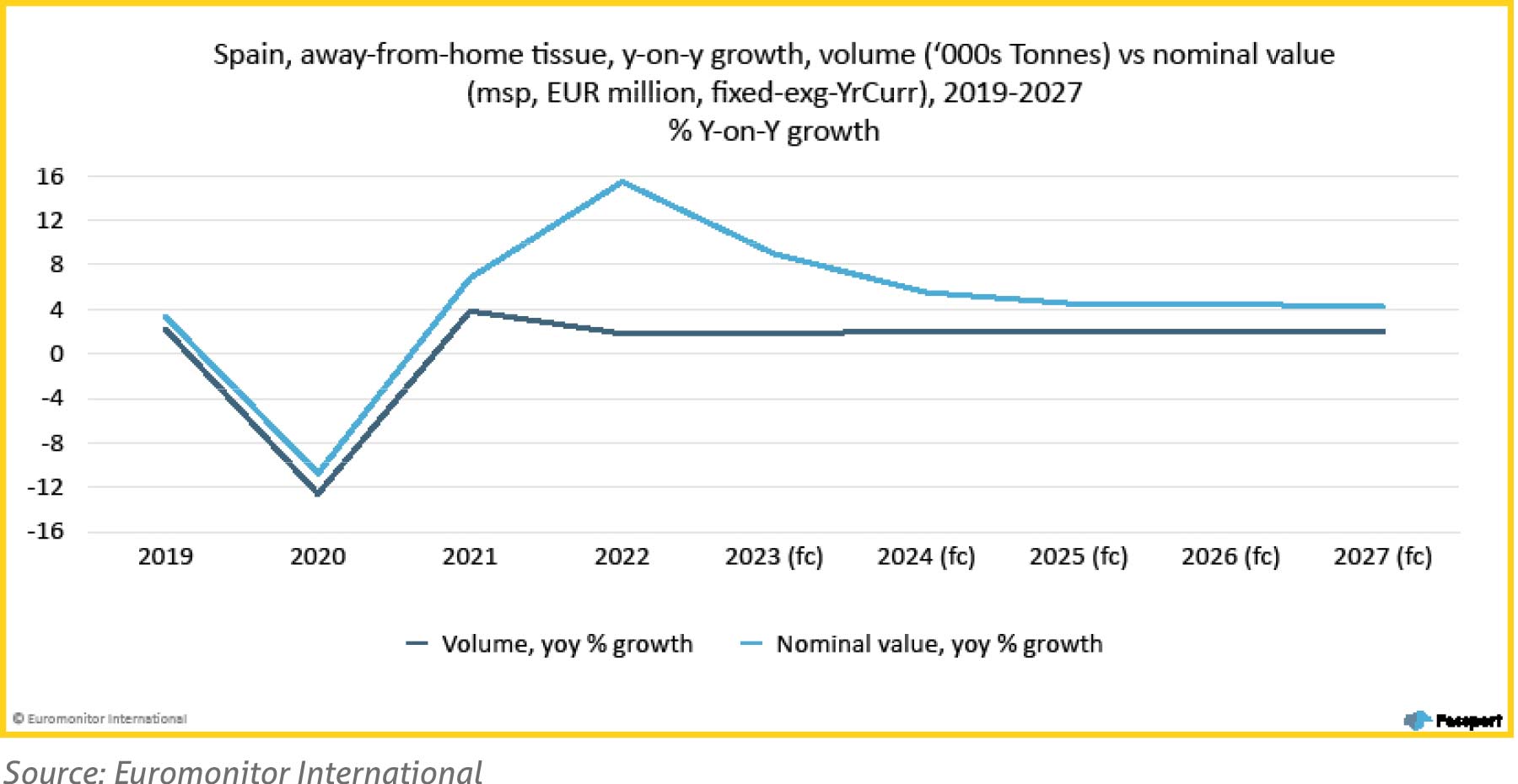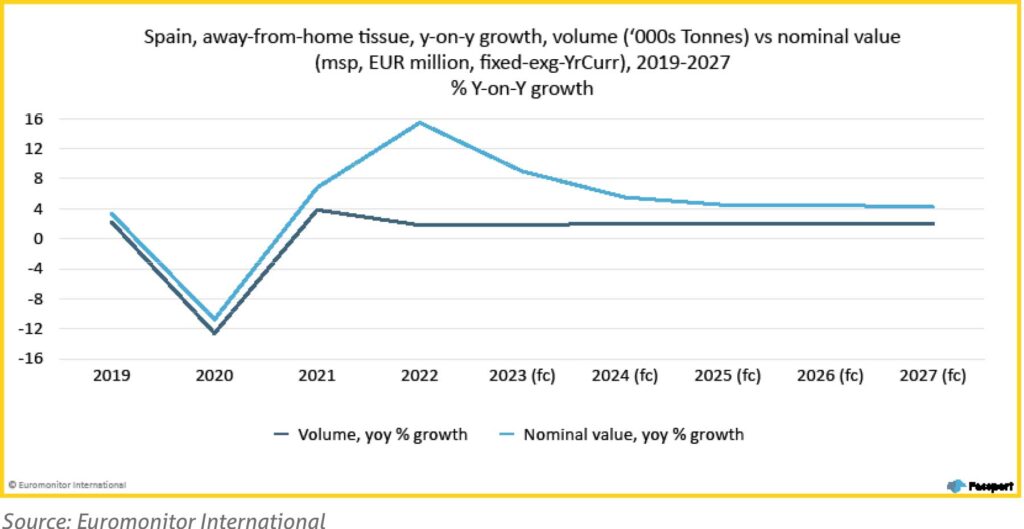 ---
Paper towels and facial tissues maintain strength given elevated hygiene demand
Despite inflationary headwinds, not all tissue products suffered from declining consumption in 2022. Paper towels and pocket handkerchiefs were two exceptions in retail tissue seeing expanding appetite, benefitting from intensified hygiene awareness and cleaning routine.
For example, paper towels, which despite unit price growth, saw volume growth slightly stronger than in prior years, from 0.2% to 0.7%. Per capita consumption of paper towels also inched slightly upward. Such performance demonstrates the enduring demand for a healthy, hygienic lifestyle.
Pocket handkerchiefs, despite their small size, also tracked positive volume growth in 2022 due in part to increased offerings promoting health-focused, safety-reassuring properties. For example, following its launch of Kleenex Allergy Comfort boxed facial tissues in 2021, Kimberly-Clark introduced the pocket variation that is designed to offer comfort from runny noses and watery eyes. These tissues are gentler, more absorbent and dermatologically and ophthalmologically tested with no fragrance, ink and dye. They also benefitted from receding pandemic restrictions on AfH activities as well as consumers' appreciation for convenient tissue products suitable for on-the-go occasions.
As inflation pressure eases throughout the next five years, the entire tissue market's growth pattern will normalise, with value growth softening and volume growth strengthening. Growing population and consumer living habits, including enhanced personal hygiene maintenance routines, will further shape category growth.
However, on the product level, the path to normalization will be uneven, with paper towels and facial tissues expecting the strongest growth in both retail and AfH in the following years.
Value creation through multifunctionality and sustainability provide key differentiation
Though margin recovery is a top priority in the near term that requires cost saving and pricing increases, in the longer term, value-based innovation across the price ladder will help tissue businesses deliver more meaningful, positive impact on consumers and grow their share of consumer wallets.
While maintaining products' availability and accessibility remains key, tissue players, including private label manufacturers known for value positioning, will continue to explore premiumisation opportunities in high-growth, high-margin product segments and vie for growth through shopper-resonating innovations. This strive for value creation and to deliver higher cost-benefit ratio in products will be manifested in both retail and AfH tissue.
Development of paper towel, a key multi-purpose cleaning solution, is expected to shift further towards higher durability with performance-lifting characteristics, such as added soap, water resistance and special texture.
Sustainability will further rise to become a key competitive edge, with more businesses seeking certifications and launching greener tissue products using recycled sources and alternative fibres, including cheaper options such as recycled and unbleached toilet paper and paper towel.
After all, as businesses weather this period of high inflation, striking a keen balance between quality and value while recovering margin through performance-forward innovations will remain a priority.