In 2018, retail tissue sales in Spain recorded less than 1% growth in volume to reach 485,000 tonnes. Projections for the next five years through 2023 do not deviate far from the current reality, remaining at year-on-year growth rates below 1%.
There are numerous reasons behind slow volume growth in the Spanish market, chief among them being high levels of market saturation against slow population growth. At over 10kg per capita in retail tissue in 2018, Spain offers limited opportunities for organic volume growth and subsequently puts pressure on suppliers to innovate to support revenue growth.
Impact of macro-economic factors
Macro-economic factors play a fundamental role in the performance of retail tissue in a mature market. First and foremost, population changes are bound to have a strong impact on the demand of household essentials, and the population in the Iberian Peninsula shows no signs of strong rebound. In 2018, population in the country saw only a marginal increase, while recording a continuing decline in birth rates. The next five years are not expected to provide much relief, with projected population growth at far below 1% year- on-year through 2023 and steadily falling birth rates.
With high levels of household penetration and slow population growth, Spain's estimated unmet potential stands at about 94,000 tonnes in incremental volume sales. It is important to note, however, that some of this unmet potential would be found among low-income households with limited budgets as well as households that seek to adjust their consumption patterns to be more eco-friendly, which often affects purchases and use of disposable tissue products.
In value terms, the country has an estimated unmet potential of USD473m, which can provide some room for growth in revenues via innovation and value-added products geared towards households with more disposable income. Furthermore, Spain's economy continued to strengthen in 2018, with gains in consumer spending that also benefitted from higher-than-expected real wage growth and an increase in employment. Improvements in employment have boosted both household incomes and consumer spending. Improved consumer sentiment also supported positive growth in value of retail tissue sales in 2018, at 2% to reach USD1.5bn. In part, the growth came as a result of price increases to offset high material costs and improve margins. Price increases, however, were also supported by the suppliers' activities to build up the value-added tissue segment.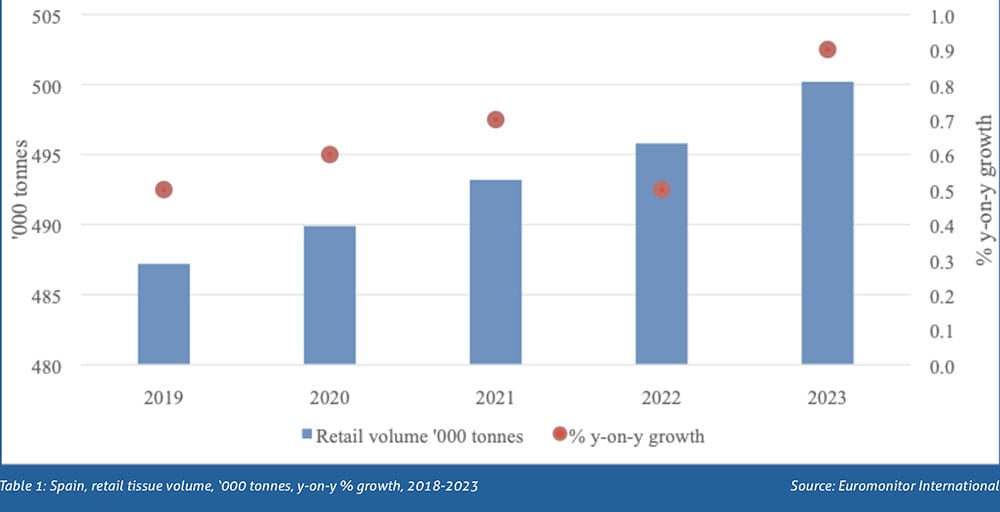 Premium vs private label: the battle intensifies
The recovery of the Spanish economy afforded some Spanish consumers more spending on higher quality premium tissue products, at higher price points. This trend has been encouraged by the manufacturers seeking to grow sales in a mature market.
However, it is important to note that private label products continue to have a strong hold on the market in Spain. In 2018, the share of private label in retail tissue sales stood at 72% in value terms, with Mercadona – the leading grocery retailer in the country – accounting for over a quarter of private label tissue sales.
Difficult economic conditions of a protracted downturn in previous years forced many consumers to search for more affordable tissue products. This behaviour has since been internalised by many consumers, making it very difficult for the brands to encourage a trade-up with the improvement in market conditions. In fact, Euromonitor Lifestyle surveys released in 2019 indicate that while 16% of Spanish consumers intend to decrease their spending on private label in the next 12 months (good news for the branded products), 73% of consumers will maintain their spending patterns and 11% plan to increase their spending on private label, thereby providing further platform for private label tissue and adding to ongoing battles for consumer spending and trade-up.
Toilet paper is the largest product category and is certainly a battleground for consumer attention. The category is seen as a household essential and is very price sensitive, making it more difficult for branded products to compete with private label. On the other hand, premium toilet paper is seeing some competition coming from moist toilet wipes, which recorded positive volume and value trends in 2018 and expects to see healthier growth through 2023, compared to dry toilet paper.
Among the innovation trends are efforts to combine value-for-money and sustainability. An example is found in Sofidel's Regina "Dos en Uno", which replaced the cardboard tube in the centre of the roll with extra toilet paper. Sofidel previously launched similar products in other markets. This type of innovation seeks to address not only added value for consumers but also the ever-growing issue of sustainability. While sustainability might not yet be top of mind for many Spanish consumers at the moment, governmental and media attention on plastic and waste management are likely to also resonate with evolving trends in tissue consumption and a broader approach to sustainable consumption.
In other categories, paper towels and pocket handkerchiefs saw investment from branded product manufacturers, including the introduction of new products and designs, which created added value and helped to combat better private label sales.

Shifts in local manufacturing dynamic
The difficulty of growth in a market as mature and saturated as the Spanish one, has seen manufacturers affected differently in 2018 as they attempt to remain profitable, whilst being further hindered by raised costs of raw materials. Manufacturers such as Essity have been forced to close down some of their production facilities, including a plant in Barcelona, as the company continues to seek cost efficiencies to combat challenging market conditions. On the other hand, Italian-based Lucart acquired a production plant in the north of the country to expand its presence in Spain, while Renova started the distribution of
its new products after the renovation of its production plants in 2017 and achieved positive results in 2018.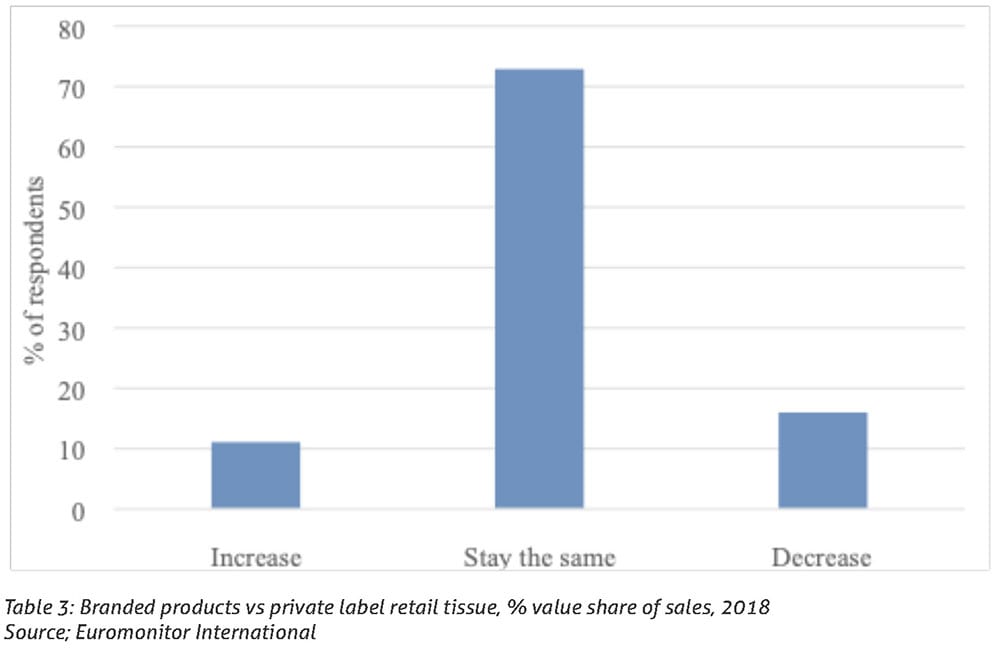 Future outlook
It is not likely that Spain will see a drastic shift in organic growth and consumption, beyond current levels, unless there is a significant rise in birth rates and population. It will be increasingly important, therefore, for manufacturers to define strategies accordingly to position themselves better in the marketplace, from cost efficiencies to value-added tangible innovation across price segments to further assessment of opportunities in private label. Furthermore, with strong emphasis on cost efficiencies and ongoing consumer attention on sustainability, looking ahead through the prism of eco-management and respective consumer education through marketing and innovation can also help brands position themselves better in a tight and challenging competitive environment. Euromonitor Consumer Lifestyle survey released in 2019 indicated that 64% of Spanish consumers strongly agree/agree with the statement "I try to have a positive impact on the environment through my everyday actions", opening up opportunities to stand out from the "crowd" on commitment to sustainability.