The uneven post-pandemic recovery continues and essential products dominate, as emerging trends reinforce the urgency needed to reassess supply chain efficiency. Euromonitor International's Head of Tissue and Hygiene Liying Qian reports.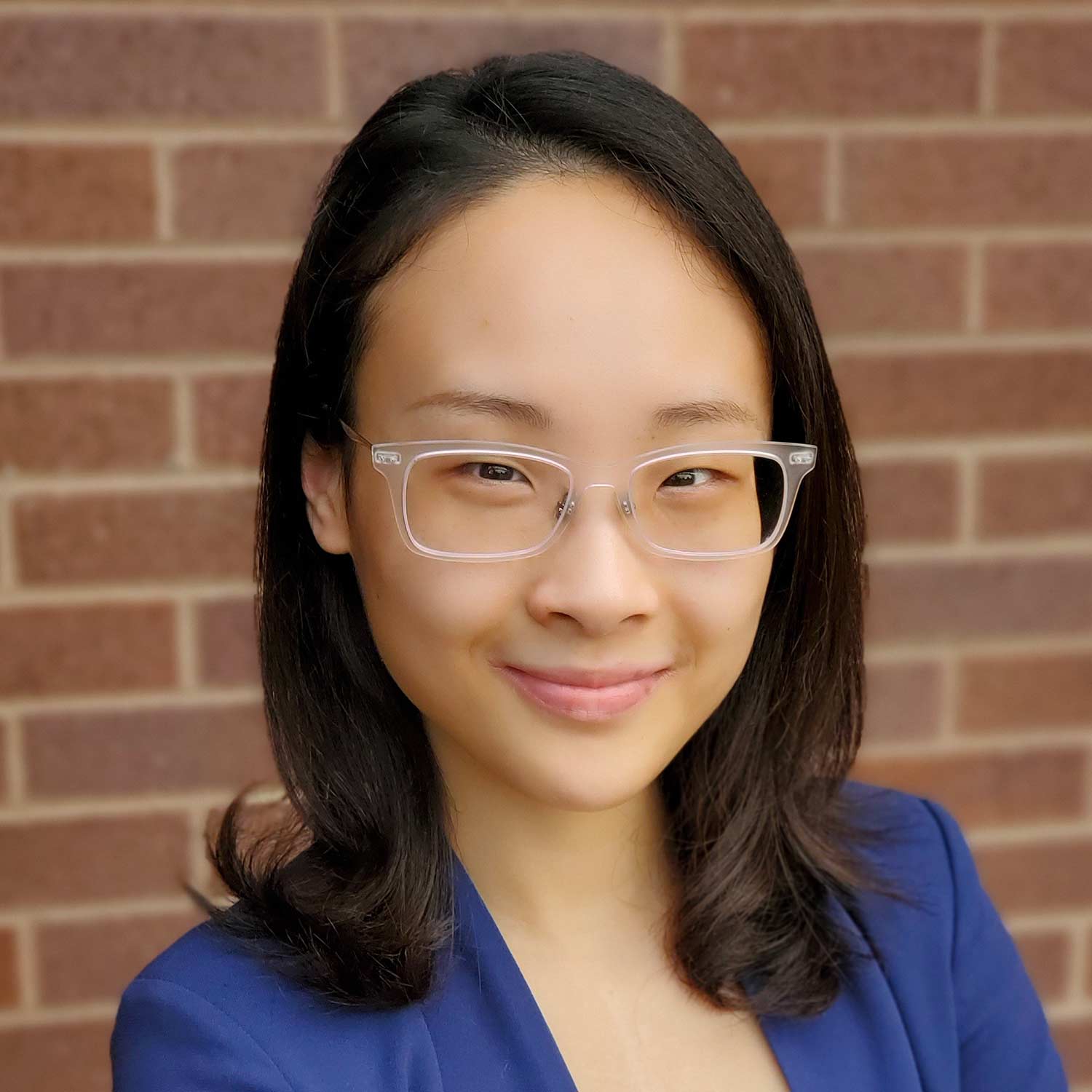 Despite a broad return of life routines and introduction of hybrid work that have underpinned the sustained growth of retail tissue in 2022 in North America, there remain significant challenges.
These factors include high inflation, rising unit prices and strained supply chains which have cast a tale-of-two-city spell on the category, with current value (including inflation effect) registering a positive single-digit growth, strengthening from a single-digit decline in 2021, while volume and real value sales (excluding inflation) slightly contracting in 2022.
Such diverging growth patterns emerged as consumers coped with higher prices by switching to cheaper brands, buying smaller packages or simply cutting back.
Such coping mechanism are evidenced in their shift towards cheaper options such as private label, which has also benefitted from retailers' promotion and support of own brands. In North America, private label has gained market share in retail tissue to reach nearly 28% in 2022, with paper towels and toilet paper seeing the most visible share gain between 2021 and 2022.
Such growth dynamics further reinforce the urgency to reassess supply chain efficiency and to sharpen portfolio and marketing narratives to land the best intersection of value and efficacy for all consumers.
Inflation posts cautionary note for consumer spending and upholds efficiency priority
Despite certain signs of relief ahead as pulp capacity catches up and supply-demand rebalances, the outlook for retail tissue consumption in 2023 in North America is still cautious based on lower consumer confidence and purchasing power amid persisting, albeit moderating, inflation pressure and uncertainty.
North American retail tissue industry statistics are predicted for April to show a decline by 1.3% in volume in 2023. This represents a 0.2%-point downgrade against expectations estimated in February 2023.
As such, efficiency upgrade as a way to counter cost pressure and recover margins long-term has become a priority of business investment.
Many leading tissue players in North America have striven for better alignment with long-term consumer demand by investing towards capacity and efficiency with a focus on high-margin, high-quality items.
For example, KP Tissue has shifted manufacturing focus towards higher-efficiency TAD operations that integrate artificial intelligence and higher-margin products such as facial tissues in its Sherbrooke operations, where a facial tissue line is set for implementation in Q4 2023, and Memphis operations, where it has retired less economically viable legacy assets, according to the company. Similarly, Georgia-Pacific has set to grow its own premium tissue brands and private label manufacturing capacity by expanding its Green Bay mill and adding TAD technology and additional converting operations. Strategic M&As such as Paper Excellence's acquisition of Resolute Forest Products demonstrate a drive for supply chain resilience through diversification.
Demographic and lifestyle shifts support retail tissue outlook
Longer term, retail tissue's forecast growth will continue to build on consumers' life habits and routines.
According to Euromonitor International's Forecast Model, which examines various forecast drivers, fundamentals like population growth will remain key positive drivers of retail tissue's forecast growth. For example, between 2022 and 2027, the total population in North America is projected to expand by about 3%. However, product pricing remains a negative contributor to retail tissue's forecast growth, particularly in facial tissues and paper tableware where it forecasts an approximately -1% impact on 2022-2027 constant value CAGR.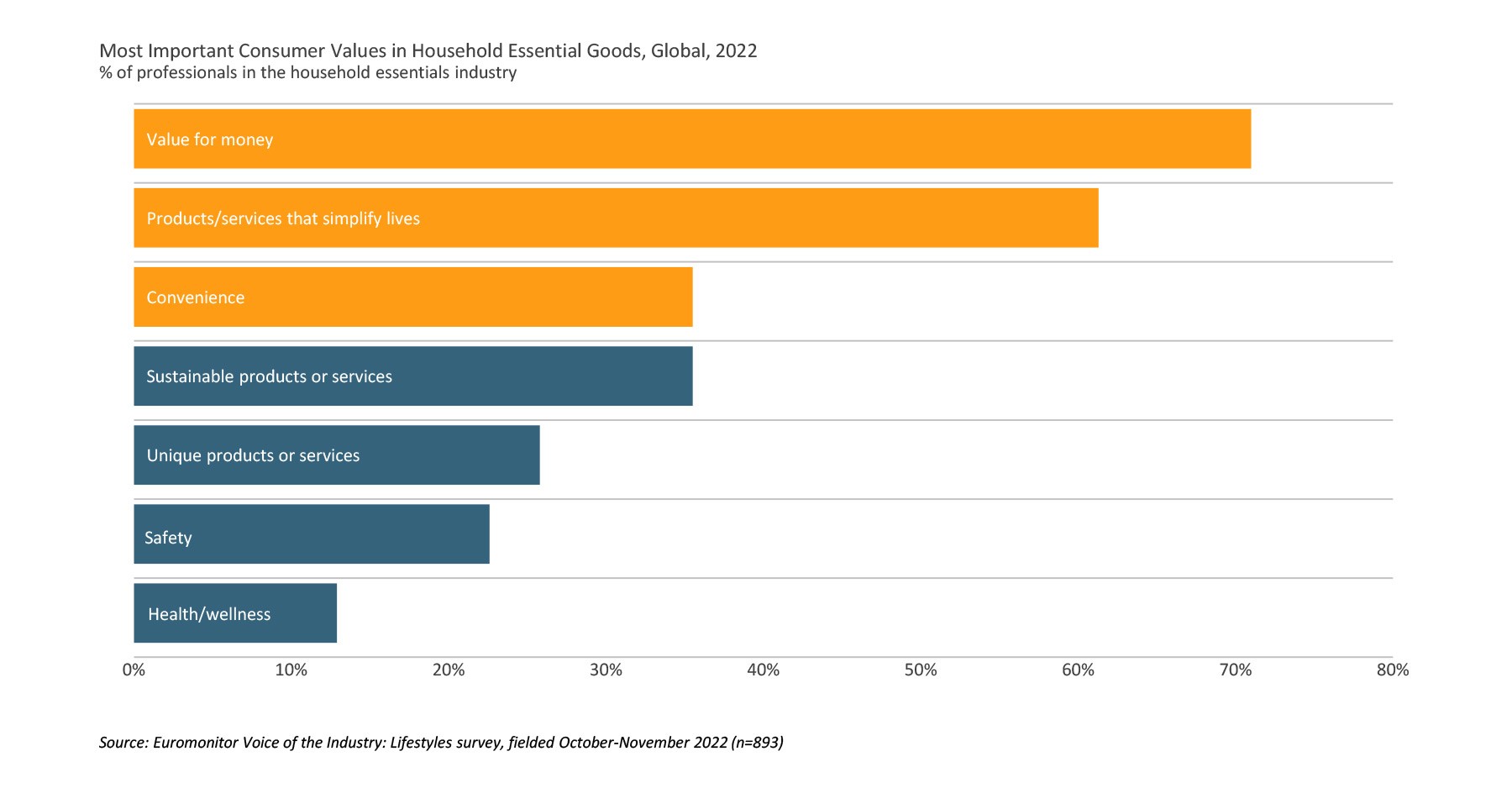 Therefore, tissue players that have raised prices since January 2021 should not only be attentive to consumers' price sensitivity to avoid trading down to cheaper brands, but, more importantly, fully leverage pricing and supply chain strategy in an anticipated recovery in consumption and quality expectation as consumers regain financial confidence and further adapt to new life routines in the longer term.
Take toilet paper, the largest retail tissue category. As a considerable and growing number of consumers, especially younger age groups, are choosing lifestyle options that allow for more flexibility, demand and expectation for daily essentials such as toilet paper will grow, encouraging new product features from pack size to functionality, aesthetics and fragrance that better fit and enhance new life occasions from work to dining. Indeed, in 2023, 36% and 31% of consumers in Canada and the US, respectively, expect to work from home in the future, up from 29% and 29% in 2019, according to Euromonitor's Voice of the Consumer Lifestyles survey fielded early each year.
Strong value focus and lifestyle transformation catalyse multi-faceted tangible value strategies
While inflation is one reason for price increases, as confirmed by nearly two thirds of retail tissue industry professionals surveyed by Euromonitor in December 2022, it can also be a stimulant for value creation.
However, amid a backdrop of inflation, consumer pricing sensitivity, simplified routines, and evolving lifestyles such as flexible working and heightened health awareness, the path to value creation in retail tissue is multifaceted and nuanced across product types.
For tissue products with strongest usage frequency and most direct health implications, such as toilet paper, brands have enhanced branding around performance-based, comfort-centred value add, with a focus on absorbency and softness. This move is demonstrated in Kimberly-Clark's rebranding for Cottonelle Ultra Comfort and Ultra Clean toilet paper, which features CleaningRipples texture to remove residue and absorb more moisture and is further promoted in the DownThereCare campaign  tabooed down-there issues such as skin sensitivity and humidity.
Meanwhile, fragrance, still quite a niche feature, is increasingly encompassed in tissue to create a heightened sense of cleanliness and a feeling of comfort and nostalgia. The move is embedded in fragrance positioning's shift to emotional wellness and is most notably manifested in toilet paper. For example, Georgia-Pacific's Quilted Northern Ultra Plush toilet paper features sweet lilac and vanilla scented tube.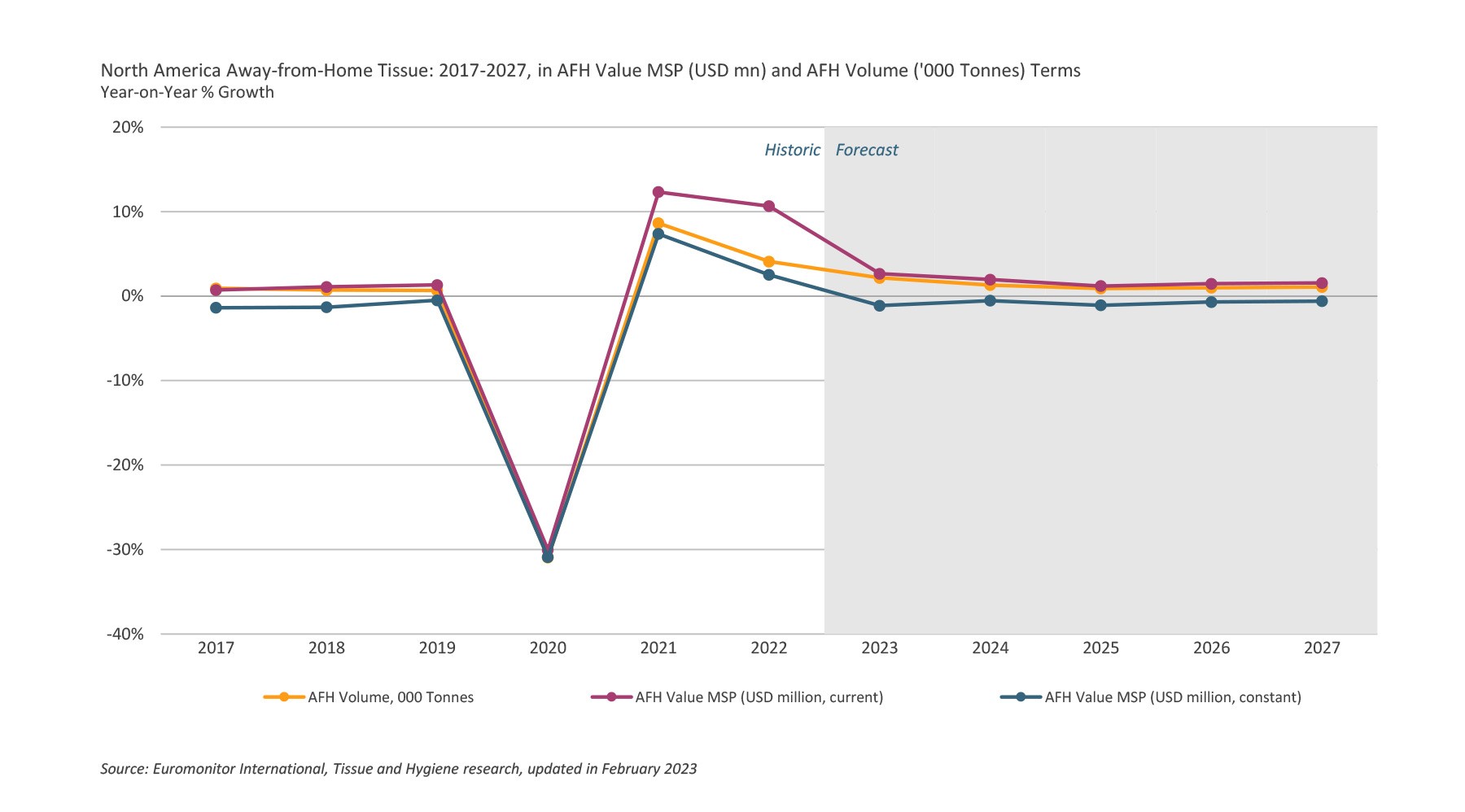 Finally, sustainability continues driving long-term tissue innovations and brand building despite its secondary significance to pricing. Top players have demonstrated alignment with the trend by reducing reliance on natural forest fibres and reducing manufacturing carbon footprint. KP Tissue has introduced an eco-centric line Bonterra featuring plastic free paper packaging, FSC certified recycled fibre, while Procter & Gamble has announced testing of two new Charmin products, one made with plant-based fibre and the other with bamboo.
AFH exhibits positivity though potential economic headwinds are worth heeding
Similar to retail tissue, current value growth of AfH tissue outperformed volume growth in 2022 due to inflation-led pricing movement. Although volume sales tracked upward growth, the pace of growth slowed slightly compared to 2021, due in part to many businesses' margin-defending shift towards lower-cost, thinner tissue products. Nonetheless, demand for AfH tissue continued to grow in 2022 supported by further recovery in travel and return to workplaces as well as improved economic activities such as tourism and consumer foodservice.
Indeed, in 2022, North America's number of inbound trips, particularly leisure trips, was expected to increase by nearly 183%, far exceeding the 10% growth in 2021, according to Euromonitor's Travel research data published in August 2022, while consumer foodservice sector was estimated to expand by 5% by count of transactions in 2022, building on the 13% expansion in 2021, according to Euromonitor's new preliminary Consumer Foodservice research data published in February 2023.
Within AfH tissue, paper towels recorded the strongest growth in both value and volume terms in 2022, benefitting largely from the rebound by hospitality, which, including hotels, restaurants, and other catering establishments, remains the leading AfH channel for tissue consumption holding nearly half of value share. However, absolute sales generated through the channel in 2022 remained below pre-pandemic levels given the enduring consumer habit for takeaway, delivery, and at-home cooking. The public segment, the smallest AfH tissue channel including retail stores and airports, recorded the strongest rebound in 2022 as consumers became increasingly engaged in social activities and travels.
Over the forecast period, AfH's performance will be characterised by a continuous yet likely uneven recovery compared to pre-pandemic volume levels, with toilet paper projected to record the fastest growth in both volume and value terms as a common essential, hard-to-substitute tissue good across AfH settings, with AfH paper tableware set to struggle as displaced demand for eat-in foodservice due to stressed disposable incomes and changing food consumption behaviours is unlikely to fully recover. Increasing food delivery and collection services, home cooking, cost management measures and the sustainability push to reduce disposable usage will also weigh on demand for AfH paper tableware over the forecast period.
Moreover, imminent threats of war and recession continue to be factors with increasing headwinds. While inflation is moving in the right direction, it is still an issue that affects consumers and operators alike, putting pressure on food prices, real estate, job gaps and the supply chain.