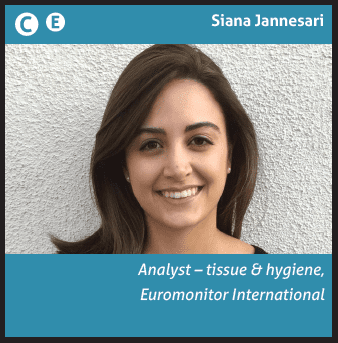 With 21kg per capita total tissue consumption in 2016, the US is one of the most saturated tissue markets in the world. Total demand for consumer and AfH tissue is expected to grow by less than 1% per year from 2016 to 2021. In a market that is already highly developed, demand is thus largely driven by fundamentals such as growth in GDP and population growth.
GDP per capita amounted to USD57,442 in 2016 and is expected to grow at an average annual rate of 1.1% over the next 10 years. In addition to modest GDP growth, annual population growth in the US remains below 1% and is expected to slow down even further in the next 10 years. The slow rate of growth in both GDP and the population, along with the maturity of the US market, will continue to play a role in shaping the demand for tissue products, and, in turn, how manufacturers are responding in terms of product development and pricing strategies.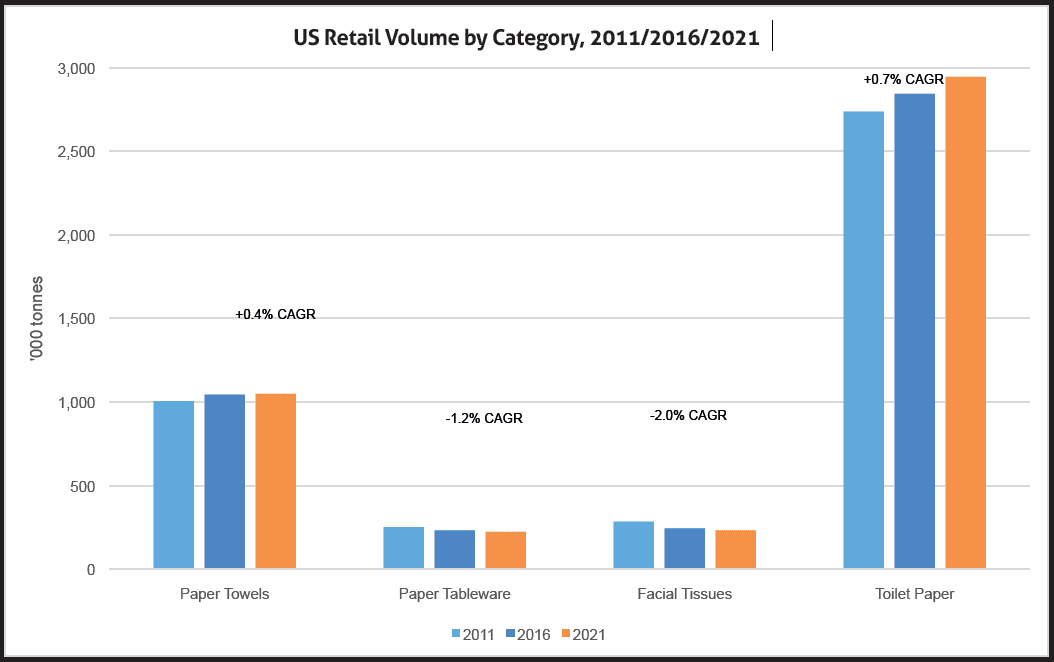 Consumer tissue prices driven down by the competition
The consumer tissue market is experiencing fierce competition between brands and private label, as well as amongst product categories and retailers, leading to continuing pressure on prices. Over the period 2016 to 2021, the average unit price in retail tissue in the US is expected to decline by a CAGR of 0.5%, excluding inflationary effects. The combination of a saturated market and slowing population growth has created an environment in which branded and private label products must compete for a share of a pie that is not getting any bigger, while promotional activities and discounts remain rampant.
Not only is there competition between brands, but also between product types within consumer tissue. For example, facial tissues and paper napkins face increased competitive pressure from products that provide more cost-effective solutions to the everyday needs of price-conscious Americans; such as the use of toilet paper in place of facial tissues.
Competition in retailing also has a negative impact on consumer tissue prices. As retailers compete and aim to make the most out of their shelf space, they force tissue manufacturers to comply. An example of a retailer putting pressure on tissue manufacturers include in early 2017, when Walmart demanded its vendors reduce the prices they charged to the retailer by 15%. Similarly, Target announced in September 2017 that it was cutting prices on thousands of items, including paper towels and toilet paper, in an effort to remain competitive after Amazon's acquisition of Whole Foods.
The competition in retailing is being further intensified by the growth of private label and the rise of discounters. With improvements in technology, private label tissue products have seen an increase in quality and a widening of the product range; becoming a more popular choice among US consumers.
At Costco, for example, private label toilet paper is one of the most popular stock keeping units. The high growth prospects for private label are supported by the rise of discounters in the US, particularly the expansion of Lidl and Aldi, which combined are seeking to open hundreds of outlets in the US in the coming years. Lidl has plans for 100 additional stores by mid-2018, and Aldi announced an investment of USD3.4 billion in store expansion, to open an additional 900 outlets. This puts further pricing pressure on retailers, while providing private label with a wider platform for growth.
Meaningful innovation to grow sales and profit margins
As volume growth slows down in the US market due to saturation and demographic challenges, innovation has become key to driving further value growth. However, there is a price ceiling that US consumers are willing to pay for tissue products, even with value-added innovation. The key is to create product innovations that offer tangible and meaningful benefits, offering a unique solution for consumers, as opposed to  yet another ultra-soft or ultra-strong tissue.
Better All Around, a UK company, has been successful with its Ora paper towels brand, which was launched in the US in 2016. Success among US consumers was due to the unique format and additional benefits. Users of Ora paper towels enjoy the fact that the sheets do not need to be torn, they can be used as a snack bowl due to their conical shape, and the product looks elegant in a guest bathroom. The brand has so far only been available at Target.com and selected Target stores in the US. However, the initial stock sold out quickly, despite a higher price point compared with other brands and private label, and customer reviews were very positive.
Moist toilet wipes offers opportunities, but high price is an issue for wider adoption
Within consumer tissue, moist toilet wipes provides a value-added opportunity for the industry. The category recently experienced significant growth; far outpacing the growth of dry toilet paper. This was due to a multitude of factors, such as promotional activity, increased visibility on store shelves and higher awareness. This helped shift adult users away from baby wipes and towards moist toilet wipes. Moist toilet wipes is expected see higher growth rates compared with dry consumer tissue categories. While opportunities exist to drive category growth through moist toilet wipes, pricing remains a challenge and a limitation on value growth, as  wipes is one of the most price-sensitive categories in retail hygiene.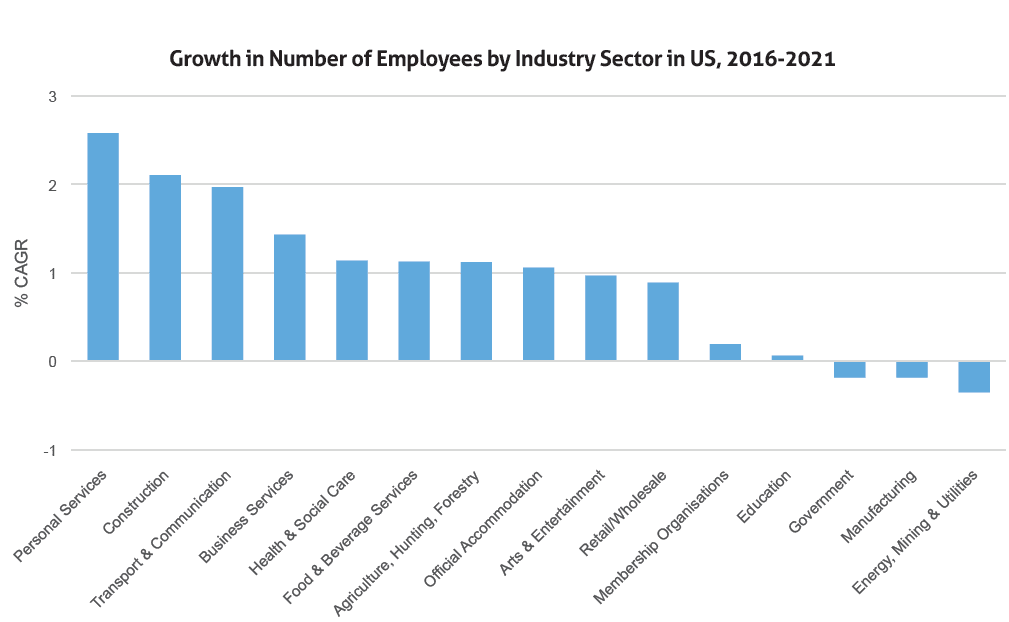 Shifts in institutional channels impact AfH tissue
AfH tissue in the US is expected to see a flat performance in volume terms over 2016 to 2021, growing by a CAGR of less than 1%. Challenges in the AfH market have arisen from two major shifts in US institutional channels: budget cuts at many public institutions, and the move towards more automation in certain industries. Budget cuts have a twofold effect on decreasing demand for AfH tissue products. Smaller budgets force institutions to cut both their spending on tissue products and their total headcount, lowering the number of users of tissue products. President Trump's budget plan for FY2018 includes major cuts to education, energy and healthcare. These sectors are forecast to see limited or negative growth in the number of employees over the next few years, which will negatively impact sales in AfH tissue.
The rise in automation will also have a negative impact on the number of employees in several sectors, decreasing the number of AfH tissue users, as the use of technology and robotics replaces human labour. While the growth in automation is most prevalent in the manufacturing industry, the use of robotics is also increasing in other industries, such as agriculture, logistics and education.
AfH opportunities in the hotel industry
Profit margins are typically low for manufacturers of AfH tissue products, as price is the most important factor in the purchasing decision, since the decision-maker is not typically the end-user. One area in which this is not the case is in industries that are focused on service and the guest experience – for example, in luxury hotels.
The good news for AfH tissue in the US is that the hotel industry is expected to grow. The number of hotels in the US grew by 2% from 2016 to 2017, with a majority of this growth coming from the luxury (3%) and mid-market (3%) segments. Budget and unrated hotels grew at slower rates – 1% each. This growth pattern is expected to continue over the next few years, with more than 1,000 additional luxury hotels and over 2,000 additional mid-market hotels in the US expected through to 2022. The growth in higher-end hotels is positive news for AfH tissue, especially for more premium products.
Capacity additions and oversupply – cost efficiencies are key to survival
The US market continues to see investment in tissue production facilities aimed at increasing production for domestic consumption, particularly premium and ultra-premium products. This has led to a scenario where tissue capacity in the market far exceeds current and future demand for tissue products. The US market saw demand of nearly seven million tonnes in 2016, but is expected to absorb just 36,000 additional tonnes over the three years between 2017 and 2019. With several projects in the pipeline, and each expected to add at least 60,000 tonnes per year to the market, there is a clear imbalance in supply and demand.
This oversupply will only lead to further competition. Manufacturers in the industry must be strategic with their investment decisions and find growth segments within the market to absorb this additional capacity. Potential options include the hotel industry, as well as private label. Looking outside the US to higher-growth markets is also an option. With downwards pressure on prices, oversupply, and slow growth expected in the US, due to unfavourable  demographic conditions, tissue manufacturers that can find cost efficiencies and offer US consumers high-value products at a low price will fare well in the market.
Euromonitor will present on "Consumer Tissue in North America: Operating in a Market Ruled by Fundamentals" at Tissue World Miami Conference on March 21, 2018. More details here.