Nigeria, with its oil wealth and sizable population (190 million, or more than half the population of the USA – it's the most populous country in Africa) has been an economic powerhouse by many measures for quite some time.
Yet it also typifies a phenomenon among certain rapidly developing countries for a stubborn resistance to the Tissue and Towel (T&T) industry, both in per-capita consumption and production. Nigeria's tissue segment isn't yet in parity with its huge potential.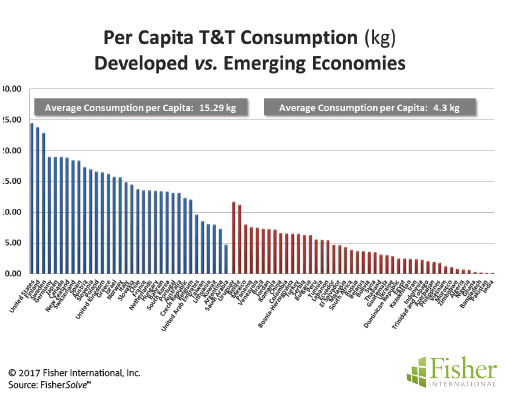 Figure 1 shows per capita tissue consumption in developed and emerging economies illustrating the enormous potential such markets represent.
Fisher has modelled this phenomenon in order to track new tissue machine installation trends. Using our model, we estimate there will be 1,040 newly-built tissue machines between now and 2025. Only 20 of those will
be in Africa (Figure 2).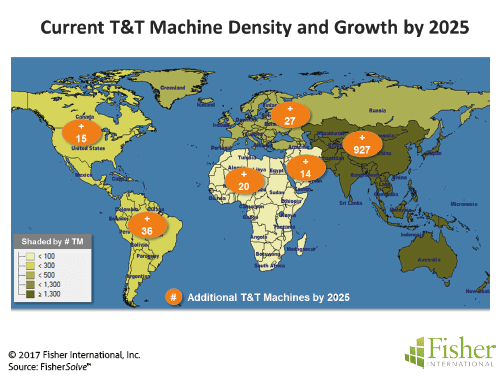 But statistical facts do not always illustrate well enough what is evident on the ground. Case in point, Nigeria.
It is worth understanding the magnitude of the gap between potential and actual capacity with some basic numbers.
Nigeria is the seventh most populous country in the world, ranks 26th in gross domestic production, but 131st in per capita GDP based on purchasing power, and trails at 60th in production capacity among the eighty-or-so countries that manufacture 30 TPD or more of T&T (Figure 3).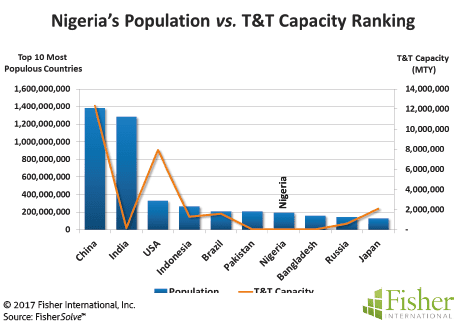 Nigeria is not the only place in the world with a solid GDP but a significant population-to-capacity gap. Expanding such markets will clearly unlock vast opportunities and, if a case could be made for such an enterprise (sociopolitical strife and oscillating oil prices notwithstanding), Nigeria would be a prime candidate.
The country is resource-rich – not only with energy, but also with an abundance of water that is widely distributed.
Even forests are plentiful and spread across half of the country if it were to get to a state of producing virgin fibre. (Overharvesting of trees is a concern in Nigeria receiving government and environmental scrutiny, but sustainable forestry could support a robust T&T industry if the conditions were right.)
While cultural norms are certainly drivers behind the capacity gap, Nigeria's population is very young with dense clusters in urban areas along the south and southwest which speaks favourably for T&T demand. Nigeria's long coast line with shipping and transportation infrastructure, put in place to serve the oil industry, is also a noteworthy feature.
Nevertheless, Nigeria currently imports most of its paper valued at 338 million USD, according to UN Comtrade Statistics. Paradoxically for this nation rich in crude oil, the lack of available energy domestically is at the centre of its dramatic T&T capacity shortage.
The absence of a suitable electric grid means that manufacturers rely on generators and diesel fuel to run turbines, an expensive and less reliable way to produce power and no way at all to produce the steam needed to dry paper. The problem is exacerbated by the fact that Nigeria has lost its oil refineries due to lack of maintenance and the country is now forced to purchase its refined fuels.
It's easy to see how the market is open to imports. Nigeria imports most of its paper, including tissue. South Africa, for instance, has established a highly efficient system of delivering goods (including tissue) to West African nations including Nigeria. Figure 4 illustrates the dearth of tissue capacity in Africa by contrast to surrounding regions.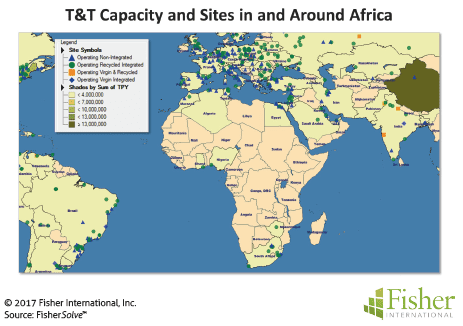 A new oil refinery is slated to open in 2019. Once it does, will Nigeria once again manufacture its own tissue? If new efficient machines can deliver T&T cost-effectively, will demand grow?
The question may turn on whether or not there are investors willing to tie up their money in the long term or will imports continue to meet demand. The answer can be as much political as economic.
The Nigerian government is expected to support a manufacturing initiative in order to create jobs, no matter the return on investment. If and when that happens, Nigeria can look forward to growing its capacity to meet its own demands and maybe even those of other West African nations.
Nigeria may not have much domestic tissue capacity today but it is not for lack of trying. Until recently, Nigeria's T&T market had three mills operating five tissue machines with each mill making more than the threshold number of tons tracked by FisherSolve™. All but one of these mills have closed (Figure 5); with Bel Papyrus now operateing three tissue machines at its Ikeja mill.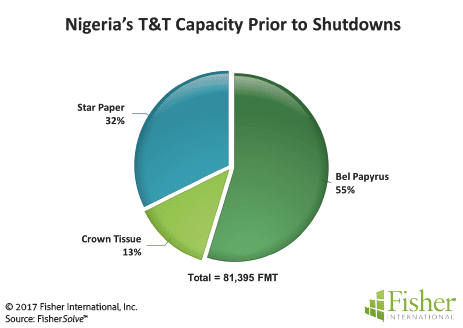 Nigeria's T&T capacity took a severe hit in recent years and the slack has no doubt been picked up by imports. Some new capacity came online in 2013 (a new three metre, 1,300mpm line) but older machines were also retired (Figure 6).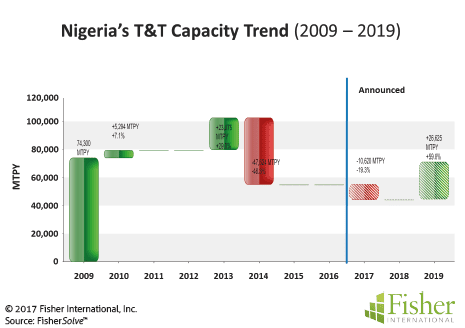 With the loss of two mills, Nigeria lost nearly half of its T&T production. The drop between 2016 and in 2017 is caused by the shutdown of three very small, slow machines. There is some growth anticipated with a new modest line being planned for installation and start-up in 2019 (TM4 at the Ikeja Bel Papyrus site) which will coincide with Nigeria's new 12 billion USD Dangote Oil Refinery scheduled to open in 2019 and slated to be the largest refinery in the world.
As the company-level cost curve of commercial and consumer bath tissue made in Africa (Figure 7) shows, Nigeria has the ability to produce tissue competitively. With better infrastructure, its costs should improve further.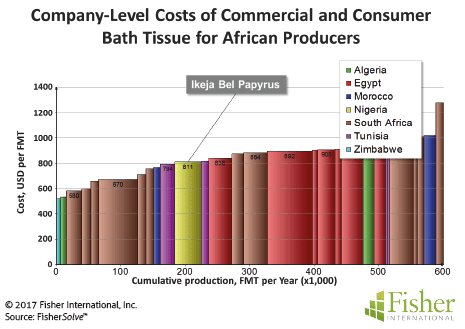 Nigeria's T&T business is underdeveloped by Western standards and somewhat so even among developing countries.
The good news lies in opportunities for the future. Nigeria is a regional hub for manufacturing knowledge and experience. If and when entrepreneurs start to build a market, Nigeria's tissue sector should be well positioned to grow with that market.
Figures 8-10 provide a poignant perspective on the global T&T business. They illustrate not only the yawning gap in production that separates developed and emerging economies but also the considerable opportunity that those emerging economies represent for the T&T market in the decade ahead.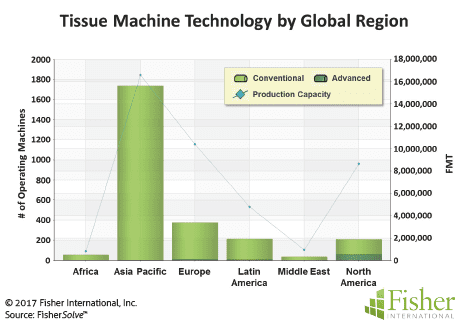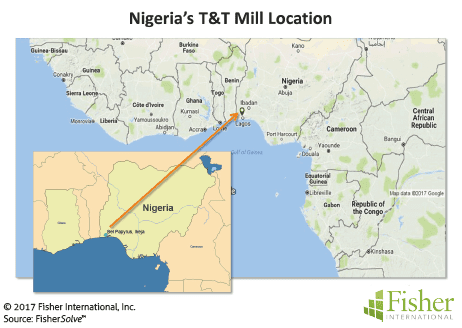 The source for market data and analysis in this article is FisherSolve™.
About Fisher International, Inc.
Fisher International supports the pulp and paper industry with business intelligence and strategy consulting. Fisher International's powerful proprietary databases, models, analytics, and expert consultants are indispensable resources to the industry's producers, suppliers, investors, and buyers worldwide.
FisherSolve™ is the pulp and paper industry's premier database and analytics resource. Complete and accurate, FisherSolve is unique in describing the assets and operations of every mill in the world (making 50 TPD or more), modeling the massenergy balance of each, analyzing their production costs, predicting their economic viability, and providing a wealth of information necessary for strategic planning and implementation. FisherSolve is a product of Fisher International, Inc.
For more information visit: www.fisheri.com or email info@ fisheri.com USA: +1-203-854-5390