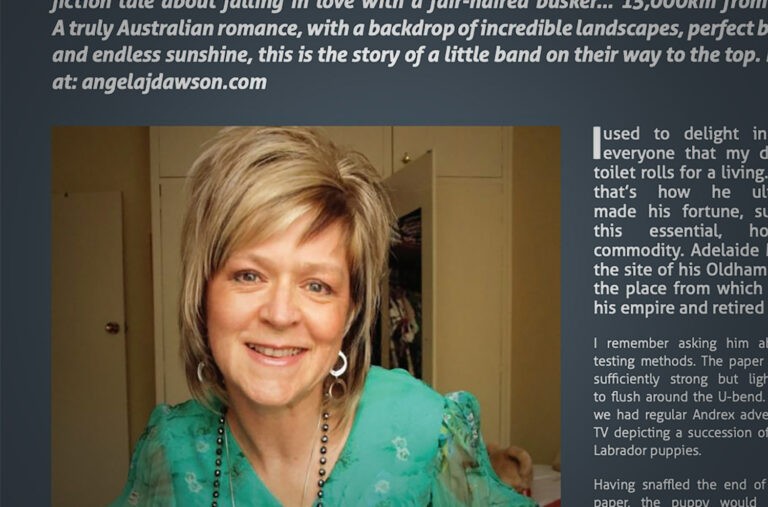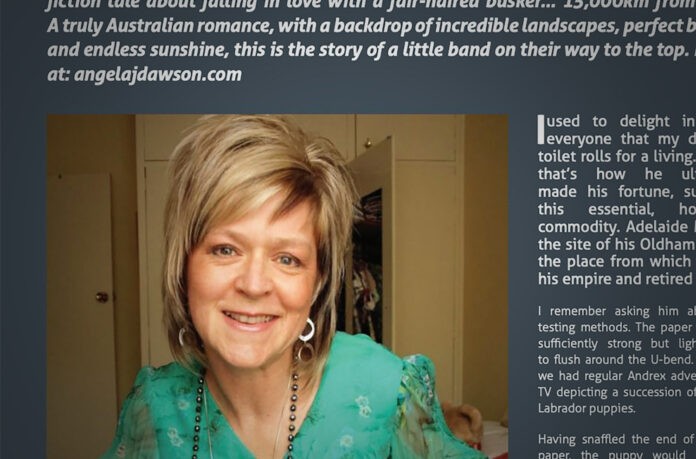 Angela Dawson is a writer and poet who has featured on community radio and at various venues around Melbourne, Australia, since 2000. Originally from Manchester, England, this year saw the release of her first book, Like Two Mexicans Dancing, a nonfiction tale about falling in love with a fair-haired busker… 15,000km from home. A truly Australian romance, with a backdrop of incredible landscapes, perfect beaches and endless sunshine, this is the story of a little band on their way to the top. Details at: angelajdawson.com
I used to delight in telling everyone that my dad sold toilet rolls for a living. Indeed, that's how he ultimately made his fortune, supplying this essential, household commodity. Adelaide Mill was the site of his Oldham factory; the place from which he built his empire and retired early.
I remember asking him about their testing methods. The paper had to be sufficiently strong but light enough to flush around the U-bend. Back then we had regular Andrex adverts on the TV depicting a succession of frolicking Labrador puppies.
Having snaffled the end of the toilet paper, the puppy would unravel it through the endless corridors and rooms of an uncommonly large British home, to demonstrate its three defining qualities. Soft, strong and very long it may have been, but we had dad's own brand, and we were never short of toilet paper in our house.
I grew up in a two-storey home in a family of four. It was the late seventies, early eighties; a time when people decorated their boxes of tissues under lacy doilies.
A wet wipe was a bit more exclusive. The moist towelette beguiled us with its compact practicality, and was associated with package holidays and overseas trips. Typically, it'd be found on your Spantax airline meal tray, individually wrapped amongst the cutlery, and you'd save it to use later.
At some point we had a plastic container of Wet Ones in the medicine cupboard at home. It was a product that was generally purchased for a summer holiday on an English beach; those halcyon days when you ate gritty sandwiches and got chased by wasps.
No-one really had paper napkins in constant supply, unless you had a birthday party, and needed something in which to wrap slices of cake for your guests.
We always had cloth napkins at the table, and learned the correct dining etiquette at a young age. Sunday roast was when they came out, and at Christmas of course.
These days, living in Melbourne, Australia, I have an array of tissue items in my cupboards. Products are readily available from discount shops, chemists and supermarket chains.
I have the obligatory toilet rolls – so, whatever is on-sale at any supermarket, with most sheets per roll – and I don't bother with perfumed, bleached, embossed, or three ply.
I'd never think to buy my products online, especially toilet paper, given it implies a level of stealth that seems unnecessary.
I'm quite happy to buy recycled or forest-friendly tissue products when available, but paradoxically, some of the green products I've seen in supermarkets come wrapped in plastic.
Then there's kitchen roll, which makes ideal square napkins, and helps with the clean-up after cooking – especially with oil, which you don't want to go down the sink if you're eco-friendly.
It's also really handy for cold food storage. A sheet of it in the broccoli bag in the fridge will soak up condensation, and keep it fresher for longer.
Kitchen roll makes the perfect wrapping for the smashed smithereens of your only, singularly most favourite insulated glass mug. I've also been known to use kitchen paper when the chain comes off my bike and I need something disposable to handle it.
As for the humble box of tissues, I always have a supply, always in white (which seems fresher for some reason), and I never go out without a handful of them in my bag. The box has a prominent position on my bathroom dresser, since I draw the line at disguising them under anything lacy. I couldn't do without them, for that random sniffle, but I'm not fixated on a brand. I might buy them at Aldi for $1 a box.
Working in a hospital, we use a lot of paper towels as well as disposable masks, and have paper gowns donned by all staff when a patient is in an isolation room.
Paper napkins are everywhere here, in cafés and take-away outlets, and I do buy them sometimes, often to match the theme of the occasion. They've become an accessorised feature of your table decoration now, sold in kitchenware shops to complement your dinner service.
Party supply shops have a huge catalogue of designs and shapes, depicting flora, fauna and all manner of creatures, real or imagined. However, I have a vintage Bakelite cake stand, and tend to buy either paper doilies or any retro print that will complement its pastel colours.
I've done my share of trotting around the globe. In Poland, in the years before the wall came down, they used to have stern faced Toilet Supervisors at the entrances to most public facilities. On arrival, they would hand you two squares of paper.
All through Eastern Europe in 2007, I was made to pay when visiting public toilets, and toilet paper varied from rough to greaseproof.
Some products now are being made from bamboo fibre, and I'd try them if I ever saw them in the shops. I found an American company online (us. whogivesacrap.org) that uses bamboo, as well as recycled paper and even sugarcane in their products.
Their irreverent website reminds me of radio adverts that were recorded for my dad's tissue business many years ago… toilet tissue that would wipe your cares away.