By Euromonitor International's Ian Bell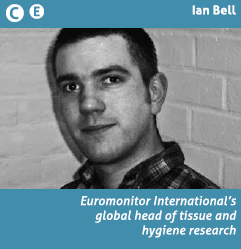 A gloomy economic climate, coupled with low consumer morale and a mature and saturated market, equals a difficult environment for tissue products to thrive in. France, like much of Western Europe, remains in the doldrums, with a stagnating economy and the cost of living rising faster than wages. Despite these difficult conditions, retail tissue in France saw 2% volume and value growth in 2014 to reach €1,754 million – not at all bad given the wider economic background.
Brands have the edge as consumers trade up
With gloomy economic circumstances prompting French consumers to rethink their shopping habits, it would usually be safe to assume that consumers would trade down in retail tissue, given its status as a commodity category.
However, this wasn't the case in 2014. A common theme cutting across retail tissue is that consumers are, perhaps unexpectedly, trading up. In toilet paper, for example, the premium SCA brand Moltonel fared better than its stablemate, the mid-priced Lotus.
Although private label reigns supreme in retail tissue, with a value share of 61%, during 2014 private label added little in terms of its share of the market, the figure identical to that reported in 2009. In comparison, SCA, the leading branded player, claimed the largest accumulation of new market share, gaining 0.5 percentage points since 2009 to take its total up to 30.5% in 2014.
But trading-up is a result of widespread price promotion
However, although trading-up has boosted brands' market share and kept the market looking relatively buoyant, despite gloomy economic conditions, it has come at a price for branded product manufacturers. French consumers were persuaded to trade up because 2014 was a year of constant price promotions and discounting. Giant promotions on huge family packs of toilet paper and bumper kitchen towels paradoxically enabled consumers to trade up to premium products. The result is a market where premiumisation and price erosion go hand in hand.
'Discounting has been integral to French consumers' change in preference towards bigger packs, but a shift in retail channel dynamics has also played a part.'
To counter, private label manufacturers have shifted strategy towards producing more premium products, hoping to compete with brands, but, so far – with well-known brands at rock-bottom prices – the tactic has reaped little reward. For branded manufacturers, while discounting has at least kept consumers buying brands, it is also certain to have eroded margins – not an ideal situation.
What's more, it is difficult to see how, without a significant positive shift in the wider economy, manufacturers will be able to reduce the number of promotional offers in the year ahead as discounting is now the primary purchase driver in tissue for French consumers.
Click-and-collect boosts buying in bulk
Part and parcel of this promotion frenzy has been an upswing in bulk buying. While consumers in the US rank top in terms of a preference for large pack sizes, Western Europeans, in particular those in countries most affected by the recession, are moving to large pack sizes too. French consumers are leading the way, with the 12-pack of toilet rolls the most popular unit size. Bulk buying helped retail tissue volume growth perform 1% better in 2014 than the review period CAGR.
Of course, discounting has been integral to French consumers' change in preference towards bigger packs, but a shift in retail channel dynamics has also played a part. Over the last couple of years the internet has quickly gained in importance as a retail channel for tissue products in France. The channel's value share jumped from 3% in 2012 to 4% in 2014. This is because of the arrival, in droves, of drive-through click-and-collect stores.
Struggling to facilitate home deliveries without incurring high costs, grocery retailers instead chose to up the convenience factor with click-and-collect stores – and consumers have embraced the concept. Internet retailing enables consumers to quickly find the best bargain, then click-and-collect allows them to buy in bulk and transport home with minimal inconvenience. The rapid pace of expansion of the format is unmatched in any other European market. In fact, France is the country with the highest penetration globally of order-and-collect groceries in 2014. This development in distribution is good news for volume sales of toilet paper in particular.
'France is the country with the highest penetration globally of order-and-collect groceries in 2014.'

Toilet paper brands caught in a cycle of discounts
Toilet paper, by far the most valuable retail tissue category in France, accounting for 51% of the market, registered some of the stronger value and volume growth at 3% and 2%, respectively. More than any other category, toilet paper reaped the rewards of French consumers' shift to click-and-collect for their grocery shopping, simply because of the convenience factor. There can be few that enjoy the task of carrying bumper packs of toilet roll around the supermarket while doing the weekly shop – far better to pull up and have it quickly packed into the car.
Aside from internet shopping, 2014 saw toilet paper consumers trading up to more premium three- and four-ply products, such as SCA's Moltonel Sensitive, a four-ply product for sensitive skin, complete with a flushable tube. It is this trading-up, fuelled by the explosion of in-store promotions, which is at the heart of the category's value growth. While Moltonel gained extra market share off the back of this, there's no doubt that margins will have been squeezed. Looking ahead, it is difficult to see how retailers and manufacturers can escape this discounting cycle anytime soon, and the category is predicted to see a value CAGR of just 1% to 2019 as a consequence.
Kitchen towels benefit from cocooning
It was kitchen towels, however, that recorded the highest value growth rate in the category in 2014, at 5%. Volume growth, meanwhile, was a healthy 3%. Furthermore, kitchen towels saw growth in unit prices, no mean feat in France's promotion-driven market.
A number of factors have combined to contribute to the success of the category. The product has benefitted from becoming an integral part of French consumers' daily kitchen routine, used for a variety of purposes and replacing the likes of cleaning wipes and napkins. To a certain extent, the stifled French economy has also benefitted rather than hindered the category. Many consumers now opt to entertain friends at home rather than dining out, generating a need for a greater volume of kitchen towels. Lastly, maxi-rolls – twice the size of standard rolls – have gained in popularity, further boosting both volume and value sales.
Kitchen towels continue to have healthy prospects in the years ahead and, for SCA, the largest branded manufacturer in the category, herein lies the best opportunity to add to the bottom line anywhere in French tissue.
Tissues and paper tableware show little spark
The two remaining tissue categories, tissues and paper tableware, both struggled to make headway during 2014, with neither category bulky or cumbersome enough to benefit directly as a result of the shift to click-and-collect. Tissue sales saw a 2% drop in volume and a 1% fall in value, suffering because of a mild winter. Paper tableware, meanwhile, saw flat volume and value growth. Negative growth in paper tablecloths, which have fallen out of fashion, was offset by positive growth in napkins, which have benefitted from the cocooning trend and offer a sliver of opportunity to manufacturers.
Businesses as usual for 2015
Looking ahead, the fate of the French retail tissue market will remain influenced by the performance of the French economy. With no huge improvements likely anytime soon, retail tissue is likely to continue largely in the same vein as 2014, with discounts on premium products keeping value and volume sales positive but eroding margins and stifling any prospects of added value.
The one real glimmer of opportunity lies in the cocooning trend, particularly with regard to kitchen towels and, to a certain extent, toilet paper, simply because the more consumers entertain at home, then the more of both they will need. It is here where innovative manufacturers just might be able to capitalise.