Wausau Paper has said it will strategically reposition the company to focus on the tissue business.
In its 2012 results, tissue case volume grew 3.3% with 4% growth recorded in the fourth quarter.
It invested $220m in a new tissue machine in Harrodsburg, KY, which started production in December.
It now intends to focus its efforts and future capital investment on the continued growth of the tissue business, which it intends to accelerate through organic investment and adjacency expansion.
It said the initial investment in tissue has established the company's "green leadership" in Away from Home tissue markets through "improved product performance and the introduction of new-to-the-market premium recycled products.
President and chief executive Henry Newell said: "Over the past 18 months we have focused on generating cash to fund our $220m tissue expansion, constructing a new tissue machine and upgrading our converting infrastructure while maintaining a conservative approach to working capital and the overall balance sheet.
"This investment is about to begin delivering significant value and our expectations are high as we build momentum and deliver new premium recycled tissue products later this year."
The tissue segment finished 2012 with a 4% shipment growth for the fourth quarter.
Fourth quarter adjusted operating profit was $10.2m in 2012 compared with $10.4m in 2011.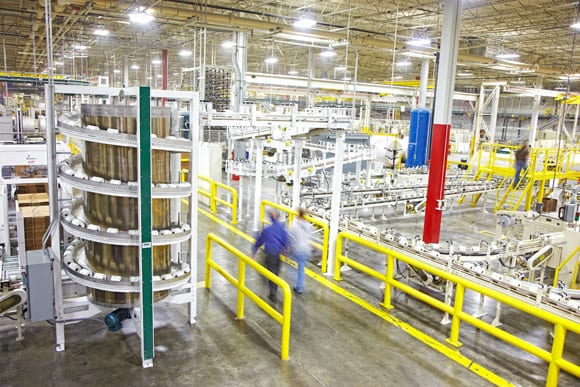 Interior of Wausau Paper's converting facility in Harrodsburg, Kentucky
As a result of the successful Harrodsburg start and other tissue expansion related costs, fourth-quarter adjusted operating results included $2.3m of unabsorbed manufacturing costs.
Full-year adjusted operating profit in 2012 of $41.3m compared with $33.6m last year, with tissue's full-year adjusted EBITDA margin at 20.1% compared with 18.9% previously.
Net sales increased 2.2% and market demand for AfH towel and tissue products increased 1.3%.
Case shipments of tissue's Green Seal-certified products increased 8.5%, and they now represent 54% of total sales compared with 34% five years ago.