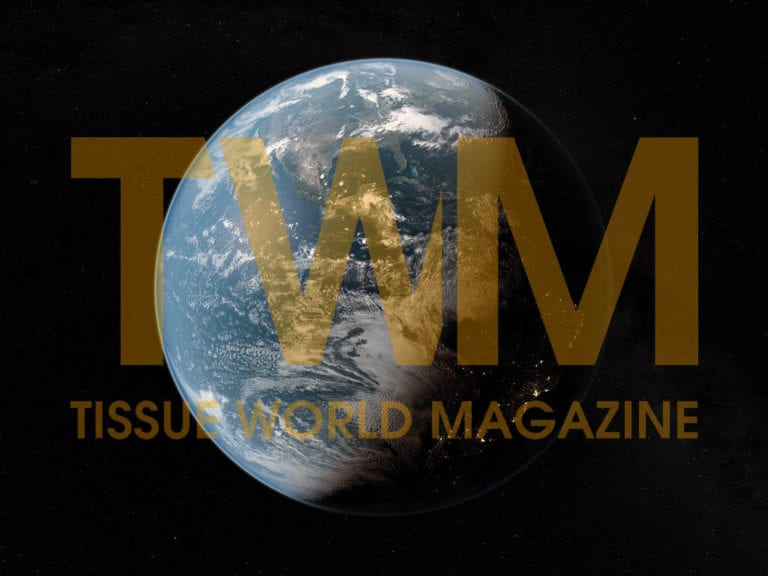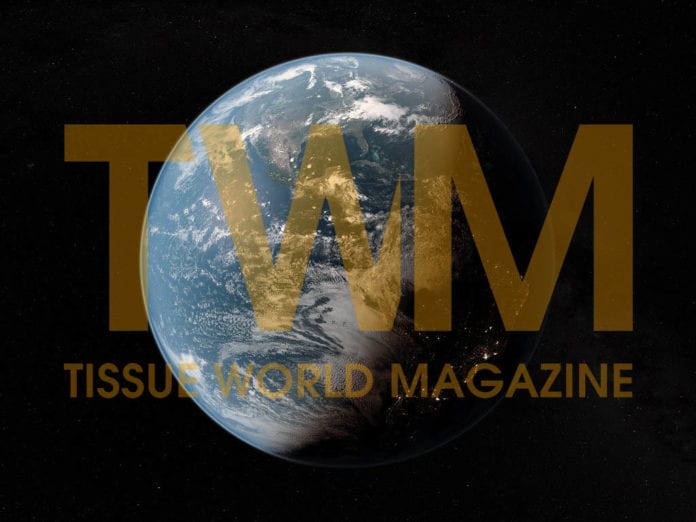 ITALY
Guinness World Record: the world's largest collection of tissue packs goes to…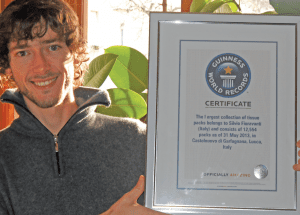 Italy's Silvio Fioravanti has been awarded a Guinness World Record for his collection of tissue packets. He started his collection at the age of 15 in 1996. Currently, the collection consists of 12,554 unique packs from 78 countries.
---
POLAND
ICT GROUP INVESTS IN ICT POLAND MILL
ICT Group is to invest in a new 70,000tpy tissue machine at its ICT Poland mill located in the town of Kostrzyn. The investment would also comprise of additional converting equipment and necessary logistic and civil infrastructure.
ICT Poland has 400 employees and produces 140,000tpy of finished products.
The new machine would eventually be an addition to ICT Poland's first two tissue machines started in 2001 and 2008. The future site would therefore need additional personnel to operate the three full width tissue machines and the fully integrated converting hall downstream.
ICT Group is presently evaluating several investment options in different countries.
However, should the decision for the investment finally fall on Poland, start-up date for the new machine is estimated to be in 3Q of 2015.
ICT Group is headquartered in Lucca, Italy, and has production companies in Italy, Spain, Poland and France.
---
POLAND
BESKIDY ORDERS HERGEN SMART TISSUE LINE
Poland's Fabryka Papieru i Tektury Beskidy has boosted its production capacity after it invested in a Hergen-supplied HCF 920 SMART FIT.
The 2.8m machine has a 50tpd capacity and will work at 1,100m/min to produce light tissue from 13g/m2 up to 30g/m2 from virgin pulp. Its start up is scheduled for the beginning of 2015.
The scope of supply from Hergen includes, approach flow, HCF 920 Innova Flow headbox, Crescent Former unit, complete press section, Steel Ribbed Yankee dryer, Aerodry gas hood up to reel equipped with shaft puller and complete basic engineering since stock preparation till rewinder.
Beskidy is a European producer of high-quality hygienic paper and operates two paper machines and one tissue towel machine.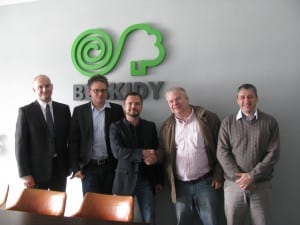 ---
UK
KENNEDY HYGIENE PRODUCTS TARGETS PAPER CONVERTERS WITH PRODUCT LAUNCH
UK-based global washroom dispenser manufacturer Kennedy Hygiene Products has launched the POD – auto-cut paper roll dispenser.
The launch is targeted at paper converters and it incorporates the Reserve System, a feature aiming to reduce paper wastage at facility level.
The launch is in response to customer demands for more environmentally friendly solutions.
The POD with Reserve System has an integrated patented stub roll loading mechanism, where a new roll can be loaded into the dispenser before the previous roll has been fully used.
When the stub roll is fully depleted the mechanism transfers to the new full size roll.
The company said that as well as total use of the stub roll which eliminates paper wastage, "end-user satisfaction is enhanced by continuation of supply".
The POD is manufactured at Kennedy`s premises in East Sussex, Southern England.
It has been designed to accommodate a large variety of paper roll types available on the market with diverse roll lengths, diameters, widths, and paper thickness. With its standard setting, the unit has been optimised for rolls with a core diameter of 38mm, a roll width of 250mm and roll diameters up to 200mm, but can be adapted to specific needs including requirements for proprietary systems.
Kennedy Hygiene Products manufactures and supplies integrated washroom hygiene systems.
It was established in 1961 and has since grown from its roots in hand drying to its current fully integrated range of washroom hygiene systems which encompasses hand drying, hand washing, air freshening, sanitizing, feminine hygiene, nappy and medical waste and toilet tissue families plus their associated consumables.
The company also produces bespoke dispenser designs and colours and works with clients to fulfil their specific requirements.
Kennedy operates under ISO 9001 and ISO 14001 quality and environmental accreditations.
---
UK
POPPIES EUROPE INVESTS IN MAFLEX LINE
UK-based manufacturer of catering disposable products Poppies Europe has invested in a complete production line from Maflex following its acquisition of McNulty Wray.
The company said it made the investment on the back of customer demand to be a "one stop shop".
Armindo Marques, manager at Poppies, told TW: "We have naturally decided to expand our prominently catering range towards hygiene products by investing in a complete production line from Maflex.
"In the year planning to this project we have developed a new brand dedicated to hygiene, Poppysoft."
He added that Maflex is a dynamic, fast growing company that has "already established a strong reputation for reliability and efficiency".
He said: "The most interesting characteristic of the Maflex line is the flexibility, which perfectly suits our business.
"We consider this feature an opportunity to satisfy all the range of customer requests."
Poppies Europe has 108 staff and it acquired McNulty Wray at the end of 2012. The move significantly boosted its position in the napkins sector.
Poppies Europe was established in 1996 and produces catering disposable products such as napkins, tablecovers and placemats.
It has already put in an option for a second Maflex line.
---
SPAIN
LC PAPER BOOSTS PRODUCTION WITH REBUILD
Spanish tissue manufacturer LC Paper has increased its competitiveness after it signed a contract with Toscotec and sister company Milltech to deliver a major dry-end rebuild of its PM2.
Based in Besalu, start-up of the rebuild is expected in the second quarter of 2014.
The delivery includes a major rebuild of the PM2 dry end and press section, which will be replaced with a TT DOES (Drying Optimisation for Energy Saving) package.
This will feature a double presses solution with a rebuild of the felt run, a new TT SYD-15FT with doctoring system and a Duo-system Yankee hood, SMART eMT type from Milltech.
Maximum drying production with a machine trim width at reel of 3,050mm will be 130tpd.
LC Paper chief executive Joan Vila said: "After a detailed analysis of our project we decided to choose Milltech and Toscotec again for the innovative solution they are able to provide."
LC Paper was established in 1881 and produces niche tissue products on two tissue machines, producing 45,000tpy of tissue for the AfH market.
In 1993, the company introduced a cogeneration plant.
It was the first plant with a diesel engine of 6.5MW in Spain that was expanded in 1999 with a second 6 MW engine.
In 2009, LC Paper launched PM3 with a patented process that takes gases from the cogeneration plant to dry the paper by means of an innovative hood provided by Milltech.
In 2011 the first diesel engine was sold and in 2012 LC paper installed a new gas engine. Some 6 MW of this energy will be used to feed the new hood by Milltech on PM2, with a further decrease of energy consumption.
---
TURKEY
TEZOL TÜTÜN KAGIT BOOSTS CAPACITY
Turkey's Tezol Tütün Kagit has increased its capacity after it signed for a Valmet-supplied tissue production line for an undisclosed sum.
The new tissue machine will be installed at the family-owned company's new mill site in the city of Mersin and start-up is scheduled for 2015.
Ersin Tezol, chief executive of Tezol Tütün ve Kagit San ve Tic A.S, said: "The new tissue line will fulfill Tezol's ambition to produce environmentally friendly products of highest quality in a cost-efficient way."
The delivery will comprise a complete high-speed tissue production line featuring an Advantage DCT 100+ tissue machine equipped with an OptiFlo headbox, a cast iron Yankee cylinder, an Advantage ViscoNip press and an Advantage AirCap Yankee hood.
The new line will have a width of 2.85m and will increase the company's existing production for the Turkish market by another 30,000tpy of bathroom tissue, towel grades and diaper tissue.
The raw material for the new production line will be virgin fibre and recycled fibre.
Tezol Tütün was established in 1932 and entered the tissue market in 2000.
Over the past nine years it has invested in a tissue machine in Torbali, 2004, a deinking line in 2007 and a second tissue mill in 2009.
The company is a major manufacturer in the Turkish tissue market, supplying towel, napkin and toilet paper products under the brands Softy, Mare and Ecco as well as private label products.
It also exports recycled tissue and finished products to Europe, the Middle East, Russia and Central America.
---
UK
FIRE STRIKES KIMBERLY-CLARK'S NORTHFLEET TISSUE MILL
(News from RISI) A small fire broke out at Kimberly-Clark's Northfleet tissue mill on 27 January in the morning.
The cause of the blaze remains unclear for the time being and an investigation is underway, said a spokesperson from the company.
There are no reports of injuries of major damages and operations were not affected, the spokesperson added.
The Northfleet mill produces 75,000tpy of tissue.