By former senior paper industry officer Omar Chabane
With North Africa awakening from a period of inertia, TWM spotlights Faderco, a company with big ideas whose investment is driving the momentum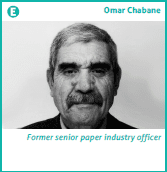 A previous article published in TWM in June/July 2009 concluded: "… despite constraints due to a financial crunch and a gloomy international environment, the tissue paper segment in North Africa appears to be prospering in both investment and trade".
The truth of that statement has never been clearer. With substantial new capacities being erected in Algeria, the country will before long – June 2015 – more than double its present capacities in tissue paper.
One of the key players helping the country achieve this growth is Faderco, an Algerian company active in the industrial hygiene field through cotton derived products and hygiene items with absorbent pads.
It was established in 1986 by Fatima Habes, a pharmacist making products and items from cotton derivatives in the suburb of Algiers. After a decade of uncertainties, it pushed ahead and launched a feminine and baby hygiene output. In 2005, it diversified further to gain more market share and invested in a new complex, while over the course of the last few years it has improved its integration on the upstream side and its production of tissue paper rolls in order to reduce import costs, secure procurement and become a supplier of tissue paper to both local and regional converters.
This bold move in addition to the transfer of its new paper investments from the Algiers region to Sétif, a city located 300kms North-East of Algiers, proved a real opportunity for Faderco. This was for a number of reasons: the Algiers region was unable to meet the requirements for land from industrial investors whereas the Sétif region is very dynamic and active. Its authorities are welcoming and encourage investors to settle down there. In terms of population, the national census of 2008 ranked Sétif at near 1,500,000 inhabitants, second behind Algiers.
The company's investments have seen it grow steadily over the past seven years. This growth is fuelled by imports both in finished product items ready for sale to the end-user as well as in reels to supply local converting machines whose number is quite consistent (about twenty converters all over the country).
In Algeria, statistics for 2013 show 12,000 tonnes of tissue items were imported for distribution in the domestic market as well as 9,000 tonnes in reels for converting purposes. One local tissue producer when fully up and running will add 12,000tpy of capacity to the marketplace. The local market is absorbing around 33,000tpy and crucially it's open to digest much more.
Imported finished tissue items tripled in just seven years, jumping from 4,000 tonnes in 2006 to 12,000 tonnes in 2013. Imported rolls for converting increased from 1,500 tonnes in 2006 to 9,000 in 2013. While per capita consumption is low at nearly one kilo, it is a substantial increase from 0.3 kilo five years ago. The potential is vast and the market is still offering good potential and this is set to increase as more and more people change their habits with the rapid substitution of toilet paper instead of water, which has traditionally been the case, as well as the substantial investments devoted to hotel infrastructure which in turn increase the demand for tissue products.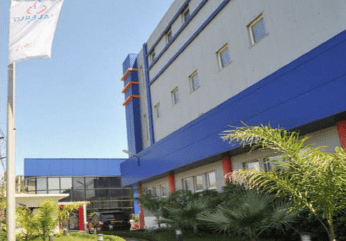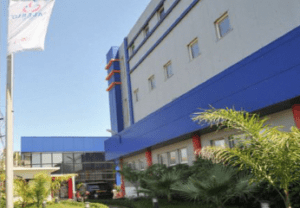 Tissue machine project site underway
Since 2012, Faderco has run Fabio Perini, OMET, DIATEC, DCM (07) machines dedicated to tissue, baby diapers, feminine and adult hygiene products added to its 15 running machines, and further investment is likely. Operating officer Sid Ahmed Hasbellaoui says the aim has been to take the lead in the Algerian tissue market with a 70% share in feminine hygiene products while covering 25% in market share for baby diapers. The company is also a pioneer as far as adult diapers and incontinence items are concerned estimating the company market share around 30%.
In October 2013, Faderco struck hard after it ordered a brand new tissue line from Valmet, a turnkey contract for a 30,000tpy Advantage DCT 100+ tissue line. Start-up is planned for June 2015 and once up and running it will produce high-quality facial, toilet and towel grades. A wrapping machine from Fis Impianti has been ordered to wrap the rolls coming off the production line.
The investment means the company will control the converting market where it is a key player but it will also secure its machines supply and enlarge the scope of its influence and competition with another important player – Tonic Industries – that already produces tissue paper.
According to Hasbellaoui, 40% of the whole production will feed the converting lines of Faderco, with some 12,000 tonnes converted in towel rolls, hankies, toilet paper and napkins to be sold to local converters located all over the country. The remainder 60% of output will be directly sold as raw paper.
The Algerian market is now wide open to brands imported from Asia and the Middle East. However, Faderco has fought hard to maintain its own position and reputation. One of the ways it has done this is by certifying its products with ISO 9001. Water consumption will also near 400m3 per day and the effluents will reach 0,6kgs per tonne of paper produced and will undergo a water treatment and be covered as clean water. The new line will also supply the National Grid and the annual needs are estimated to three million Kwh.
In its commercial strategy export is an asset too, and the company targeted the sub-Saharan region where countries such as Mali, Niger and Nigeria with their large populations represent important export potential. The company exports products to other countries in North-West Africa and sub-Sahara.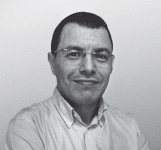 Faderco's new tissue machine is undoubtedly the most recent machine to be installed in the country. Its designed capacities will put it in the first rank, not only in Algeria, but in the entire North Africa region, and even slightly overpass the Metso-supplied Advantage DCT 100+ machine started up in Jeesr Industries in neighbouring Morocco at the beginning of 2013.
Both capacities combined will give a big boost of no less than 60,000tpy of extra capacity, never mind the additions soon to come on stream in Tunisia where another machine of lesser capacity is reportedly to be installed.
This momentum is confirming how North Africa as a rule and Algeria in particular are catching up, rising from their ashes after a long period of inertia and "lean cows". The tissue industry will certainty witness other achievements in the future here.