By Euromonitor International's Svetlana Uduslivaia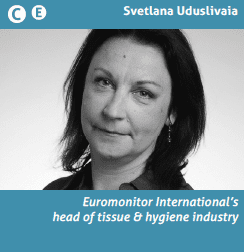 The fifth member of the BRICS, South Africa is seen as a major developing consumer market and is a focus of strategic initiatives and planning by domestic and international industry players. The country also ranked highly among its regional peers in the Ease of Doing Business 2015.
However, the rising cost of utilities and fuel as well as labour unrest, coupled with the falling exchange value of the South African rand, all contributed to South Africa's poor economic performance in 2014. Subsequently, consumer income levels remain under significant pressure, especially for low-income households. Furthermore, proportionally the country 's middle class households – the key factor behind spending on consumer goods in developing countries – did not increase over 2009-2014, lingering around 14.5% of the total households in the country, while their disposable incomes grew by a modest 2% CAGR over the same period.
Toilet paper saves the day
Weak economic performance has had an unfavourable impact on demand for household goods and resulted in a major rationalisation of consumer spending on tissue products, with many South African households turning to toilet paper for all their tissue needs. Toilet paper remains by far the largest and the best performing category in retail tissue in the country. Moreover, tight consumer budgets have inhibited wider consumer acceptance of value-added tissue products. Demand for recycled products, typically higher priced, also remains low. Financial insecurity shapes up consumer preferences, and environment is not on the top of the agenda for most households at the moment.
Focus on economy and value shapes competitive landscape
The low purchasing power of many South African consumers is pushing them towards cheaper retail tissue options, which creates good opportunities for private label but presents challenges for branded products manufacturers to generate higher margins and revenues in consumer tissue business.
In 2014, private label products saw double digit growth in sales in value and volume in the country. Also, significant emphasis on value and price were among the factors that until recently supported the leading position of Nampak in South Africa's retail tissue, as the company marketed a wide range of affordable products under Twinsaver. However, in late 2014 the company announced a number of changes in its operations, which included the sale of tissue division completed in 2015. In the words of the Nampak chief executive André de Ruyter "The disposal of these businesses forms part of Nampak's portfolio optimisation strategy to unlock cash from low-margin divisions and redeploy it into high-yield and high-growth opportunities in the rest of Africa."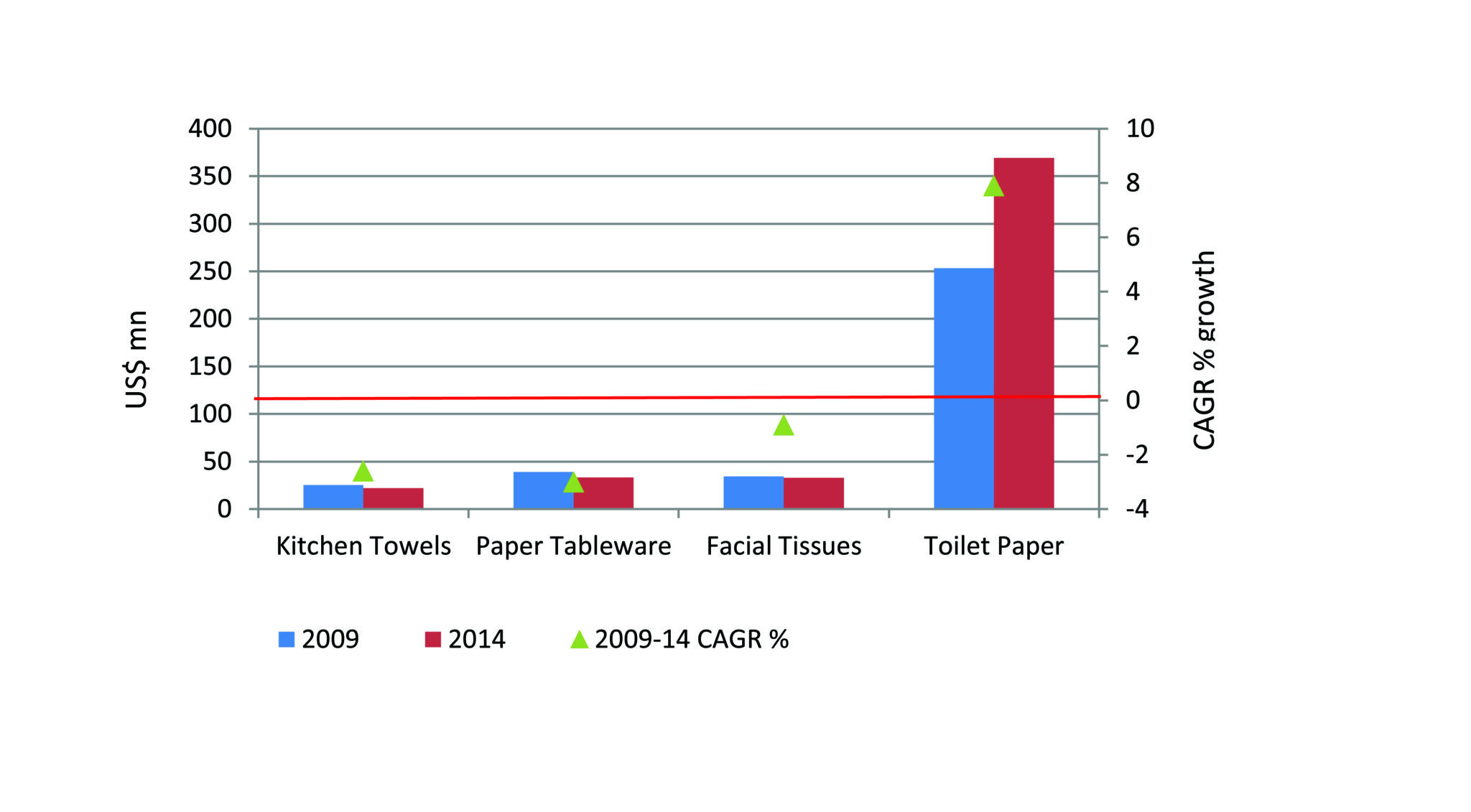 Nonetheless, while economy and price dominate the agenda for the majority of consumer spending, there is a room for quality and value-added products that address the needs and wants of wealthier households and rising urban consumer. Kimberly-Clark's strong position and further expansion in the country attest to the potential in mid-priced and premium price segments, especially as a strategy for long term growth. The company continues to pursue opportunities in South Africa as a part of a five-year expansion strategy launched back in 2011 which includes brand innovation, investment in local production facilities, geographic expansion, and possible acquisitions. Kimberly-Clark's innovation in 2014 included an environmentally-friendly product under the brand Baby Soft within toilet paper. Enviro-Roll toilet paper is available in 2-ply format and designed to be eco-friendly, space efficient and cost effective. The production of Enviro-Roll is also FSC-compliant, being made using sustainable sources and responsible forestry, reducing therefore its impact on the environment. In the same year the company also ventured into moist toilet paper in South Africa, a novel category for the country. Kimberly-Clark introduced Baby Soft moist and flushable toilet wipes, which it refers to as 'washlets'.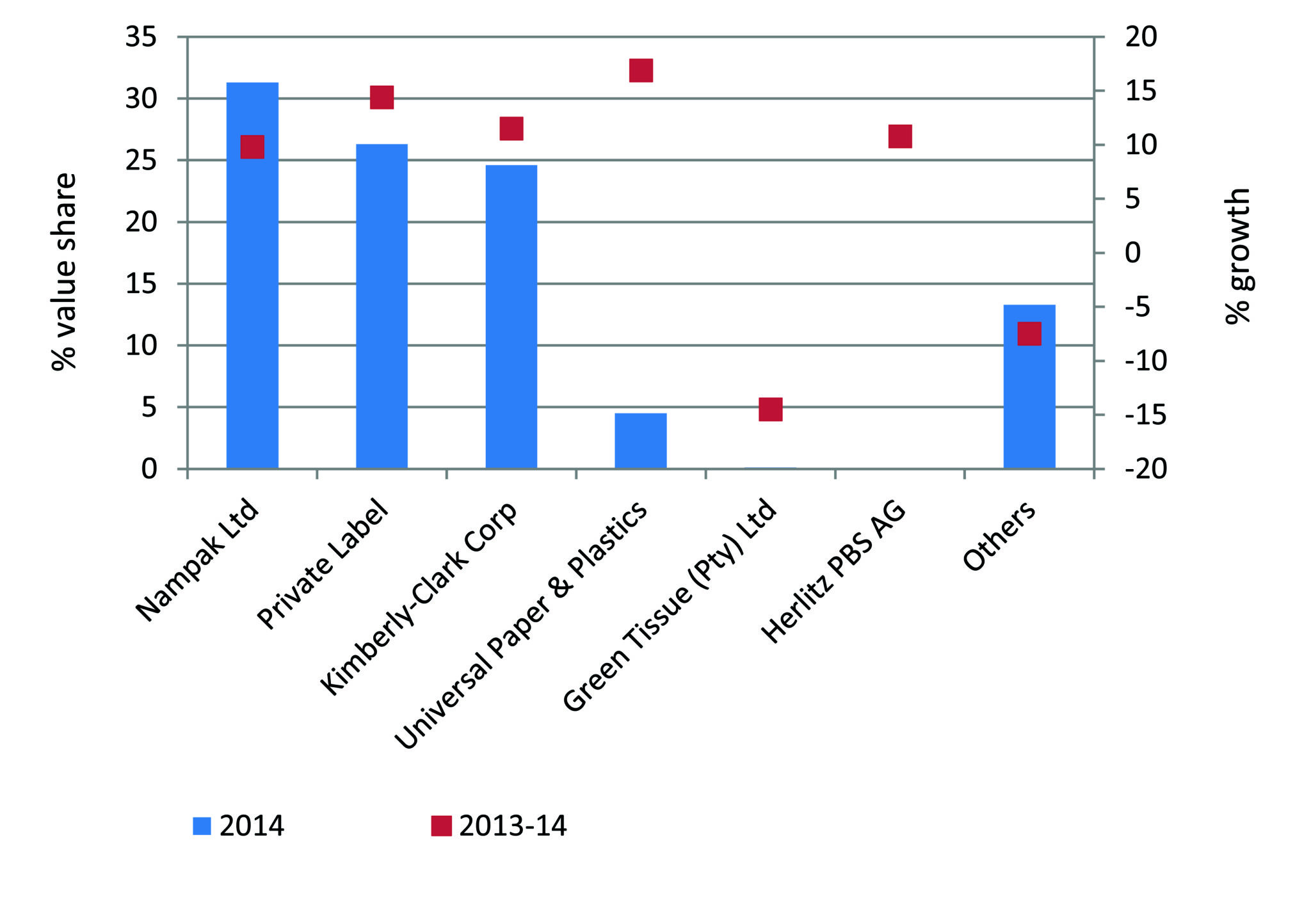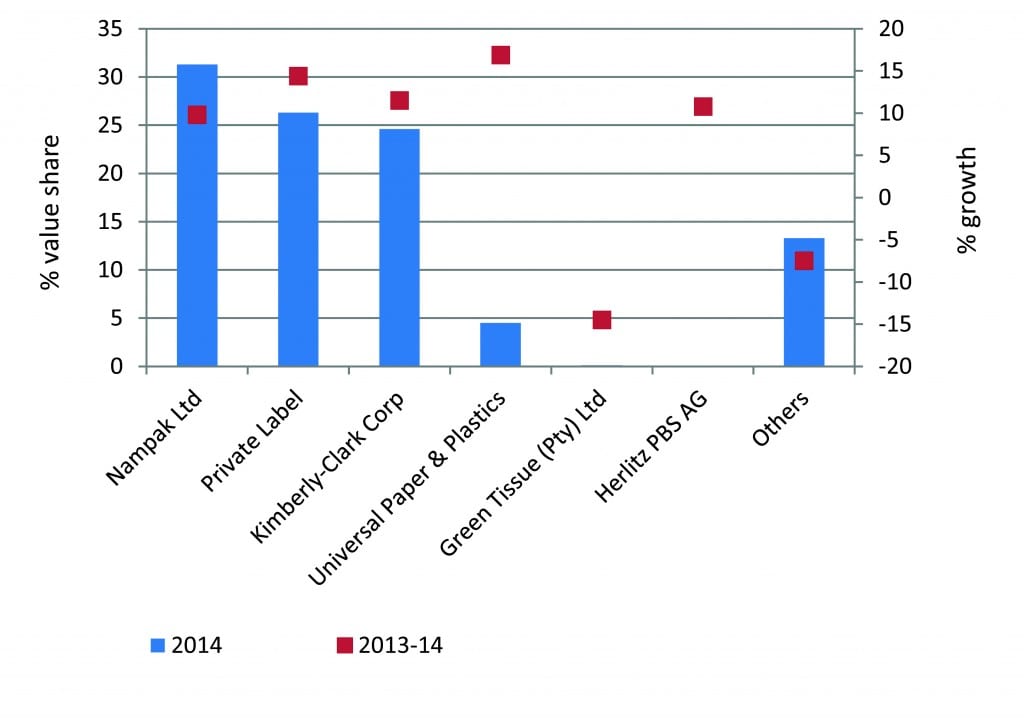 Mixed prospects ahead
Given the low levels of consumer confidence in South Africa, rising inflation and still weak job creation trend, the growth prospects for retail tissue are mixed. Overall, Euromonitor projects that retail tissue will see a very healthy 9% CAGR increase in volume over the next five years through 2019. Value of retail tissue sales, on the other hand, is expected to record only a modest 2% CAGR, reflective of continuing strong emphasis on economy and affordability on the part of consumers. Furthermore, growth will be driven chiefly by toilet paper as many South African households will likely continue to rely on toilet paper to meet most of their tissue needs.
Products like kitchen towels, paper tableware and facial tissues are expected to see a negative value over the next five years, although a modest positive trend in volume terms. With widespread poverty, most South Africans see these as discretionary luxuries they cannot afford.
Consumer demand for low prices will continue to benefit private label. On the other hand, branded products manufacturers will likely use promotional activity and emphasise smaller package size to respond to the needs of budget-strapped South African households. Promotional strategies will help buoy volume of sales, but will continue to adversely affect profit margins.
However, long term prospects might not be as bleak, and more opportunities for the consumer tissue industry are likely to open up with improved long term market outlook. Additionally, although slower than in many other markers, middle class households are expected to increase in numbers. While proportionally they will continue to account for about 14.5% share of the total households, the actual number will increase by over 1% over the next five years to over 2.3 million households in 2019. More importantly, average disposable incomes of the middle class households in South Africa are expected to see a 3% CAGR increase over the next five years. This represents a somewhat accelerated pace of growth compared to the past five years. Middle class consumers will present a good opportunity and a platform for the industry revenue growth. Investment in a wider product portfolio, from economy to value-added consumer tissue, can help to secure gradual trading up and improve prospects for long term growth.