Solenis is the global market leader in both process and functional chemistry offerings to the tissue and towel industry. Whether the challenge is to produce a softer, stronger or more absorbent product; to improve machine productivity; or to start up a new machine, we can help. We're the world's largest supplier of creping technologies to the tissue industry. We also offer the most comprehensive portfolio of water treatment chemistries available.
---
Paradigm Shift: Improved Dry Strength in Bath Tissue without Softness Impact
Solenis is always asking the tough questions as they pertain to producing higher quality products in a more cost effective manner. One of the long standing paradigms we have been focusing on at Solenis is how to overcome the correlation between increasing strength without negatively impacting softness. Recently, through the development of Hercobond™ 7550 dry strength resin, we have made a game changing break that will allow our customers to increase the strength of their bath product without seeing the negative impact of softness loss when using other strength additives such as GPAM or starch.
Case History
Mill Overview
Tissue and Towel producer located in the United States
Virgin Fiber
Light Drier Crepe Machine
Premium bath
We commenced a treatment program using Hercobond™ 7550 dry strength resin to increase strength to specification for the customer's bath grade. It was applied at 1.1 kg/t. Within an eight hour period the mill operators were able to reduce long fiber by 3.5% (see figure 1)
Figure 1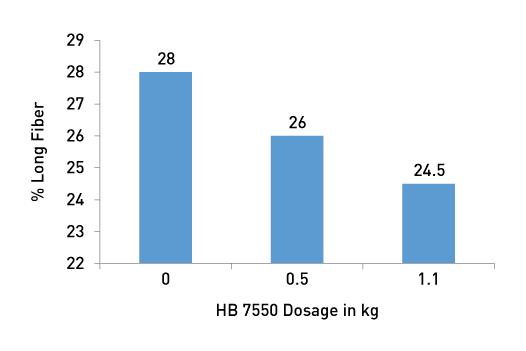 After the system was settled out the tensile index was higher at the dosage of 1.1 kg / t. (See figure 2)
Figure 2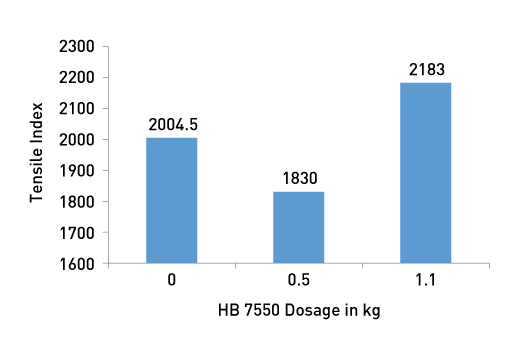 With the reduction in long fiber achieved and tensile strength now above specification the only other question that had to be asked was, 'what is the softness of the product'? The softness of the bath actually increased to the point that the customer was able to eliminate the use of the wet end softener.
If you are looking to improve the strength of your product while maintaining and in some cases want to increase softness, contact your local Solenis representative.
Visit our Tissue and Towel page
---
More Information
Contact our experts for more information about how Solenis can help you.