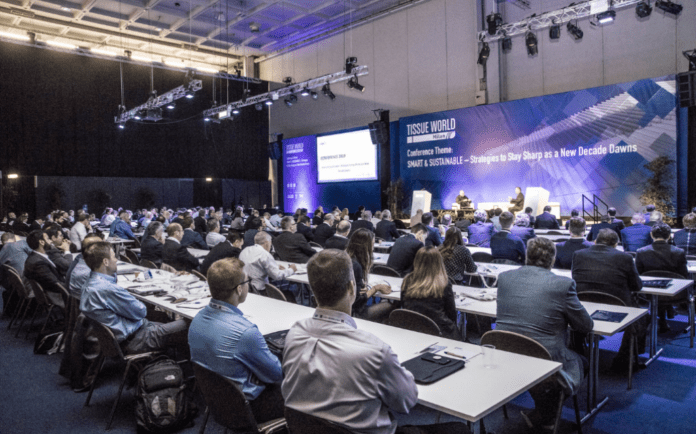 Operational efficiency, the green energy transition, future fibres: Tissue World Düsseldorf's conference will discuss how the European tissue industry is at the core of the industry's transformation – and what the future holds.
With talks by leading executives from tissue mills and machinery manufacturers from across the supply chain, as well as contributions from specialists in different industry sectors, this year's exhibition is a blueprint for the development of the global tissue business.
With a theme of The Roadmap, the Riskmap: Plotting a Course for Tissue in Uncertain Times, the conference will be held between 28-30 March 2023 in Hall 8, Messe Düsseldorf.
The Senior Management Symposium will kick start Day One with the theme Navigating A New World and will include talks from:
Martin Krengel, Chief Executive, WEPA Group, Germany: Navigating a European family business in the VUCA world – 2023 as an important year for resilience and sustainable success;
Antonia Colibășanu, Chief Operating Officer, Geopolitical Futures: The Geo-economic Challenges for 2023;
Donato Giorgio, President Global Supply Chain, Essity: The supply chain as a competitive advantage in a VUCA world.
Post-pandemic consumer trends and brand marketing will lead session two's topics and will include talks from:
Sara Riis-Carstensen, Strategic Brand Advisor, LEGO's former Global Brand Director: Building a Successful Brand. Brick by Brick;
Ana Tique, Consultant – Client & Insight, Euromonitor International: The changing face of European tissue consumers – Beyond the pandemic;
Riika Joukio, Executive Vice President, Sustainability and Public Affairs, Kesko: Sustainability is a Choice.
Technical sessions on the opening day will include talks by:
Hampus Mörner, Manager, AFRY Bioindustry Management Consulting: Fibre supply and manufacturing cost dynamics;
Luca Linari, Managing Director, Andritz Novimpianti: Fossil-free tissue production;
Ulf Johnsson, Manager, Sustainable Mill solutions, Valmet: Holistic approach and new technology to minimise our footprints;
Peter Oksakowski, Managing Director & Owner, BHM Ingenieure: Building Information Modeling (BIM) – an innovative tool for planning and maintaining a tissue mill;
Roberto Pablo Mirande Duhalde, Product Development Director, ENCE Energía y Celulosa: Naturcell – the best alternative to reduce the environmental footprint of your paper.
DAY TWO: Hawkins Wright, Fisher International, and Metsä Tissue to headline
On 29 March, the SMS's theme of Supply Chain and Other Risks will include talks from:
Pierre Bach, Research Manager, Hawkins Wright: Supply/Demand; Capacity Outlook; Production Costs; China Situation;
Fisher International's Senior Consultant Urban Lundberg: Challenges and uncertainties facing the Tissue Industry;
G DATA Cyberdefense's Security Evangelist Eddy Willems: Cyberdangers and The Human.
Talks under Session Four's Defining a Sustainable Future:
CEPI Director General Jori Ringman: Meeting the 2030 and 2050 targets;
Metsä Tissue Sr. VP Central Europe's Tobias Lüning: Hygiene for tens of millions of people every day – sustainably;
Khalid Saifullah, Managing Director, Star Tissue: Sustainability in Action: Building a resilient and thriving business;
Laure Miribel, Deputy Chief Executive, MP Hygiene, and Marc Miribel, President, MP Hygiene, France: MP hygiene on track for pioneering high speed papermill with exclusive air system and strengthening its CSR strategy.
Technical Sessions will include talks from:
Harm Bergmann-Kramer, COO, Member of the Management Board, WEPA Group: How innovative production processes are paving the way for a more sustainable future in our industry – WEPA's new raw material innovations for even more sustainable hygiene paper products;
Claudio Muñoz, Sr. Director, Global Strategic Marketing, Körber: Warm-up Contactless enables tissue converters and product developers to achieve product differentiation at a better cost;
Matteo Giardini, Business Development Director Plusline, Futura Converting: SDGs through innovation;
Alberto Colombo, Project and Key Account Manager, OMET: Innovative and sustainable new technologies;
Enrico Ruglioni, European Sales Director, Maxima Tissue: Solutions for AfH Rolled Products.
DAY THREE: Innovative materials, products and processes – case studies
Technical sessions will include talks from:
Stefan Turi, Industrial Network and Cybersecurity Sales Executive, Rockwell Automation: How to Accelerate Digital Transformation Securely;
Massimo Bertuccio, Sales Director, Tissue and Robotic Division, E80 Group: The Smart Evolution: Beyond 4.0;
Prof. Kamran Paynabar PH.D.Prof., Co-Founder and Chief Science Officer, ProcessMiner: Moving from Descriptive to Prescriptive Analytics Using AI: Success Stories in Tissue;
Matthew Callicott, OPTIX Development & Implementation Manager, Global, Solenis Global Digitalization Strategies;
Luca Billi, Sales Manager, A.Celli: A. Celli & Intertrade Hellas – A case study of success;
Jarmo Ropponen, Head of Sales and Marketing, Tietoevry Industry, Pulp, Paper, Fibre;
Bud Chase, Vice President, Tissue, EDT: Using Enzymes to Reduce Tissue Production Energy Costs by 5+%;
Maurizio Tomei, Sales & Customer Service Manager, Oradoc MTK: WEPA trusted Oradoc innovation in flexible Yankee doctoring.
To view details of the full conference agenda, go to here.
To register to attend, go here.