Tissue World asked the world's leading converting machinery manufacturers to comment on where their R&D efforts are heading in our annual converting technical theme. MTorres and Maflex responded. A TW report
TW: ON WHAT AREAS ARE YOU FOCUSING YOUR R&D EFFORTS ON IN 2014?
Pablo de la Fuente, MTorres sales director: "We have begun to work on a solution to enable us to increase our presence in emerging markets. We will maintain our principal differences such as:
Perfect web tension control.
Centre driven chucks, beltless, good results with any type or quality of roll. This is the most important aspect of working with the latest tissue technologies of structured tissue.
Automatic splice, increases productivity. No downtime between changes.
We will also look at reducing the overall footprint of our equipment, while offering many of the same advantages. When there are plant restrictions, we will maintain the most critical benefits of the MTorres system."
Francisco de Rita, Maflex, area sales manager for Iberian Peninsula and Latin America: "Our R&D department has always considered customer's needs as the starting point of its work with the concrete goal of resolving at its best any type of request presented. Our target customer is the small/medium converter. With some of our models already capable of reaching speeds of 550m/min, the requests that we receive are not so much aimed at obtaining greater performance, but rather other key attributes such as reliability, ease of use, safety and efficiency. Maflex has always worked successfully in this way, building complete converting lines manufactured according to the highest standards in every respect. In 2014, we intend to strengthen the concept of user friendly, the characteristic that best defines us, which we may call the cutting edge technology that stays friend to the operator. Specific areas to be developed during 2014 relate to safety, the minimisation of the interventions of high maintenance and after-sales service."
TW: WHAT IS THE KEY ISSUE YOUR CUSTOMERS ARE FACING IN 2014 AND HOW ARE YOU SUPPORTING THEM?
De la Fuente: "More and more, customers see the importance of a good harmonisation of their lines. We don't manufacture complete lines but our unwinds are greatly increasing customer's productivity, reducing downtime. Also, every time the customers are working with a structured tissue, the Centre Driven (beltless) technology is much more gentle with the substrate."
De Rita: "We believe that in 2014 the problems presented by the customers, in general, will not be different from those of the past. We have always had a variety of demands made to Maflex in various stages of development of the work. From the beginning, we decided to provide "tailor-made" solutions for each situation, making this one of our company's strengths and identity. Our overall goal is peace of mind for our customers and we achieve it through an individualisation of each project. Customisation is done by performing field analysis which allows us to formulate custom projects. After installations are complete, direct support continues through the Customer Care Department which provides specialised technicians for either remote (Teleservice) or on site assistance. This enables us to accompany the growth of a customer over time. Thus we help them improve the quality of work, performance, and productivity in a highly flexible way."
TW: HOW ARE YOUR PRODUCTS CONTINUING TO MINIMISE DOWNTIME BETWEEN CHANGES IN PRINT DESIGN, EMBOSSING DESIGN OR ROLL FORMAT?
De la Fuente: "We can only talk about the unwinder and the automatic roll change. Our products continue to improve thanks to our customers. They are the ones who help us continuously develop and improve our equipment with their suggestions. Our R&D department is continually working on new and improved solutions."
De Rita: "Minimising downtime has been a focal point in our R&D department for a long time. Since all of our customers are looking for the utmost in productivity in each stage of the converting process, all of our machines are designed to require shortest possible time between production changes. Changing the cliché in our printing unit IRIS is very simple and takes only five minutes thanks to the cantilevered sleeve device.
"Changing out the embosser rolls (different patterns) on our HELIO and HERACLE embossers can be carried out in 30 minutes. The same is true for changing the cliché roll to match the width of the paper being used. Thanks to the latest evolutions of the LADON log saw, format changes of the finished rolls can take place automatically, thus eliminating line stoppages."
TW: HOW ARE YOUR AUTOMATION FEATURES IMPROVING PRODUCTIVE EFFICIENCY? DO YOU HAVE ANY CASE STUDY EXAMPLES?
De la Fuente: "We don't only talk about minimised downtime, but completely eliminating it, increasing productivity of all the lines of our customers. Of course this is true with lines equipped with our unwinds, but also for the rest of the lines in the same facility.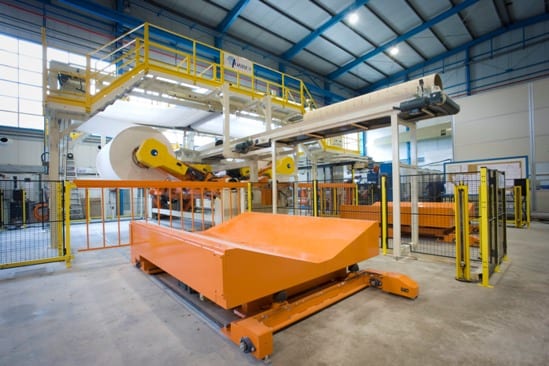 "For instance, we have a customer who will put all of the "bad" or low quality rolls on the rewinder equipped with the MTorres unwind. By "bad rolls", this would be rolls that are severely out of round, rolls with multiple marked splices, or rolls with poor quality paper. They will save the "good" rolls for their other rewinders, the ones without the MTorres unwinds. They will take advantage of the fact that our unwinds are much more forgiving and don't require the lines to stop to make roll changes, or to avoid a marked splice, and have excellent tension control to run these rolls, while maintaining a good production rate. In this way the MTorres unwind improves productivity on the line where it is installed, as well as the overall plant's operating efficiency, since they can handle a wider range of product quality."
"We don't only talk about minimised downtime, but completely eliminating it, increasing productivity of all our customers' lines"
Pablo de la Fuente, MTorres
De Rita: "Our converting lines are designed to maximise production efficiency. This is achieved by the use of increasingly more powerful automations. All Maflex equipment allows you to appreciate the efficiency of production linked to automations in three main aspects: control, safety, and energy savings.
"Our converting lines are designed to maximise production efficiency"
Francisco de Rita, Maflex
"The new Maflex lines allow the operator to control all parameters of production and all machine functions through a single interface (HMI). This is possible thanks to sophisticated software and all timing adjustments being controled by motors. Thus, in addition to increased speed, simplified setup and product changes, the operation becomes much safer because it is no longer necessary to physically adjust the machine while it is in motion.
The MERS (Maflex Energy Regenerative System) is a system successfully developed for several years that allows the recovery of energy dissipated during braking of the motors to be reintroduced on the power grid. In addition to energy savings for the customer, this also minimises environmental impact. Automating older equipment is another way we have been able improve production efficiency for our customer. We performed upgrades on manual machines to make them fully automatic. This allows them to reduce, if not eliminate, the need for operator intervention on the lines. In some cases productivity has increased so much, the customers needed to replace the downstream machinery with more efficient or faster models."