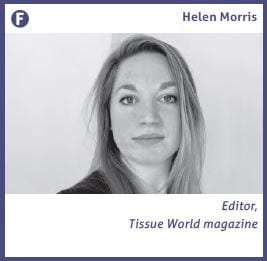 I like the sound of Vårt Finaste Toalettpapper. It means, as I'm sure you will have worked out, Our Finest Toilet Paper.
It was launched by the grocery retailer ICA Sverige in Sweden in 2015, and it reminds me of a clever advertising strategy in the UK by a paint maker who declared that its product "Does exactly what it says on the tin." Simple, clear, and apparently straight-talking honesty.
Vårt Finaste Toalettpapper is what it says – 5-ply, in contrast to the more typical 3- or 4-ply. When ICA Sverige cunningly says 'vart' it hopes that everyone thinks that it's not just ICA Sverige's finaste, but also Sweden's finaste.
This is the evolving battle in Scandinavia's mature market where tissue penetration is as near to complete as makes no difference, but where competition has been so fierce that there have been victims. Mills have gone, long traditions have been streamlined. Innovation and premiumisation are intense. Efficiency has been upgraded and new markets have been sought. By the stunning Drammensfjord in Norway a battle for survival is being won in what used to be known as Paper Valley. On the brink of closure in 2013, Vajda- Papir Scandinavia is now transformed … expanding exports and planning 15% sales growth.
High-end quality is the driving force at Sweden's Rexcell Tissue & Airlaid. TWM journeyed among the elk, lakes, forests and snow in Västra Götaland to reach Skåpafors – it's as exotic as it sounds – but by managing director Stefan Åbom's own admission is located "close to nowhere." This is another survival story.
After toughing it out, a modern mill is setting its sights outward from nowhere further into Europe, and now Asia, with its leading table top products. TWM's Scandinavia Regional Report tells a fascinating story.
Tissue World Milan set to break all the records 
Hurry, because space is already at a premium. As Italy is set to host the world's  largest gathering of tissue professionals for the first time from 10-12 April 2017, 90% of exhibition space is taken as of December with more than 185 leading companies from 30 countries. Alongside the trade show, Tissue World Milan will feature a three-day conference:Change is the only constant, but where is the tipping point? The Senior Management Symposium (SMS) will take place on 10 April and will examine crucial issues and topics that can be change-drivers for success.
Many top speakers will be passing on their knowledge. A variety of side-events and entertainment, including the Gala Dinner and a Happy Hour Reception, will provide top class relaxation. The Tissue World TV-corner will also feature live-interviews broadcasted over the entire showfloor. For more details on Tissue World Milan, visit www.tissueworld.com/milan/ or email [email protected].
2017 … bring it on 
TWM would like to wish everyone acrossour vibrant industry the very best for the New Year.