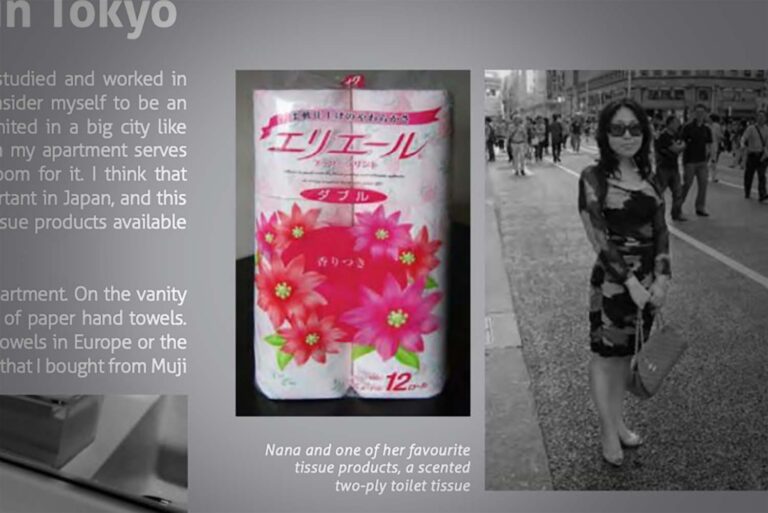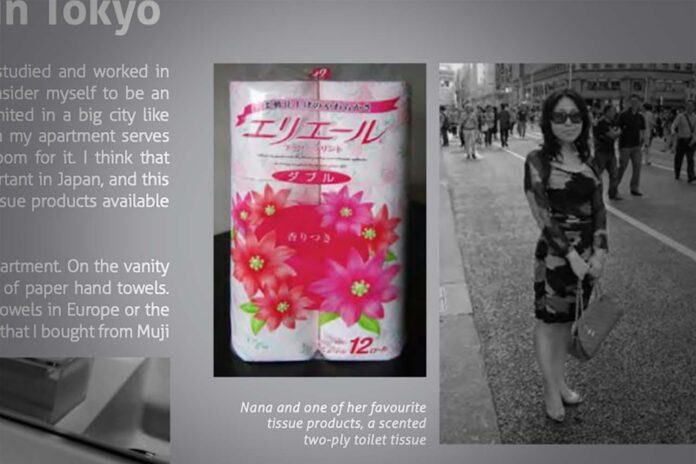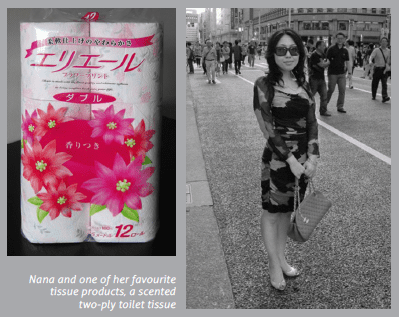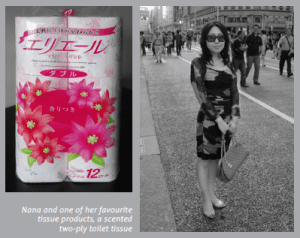 I live and work in central Tokyo. I have studied and worked in Singapore, London and Moscow, so I consider myself to be an international urbanite. Living space is limited in a big city like Tokyo, so it is essential that everything in my apartment serves a precise function, or else there is no room for it. I think that cleanliness and functionality is very important in Japan, and this is reflected in the range and variety of tissue products available here.
Let me take you on a walk through my apartment. On the vanity unit of my bathroom I always have a box of paper hand towels. These are probably half the size of hand towels in Europe or the US. I keep them in a transparent dispenser that I bought from Muji in Ginza. It looks nice. I buy refills from Muji, but if they are out of stock of the size I need I sometimes buy full-sized towels at the supermarket or drugstore and cut them in half to fit into the box.
For toilet tissue I like to buy scented two-ply rolls. They are printed with a pink floral pattern, so they have a gentle and cheerful appearance. The subtle fragrance they give off is pleasant and means that the room always smells fresh and clean, even though it does not have an outside window. Usually I buy the same brand but I like to experiment every now and then if I see something new or pretty in the shop.
Moving into my living room, I always have a box of facial tissues on my coffee table – I think this is something that is almost universal in Japan! I really like the cashmere lotion tissues. They are really soft and delicate – but this means they are not very strong and so I tend to get through them quite quickly. I take them out of the box and put them into a dispenser that I also bought at Muji. I keep this on a tray, so that they blend with the decoration of my room.
In my kitchen I always have a roll of kitchen paper handy, but somehow I don't use it so much. I tend to use a cotton dishcloth for wiping up spills, but I will use kitchen paper when I am cooking tempura or other dishes that need to stand before serving.
Finally, in my pocket or handbag I always have a small pack of pocket tissues. Usually I don't need to buy these as it is common for them to be handed out on the street or to receive them in banks and shops as advertising give-aways.