Retail value growth at 5%. Urbanisation driving cultural change. Increased awareness of vital sustainability. Strategic emphasis on local production driving domestic manufacturing. Rising e-commerce. Isam Arshad, Dubai-based Consultant, Euromonitor International, assesses key drivers in the developing market.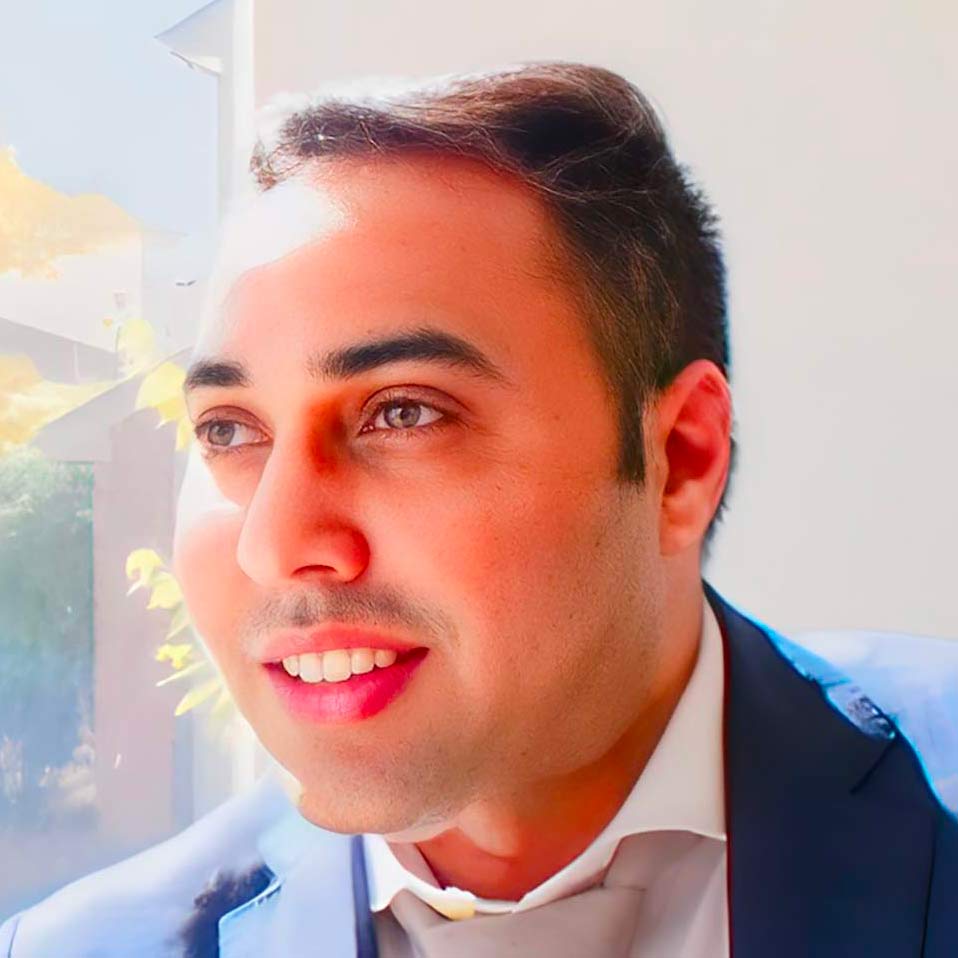 In recent years, the Middle East region, particularly the Gulf Cooperation Council (GCC) countries such as the UAE, Saudi Arabia, and Qatar, has experienced a transformative journey in the tissue market.
Driven by factors such as economic growth stemming from oil wealth, economic diversification, and robust infrastructure development, the region's urbanisation has ushered in busier lifestyles and more intensive hygiene practices, supporting resilience in demand for tissue products.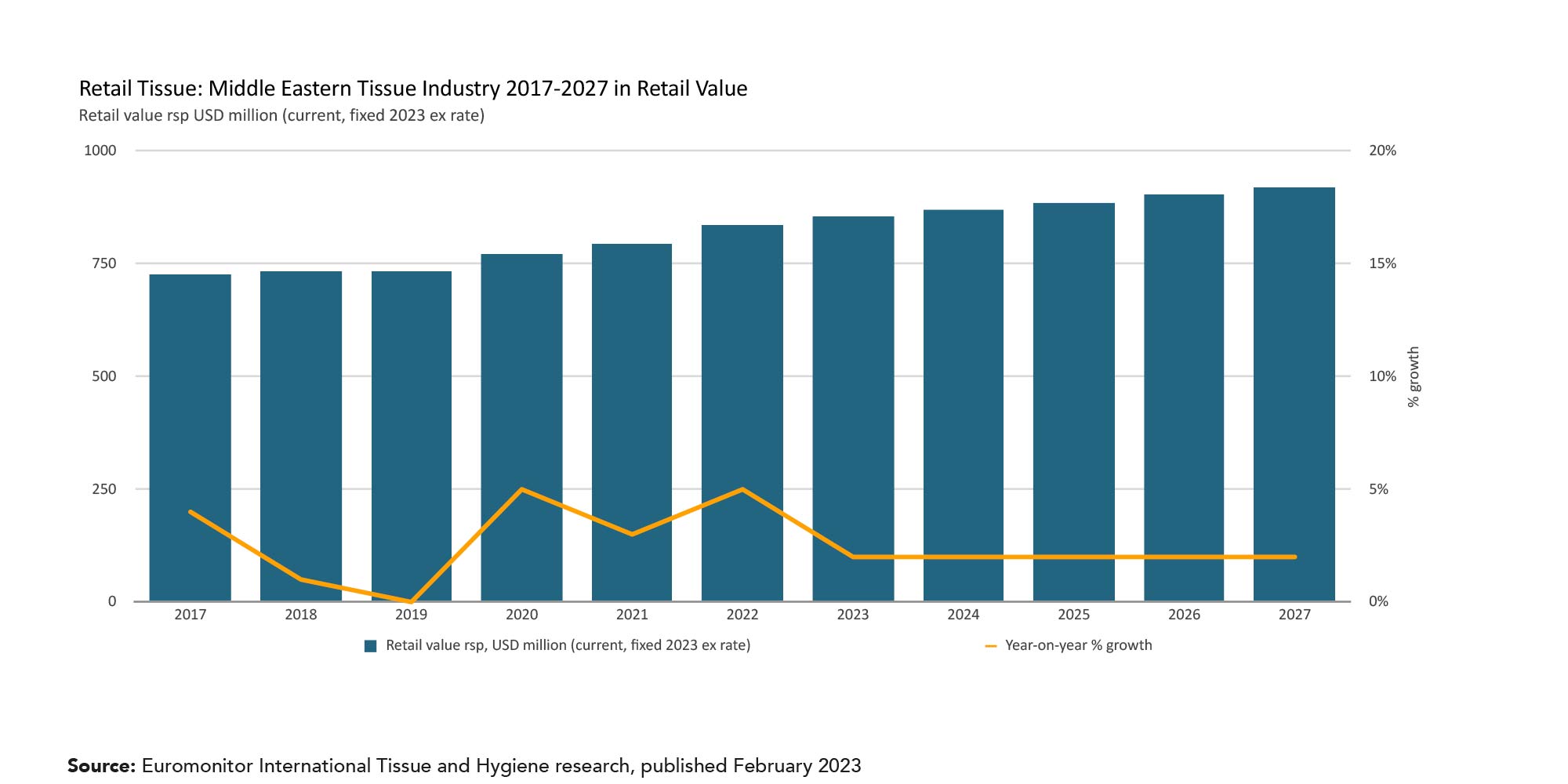 The Middle East tissue retail value growth has maintained a 5% in 2022, slightly accelerated by inflation from previous year's 3% while volume growth post around 3% in 2022, consistent with previous years' levels.
Inflation-led value sensitivity and health expectation prompt portfolio segmentation and value-creation innovations
Inflation has introduced a range of challenges and business strategic shifts in the Middle East's tissue market. On the one hand, price increases driven by inflation have prompted consumers across key Middle Eastern tissue markets such as UAE, Saudi Arabia, and Oman to gravitate toward more affordable options; on the other hand, to justify price increases manufacturers have focused on value-added product innovations such as eco-friendly tissue products, to meet the sweet spot of budget tightening and health vigilance.
For example, Majid Al Futtaim, a large Middle Eastern retail group, sells its own private-label brand of tissue products through Carrefour hypermarkets, where they have expanded product lines to include scented and hypoallergenic options, catering to consumers with specific sensitivities and preferences. The Middle East's leading tissue manufacturer Napco has adapted its strategy to include premium tissue products, such as "Sanita Platinum" range of tissues which offer additional softness and luxury to customers seeking a more upscale experience.
Meanwhile, retailers' shelf space optimisation to maximise tissue products' visibility and accessibility, as demonstrated by notable local retail chain Lulu Hypermarket's eye-level tissue shelf placement in high-traffic areas, has also contributed to the category's expansion and diversification.
Local drive for economic diversity and supply chain resilience drives production localisation
A strategic emphasis on local production has emerged as a response to inflation and supply chain challenges.
The Middle East's focus on economic diversification and enhanced supply chain resilience has driven investments in domestic manufacturing facilities. This trend not only reduces dependency on imports but also creates local job opportunities, stimulates economic growth, and facilitates the local transfer of technology and know-how. Localisation has led to adjusted raw material sourcing and supply chain integration that further contribute to increased and more efficient adaptability to local preferences and market demand, as manifested in local production expansion and supply chain energy efficiency investment by Fine Hygienic Holding (FHH), a leading hygiene and paper products manufacturer in the Middle East.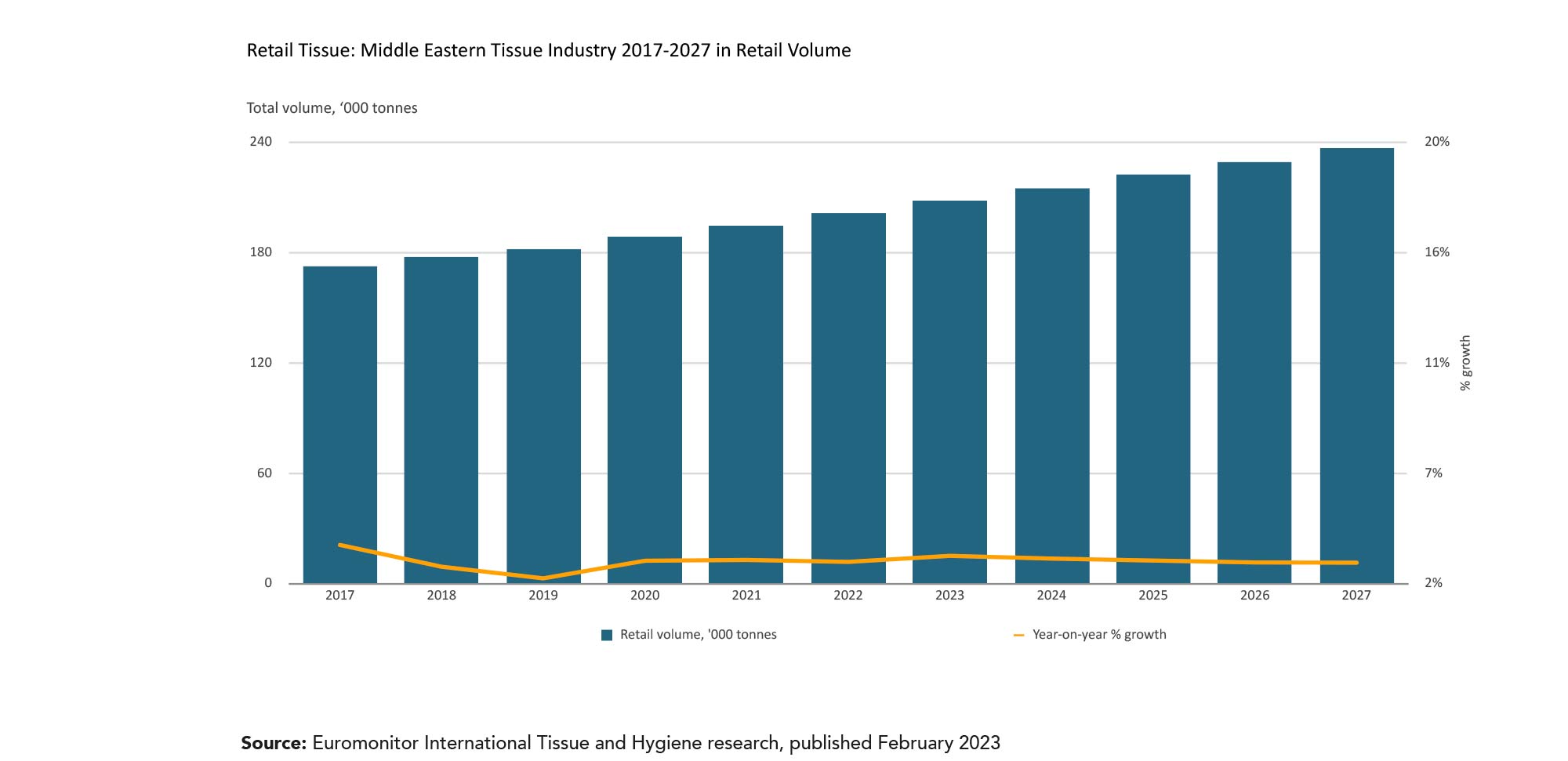 Cultural evolution, digital transformation, and sustainability drive future tissue demand
Historical cultural practices, primarily rooted in water-based hygiene traditions influenced by religion and custom, are changing due to urbanisation and modernisation. As urban lifestyles increasingly bring local consumers to adopt global hygiene norms, tissue products have increased and will continue gaining prevalence, simultaneously respecting and accommodating cultural influences.
The rise of e-commerce is also expected to further drive the expansion of the tissue product market in the Middle East, most notably in Saudi Arabia and UAE, as it taps into the consumer desire for convenience, visuals and transparency offered by detailed product descriptions and peer reviews. Both pureplay e-commerce marketplaces like Saudi Arabia-based Noon and retailers such as UAE-based LuLu Hypermarket have implemented such digital features to improve reach and accessibility of various tissue products and gain consumer insights to inform further digital engagement and product positioning strategies.
Of all tissue products, paper towels in the Middle East have most heavily leveraged and benefitted from digital expansion, allowing the segment with broader visibility online, bulk promotions and room for variety expansion.
Finally, sustainability emerges as and will remain one of the pivotal drivers in reshaping the tissue market in the Middle East in the long term. In the UAE, according to "Euromonitor International Voice of the Consumer: Sustainability Survey, 2023," nearly 42% of local consumers believe climate change will impact their own life more than it does now and more than a quarter of consumers want to have a positive impact on the environment through everyday actions, with shopping a one dimension of actions. Such sentiments bid well for the sustainability push.
FHH, for example, has diversified its tissue products portfolio to include sustainable options such as "FINE Green" line of tissue products made from 100% recycled paper, catering to environmentally conscious consumers. Similarly, Hayat Kimya, a global tissue manufacturer with a Middle Eastern presence, has launched "Papia" brand tissue products made from responsibly sourced ingredients with third-party verifications.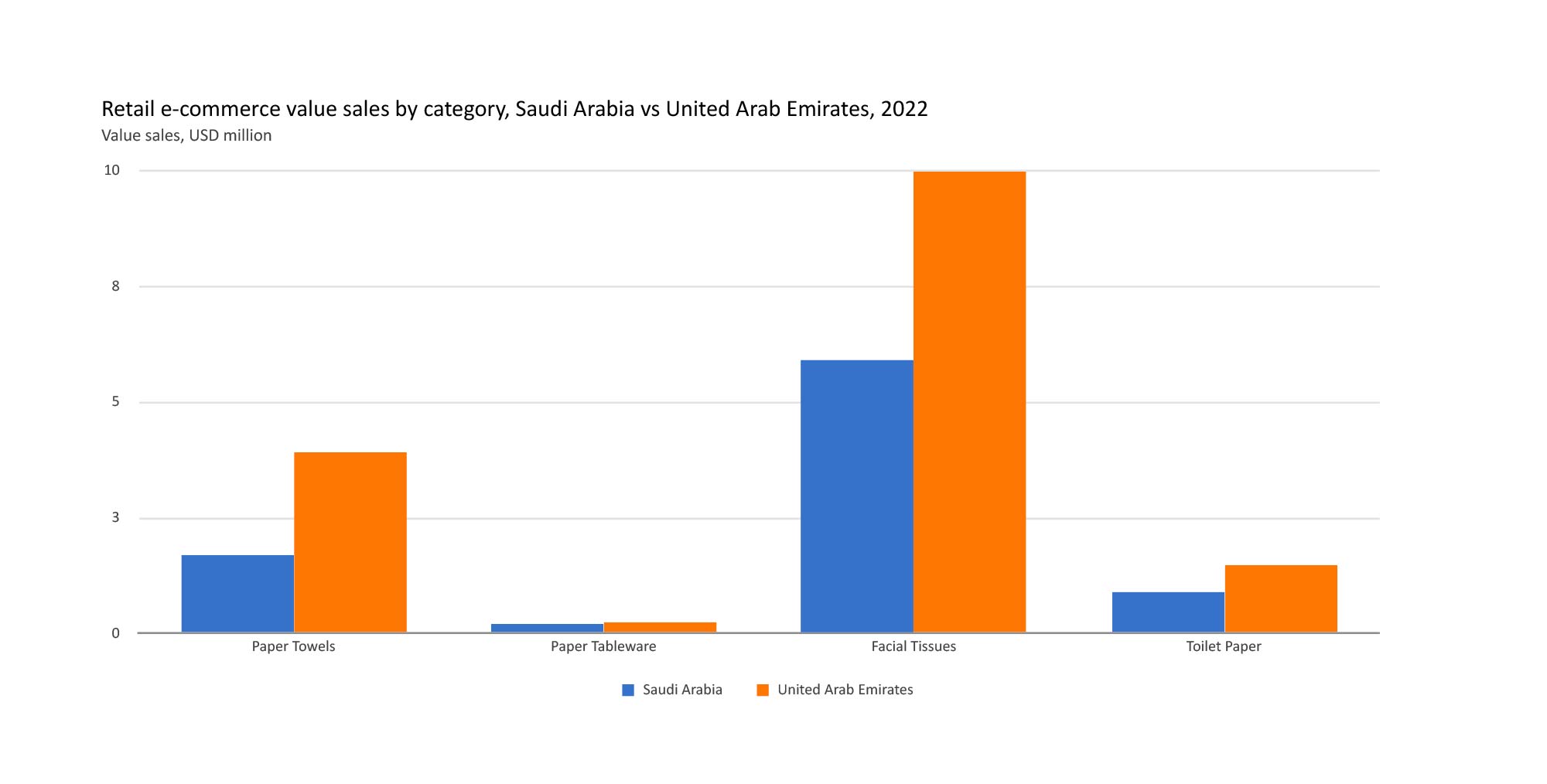 AfH tissue sees partial recovery
More broadly, beyond retail tissue the recovery in tourism and hospitality industry in the Middle East, particularly Saudi Arabia, UAE, Oman, Kuwait, and Qatar, has driven the rebound in the AfH tissue demand.
Though the demand has yet to reach pre-pandemic level in absolute terms, these nations' expanded investment in tourism and urban development is expected to drive long-term demand for tissue products in commercial spaces, hotels, airports, and entertainment venues.
Over the forecast period the HoReCa sector will be a key driver of AfH tissue sales in the Middle East. While the HoReCa sector is vital, other sectors such as healthcare, offices, and public spaces also contribute to AfH tissue demand and, depending on how consumers and businesses behave, will shape tissue product and packaging design, as well as positioning.
Notably, the shift towards telecommuting and flexible work schedules brought on by the pandemic is already driving some manufacturers to modify their products to better serve companies with a hybrid staff of local and remote workers. For example, Middle Eastern tissue manufacturer Sanita Dania has developed smaller, more portable tissue packs for remote workers who need tissues when working from home or on the go. Growing business' desire to enhance hygiene at public spaces by reducing physical contact has encouraged tissue players such as Napco and Emirates Paper Mills to release touchless paper towel dispensers alongside compatible paper towels.
Overall, the future of the tissue sector in the Middle East will most likely be determined by a combination of customer preferences, digital and supply chain improvements, sustainability drive, and broader economic and cultural trends. The manufacturers that are able to adjust to these shifts and provide products that are in line with the ever-evolving requirements of their target audience are likely to find success in this fluid market.