Notorious resistance has eased thanks to promotions, enforcement of personal data protection, same-day delivery, the ability to order anytime anywhere, auto-repeats, and already adept younger shoppers. By Ana Tique, Consultant, Euromonitor International.
Record-breaking inflation rates and challenging circumstances on the production front have been forcing tissue prices in Germany to increase considerably. Simultaneously, the last three years brought shifts in consumer behaviour that are still drawing the reality of post-pandemic times and beyond, when value-for-money and sustainability-driven innovation play crucial roles in differentiating brands. As tissue consumers prepare for challenging economic times ahead, companies are expected to support them with solutions.
The reopening of businesses in Germany post-Covid brought the boost in AfH volume that the industry had craved since the pandemic started. A slight shift from retail tissue needs to AfH was observed as life slowly went back to normal.
However, this resuming of normalcy was also met with record-breaking inflation in 2022. Even before September, when a whopping 10% inflation rate hadn't been observed in years, German consumers started resorting to essential purchases and preparing for a somewhat uncertain future. This price change in tissue products was driven mainly by challenging circumstances including massive increases in raw material costs that reached up to 50% in some components, further aggravated by the war in Ukraine and supply chain disruptions. As many companies struggle to keep business going, unavoidable price increases are only adding to the consumer's challenge of keeping their budgets afloat.
Moreover, subtle societal changes are glimpsing how the tissue market will look in the future. Consumers kept some of their heightened awareness of hygiene habits and disease prevention from the pandemic, and products such as facial tissues and pocket handkerchiefs are seeing continuous levels of consumption. Responding to this shift, more on-the-go tissue products are now available through a wider array of distribution channels.
Private Label provides more options for German consumers' needs
The eminence of a recession is forcing German consumers to save where possible. Divided by the need to control their finances and live up to their sustainability aspirations, Germans are finding in private label the answers to their tissue dilemmas through a wider supply of affordable, high-quality, and sustainably made products on retail shelves.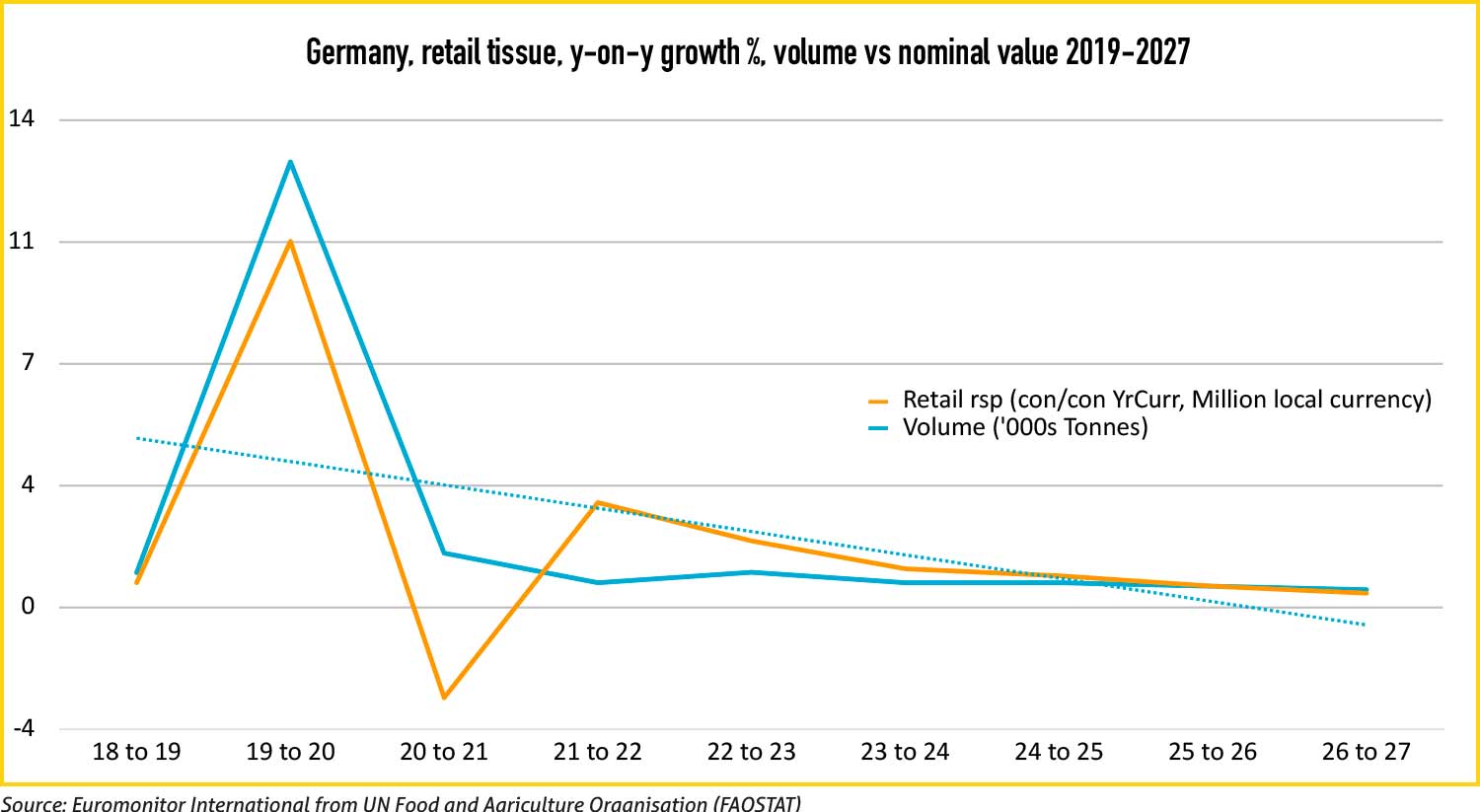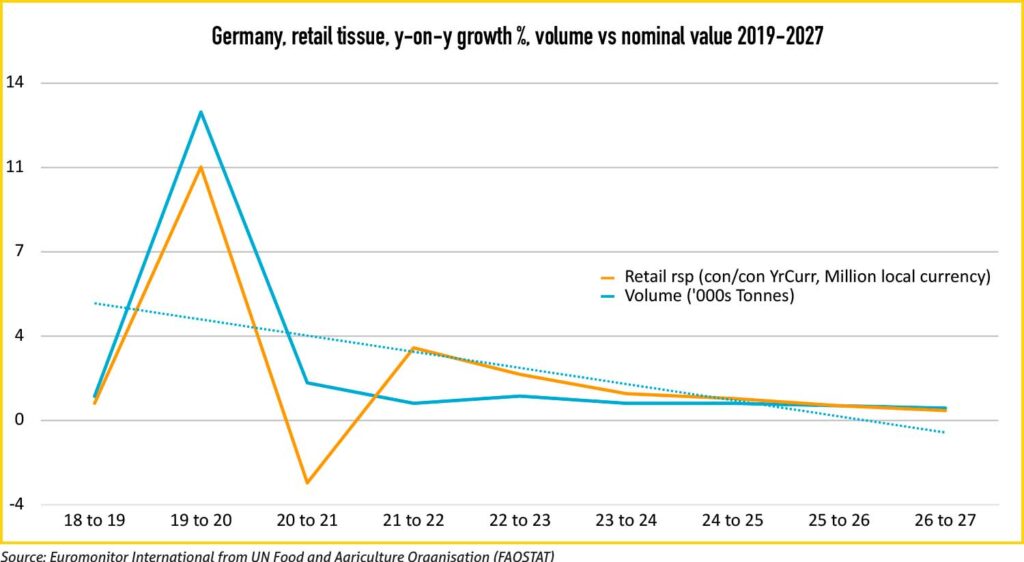 ---
Retail giants such as Aldi, Lidl, Edeka, Rewe, dm, and Rossman have been supporting the growth of private label tissue products in Germany, and their sales performance shows the consumers' trust. Arguably, when it comes to tissue products, while some "good-enough" everyday products will do, performance is a must for particular hygiene categories or functional items, such as antibacterial products. With the development of private label products, a good compromise in value for money is increasingly being reached. Not only are these products affordable alternatives to brand names, but their commitment to investing in innovation has positioned them side-by-side with the most recognised brands.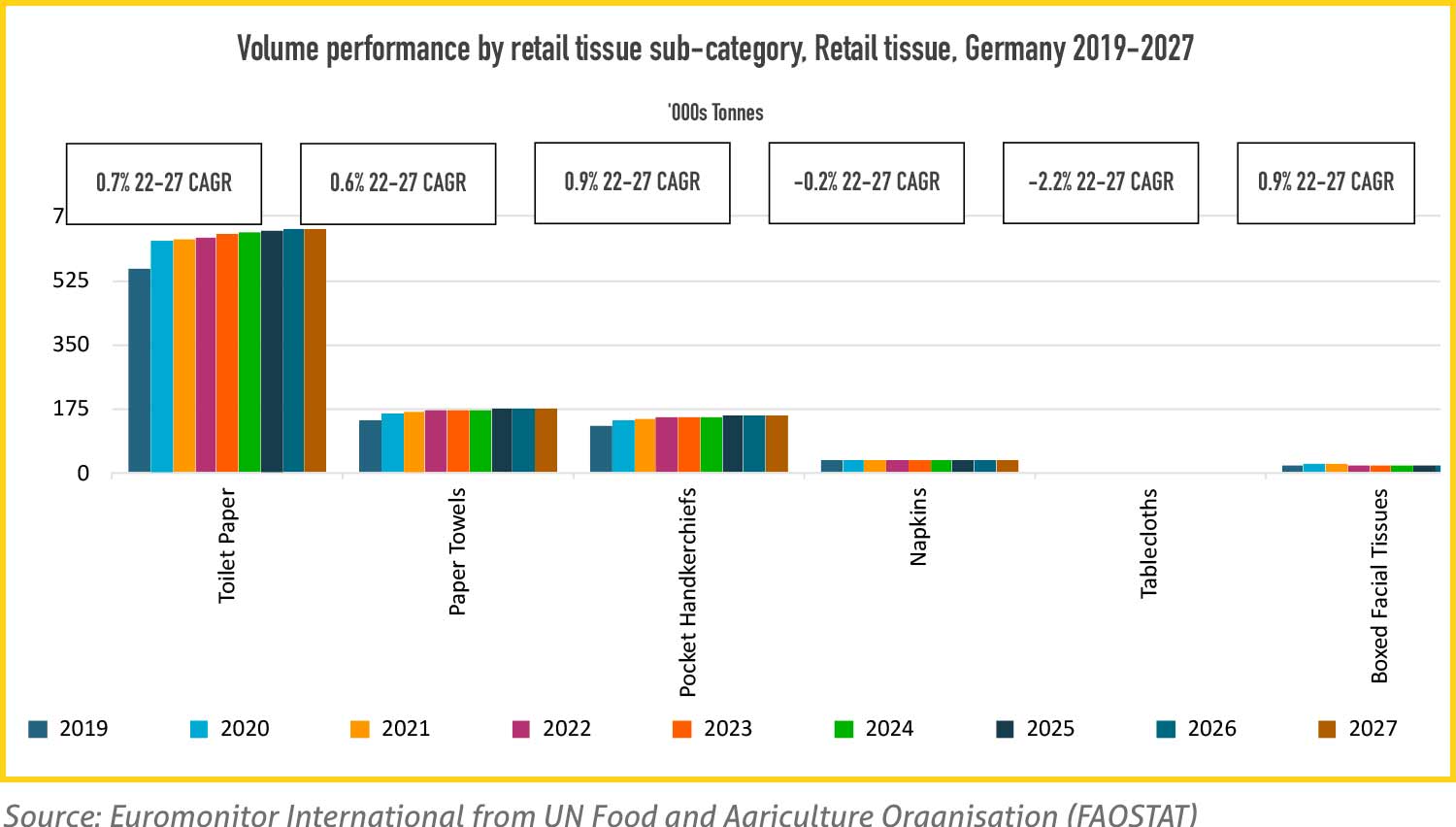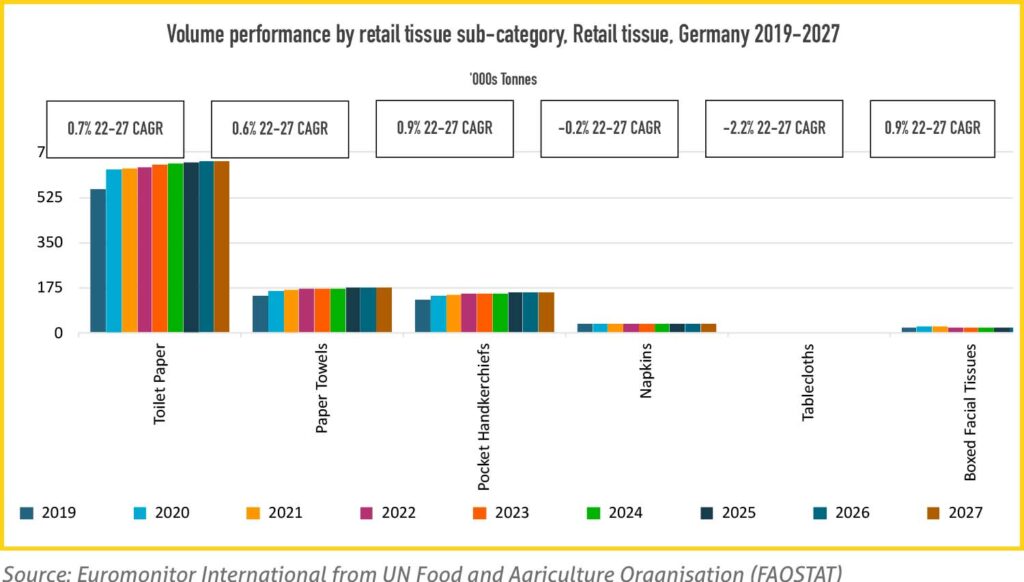 ---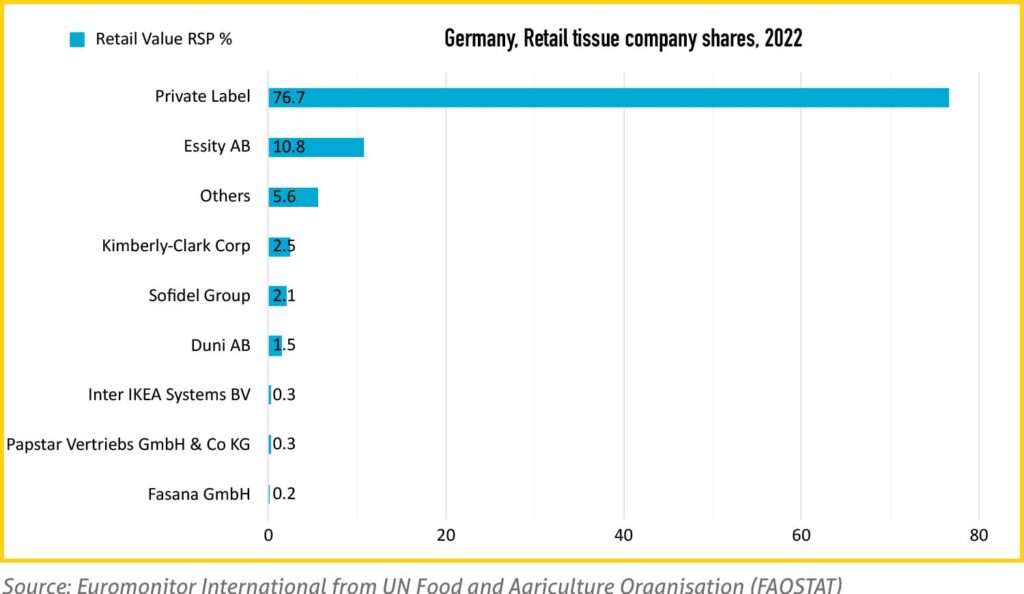 ---
Looking for a balance between sustainability and cost
Sustainability is a growing concern in Germany, and consumers have been striving to find alternatives that don't break the bank or compromise quality. At the same time, concerns for protecting the environment only increased during the pandemic, and education on sustainability or the promotion of circular economies is on the rise.
The need for businesses to provide greener alternatives to highly polluting products is becoming essential and differentiating. Examples such as washable and reusable items or alternative compostable and biodegradable materials have been in the limelight as possible solutions. Businesses are responding with more environmentally-friendly options such as washable and reusable napkins and tablecloths instead of paper-based ones, hand driers instead of paper towels, and other mechanisms that can help create a smaller footprint in the environment.
Some new challenges are to be met, nevertheless. Less margin to invest can mean slower innovation in ecological alternatives and new product development. The dilemma remains of the disposal of reusable products after the end of their lifecycle and the question of how much energy and resources are being saved. As sustainability has been a German aspiration for years and a value the population shares, it's unsurprising that the urgency in finding solutions will resume as soon as the economic storm passes.
Growing digitisation in Germany is changing the way consumers buy
The Covid-19 pandemic brought arguably the most noticeable change in German consumer behaviour: how they buy. Notoriously resistant to digital change, Germans have been softly nudged into online shopping at a time when social distancing was a necessity, and the habit has come to stay. According to Euromonitor's Voice of the Consumer Lifestyle Survey fielded in January and February 2022, some of the advantages of e-commerce that are gaining German tissue consumers' preference include same-day delivery, the ability to order at anytime from anywhere, or to set up a subscription for auto-replenishment.
Additionally, e-commerce usually provides shoppers with promotions and deals that are very welcomed, especially in an economic crisis. Continuous enforcement of personal data protection in Germany, expanded to cybersecurity, has also been contributing to more reassurance in online shopping safety. It's to be expected that a less bureaucratic process of securely providing personal data can further turn consumers' preference towards digitalisation.
Moreover, younger generations are more digitally apt and comfortable using digital tools to the benefit of their everyday lives. Bearing these in mind, transparency and reliability are sure bets for industry players to stay in the game.