Fear of the unknown, lockdown, panic buying and a determined new hygiene regimen sharply redirected this classic mature European tissue market as consumers searched for a measure of control where they could.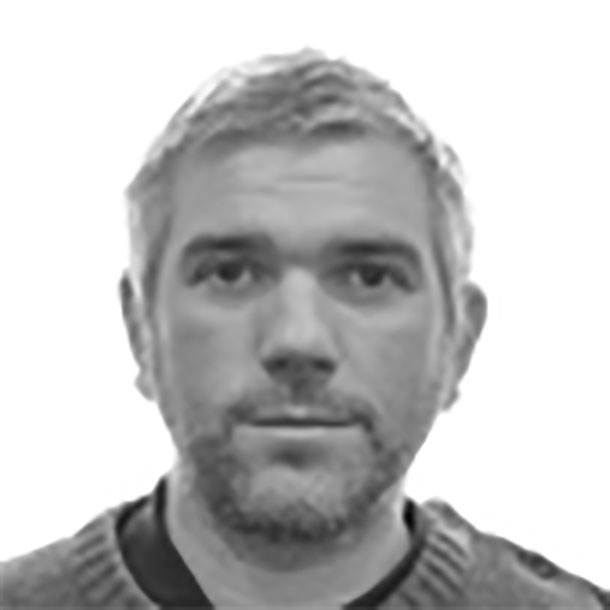 The German tissue market is representative of many mature Western markets: a decade or two of low, relatively unimpressive but steady growth rates, typical of markets that boast very high household penetration levels. Throw a pandemic into the equation, consumers looking to tissue as an agent of hygiene, extended periods of home seclusion and supply fears leading to domestic stockpiling, and we see a market transformed.
German retail tissue had barely been able to muster a 2% value CAGR (2006-2019) and in 2020 this morphed into a 12% spike in total retail tissue sales. Once again, the experience of German consumers is fairly similar to the bulk of Western Europe where a retail boom had its own counterpoint in the collapse of the AfH market as lifestyles changed beyond all recognition.
Toilet paper – a pandemic barometer
Of the core retail tissue categories, toilet paper experienced the most rapid growth in 2020 with a 16% increase in value, associated with the prevalence of stay-at-home policies and stockpiling behaviour. Indeed, toilet paper proved an international curiosity in 2020, apparent consumer 'fear of the unknown' and an attempt to have a semblance of controlled many German consumers to panic buy copious quantities of toilet paper, resulting in these products becoming out of stock.
One school of thought suggests that images from Australia, a country which does have supply chain weakness due to the number of imported products, appears to have sparked global concern. Irrespective of government attempts to reassure the public that there were no supply shortages, the stockpiling continued to such an extent that retailers had to put a cap on the amount of toilet paper that consumers could purchase at any one time.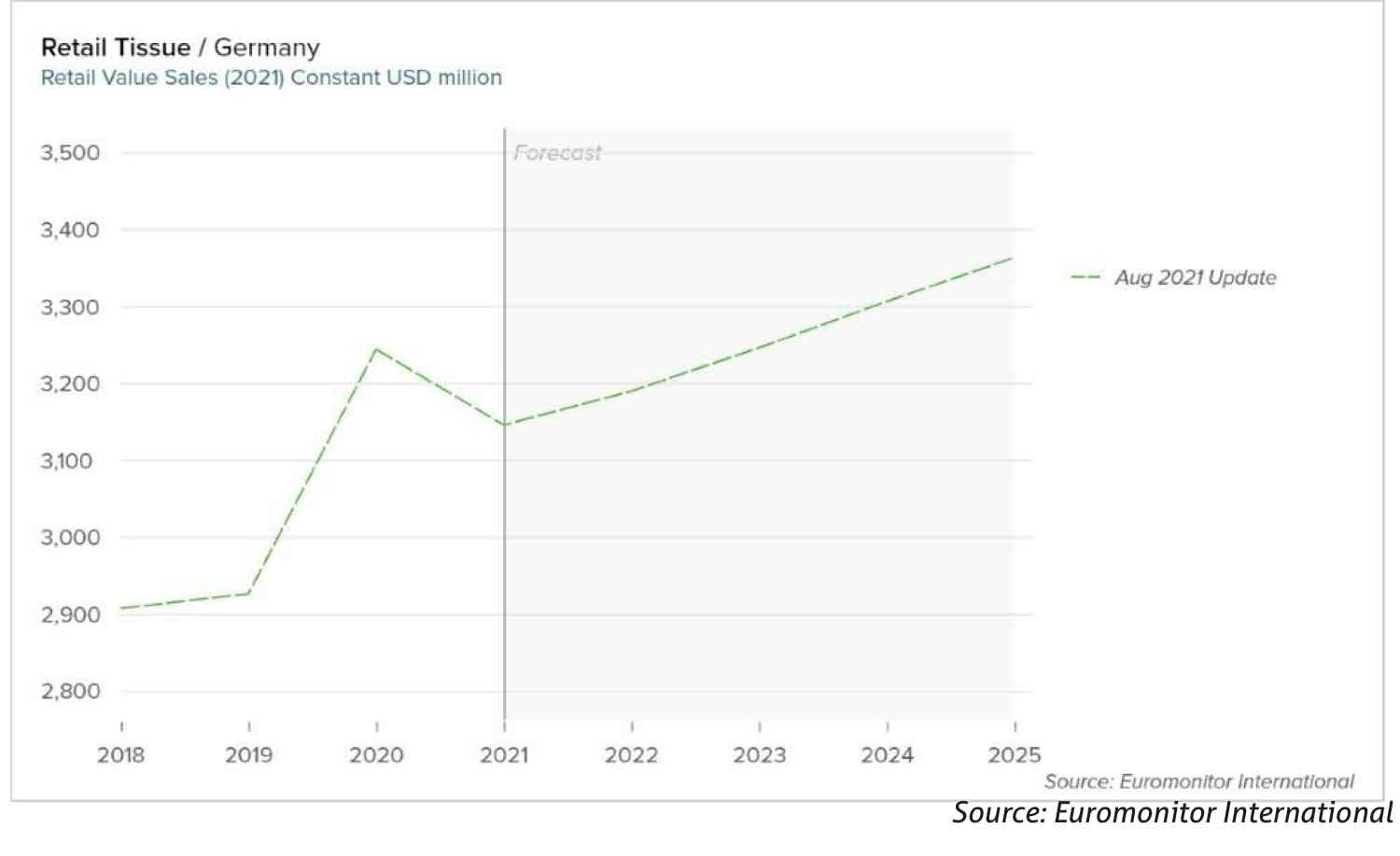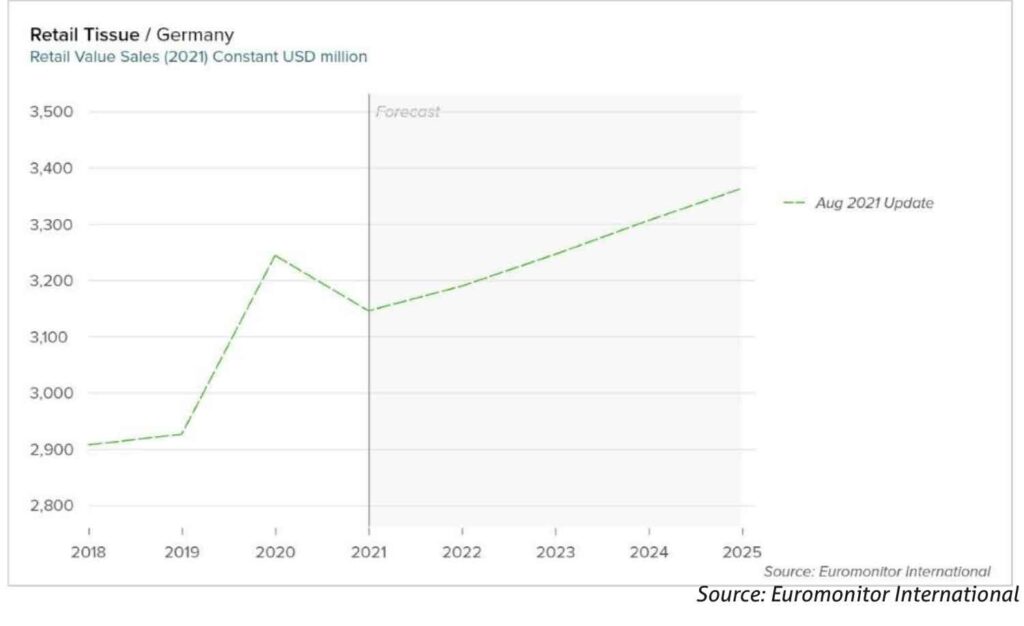 Comfort in the face of adversity
While the pandemic continued, this did little to dampen prevailing key buying factors which have tended to cluster around comfort. This was reflected in the strong performance of non-recycled toilet paper in 2020. While consumers are becoming more environmentally conscious, recycled toilet paper is still perceived to lack the softness of non-recycled products. This demand for comfort also remained a key driver for innovation in facial tissues.
For instance, Kimberly-Clark launched Kleenex Natural Fresh with decongestant natural extracts of eucalyptus and mint. In response, Essity is offering a soft and sensitive range of pocket handkerchiefs under its leading Tempo brand with an almond and aloe vera balm in addition to extra softness. With private label dominating sales of retail tissue in Germany it is necessary for the leading brands to provide innovations which can help add value.
Private label remains dominant
Private label has the undisputed reign in the retail tissue landscape in Germany, with the top-of-mind brands among consumers typically being private label, be it Kokett from Aldi Group or Floralys from Lidl & Schwarz Stiftung & Co. As a basic commodity product, German consumers already commonly purchase private label retail tissue as part of their retail shopping and consider the quality to be comparable to brands.
During the pandemic, private label ranges from grocery retailers managed to strengthen their share due to the more concentrated visits to grocery stores. Meanwhile, Essity remained the leading branded manufacturer with its Zewa and Tempo brands.
In fact, Essity also managed to increase its value share in 2020 during the pandemic, because its Zewa and Tempo brands tend to be non-private label retail tissue brands carried by various retailers in addition to grocery retailers' own private label products.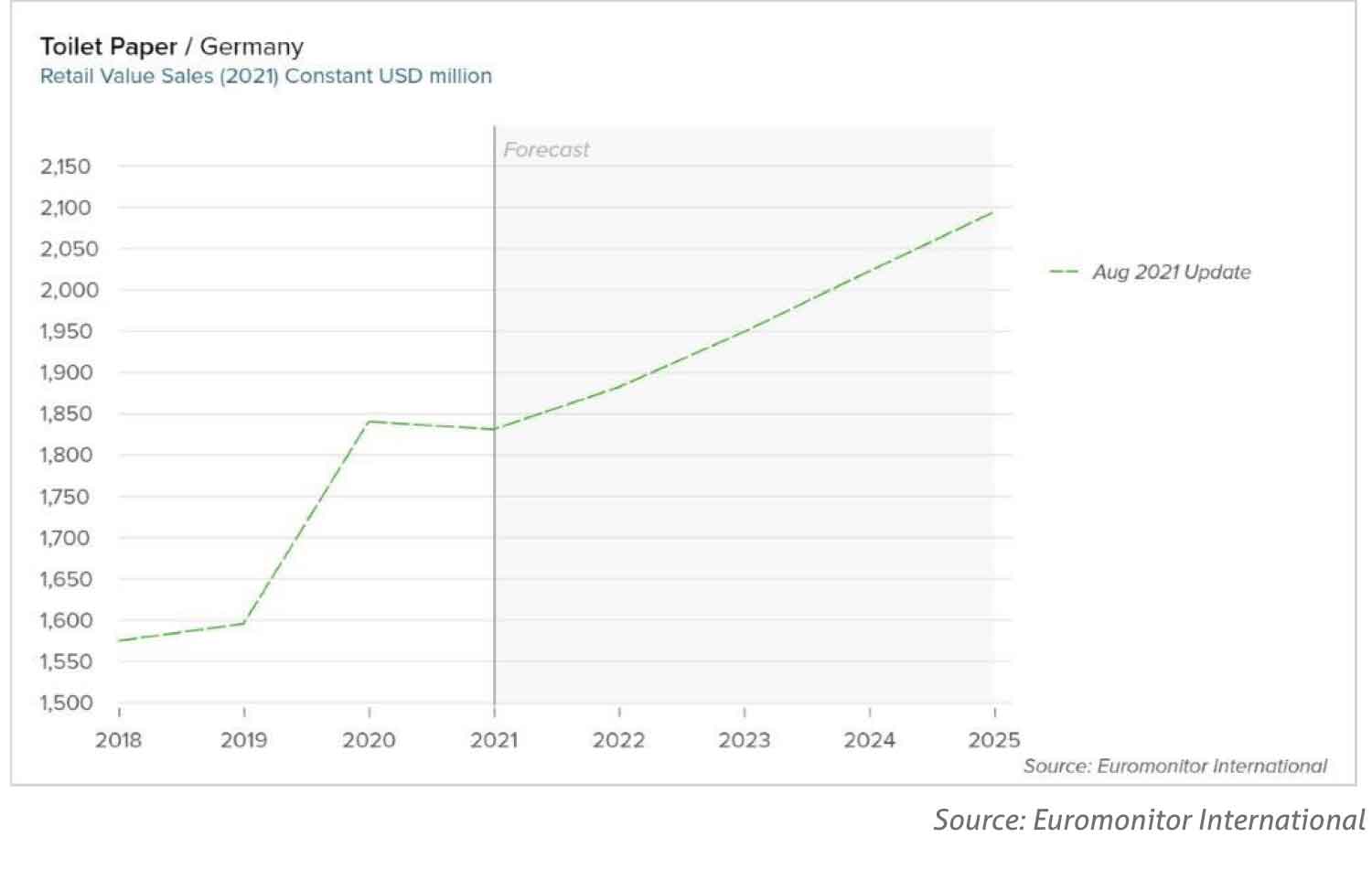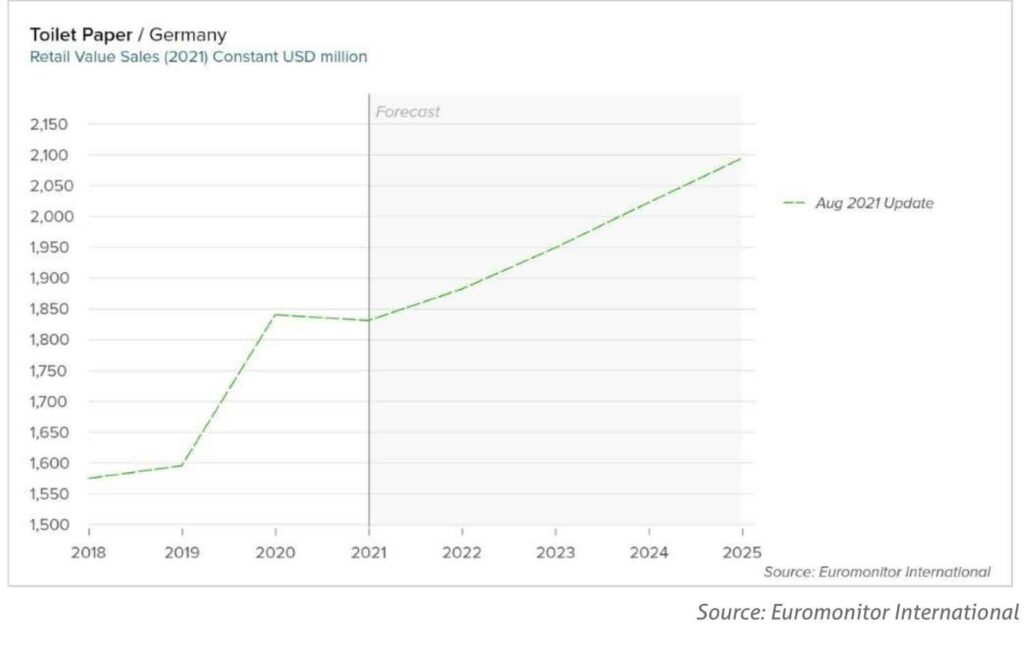 Rise of e-commerce
Prior to the Covid-19 outbreak, e-commerce in Germany – although growing – was still lagging far behind many European countries such as the UK; in 2020, just 2% of retail value was taken by e-commerce in Germany, with this figure three times higher in the UK, for example. It is notable, and a peculiarity of German retail and local attitudes that despite the pandemic there was no drive to e-commerce in tissue and leading German retailers did not take the opportunity to scale delivery services as was the case in many other European counties. It is safe to say that, at least for retail tissue products, e-commerce is unlikely to be a major player any time soon.
How sticky?
The future for retail tissue products in Germany remains on the whole positive, with stable value growth projected from 2022 as a decline is expected in 2021 to stabilise the surge in value share during 2020. Furthermore, it is likely that work policies will be more flexible in future, resulting in more time spent at home on the whole ensuring increased usage of tissue products, particularly toilet paper, thereby supporting volume and value growth over the forecast period.
For the most part growth will be built on a combination of these new prevailing lifestyle patterns as well as habit persistence. Consumers using tissue products today will continue to do so tomorrow and the use of retail tissue as habit is trending towards higher levels of tissue usage overall, meaning in spite of the spike in 2021, the overall retail tissue market will grow medium term and from a higher base. There is still much to be positive about for mature markets as we move out of the pandemic.