Tissue converting companies across the globe know Edson for their high‐performance case and tray packing systems, including high‐speed horizontal case packing, product handling, and top‐load robotic solutions.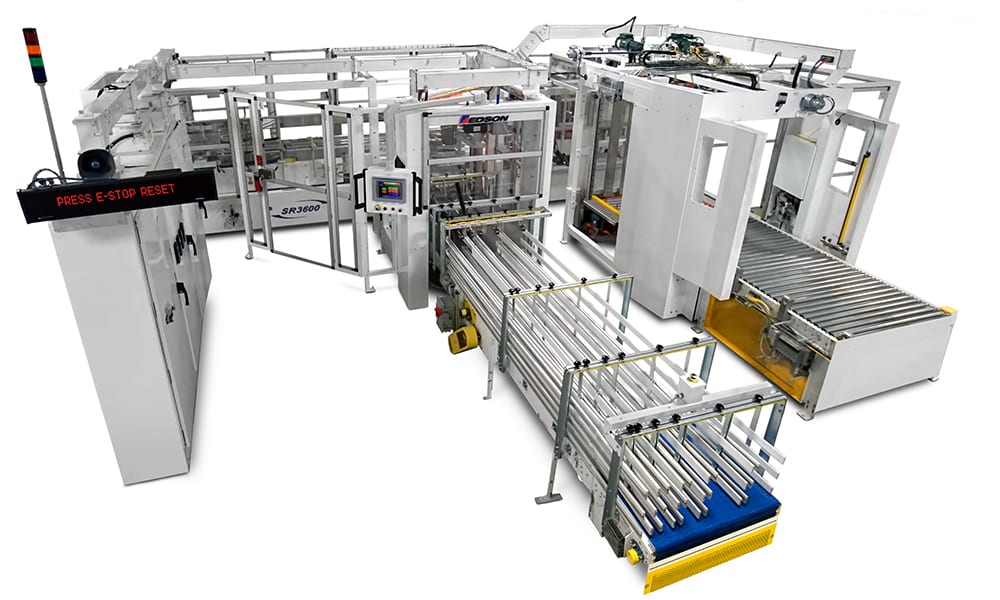 The presentation of your tissue products is a major influence when consumers are evaluating buy your product. Careful product handling is critical for reducing product waste and production downtime to improve overall equipment effectiveness. For over 50 years, Edson perfected carefully handling soft products and securely packaging them into cases or trays.


Market leader for high‐speed packing
High‐speed large case and tray packing for tissue products have been our specialty and every solution is designed specifically around your products. From jumbo roll tissue to single roll bathroom tissue, we have you covered.


Industry leading changeover time
Cut product changeover time by up to 50% for alternate pack sizes in minutes using Edson's Servo Adjust system. The operator friendly system is accessed through the HMI and educates operators on how to compete a successful changeover.


Largest case range of a single machine
Your packaging equipment should be flexible to run multiple cases and trays accommodating for your packaging requirements. Edson specializes in manufacturing equipment providing a large range of sizes at a high performance.


ProMach Built Integrated solutions
Edson is part of the ProMach family of best‐in‐class packaging solutions with over 25 product brands that, together, can package anything with precision, with efficiency, and with performance. With a worldwide footprint, ProMach product brands operate across the entire packaging spectrum: Filling and capping, flexibles, pharma, product handling, labeling and coding, and end of line. ProMach is Performance, Packaged.
Learn more by visiting www.edson.com or calling 1‐800‐493‐3766.