( *FREE SUBSCIPTION READ BELOW) Tissue World magazine and TWM website are the leading independent publication and online resource for the global tissue industry. We are dedicated to publishing essential information, analysis and opinion on breaking trends in business, technology, regional developments and sustainability to keep tissue suppliers, producers, converters, distributors and retailers up-to-date. We also provide a forum to debate the key issues among industry players. The annual subscription fee for Tissue World magazine (Print) is USD 400 for 6 issues. Please click the following link to subscribe: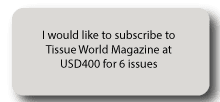 However, the magazine (print) is FREE to subscribe to professionals from the following company profiles:
Finished tissue product manufacturers (primary business is making paper and producing finished products)
Jumbo roll suppliers (primary business is producing jumbo rolls for sale to converters)
Tissue converters (primary business is converting jumbo rolls and producing finished products)
Retailers and distributers
If your company profile belongs to one of the above categories, please click the following link to request for free subscription (subject to review and approval):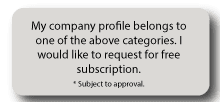 The digital version of Tissue World magazine is FREE. READ THE LATEST ISSUE HERE

Through journalism, understanding; through understanding, involvement; through involvement, community.