By OPTIMA nonwovens' Oliver Rebstock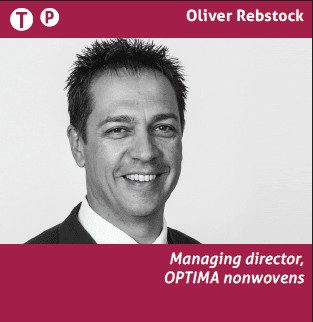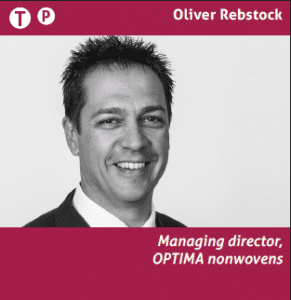 In plants with multiple packaging lines, there are two alternatives for palletising hygienic paper products: a single large central palletiser processing off of several lines, or a decentralised concept in which a small, dedicated palletiser is located at the end of every packaging line.
Optima palletisers are specially designed for the demands of hygienic paper products. As an example, a dozen such palletisers are currently being used in multiple production plants, each installed at the end of a packaging line. Additional palletisers are scheduled to be delivered through 2014 as part of this large order, and expanding this decentralised concept to additional locations is currently being considered. But why would a company invest in a range of different palletisers instead of one single machine per plant?
Comparing two systems: centralised vs. decentralised
It might initially seem that a central palletising concept would make sense in large plants with multiple lines, in particular due to the lower investment cost. But this does not necessarily prove to be the case, as the following example shows. Although this instance involves the largest palletising project currently realised by Optima Nonwovens, multiple Optima palletisers have already been de-centrally deployed in a number of other companies.
When analysing centralised vs. decentralised concepts from an economic point of view, two main factors come into play: capital costs and reliability. Capital costs (decentralised concept) must be weighed against the cost of potential downtime (centralised concept). Initial outlays for a small palletiser are less than those for a large one. But not surprisingly, the total acquisition cost of palletisers in the decentralised concept quickly exceed those of a central unit. The advantage of the decentralized concept however is that it is more reliable. Whether planned or unplanned, downtime in the centralised concept means reduced total output. Most hygienic paper plants already operate 24 hours a day, seven days a week, so lost production time cannot typically be made up. Even short downtimes can be highly problematic, because intermediate storage or buffer needs to be arranged.
The costs of just one hour of downtime are immense. Longer production breakdowns directly translate into lost sales.
Assuming identical availability of all palletiser machines, it is apparent that sales losses due to downtime in the centralised concept are multiplied by the number of packaging lines served by a central palletiser. It must be taken into consideration that decentralised palletisers also experience downtime, but the effect is much smaller.
Another interesting issue is the actual availability of the complete lines; how well co-ordinated are the packaging lines, including the palletisers? One can assume that an integrated line concept with a palletiser at the end of each line is easier to achieve than a palletiser which serves multiple lines. Whether more complex systems actually lead to reduced line availability remains to be seen in actual plant practice.

Apart from that? Additional factors
An analysis of acquisition costs and downtimes alone yields an incomplete picture. There are a number of other factors to consider, for example packaging quality and the brand message at the point of sale. The related issue is whether the packaging actually reaches the sales point intact following palletising. How "gentle" are the palletisers on the packaging?
Packaging quality and design have a significant influence on purchasing behaviour, according to psychologist and neuromarketing expert Oliver Frenzel from the Gruppe Nymphenburg brand consultancy: "As soon as customers see packaging on the shelf, an associative brand awareness is activated in their brains". Of course product price and quality play an important role, but customers also unconsciously ask themselves: "Do I like the packaging? Is the brand a good match for me?"*
How high are losses when distorted or damaged printed films or boxes end up on shelves? Personal experience is more helpful than a mathematical formula in answering this question and is just as valid: When faced with a choice between a damaged package and an undamaged one, the vast majority of consumers prefer the undamaged option. This is also reflected in the discounts stores offer for damaged packaging. Price reductions of 30 – 70% are typical even if the contents are undamaged. Damaged packaging however is usually immediately sorted out at supermarkets and drugstores in order to avoid negotiating discounts with consumers.
Design advantages
The Optima palletiser for Nonwovens is designed with a special grabber system to gently move the light, soft plastic film and cardboard packaging without damage and to protect it on the pallet. Rounded edges limit the gripping force. Vacuum suction cups in contrast often distort the printed image when the attached weight is too large and are therefore non-ideal if damage to the package is to be avoided.
The special design of the Optima palletiser for Nonwoven products has a number of advantages, a main one being parallel stacking and wrapping. The film is already stretched while the lowering frame is still stacking the products. The system constantly measures the force used in this task, resulting in stacks of hygienic paper products in the desired form, without overhanging corners or edges. The products remain in the desired position and are better protected as a result.
The user-friendliness of the Optima system is another persuasive argument in its favour. Employees can adjust the palletising process themselves via a menu in the HMI, eliminating the need for complicated programming. Different pallet arrangements can be easily achieved, including reinforced edges and corners or intermediate layers. Changing formats without having to switch format parts means greater user friendliness and enhanced investment productivity.
Example configuration
This example involves a new investment that became necessary due to strong demand for the manufacturer's hygienic paper products. The palletisers were (and continue to be) delivered and installed in multiple stages. The machines are used to palletise both cardboard boxes and bundles of film packaging, either as direct transport packaging or as printed sales packaging. The parallel handling of plastic film and cardboard packaging was another key reason for this customer to choose the Optima system.
All the supplied palletisers are identical and can be used for all types of (bundled) hygienic paper products. No manual modifications are required when formats are changed; all adjustments are carried out via actuators and the control system. Before ordering, the customer tested the system in the Technidrome at Optima Nonwovens in Schwäbisch Hall.
The hygienic paper product manufacturer and Optima Nonwovens have been working together as partners for many years. The packaging lines which culminate in these palletisers are likewise from Optima and consist of stackers, baggers (primary packaging) and case packers. Foil bundlers (packaging in plastic films), some linked in parallel with the case packers, have also been installed. Case packers and bundlers carry out secondary packaging.
*Quote from the Financial Times Deutschland (meanwhile discontinued).